Learn how to make healthy, crisp and perfectly-seasoned Garlic Butter Sweet Potato Fries! Using warm spices, creamy butter and aromatic garlic, we create the most absolutely perfect, baked fry ever! If you love all things potatoes, try my Smothered Potatoes, Loaded Fries, Mashed Sweet Potatoes and delicious Potato Stacks!!
Real question: is there one person on earth who doesn't love french fries? If you ask me, the answer is heck no! When hot and fresh, fries are crispy, salty and straight up life-altering. Unfortunately, traditional french fries are not the healthiest thing for ya. *sigh*
But, today I've got the perfect solution: Baked Garlic Butter Sweet Potato Fries! Sweet potatoes are already so darn tasty but when you cut them up, roast them at a high temperature until tender and crispy, and toss them in a seasoned garlic butter, you have something quite special indeed.
Don't let me stop you from getting your french fry on, let's cook!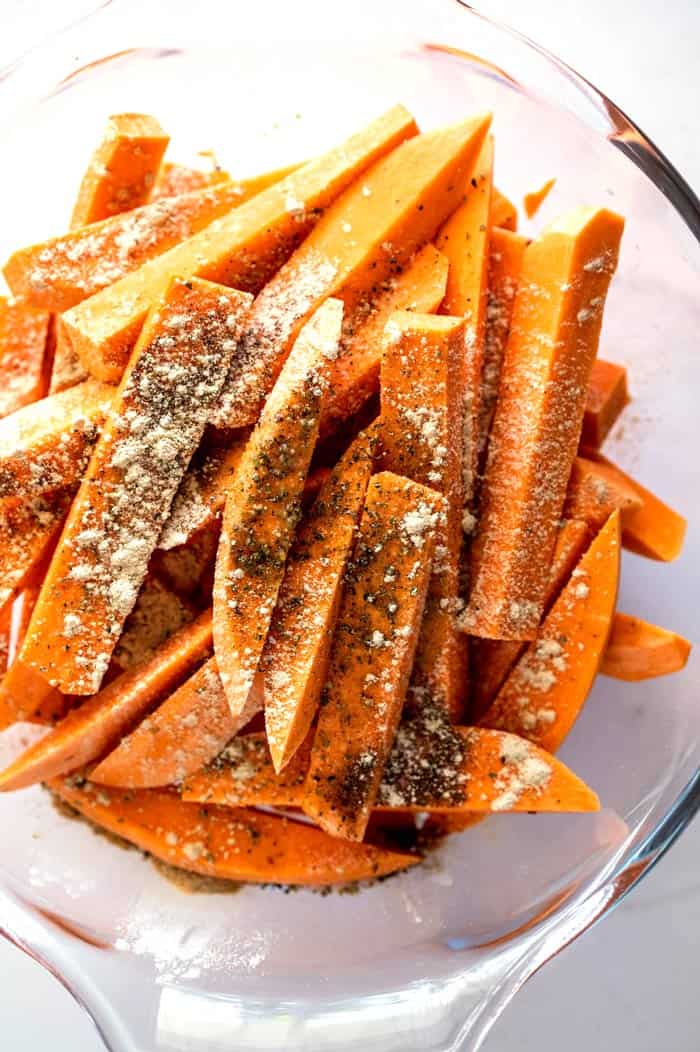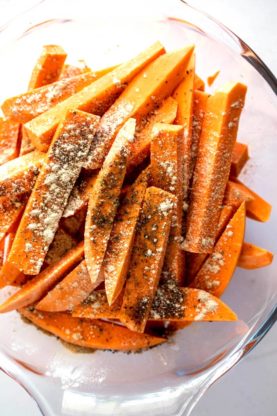 BENEFITS OF BAKED SWEET POTATO FRIES
Unlike deep-fried french fries, these baked sweet potato fries are actually quite nutritious! Not only are you avoiding monstrous amounts of hydrogenated oil, empty carbs and calories, but you're taking in incredible nutrition properties.
Standard orange sweet potatoes are full of fiber, antioxidants and vitamins C, B6 and A. Plus, they have some beneficial blood sugar-regulating properties! I call that a BIG win, wouldn't you?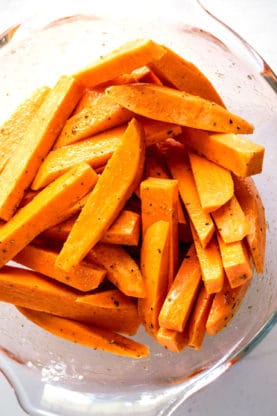 HOW TO MAKE CRISPY SWEET POTATO FRIES
Garlic Butter Sweet Potato Fries have been a favorite of mine since I first shared this recipe almost 6 years ago. Spiced, garlicky and salty-sweet, these fries make for the absolute best side or snack! But, because they're baked rather than fried, they're not always as crispy as I prefer my fries to be.
Since posting the original recipe, I've picked up a few tricks to make sweet potato fries a bit crispier. Believe me, you're gonna wanna tuck these tips in your culinary belt!
Slice the Fries Thinly
try your best to cut fries that are between ¼" – ½" wide. Thin fries will cook more evenly and develop a crispier skin.
Mix Oil and Butter
Butter and garlic work together like magic, it's undeniable. But, if you're going for crispy, oil is your best friend. Replace the 1tbsp of butter with an equal amount of olive or vegetable oil. Top with garlic butter.
Add Cornstarch
if you're looking for next level crisp, try adding a teaspoon of cornstarch before drizzling on the butter (or oil). Toss the fries in a large bowl to evenly coat them with the starch then proceed with the recipe.
Divide Between Two Pans
overcrowded fries steam each other and never get crispy! Be sure that each fry is lying flat against the pan, not piled on top of one another. I find that spreading the fries on two baking sheets rather than one is the best method for those getting crisp edges.
SWEET POTATO VARIATIONS
I'm sure that, when shopping at the grocery store, you've noticed that there is more than one kind of sweet potato. Jewel, Garnet, Hannah and Stokes are all incredibly delicious, nutrient-filled sweet potatoes varieties. Each kind has a unique flavor and texture that is worth exploring.
If you're looking to change up your sweet potato fries, try using an alternate variety of potato! Any variation is sure to challenge the taste buds and make for something quite tasty.
GRANDBABY CAKES BEST SWEET POTATO RECIPES
Potatoes are the most versatile ingredient in any pantry; they can be used for mashes, pies, fries and just about everything else in between. Take advantage of those stray spuds and whip up a few of my BEST sweet potato-filled recipes!
Here are a few more of my sweet potato recipes.
*Did you make this recipe? Please give it a star rating and leave comments below!*
Garlic Butter Sweet Potato Fries
Learn how to make crisp and perfectly-seasoned Garlic Butter Sweet Potato Fries! Using warm spices, creamy butter and aromatic garlic, we create the most absolutely perfect, baked fry ever!
Print
Pin
Rate
Ingredients
Nonstick cooking spray

1

pound

medium sweet potatoes

1

tablespoon

butter

melted

1/4

teaspoon

seasoned salt

black pepper to take

1/4

teaspoon

garlic powder

1

dash

ground nutmeg
For Garlic butter:
1

tablespoon

butter

melted

1/4

teaspoon

garlic powder
Instructions
Preheat oven to 400 degrees F. Line two baking sheets with foil.

Skin potatoes and cut sweet potatoes lengthwise into 1/2-inch thick strips. Place sweet potatoes in a large bowl. Drizzle with butter then season with salt, pepper, garlic powder and nutmeg and toss to coat. Arrange sweet potatoes in a single layer on prepared baking sheets and bake for 10 to 15 minutes.


Turn potatoes over and bake for 10 to 15 minutes more or until golden brown and potatoes are tender.

Whisk butter and garlic powder together and drizzle over fries and serve.
Notes
Switch up the potatoes.  This fry recipe works with any type of potato outside of sweet potatoes as well.
Nutrition
Calories:
50
kcal
|
Carbohydrates:
8
g
|
Protein:
1
g
|
Fat:
2
g
|
Saturated Fat:
1
g
|
Cholesterol:
5
mg
|
Sodium:
86
mg
|
Potassium:
127
mg
|
Fiber:
1
g
|
Sugar:
2
g
|
Vitamin A:
5421
IU
|
Vitamin C:
1
mg
|
Calcium:
11
mg
|
Iron:
1
mg