Bubbly, festive, and a total snap to stir together, this easy Christmas Punch is refreshing, filled with seasonal pomegranate flavor, and not overly sweet. In less than 5 minutes you'll have a lovely, useful centerpiece for any holiday party!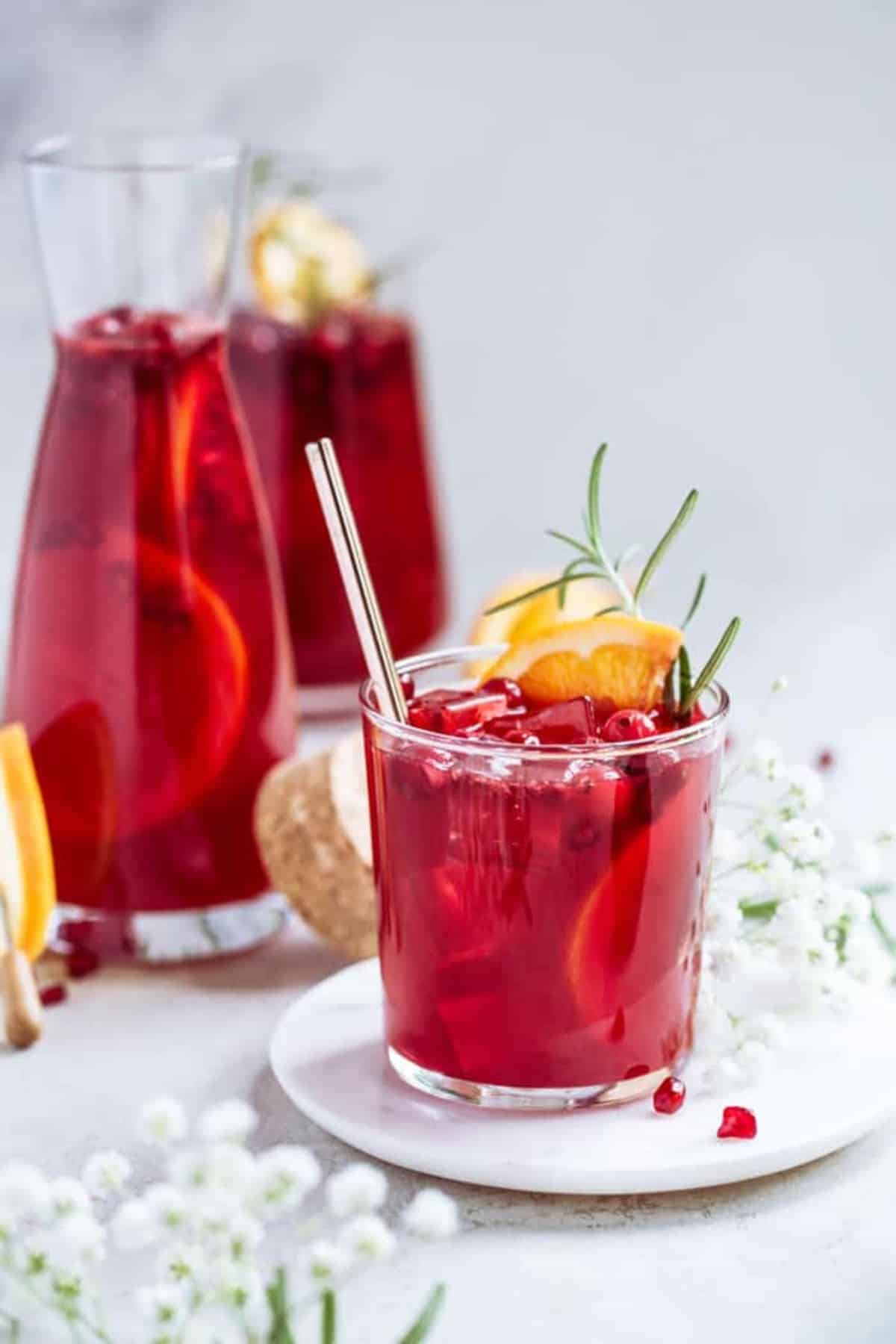 Fa la la la! Christmas is here and I couldn't be more excited! Bring on the mall Santas and cookie swaps, this girl is ready for it. Now I know this year has been a little crazy but y'all, there's nothing that the holiday spirit (or a glass of spirit) can't handle. You feel me?
Today, I'm sharing the sweetest, cheeriest, holly jolliest holiday drink of all time: Christmas Punch. I'm talking about a big bowl full of joy here people!
This Christmas Punch recipe is a twist on a classic family party punch recipe. It brings back such fond memories of holiday seasons filled with family and friends. It's as delicious as it is gorgeous, and it makes the most incredible addition to any holiday celebration!
Perks and Highlights of the Best Christmas Punch
Cuisine Inspiration: Holiday Festivities
Get ready for a Yuletide toast like no other! This Christmas Punch is inspired by the warmth and joy of holiday gatherings, where cheer spreads faster than Grandma's gossip!
Primary Cooking Method: Mixing
No oven, no stove, no problem! This is all about mixing and chilling, folks. The hardest part is waiting for the flavors to mingle!
Dietary Info: Vegan-Friendly & Gluten-Free
Worry not, my health-conscious pals! This punch keeps things inclusive: no dairy, no meat, and no gluten in sight. Just pure, spirited joy in a glass!
Key Flavor: Sweet, Tangy, and a Dash of Spice
Think of this as Christmas caroling in your mouth – the sweet melody of fruit juices, the tangy notes of citrus, and that surprise spice that's oh-so-nice!
Skill Level: Easy Peasy
Seriously, if you can pour, you can make this punch. It's a one-pot wonder that's foolproof for kitchen newbies and busy party hosts alike!
Special Perks:
Crowd-Pleaser: Whether it's for the kiddos or adults, everyone finds a reason to gather around the punch bowl. Just add a splash of spirits for the grown-ups, and voila!
Make-Ahead Magic: Whip it up the night before and let it chill in the fridge. The next day, you're not a frazzled host but the life of the party!
Insta-Worthy: This punch isn't just tasty; it's a feast for the eyes! Those ruby-red hues with floating fruit slices? #ChristmasPunchGoals
Flavor Flexibility: Not a fan of cranberries? Want it sweeter? This recipe's forgiving – tweak to your heart's content!
Stress-Free Serving: Forget fancy individual cocktails; this is pour-and-serve simplicity. More time mingling, less time mixing!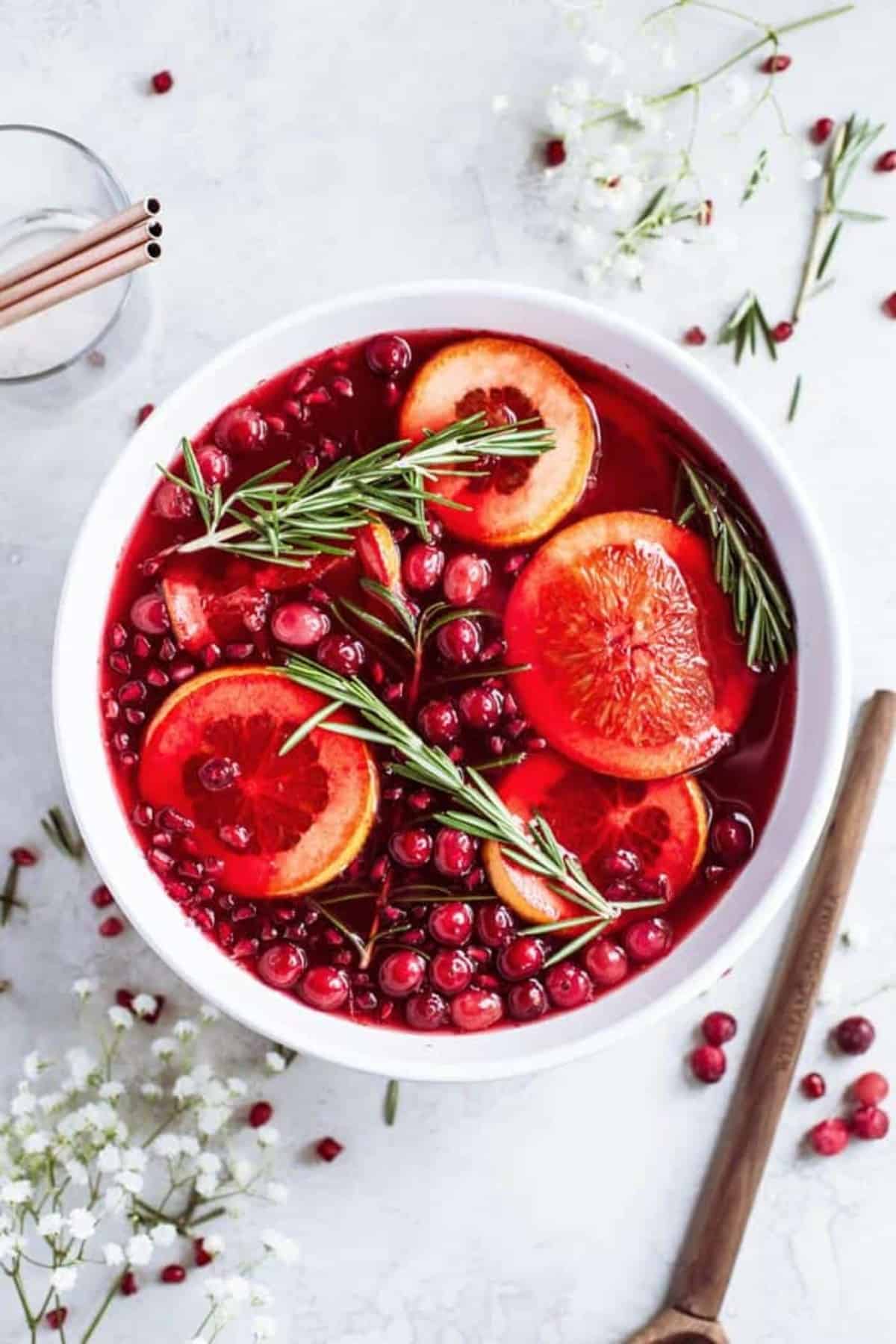 What is Christmas Punch?
Christmas Punch is a holiday party must have! It's a delicious blend of fruit juices and soda that can be served with or without alcohol. This large batch, easy-to-make cocktail or mocktail is perfect for serving at any holiday function!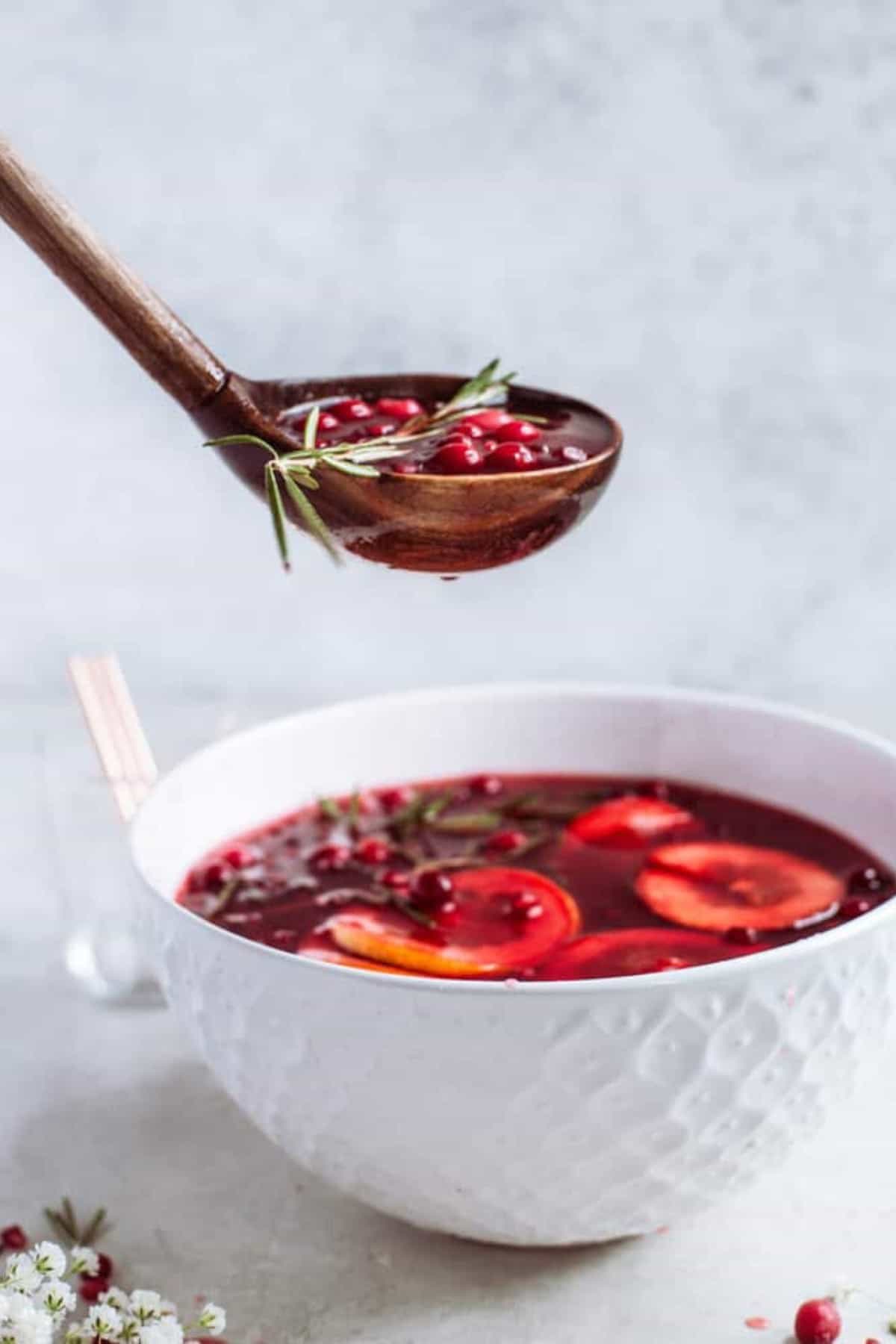 Ingredients
This Christmas punch is so simple, which means you can throw it together right before the party, and it will be ready before the guests hit the doorstep!
These ingredients make whipping up this punch super fast and crazy delicious:
Tropical Punch Kool-Aid- kool-aid is a classic! Fruity, sweet and fun, this drink mix is the ultimate hack for a well-balanced, flavorful punch.
Frozen Pink Lemonade Concentrate- I'm a big fan of a punch that's got a little tang to it. Pink lemonade is the perfect way to introduce acidity.
Pomegranate Juice- sour, earthy and full-bodied, pomegranate introduces a rich, fruity component to this drink.
Ginger Ale- who doesn't love a little fizz in their cocktail? Ginger Ale can also be substituted with ginger beer or 7up.
Granulated Sugar- I prefer a sweeter punch because overtime it does dilute a bit (once the ice is added) but, if you prefer a little less, feel free to adjust the measurement or omit completely.
Water- a little H2O thins out the mixture, creating more volume and allowing those sugars to disperse a bit.
Pomegranate Seeds, Herb Sprigs and Cranberries- what's a party with a few decorations? Dress up your punch to get that true WOW factor!
TIP: Use chilled ingredients! If the soda and juices are cold beforehand you don't need to add as much ice, therefore it won't be as diluted.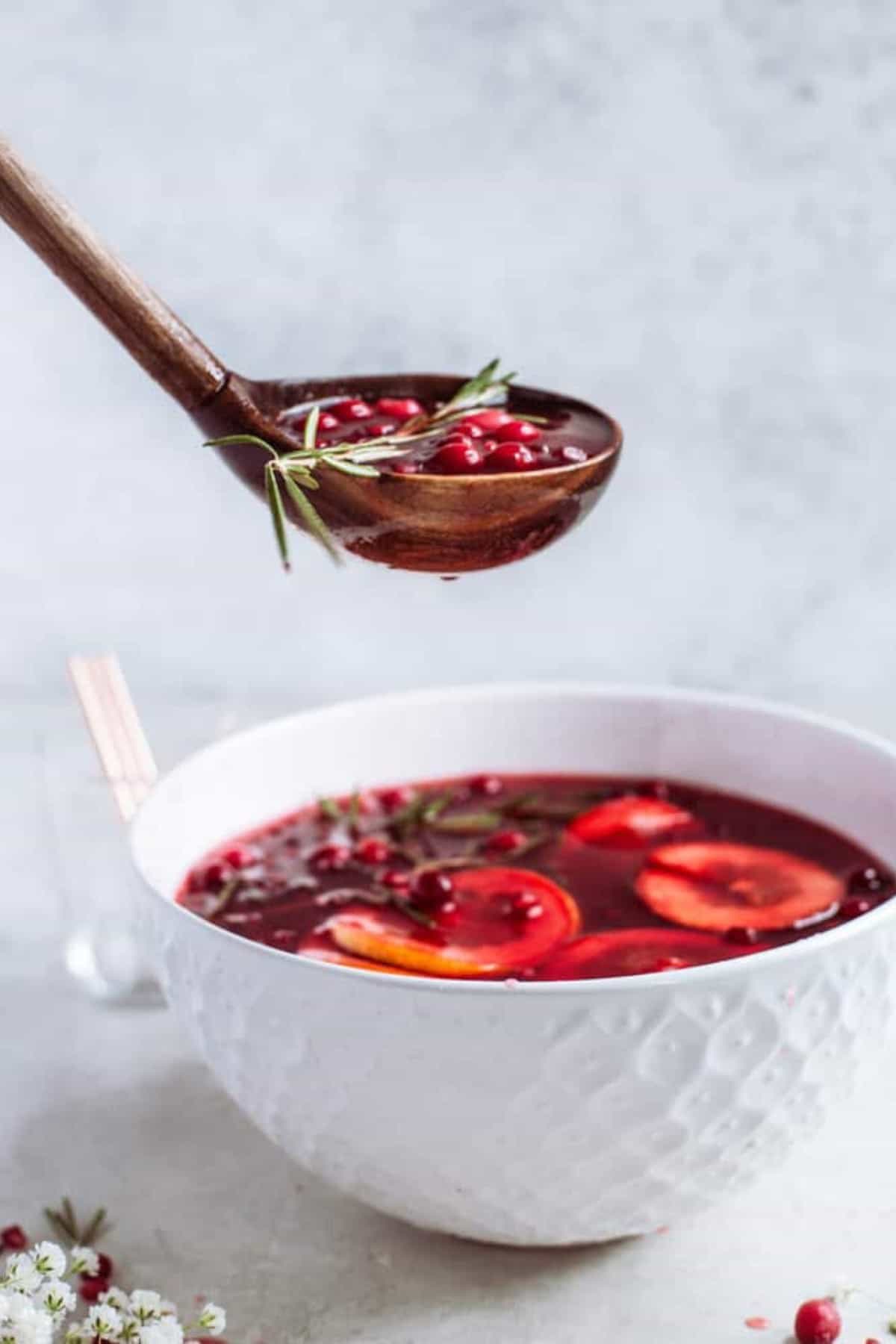 Spike It!
Listen, the holidays are stressful enough as it is. Crowded malls, holiday wrapping paper cuts and burnt cookies are at the top of my Christmas stress list. With that being said, when it comes to potlucks and parties, I'm the one making a beeline for the nearest saucy sip.
If you're like me (and in need of a strong slurp or two), try adding a light rum, vodka, gin or red wine to this recipe! Just be sure to notify your guests and keep it away from children.

Holiday Drinks and Punches
'Tis the season for spicy, sweet, bubbly and festive drinks galore! Don't miss the opportunity to dust off the cocktail shaker, polish your glasses and pour yourself the refreshing sip you deserve!
Start the party with some of my BEST holiday mocktails and cocktails: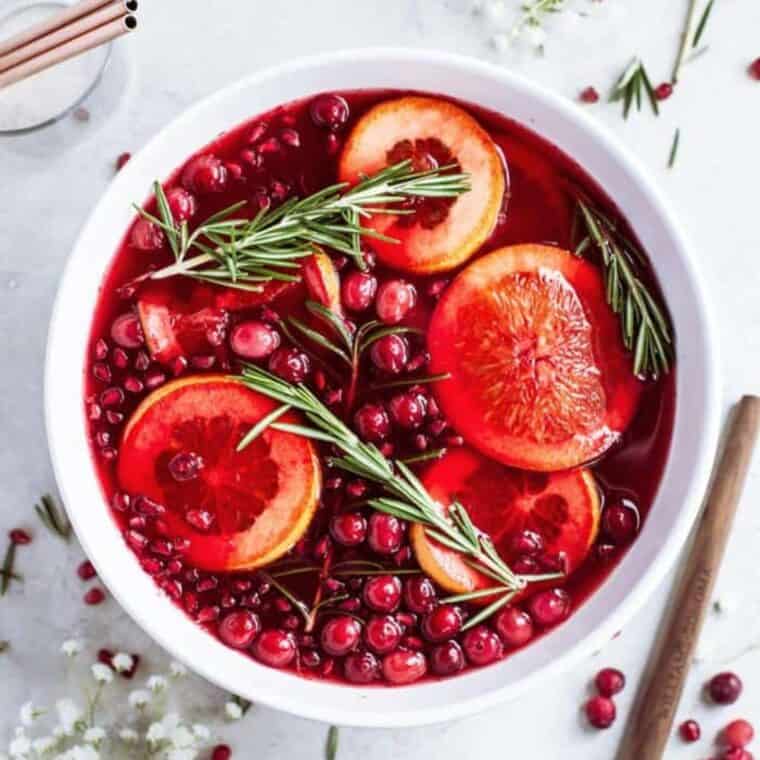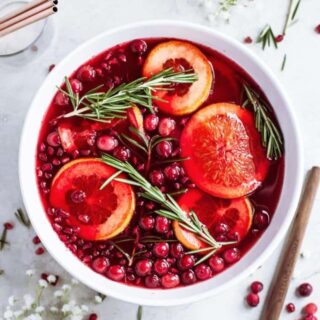 Easy Christmas Punch
This easy Christmas Punch is refreshing, filled with seasonal pomegranate flavor, and not overly sweet. In less than 5 minutes you'll have a lovely, useful centerpiece for any holiday party! 
Print
Pin
Rate
Ingredients
0.28

oz

Tropical Punch Kool aid packets

2 0.14 packets

2

cups

granulated sugar

6

cups

water

1

cup

frozen pink lemonade concentrate

thawed

½

cup

pomegranate juice

4

cups

ginger ale

Pomegranate seeds, green and cranberries

for garnish
Instructions
Mix all ingredients together.

Stir in pomegranate seeds and cranberries and serve.
Notes
Avoid Watered Down Punch. The best way to do this is to use chilled ingredients! If the soda and juices are cold beforehand you don't need to add as much ice and therefore the punch flavor won't be as diluted.

Serve It in a Punch Bowl. This makes a lovely addition to your table especially with the floating fruit and herbs.

Tips to Make Ahead: When planning a holiday party or gathering anything you can do ahead of time allows you to enjoy the time with friends and family more. You can mix the punch together but hold off on the ginger ale until your ready to serve. Once it's mixed, store it in the fridge until party time.

Feel Free to Adjust the Flavors: You can easily alter the sweetness by using swapping the soda for sparkling water or leaving out the sugar. You can also use varying amounts of the kool-aid and lemonade concentrate as well as change up the fruit juice to make a holiday punch to your tastes.
Nutrition
Calories:
121
kcal
|
Carbohydrates:
31
g
|
Protein:
1
g
|
Fat:
1
g
|
Saturated Fat:
1
g
|
Sodium:
9
mg
|
Potassium:
22
mg
|
Fiber:
1
g
|
Sugar:
30
g
|
Vitamin C:
2
mg
|
Calcium:
5
mg
|
Iron:
1
mg