Forget the cake mix! Learn how to make moist, tender, melt in your mouth fresh Strawberry Cupcakes from scratch with a delicious fluffy strawberry buttercream to die for! Just like the lovely flavor in my Raspberry Lemon Poke Cupcakes, Strawberry Pound Cake recipe, my Strawberry Punch Bowl Cake, and my Strawberry Cheesecake, you will taste berry flavor in every single bite!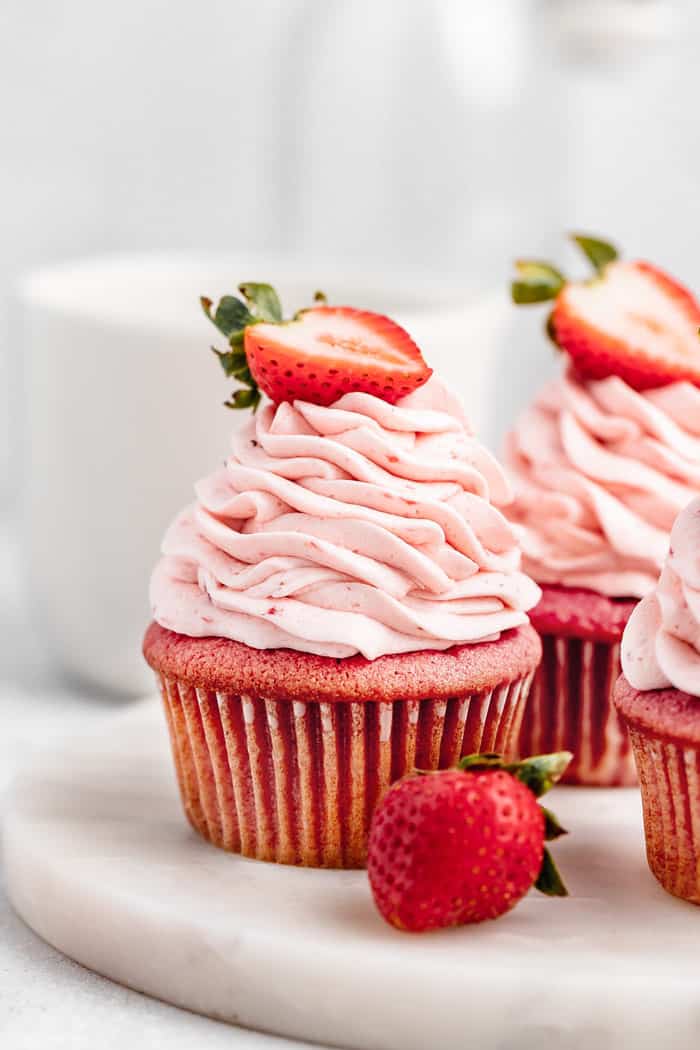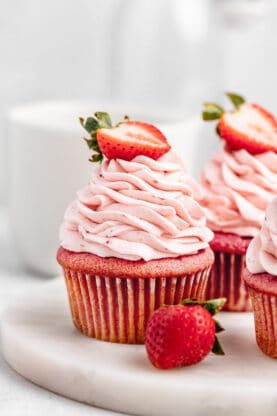 Strawberries are one of my all-time favorite fruits, and I love strawberry flavors in a moist and fluffy cake more than anything else. Like my strawberry pound cake, I can't think of a better Spring and Summer time dessert that features one of the best fruits known to man than these Strawberry Cupcakes with Strawberry Buttercream.
What makes this cake batter unique is the strawberry puree I added to it. The cake is filled with the natural strawberry flavor you would find in a strawberry cake mix but with no artificial flavors! Topped with homemade buttercream, these cupcakes are stunningly light, wonderfully fruity, and beyond irresistible.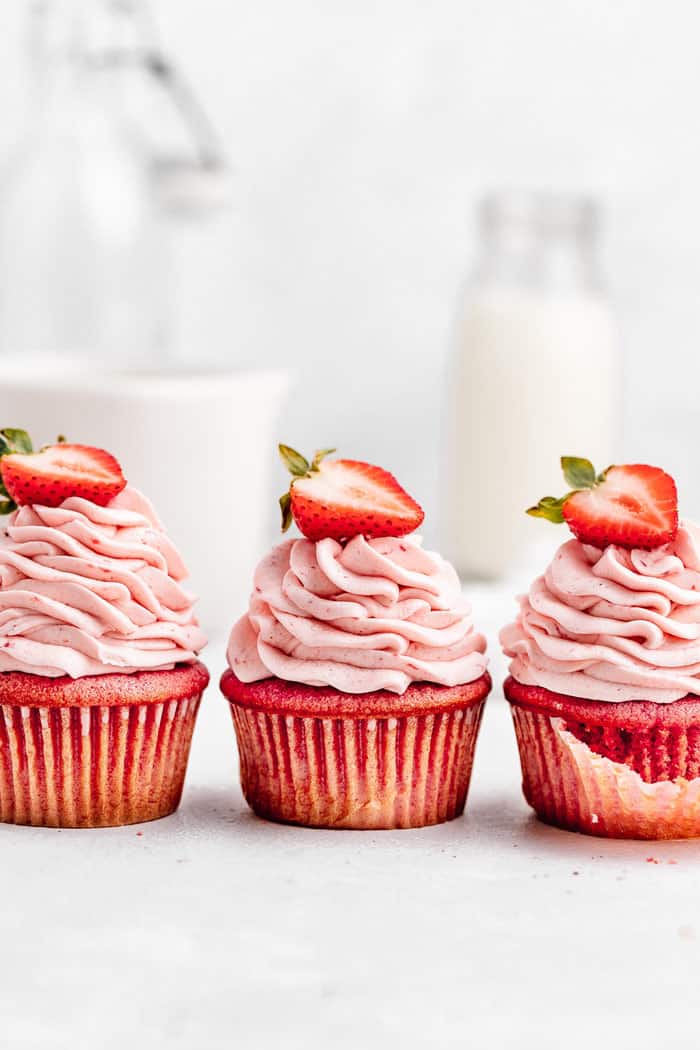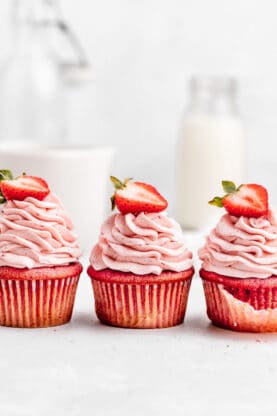 HOMEMADE STRAWBERRY CUPCAKE INGREDIENTS
If you're wondering what makes these cupcakes so darn good, don't worry because I'm about to spill the beans! Simple recipes call for important ingredients choices and there are a few I think you should know a little more about.
VEGETABLE OIL
The addition of a little bit of oil keeps these cupcakes completely moist and tender. The texture of the cake is so light and fluffy it's almost unbelievable!
UNSALTED BUTTER
When you cream butter and sugar together it creates an aerated mixture that provides lift before, during, and after baking.
FRESH STRAWBERRIES
When perfectly ripe, strawberries are sweet, aromatic and herbaceous. I love the way a strawberry seamlessly pairs with the woody, spiced flavors of vanilla.
SOUR CREAM
Adding sour cream to the cake gives more moisture and flavor. The acid in sour cream produces a very fine crumb because it tenderizes the gluten in the flour. Do yourself a favor and go for the full fat stuff, I just about always do.
STRAWBERRY EXTRACT
I wanted these cupcakes to be fragrant and full of fresh berry flavor. Strawberry extract adds that extra zing these cupcakes need!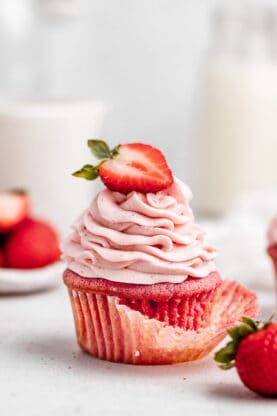 STRAWBERRY BUTTERCREAM
Strawberry Buttercream is my favorite! This classic American buttercream has additional strawberry puree throughout, but not too much. I like to make sure the puree is a bit chunkier for the buttercream because I LOVE having those tiny bits of strawberry in each bite. The end result of this frosting is smooth, lush, and creamy: perfect for spreading onto sweet, tender cupcakes.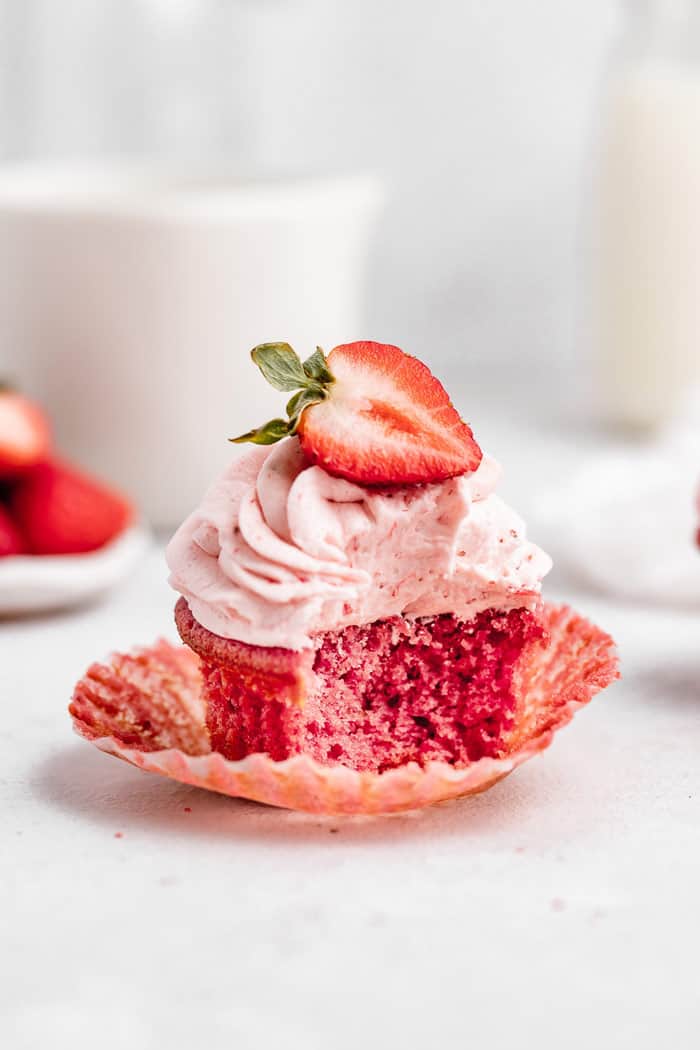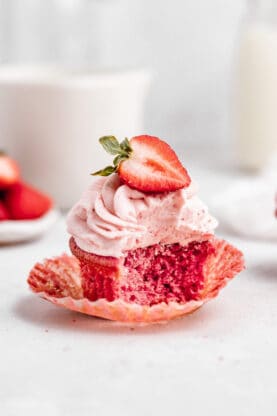 RECIPE TIPS
Use the best strawberries you can find! Go for the brightest red, plump berries for the best result. If your strawberries are slightly under ripe, you'll want to hull them, to make sure those flavorless white parts don't find their way into the cake or frosting.

Use room temperature ingredients. Cohesive ingredients make for easier blending, tender texture, and better flavor.

Bake the cupcakes in the middle of the oven. If splitting the pans between two racks, rotate them halfway through baking.
HOW LONG DO STRAWBERRY CUPCAKES KEEP FOR?
Strawberry Cupcakes will keep overnight, if left covered. Use an overturned bowl or a cupcake keeper to ensure they're safe from dirt, bacteria, and whatever else is lurking around. You can refrigerate them for up to 3 days but they should come to room temperature again before serving. Butter based cakes need to warm up a bit.
If unfrosted, you can wrap and freeze these cupcakes for up to 2 months.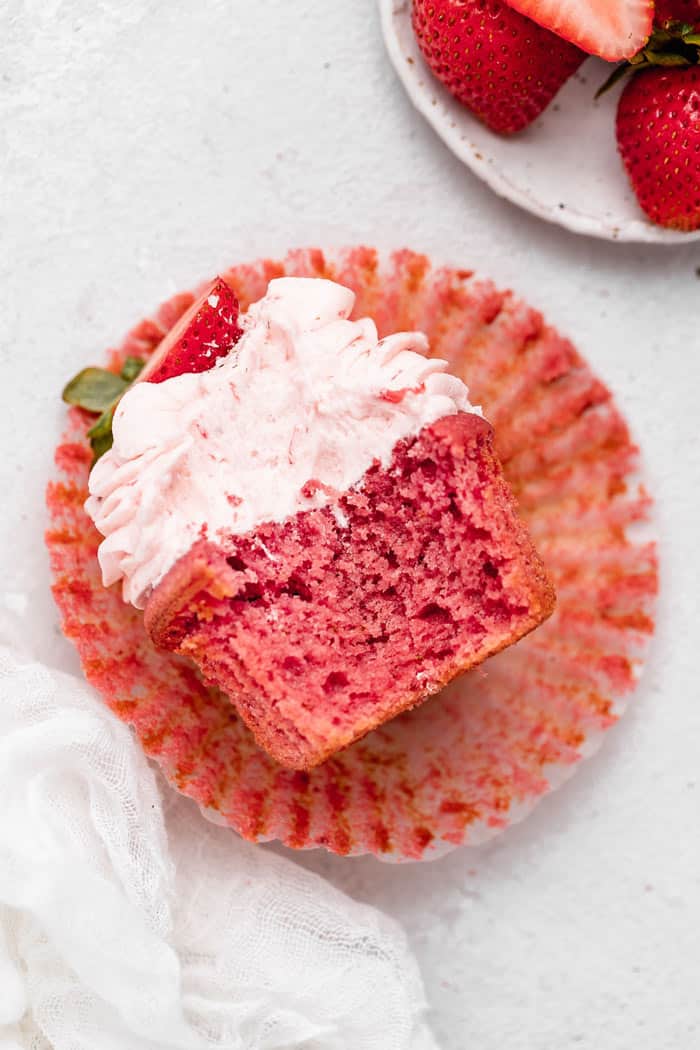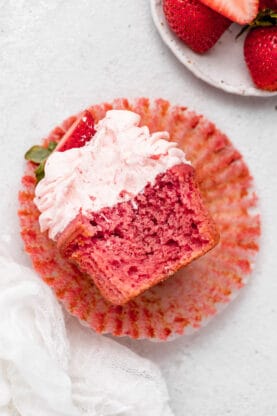 MORE FANTASTIC STRAWBERRY DESSERTS
If you enjoyed these strawberry cupcakes as much as I did, then you'll love some of my other strawberry desserts!
*Did you make this recipe? Please give it a star rating and leave comments below!*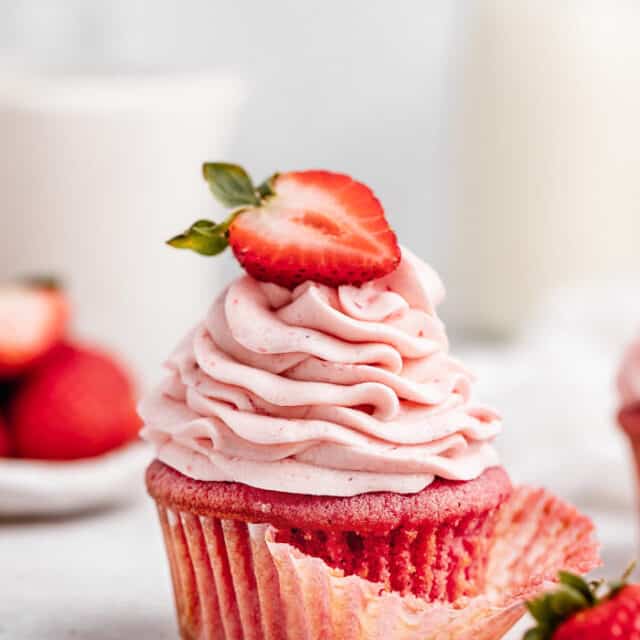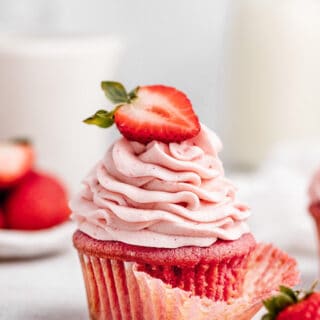 Homemade Strawberry Cupcakes
Forget the strawberry cake made with cake mix! These homemade completely scratch strawberry cupcakes are a classic done right and delicious!
Print
Pin
Rate
Ingredients
For the Cupcakes:
1 3/4

cups

granulated sugar

3/4

cup

unsalted butter, room temperature

1 1/2 sticks

2

cups

fresh whole strawberries

pureed

3

large

eggs

room temperature

3

cups

sifted all-purpose flour

1

teaspoon

baking powder

1

teaspoon

baking soda

1/2

teaspoon

salt

3/4

cup

sour cream

room temperature

1/4

cup

vegetable oil

1

teaspoon

vanilla extract

1

teaspoon

strawberry extract

3-4

drops

red food coloring

optional
For the Buttercream:
3.5

cups

powdered sugar

1

cup

unsalted butter, room temperature

2 sticks

1/4

cup

pureed fresh strawberries

1/2

teaspoon

strawberry extract

Pinch

salt
Instructions
For the Cupcakes:
Preheat your oven to 350 degrees Fahrenheit. Line two 12-well muffin pans with 20 to 24 cupcake liners.

In the bowl of your stand mixer fitted with the whisk attachment, add the granulated sugar and butter and beat together on medium-high speed for about 6 minutes, until very pale yellow and fluffy.

Add the eggs 1 at a time to your stand mixer, combining well after each addition and scraping down the sides and bottom of the bowl as needed.

Reduce your mixer speed to low and mix in the strawberry puree.

In a medium bowl, whisk together the flour, baking powder, baking soda, and salt. Slowly add 1/2 of the flour mixture to your stand mixer. Mix on the lowest speed until combined.

In a small bowl, whisk together the sour cream and oil. Add to your stand mixer bowl.

Add the remaining flour mixture to your stand mixer bowl and mix on low speed until well incorporated. Be careful not to overbeat.

Add the vanilla and strawberry extracts and food coloring, if using. Scrape down the sides and bottom of the bowl and mix the batter until just combined. Be careful not to overmix.

Using an ice cream scoop (with trigger release) or a spoon, scoop the batter into the cupcake liners until each is 3/4 full. Be careful not to overfill.

Bake for 17 to 21 minutes, or until a toothpick inserted into the center of a cupcake comes out mostly clean but still moist.

Let the cupcakes cool in the pans for 10 minutes, then transfer to a wire rack. Let cool to room temperature. Lightly cover the cupcakes with foil or plastic wrap so they do not dry out.
For the Buttercream:
Clean your stand mixer bowl and whisk attachment. Add the confectioners' sugar and butter and mix on low speed, increasing the speed to medium-high once the sugar is fully incorporated. Continue to mix until light and fluffy.

Add the strawberry puree, strawberry extract, and salt and beat until the mixture is cotton-candy pink and the puree is fully incorporated.

Once the cupcakes have cooled completely, pipe them with the buttercream (Here, I used a large star tip) and serve.
Video
Nutrition
Calories:
347
kcal
|
Carbohydrates:
45
g
|
Protein:
2
g
|
Fat:
17
g
|
Saturated Fat:
11
g
|
Cholesterol:
62
mg
|
Sodium:
111
mg
|
Potassium:
76
mg
|
Sugar:
32
g
|
Vitamin A:
490
IU
|
Vitamin C:
8
mg
|
Calcium:
27
mg
|
Iron:
0.9
mg