This Lemon Chicken and Rice Casserole recipe is the perfect easy one pot meal full of citrus and herb essence, flavorful juicy chicken thighs and creamy tender rice!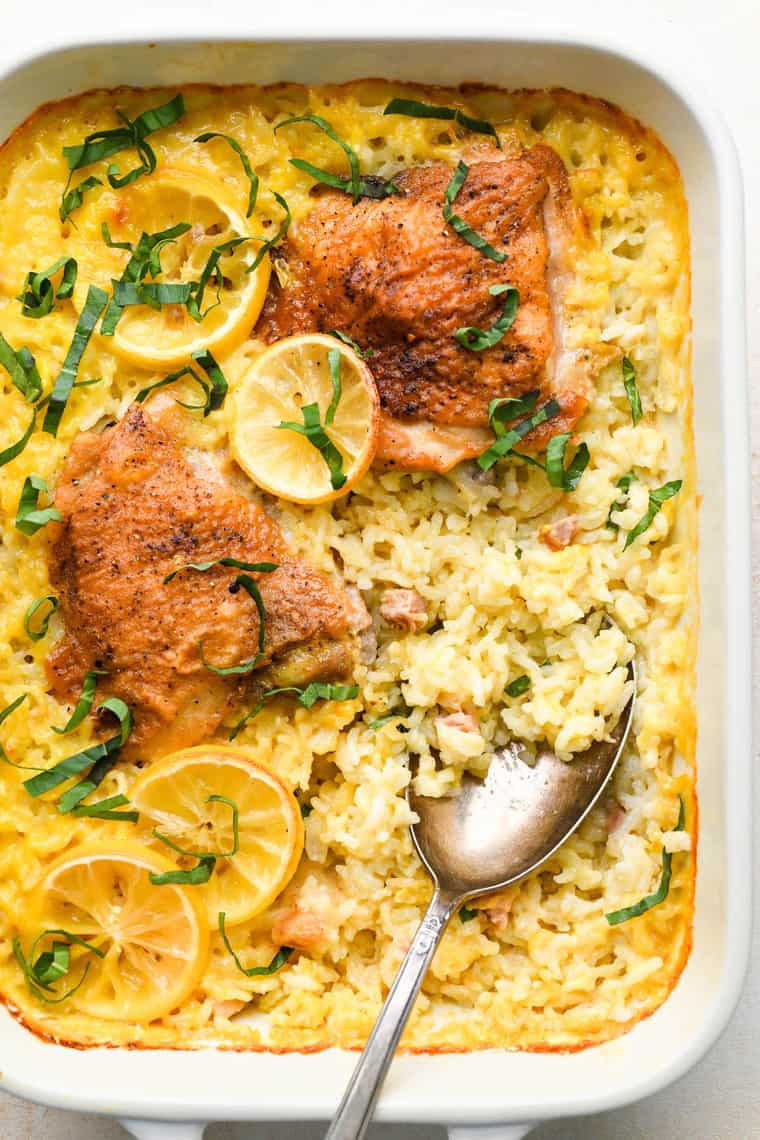 Though today's recipe isn't one I grew up eating, it is one I think of fondly. Simple casseroles and one-pot bakes often remind me of my mother and the quick meals she'd pull together at the end of long work shifts.
My mother, like so many of our dear moms, worked harder than anyone I knew. And still, most nights I'd come back from school to a home-cooked meal. It didn't have to be fancy or expensive. If my momma made it, it was good enough for me.
This Creamy Lemon Chicken and Rice Casserole is dedicated to all the moms (and dads) who juggle it all and somehow still find a way to show out for their families. I don't know how you do it.
Why I love this Lemon Chicken and Rice Casserole
On a busy weeknight, I've got about 15 minutes to pull together a quick dinner for my family. I constantly need to keep a pantry-friendly, efficient recipe to take my peeps from hungry to happy on deck! And that's where dishes like today's come in!
This Creamy Lemon Chicken and Rice Casserole is a minimal effort recipe made with ingredients you most likely already have! So, stop stressing and let's get cooking instead.
Perks and Highlights
Cuisine Inspiration: Mediterranean Zing
Primary Cooking Method: One-Pot Wonder (Stovetop)
Dietary Info: High-Protein, Gluten-Free Option Available
Key Flavor: Tangy Lemon Infusion
Skill Level: Easy Peasy Lemon Squeezy
Special Perks:
Flavor Fiesta: With an explosion of citrus notes paired with comforting, earthy rice, this dish is like a party where everyone's invited—especially your taste buds.
One and Done: Forget the mountain of dishes. This meal comes together in one pot, because who has time for cleanup on a weeknight?
Nutrient Knockout: Lean protein? Check! Whole grains? You betcha! You're not just getting a meal; you're getting a powerhouse of nutrients.
Leftover Love: Tastes just as fabulous the next day, making it the perfect dish to cook in bulk and relish – again and again.
Customization Queen: Want it spicier? Add red pepper flakes! Not a fan of peas? No problem! This forgiving recipe lets you be the master of your culinary domain.
Lemon Chicken and Rice is not just a meal; it's a mood. And that mood is "heck yes!" So, grab your pot, summon your inner chef, and let's turn the ordinary into extraordinary!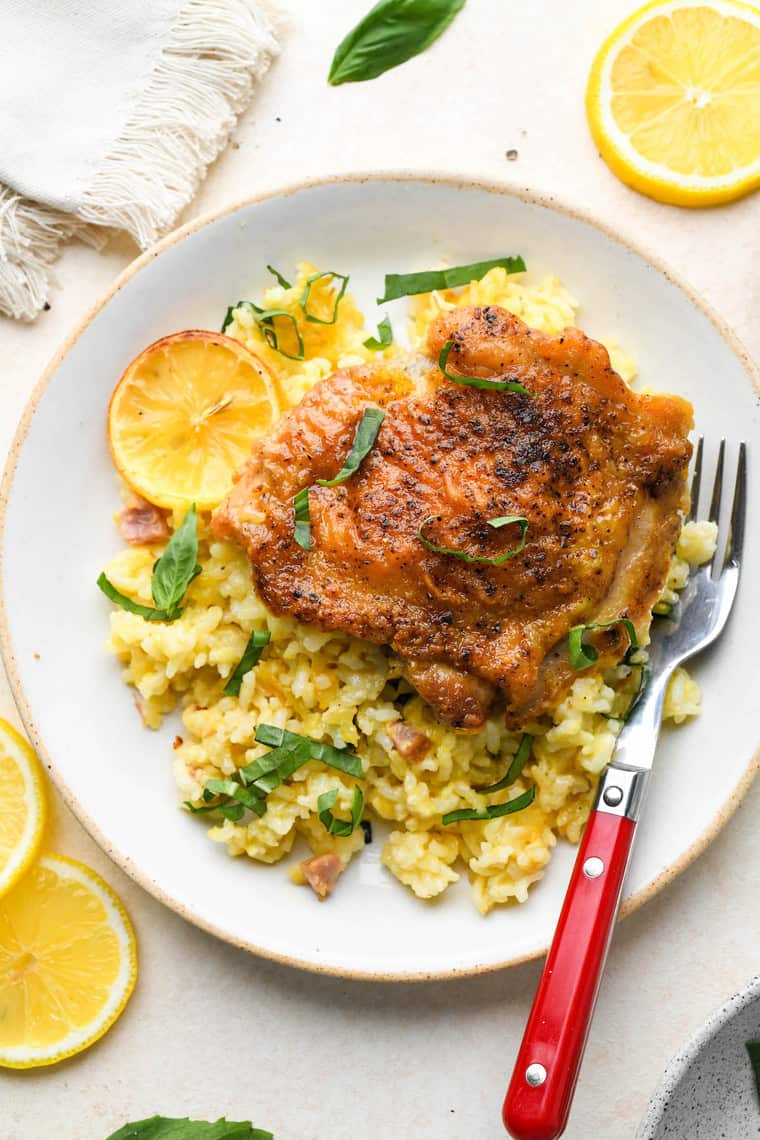 Ingredients
I find that simple recipes have the most to offer; they're quick to make, not over complicated to prepare, and the flavors are often familiar. Recipes like these can save you from overpriced takeout and teach you the most out of what you've got!
Here's what you'll need to make a chicken rice casserole:
Chicken Thighs: These flavorful wonders are the heart of the casserole, offering up tender, juicy bites. Remember, they bring more flavor and moisture than breasts!
All Purpose Flour: Here to give a subtle thickness to your casserole's texture. For those avoiding gluten, feel free to sub in rice flour or your favorite gluten-free mix.
Parmesan: This isn't just cheese; it's a golden, savory sprinkle of joy that enhances everything it touches with its aged perfection.
Garlic Powder & Onion Powder: Not all heroes wear capes; some are powdered. They're here to ensure your casserole is packed with those fundamental savory notes.
Lemon Slices and Zest: Freshness alert! These bring in the tang and zip, brightening everything up with a citrusy sunshine.
Salt and Pepper: The old guard of seasoning, they're simple but vital in pulling all the flavors together harmoniously.
Olive Oil: It's the liquid gold of the culinary world, smoothing out flavors and making sure everything bakes to a turn.
Cream of Chicken Soup: The secret weapon for creamy comfort, adding depth and richness. Cream of Mushroom soup can stand in as a tasty understudy if needed.
Chicken Broth: It's all about enhancing that chicken flavor and keeping the casserole from drying out. Flavorful hydration station!
Rice: The comforting carbohydrate that's ready to soak up all the amazing flavors and provide a satisfying heartiness to your casserole.
Garlic: Fresh this time, because we adore it so. It's the aromatic kick that no dish should live without.
Basil: Bringing a whisper of sweet anise and peppery flavors, it's the green garnish that also adds an extra layer of taste sophistication.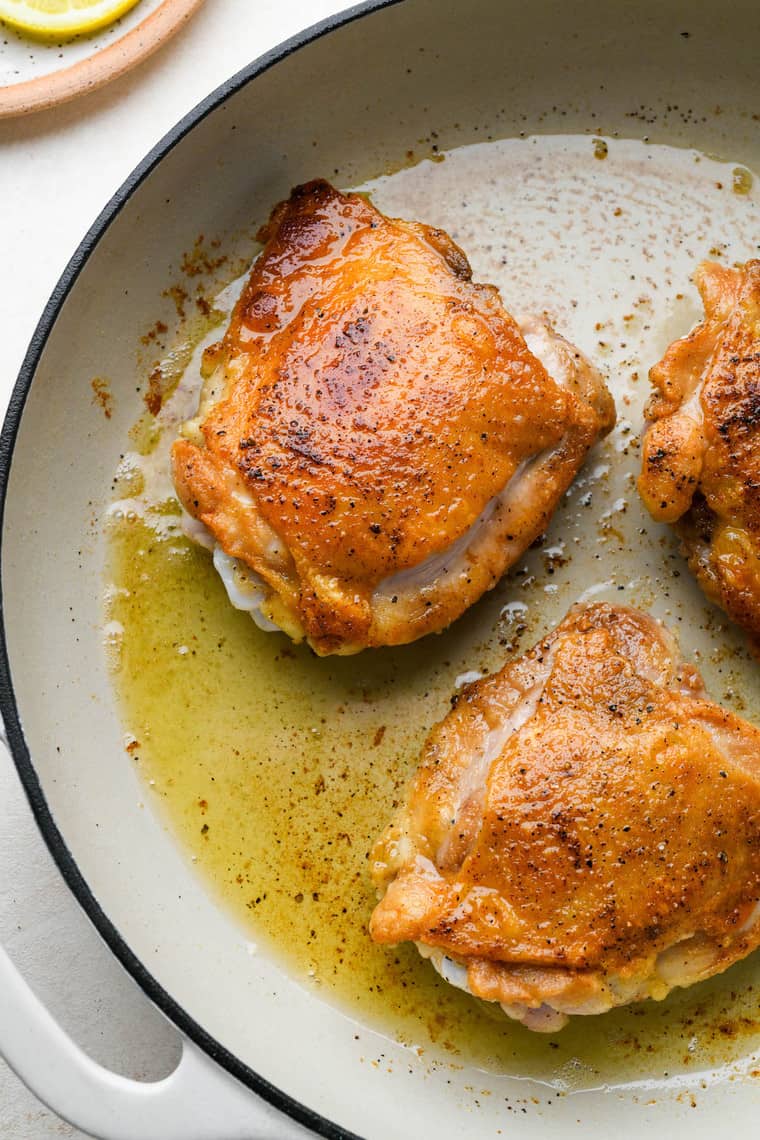 How to Make Chicken and Rice Casserole
From start to finish, this recipe cooks up in under an hour and only requires about 15 minutes of active preparation. In other words, it's so easy anyone can do it!
To make Creamy Lemon Chicken and Rice Casserole, you'll need to first dredge each piece of chicken in your seasoned flour.
The chicken is then lightly sautéed to seal in moisture and brown the skin.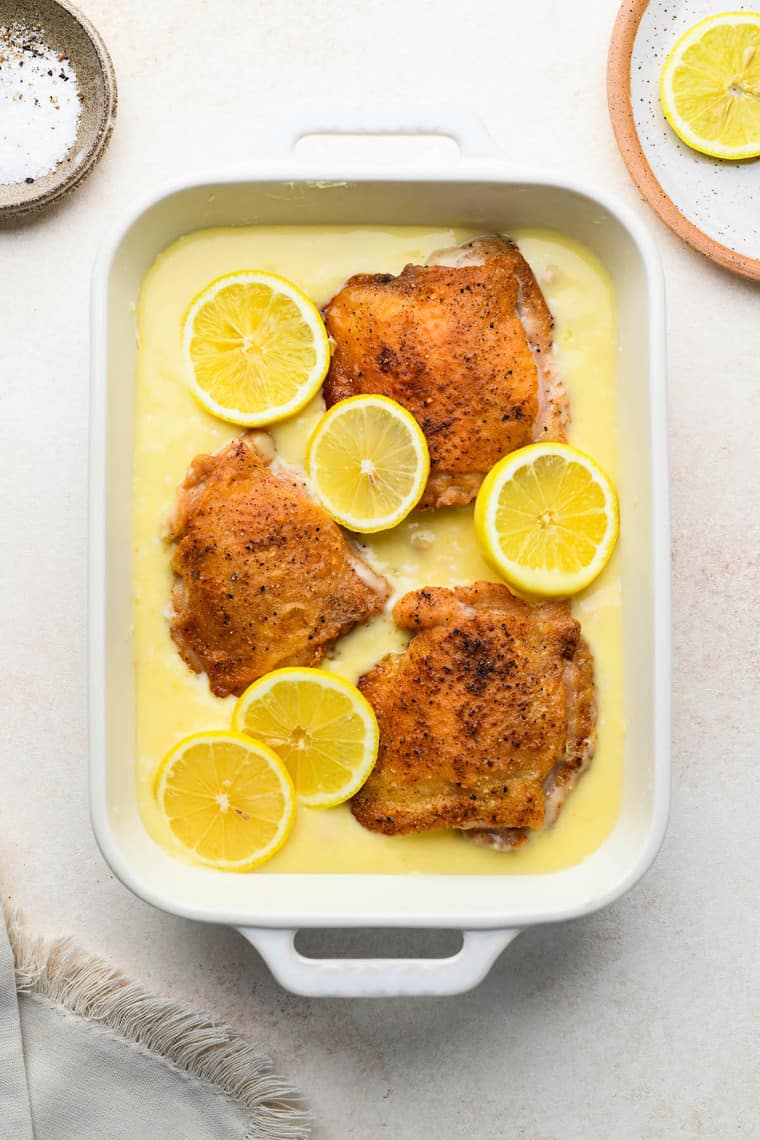 Next, you'll need to mix up the rice along with the rest of the ingredients (except for the basil) in a large baking dish.
Place the chicken over the top of the rice, sprinkle on a few basil leaves, and, heck, maybe some extra parm too! Bake until creamy, golden-brown, and cooked through. Serve immediately.
Recipe Tips
SWAP CHICKEN THIGHS FOR BREASTS.

If you're local market it out of thighs, or you simply prefer chicken breasts, go ahead and make the switch! Continue to follow the recipe as written, just be sure to allot for a longer cooking time since breasts are larger.

USE BROTH, STOCK, OR WATER.

This recipe calls for the use of chicken broth to cook the rice. You can use any kind of broth or stock you'd like. In a pinch, or as a preference, water can be used! For a creamier rice, you can add up to ⅓ cup of extra liquid.

ADD SPICE.

I intended for this recipe to be quite simple; it's ingredient list is short and the flavors are light and well-balanced. Kick things up a notch by adding a touch of spice to the dish. Paprika, cayenne, red pepper flakes, or a dash of your favorite seasoning should do the trick.

TRY A DIFFERENT CANNED SOUP.

No cream of chicken? No sweat. Cream of mushroom will work just as well. The unsalted varieties will work too but you'll need to add extra seasoning.

ADD/SUBTRACT COOKING TIME.

The cooking time for this recipe will vary based on oven temperature, the kind of rice used, and the meat. Start checking sooner rather than later and adjust the time as needed.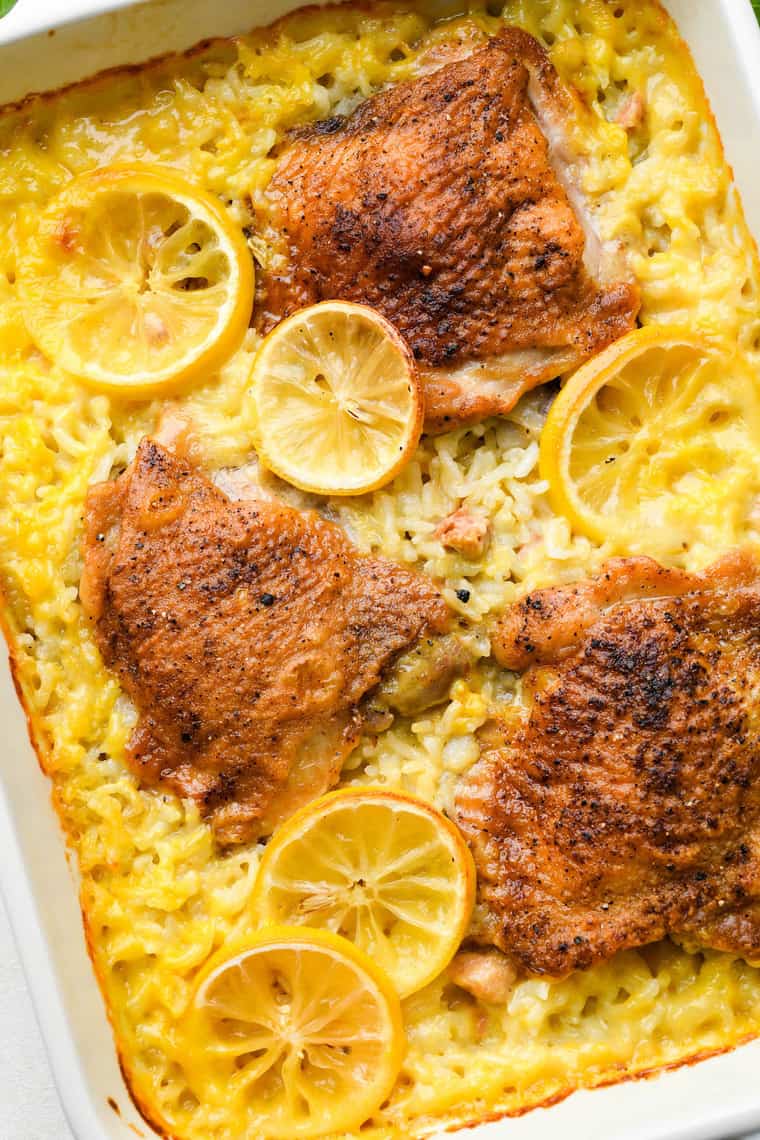 Storage and Reheating
Any leftover lemon chicken and rice casserole bake should be slightly cooled, then stored in an airtight container and kept in the fridge for up to 3 days. I like to portion out the remains into individual containers for easier reheating.
To reheat, either transfer the desired portion onto a plate or leave it inside its microwaveable container. Cover with a damp paper towel to retain moisture. Heat on high in 1 minute increments until heated through.
More Weeknight Chicken Recipes
Can't get enough of this recipe? Try out more of GBC's delicious everyday chicken dinners!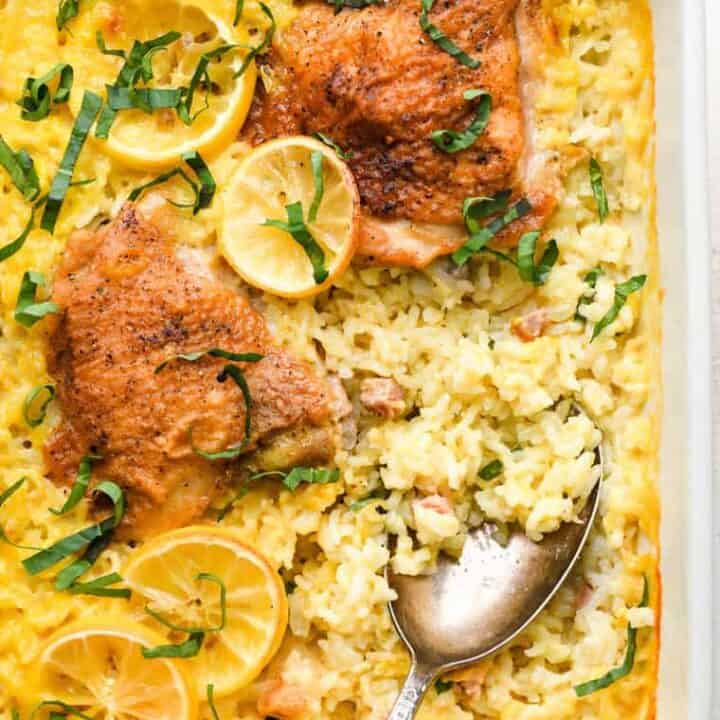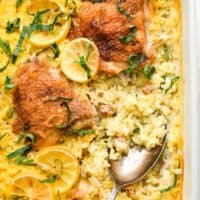 Creamy Lemon Chicken and Rice Casserole
This Lemon Chicken and Rice Casserole recipe is the perfect easy one pot meal full of citrus and herb essence, flavorful juicy chicken thighs and creamy tender rice! 
Print
Pin
Rate
Ingredients
1/2

cup

all purpose flour

1/4

cup

grated parmesan cheese

1

tsp

garlic powder

1

tsp

onion powder

1/2

tsp

lemon zest

separated

kosher salt and ground black pepper

4

bone in skin on chicken thighs

we used 3 large ones here but 4 smaller ones are great as well.

3

tbsp

extra virgin olive oil

10.2

oz

cream of chicken soup

1

cup

chicken stock

3/4

cup

long grain white rice

2

cloves of garlic

grated or minced

1

lemon

sliced into rounds

thinly sliced basil

for garnish, optional
Instructions
Preheat the oven to 375 degrees. Grease an 11 x 8 baking dish (or one of similar size).

In a large shallow bowl, combine flour with the parmesan, garlic powder, onion powder, and half of the lemon zest. Season generously with salt and pepper and mix thoroughly with a fork. Dredge each piece of chicken on all sides with flour mixture. Set aside.

In a large skillet over medium-high heat, heat olive oil until shimmering but not smoking. Add chicken skin side down, and sear until golden, 6 minutes. Flip and cook until the opposite side is golden, around 6 minutes more. Remove from the pan and set aside.

Stir together the soup, stock, rice, garlic, and remaining lemon zest in your prepared baking dish. Place the chicken on the rice mixture and layer lemon slices over the top of each piece. Cover the baking dish.

Bake for 40-60 minutes or until the chicken is done and the rice is tender (it could take a bit longer up to an hour for some for the rice but if it is still liquidy continue baking). To develop a deeper color, uncover the dish for the last 5-10 minutes of baking. Sprinkle on the sliced basil. Let stand for 10 minutes. Stir the rice and season to taste before serving.
Notes
Add an extra 1/3-1/2 cup of water or broth for creamier rice.
Also you can change the chicken thighs to breasts but they will require a longer baking period overall.
Nutrition
Calories:
720
kcal
|
Carbohydrates:
52
g
|
Protein:
33
g
|
Fat:
42
g
|
Saturated Fat:
10
g
|
Polyunsaturated Fat:
7
g
|
Monounsaturated Fat:
20
g
|
Trans Fat:
0.1
g
|
Cholesterol:
155
mg
|
Sodium:
818
mg
|
Potassium:
520
mg
|
Fiber:
2
g
|
Sugar:
2
g
|
Vitamin A:
306
IU
|
Vitamin C:
15
mg
|
Calcium:
103
mg
|
Iron:
3
mg