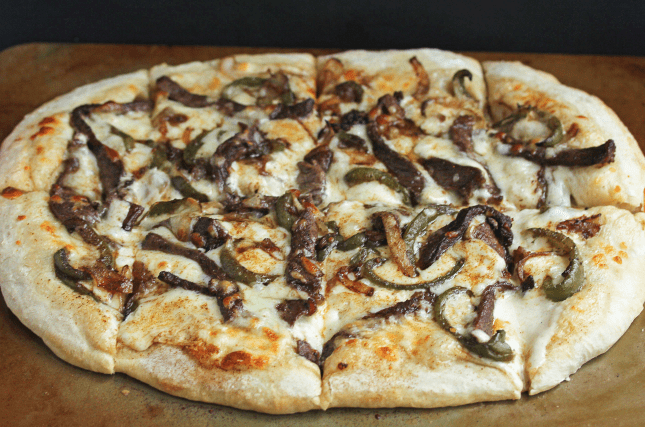 How can I adore Philly Cheese Steaks if I have never been to Philly? Easily. Though I haven't had the pleasure of visiting Philadelphia just yet, it is high on my list of places to visit soon. In the meantime, I have had a great time trying Philly Cheese Steaks everywhere from my hometown Chicago to New York.
I first fell in love with these sandwiches when my dear friend and former co-worker John introduced me to a local place that made them. We would order them weekly for lunch because they were irresistible. I remember them like it was yesterday, and this was almost 10 years ago!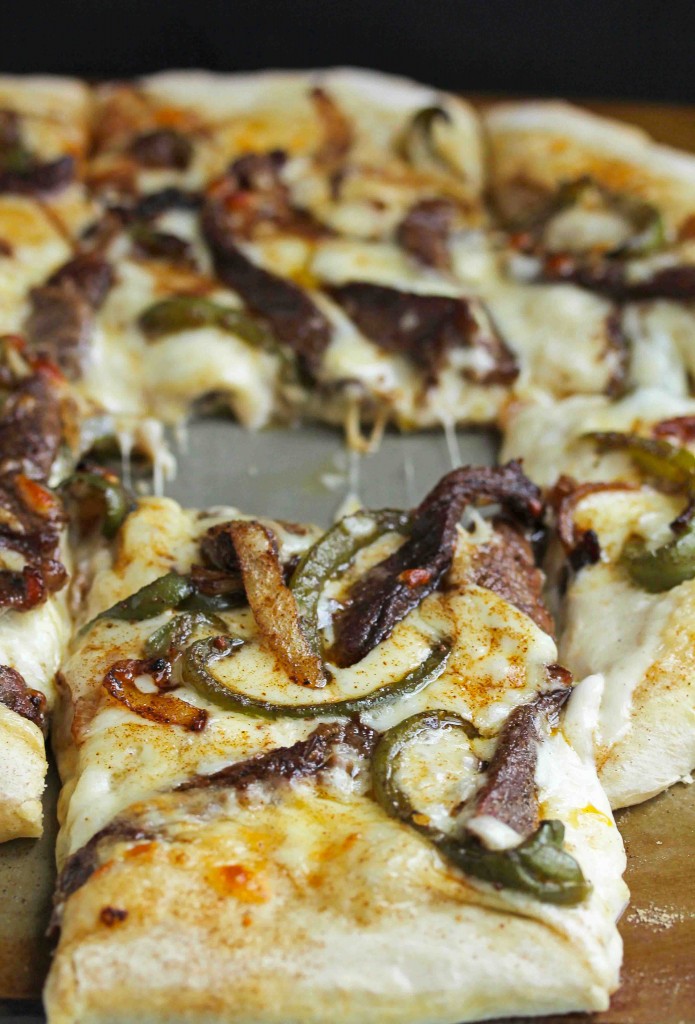 When the delivery guy would arrive, I would open the bag just to get a whiff of the intoxicating insides. We would rush upstairs to tear open the paper surrounding our sandwiches to get to the delight that existed. Inside a perfect chewy warm roll lied heaven, also known as tender thinly sliced steak with sauteed onions and green peppers topped with melted provolone cheese.
I have never made Philly Cheese Steaks at home but for some reason I wanted to try. With the help of Red Star Yeast, I started dreaming up perfect twists for my favorite indulgent meal. I created an epic pizza starting with this perfect crust!
The crust is so chewy and reminds me so much of the familiar roll that served as the vehicle for my beloved sandwich. After I worked out the crust recipe, I sauteed strips of ribeye steak with green peppers, onions, and seasoning so those flavors would blend together and stand on their own.
After topping the perfect crust with a bit of alfredo sauce and my steak mixture, I sprinkled with provolone cheese and watched the magic happen in my oven as all the flavors melted together on this beautiful golden crust. This recipe was such a hit that my brother actually came over to pick some up to take home with him. He couldn't get enough. My husband couldn't get enough, and I couldn't get enough. This pizza has made it into the pizza night rotation at my house, and I know it will make it into yours too.
For more pizza and other yeast recipe ideas, check out the fun Red Star Yeast Pinterest Boards.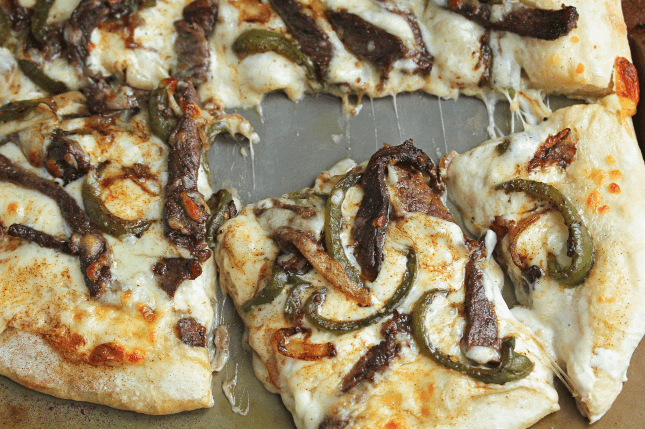 Disclaimer: This post has been sponsored by Red Star Yeast, but all thoughts & opinions are all my own.
Philly Cheese Steak Pizza
Philly style pizza that can't be beat!
Keyword:
easy recipes, kid-friendly recipes, weeknight dinner
Ingredients
For the Pizza Dough:
2

cups

all-purpose flour

1 1/2

teaspoon

garlic salt

1

teaspoon

granulated sugar

1 1/2

teaspoon

Red Star Quick-Rise Yeast

3/4-1

cup

lukewarm water

1

tablespoon

olive oil
For the Pizza Toppings:
1

tablespoon

extra virgin olive oil

1/2

pound

rib eye or flank steak cut into strips

1

teaspoon

minced garlic

1

cup

diced onions and bell peppers

1

teaspoon

Worcestershire sauce

salt and pepper to taste

5-6

tablespoons

Alfredo sauce

provolone cheese

sprinkle of paprika
Instructions
For the Pizza Dough:
Mix together until dough is created.

Using your hands knead for one minute and form a ball.

Spread 1 tablespoon of olive oil in a separate bowl and transfer pizza dough to that bowl. Cover with a paper towel for 1 hour.
For the Pizza Toppings:
In a medium sized sauce pan over medium high heat, add steak strips, minced garlic, onions and bell peppers and stir together.

Add in worcestershire sauce and season with salt and pepper to taste.

Continue to saute the steak and vegetables until steak is well done and both steak and vegetables are golden and tender.
To Assemble the Pizza:
Preheat oven to 450 degrees.

Roll Pizza dough out on your pizza sheet.

Spoon Alfredo sauce over the surface of your pizza dough.

Next top with a few sheets of provolone cheese.

Sprinkle the steak mixture over the provolone cheese and top with any remaining provolone cheese.

Lastly sprinkle entire pizza with a bit of paprika and bake for 12-14 minutes or until crust has turned golden brown and cheese has browned and completely melted.
Nutrition Facts
Philly Cheese Steak Pizza
Amount Per Serving
Calories 236
Calories from Fat 81
% Daily Value*
Total Fat 9g 14%
Cholesterol 23mg 8%
Sodium 524mg 22%
Potassium 176mg 5%
Total Carbohydrates 26g 9%
Protein 10g 20%
* Percent Daily Values are based on a 2000 calorie diet.