These finger-lickin' good Pomegranate Honey Wings are coated in an addictive sticky-sweet glaze. Slightly spicy, a bit tart, perfectly cooked and messy in all the tastiest ways! If you love these wings, definitely check out these Baked Turkey Wings, Buffalo Wings, Lemon Pepper Wings or these Mango Jerk Wings!
Honey BBQ Wings Taken to Another Level with Pomegranate Honey Wings!
With this year's Super Bowl just around the corner, I'm sure there's a flood of game-day appetizer options flooding your blog feed. Of those many recipes, I'd bet that a good half of your options are various wing flavors ranging from Maple BBQ to Teriyaki Glazed. Now, I may not be the biggest football fan on the planet but I can appreciate any occasion that calls for wings.
This year, I didn't want to go the cliche route and give you the standard buffalo wings (even though I love them like anyone else). Every time I serve up a new wing recipe I make it a point to go big or go home. Between the Lemon Pepper Wings and the Mango Jerk Wings, the natural next step seemed to be these Pomegranate Honey Wings. Get ready for somethin' good!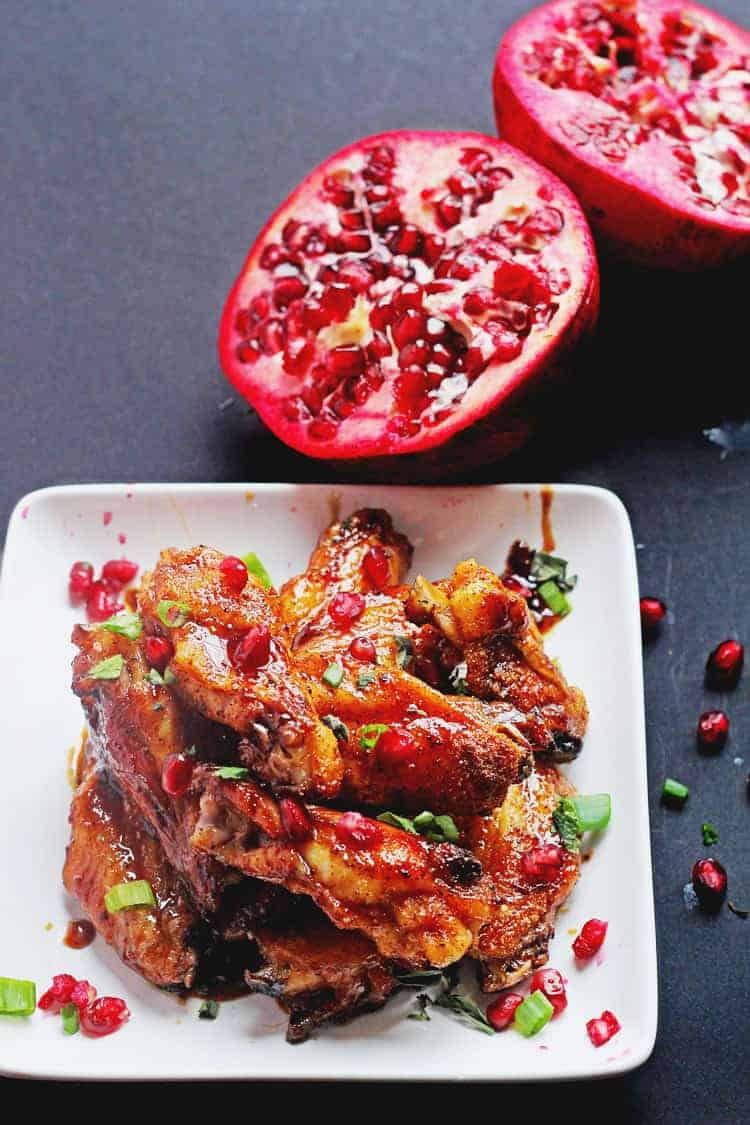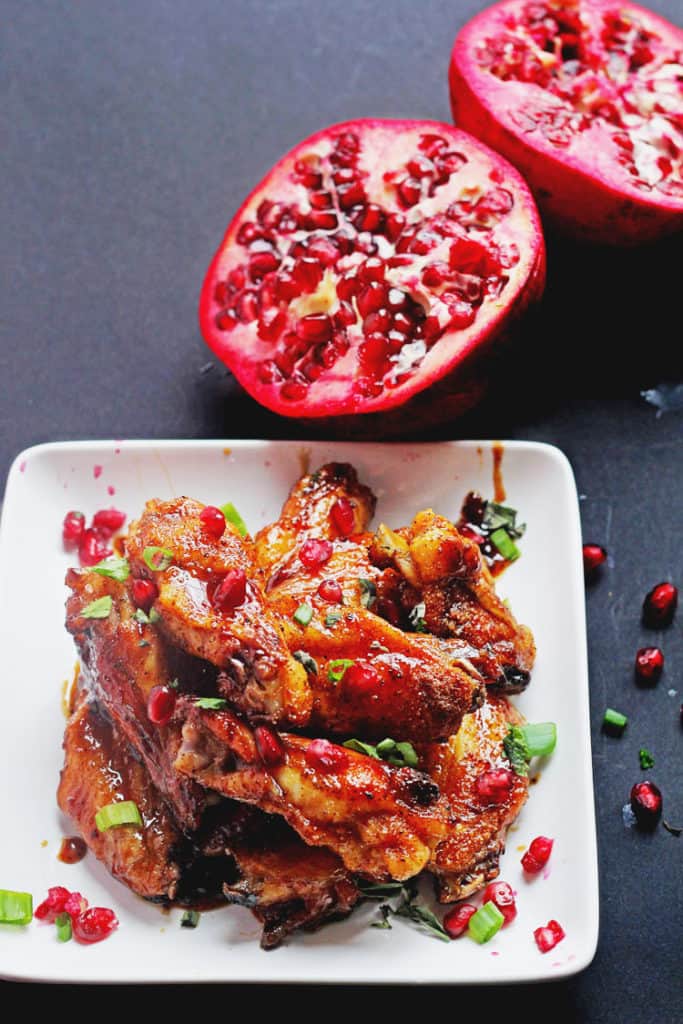 What Are Pomegranate Honey Wings?
Let me start off by describing to you just how ridiculously delicious these wings are! Originally, this recipe was intended to be simple pomegranate wings but then I saw the honey as I dug through my pantry and *BAM*.
Pomegranate is inherently a dark, sweet fruit with a rich and almost sour flavor. On the other hand, honey is quite sweet, flowery and sticky. Together these two ingredients come together to create a balanced sweetness and a sticky coating that keeps you coming back for more. Adding in a touch of heat is just what these wings needed to up the ante!
You might need to serve up a few wet napkins with your wings but I promise that you won't mind very much.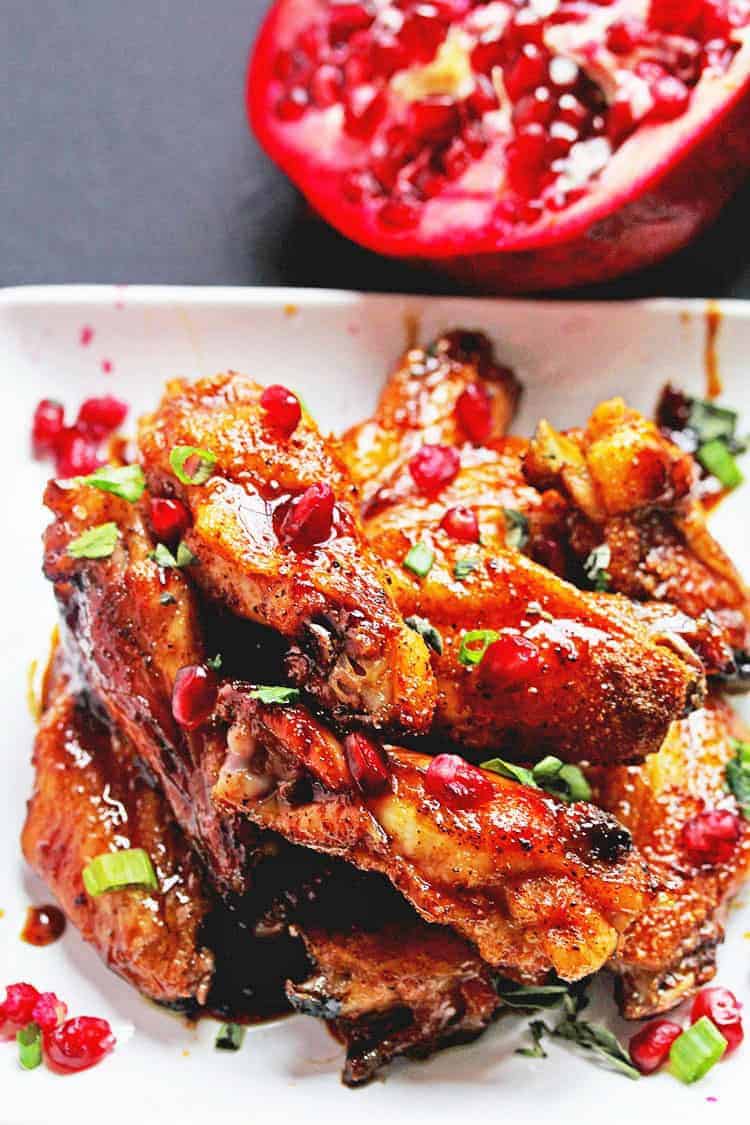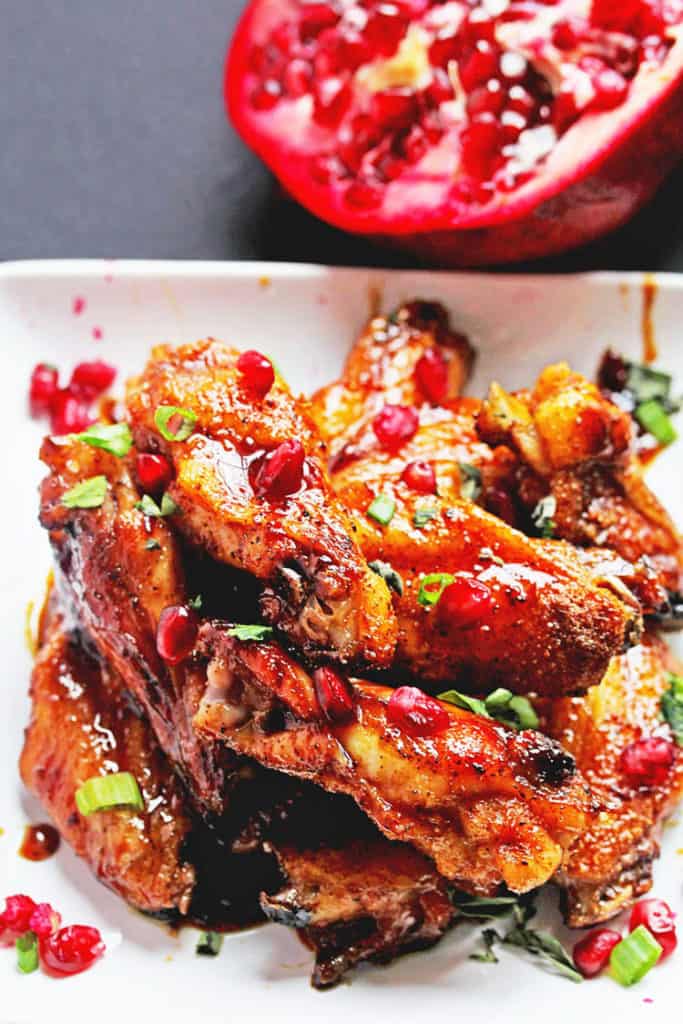 Using Fresh Pomegranate Juice
As much as I love pomegranates, they're a difficult fruit to handle and getting out that sweet juice can take a lifetime. If you're determined to go all out, hats off to you! But, if you're like me and in need of handy shortcuts to save a little time then finding a fresh pomegranate juice at the grocery store is the way to go.
POM is a brand of premade pomegranate juice that you can find at almost any local grocery store. The juice is absolutely delicious and great to keep on hand for salad dressings, marinades and sauces.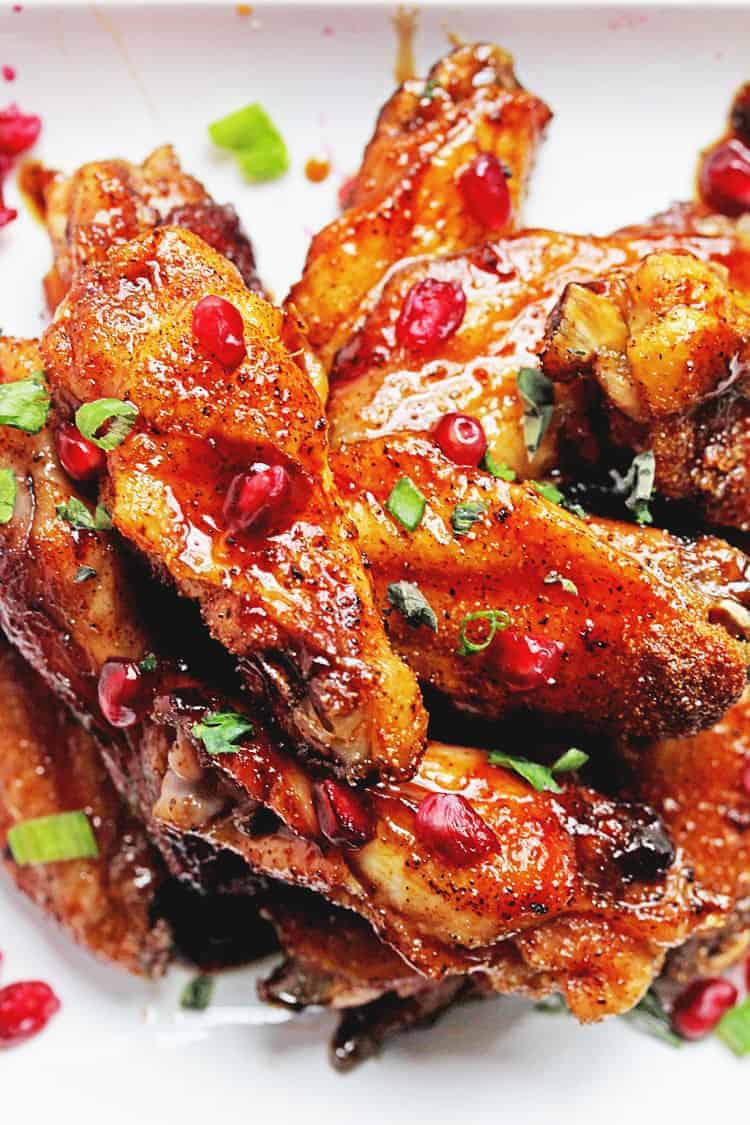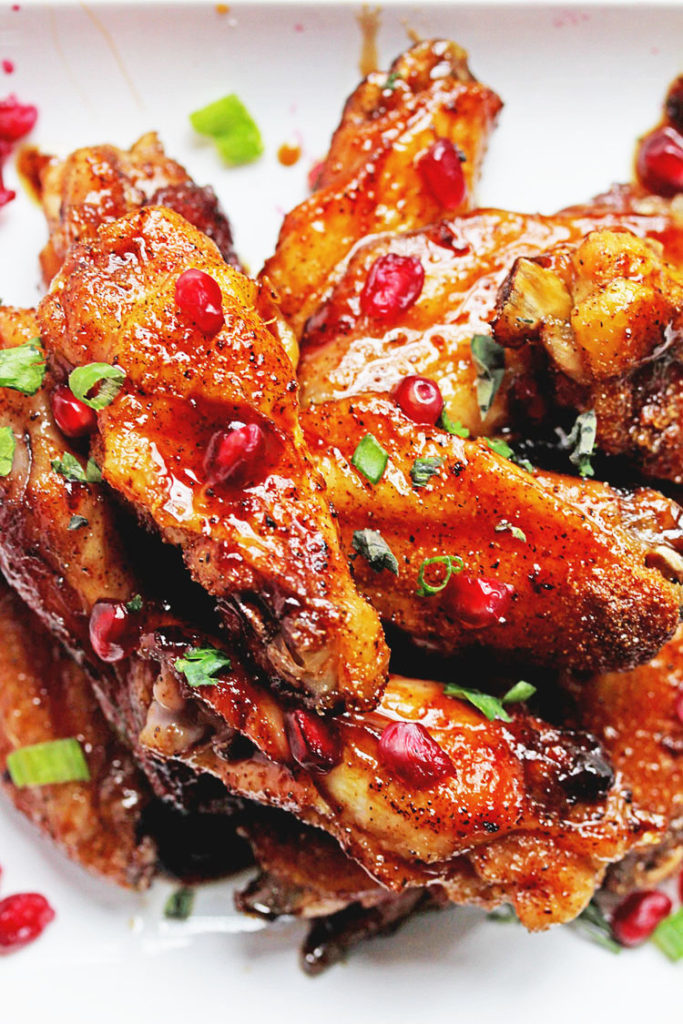 How To Bake Chicken Wings
I'm sure that I don't need to tell you that wings are, more often than not, deep fried. But, this recipe calls for baking your wings which is not only a healthier option but a tastier one. The wing glaze here is meant to be thick, sticky and full of flavor. Baking allows your wings to cook slowly without burning the sugars in the glaze and taking away all those incredible flavors.
Start by preheating your oven to 425 degrees.
Set a wire rack in a large rimmed baking sheet lined with parchment paper and layer your seasoned chicken on top. If you don't have a wire rack, just a sheet of parchment paper will do. Make sure that each wing has enough space, if need be use a second baking sheet. If the wings sit too close together the juices will prevent your glaze from sticking properly.
Bake for 16-20 minutes or until clear juices run out of the wings. Then, baste or dip each wing in the sauce and bake until sticky and golden brown (6-10 minutes).
Garnish and enjoy!
Love Pomegranate?
Try these other amazing pomegranate recipes on my website!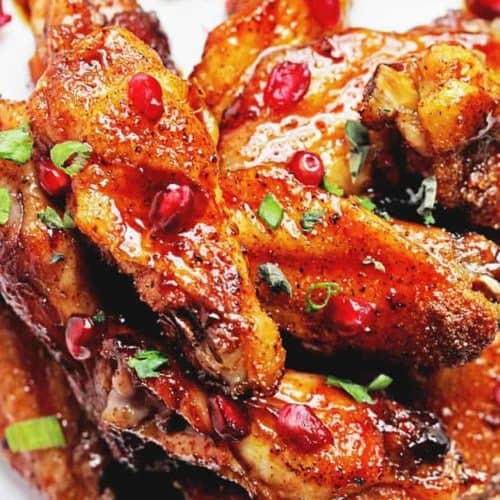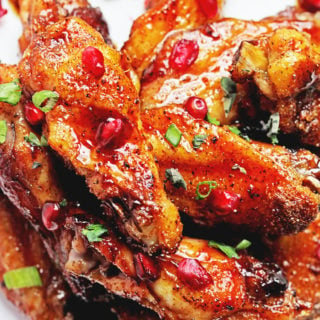 Pomegranate Honey Wings
Pomegranate juice and honey create the perfect coating on spicy game day wings.
Print
Pin
Rate
Ingredients
1/2

cup

pomegranate juice

1/4

cup

honey

3

tablespoons

brown sugar

2

pounds

chicken wings

disjointed

Salt and pepper to taste

1

teaspoon

garlic powder

1

teaspoon

onion powder

1/2

teaspoon

cayenne pepper

Optional: Pomegranate seeds, green onions and herbs for garnish
Instructions
Preheat oven to 425 degrees.

Whisk together pomegranate juice, honey and brown sugar in a saucepan over medium heat. Allow the mixture to reduce to 1/2 the original ingredients or until it has thickened.

Line a baking sheet with parchment paper and evenly season both sides of wings with salt and pepper, garlic powder, onion powder and cayenne pepper.

Bake for 16-20 minutes or until clear juices run out of the wings then baste or dip each wing in the pomegranate sauce and bake until sticky and golden brown for another 6-10 minutes (watch them carefully). If you want, you can double baste if there is enough sauce left for extra sticky love.

Garnish with pomegranate seeds, green onions and herbs if desired and serve.
Nutrition
Calories:
392
kcal
|
Carbohydrates:
31
g
|
Protein:
22
g
|
Fat:
19
g
|
Saturated Fat:
5
g
|
Cholesterol:
94
mg
|
Sodium:
96
mg
|
Potassium:
289
mg
|
Sugar:
30
g
|
Vitamin A:
285
IU
|
Vitamin C:
0.8
mg
|
Calcium:
26
mg
|
Iron:
1.3
mg