I'm serving up the richest, butteriest bundt in the business! My Big Mama's Sour Cream Cake is easy to make using simple ingredients and a whole lotta love! This deliciously moist sour cream pound cake is perfect for breakfast with a cup of coffee or as dessert with a dollop of whipped cream! If you love this cake, you will also this classic Sour Cream Pound Cake, this Butter Pound Cake and this Cream Cheese Pound Cake.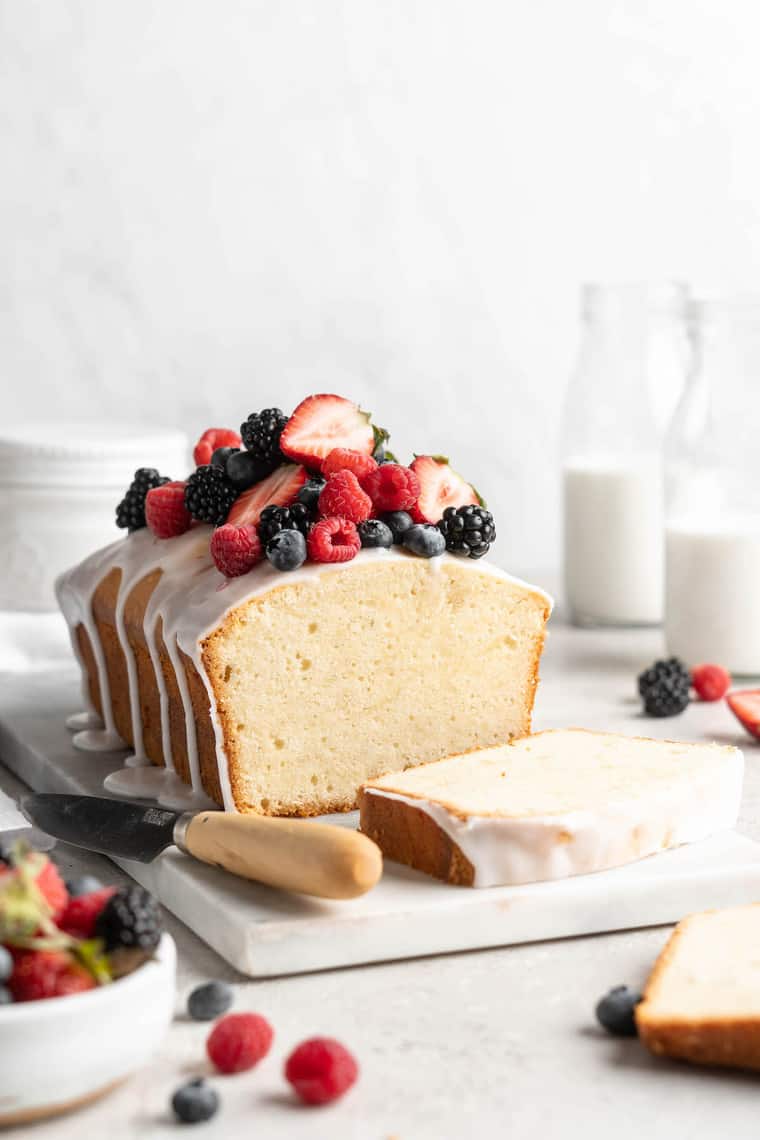 BIG MAMA'S SOUR CREAM CAKE RECIPE
Making a pound cake is simple. You don't need much for ingredients or time, just a little patience and a whole lot of love. I've had about a million different pound cakes in my time but the best ones have been made in the homes of the people who pour generations of joy and tradition into their baking.
My Big Mama's kitchen was full of so much love that anything she made turned to gold. Her hands crafted cakes that cured heartbreaks and distracted from skinned knees. She was just that good!
Because of Big Mama I understand the importance of practice, patience, and, most of all, peace. Being in the kitchen, stirring up batter for a buttery pound cake is a place of stillness for me and being able to share that with others plays a huge role in my purpose. I'm so grateful for that.
Today's recipe is one that tastes good all on its own but it's better if made with a loved one and shared with anyone willing to take a slice. Who's gonna say no to a slice of Sour Cream Cake? Not me!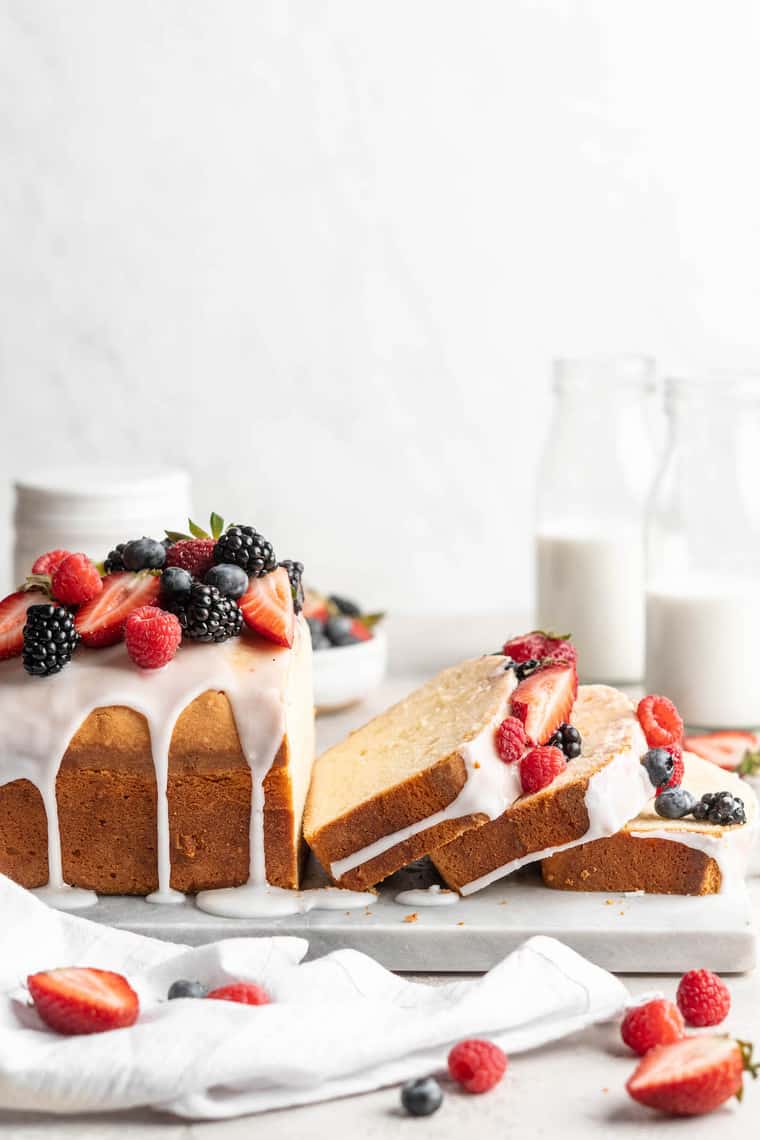 INGREDIENTS FOR SOUR CREAM POUND CAKE
You're not gonna need very much today. In fact, I'd bet you already have most of what you need in your kitchen.
Check out the list:
BUTTER

– the best pound cakes have a deliciously egregious amount of butter in them. Like, think of a lot of butter, then double that. I prefer to use salted butter to balance out sweetness and add richness.

SHORTENING-

Shortening traps more air bubbles and has a higher melting point than butter, so recipes that use shortening usually produce a cake that will rise a little higher, hold its shape better, and has a softer or lighter texture.

SUGAR-

Granulated sugar is the way to go here. Its fine texture breaks down into the fat better.
EGGS-

eggs bind the batter, add richness, and incorporate air that makes for a very fluffy cake.

CAKE FLOUR-

Cake flour is lighter than all-purpose flour and produces an airer texture in this pound cake. Using a dense flour would only weigh down the other ingredients.

BAKING POWDER-

be sure to use fresh, active baking powder. To test, spoon ½ a teaspoon in a bowl and pour ¼ cup of boiling water on top. It should bubble up pretty violently. If not, get yourself a new tin.

MILK-

Big Mama always preferred to use whole milk and so do I. You just can't replace the smooth creaminess you get with the good 'ole fashioned stuff.
SOUR CREAM-

Sour cream is the perfect way to add moisture to any cake without thinning the batter. This tangy, fatty cream can also help to control browning and activate baking powder.

VANILLA EXTRACT-

using a high-quality, pure vanilla extract is best. You want to infuse as much sweet, floral vanilla flavor as you can into this cake.

LEMON EXTRACT-

okay, just because there's a dash of citrus extract in this pound cake doesn't mean it's a lemon cake. Just a teaspoon brightens up the taste and mingles with the sour cream to create a tangier experience. You won't be able to taste the lemon much at all.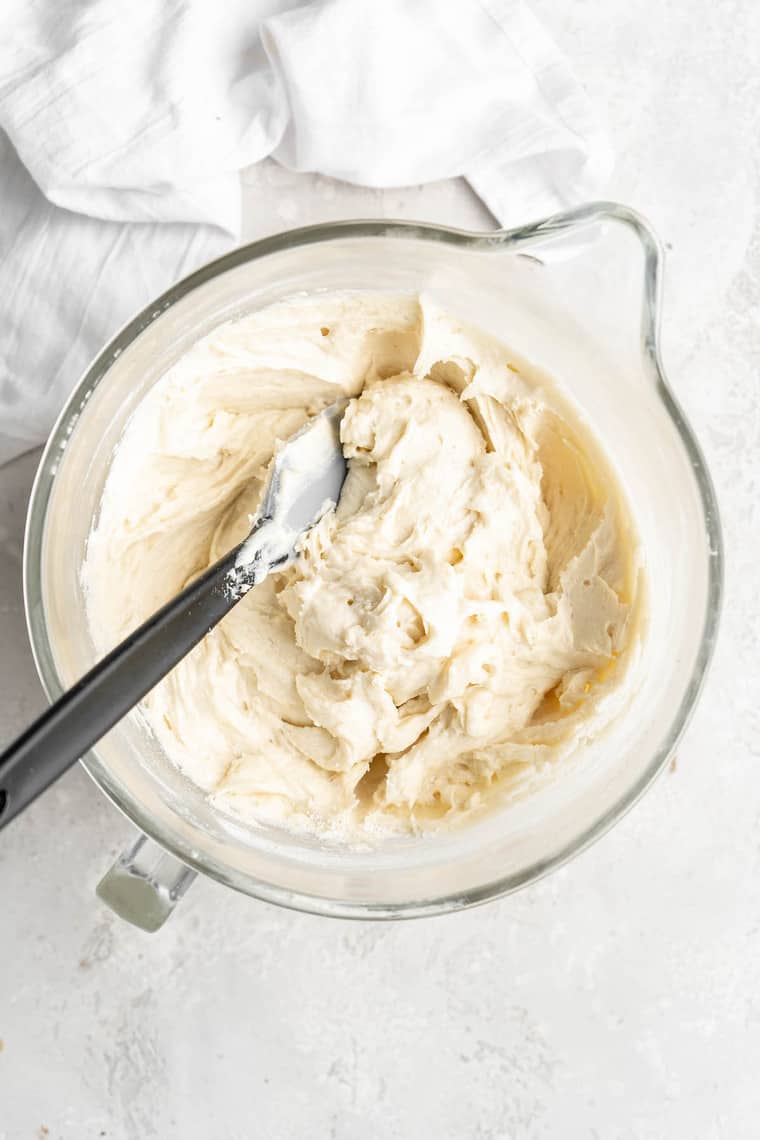 HOW TO MAKE SOUR CREAM CAKE
Big Mama didn't believe in overly complicated recipes. She appreciated consistency and simplicity when it came to her food. All of her recipes were perfected, including this one.
This pound cake is easy to pull together but I encourage you to take your time. Slow down, enjoy the process, and infuse every step with all the positive juju you can muster. Trust me, it works.
Here's what you've gotta do:
CREAM THE FAT + SUGAR-

Creaming is an extremely important step that ultimately has a big effect on the texture of a cake. As the butter lightens and the sugar dissolves, you're incorporating volume into the batter. This is what determines how the cake rises and, therefore, its density too.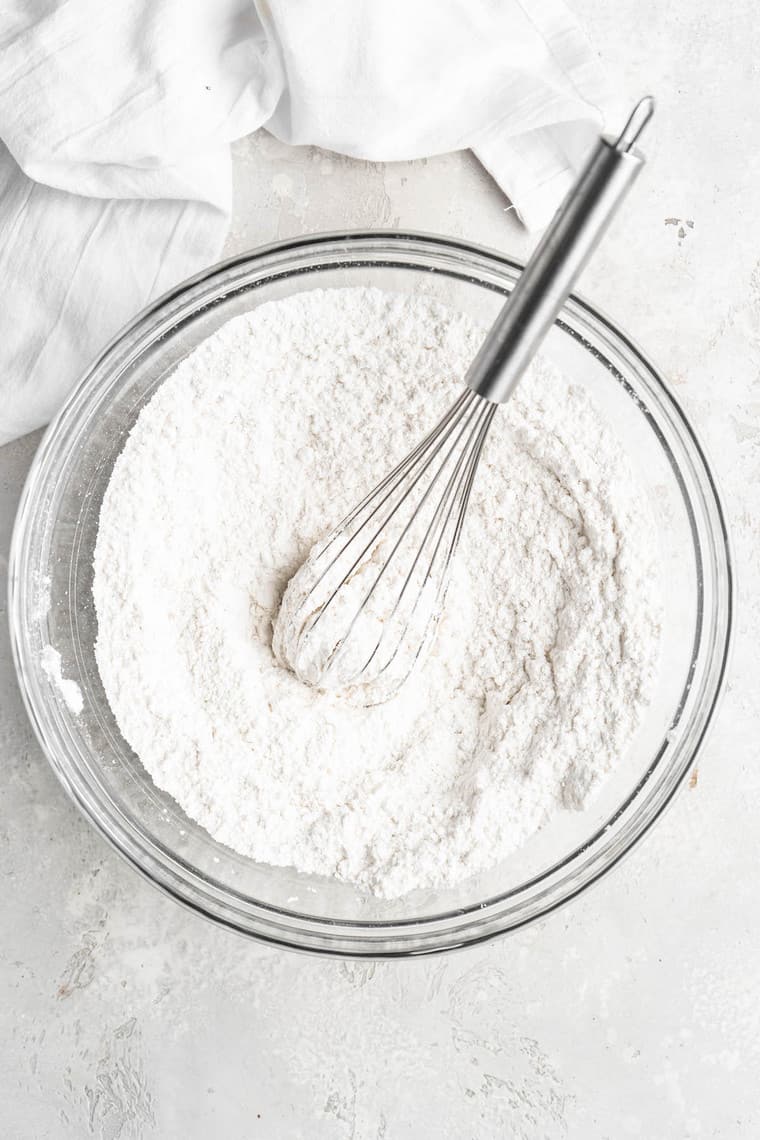 SIFT THE DRY INGREDIENTS-

Each time Big Mama made this cake she, without fail, sifted her dry ingredients. She swore that this was the key to a tender crumb and I stand by that sentiment.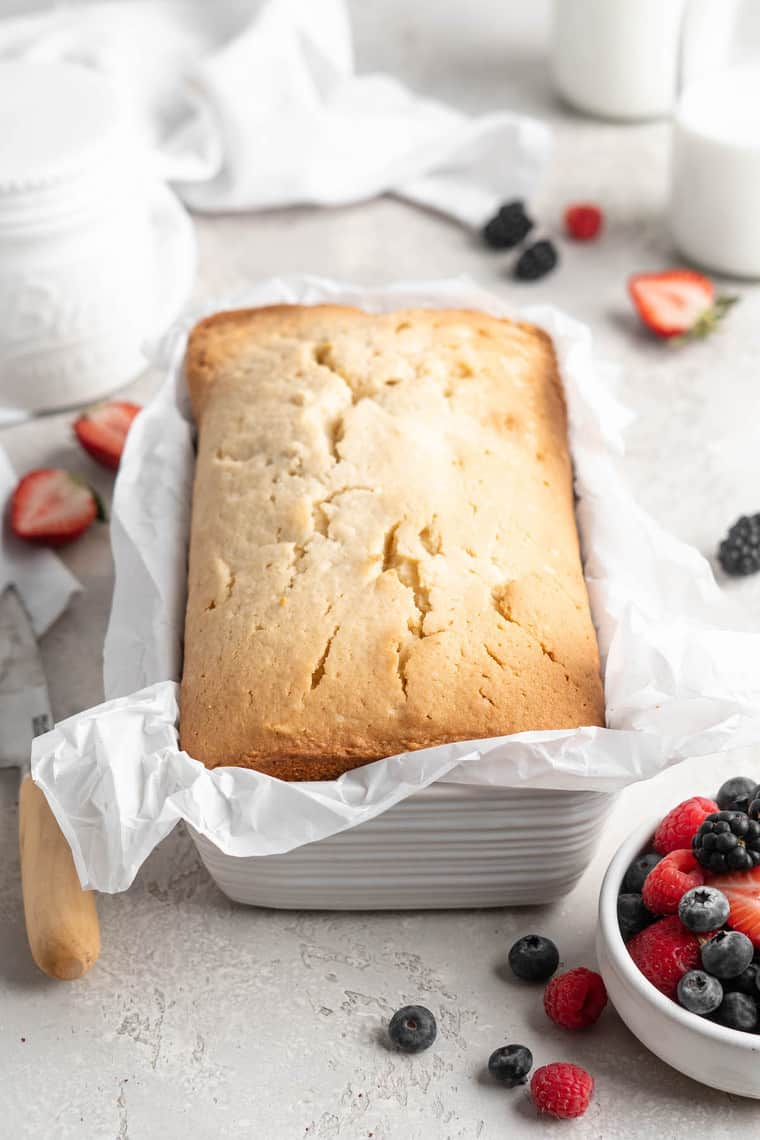 COMBINE + BAKE-

Carefully fold together the milk, creamed mixture, and dry ingredients. The extracts should be added last. Only mix until just combined! Scrape every last drop of this batter into a greased tube pan and bake the cake low and slow. After about 90 minutes your cake should be lightly browned and cooked all the way through.
Wait about 10 minutes before gently turning the cake out onto a cooling rack where it should be left to come to room temperature. I know, it's a long wait but allowing the cake to rest lets the moisture set in.
I recommend carefully running an offset spatula or butter knife around the edge of the pan before flipping it over.
TIPS FOR BAKING POUND CAKE
DON'T SKIP THE CREAMING PROCESS:

Don't underestimate the importance of this step! As you cream, the jagged edges of the sugar crystals drag in air, lightening the butter and creating a fluffy mixture. This is what makes for the most tender cake ever!

AVOID OVER-MIXING:

Make sure that you do not over mix once you add your flour to this cake. Because flour has gluten, if you over mix it, the texture will change. As soon as your flour is incorporated into the batter, stop mixing.

USE A WELL-GREASED PAN:

Be sure to grease your Bundt pan VERY well. Even the non-stick pans need a little extra love. This

homemade cake release

is a godsend but you can totally use a spray or butter and a dusting of flour.
HOW TO STORE SOUR CREAM POUND CAKE
Sour Cream Pound Cake can be stored in an airtight container at room temperature for up to 3 days. You may also wrap the cake in plastic wrap and store it in the fridge for up to 1 week. Bring to room temperature before serving.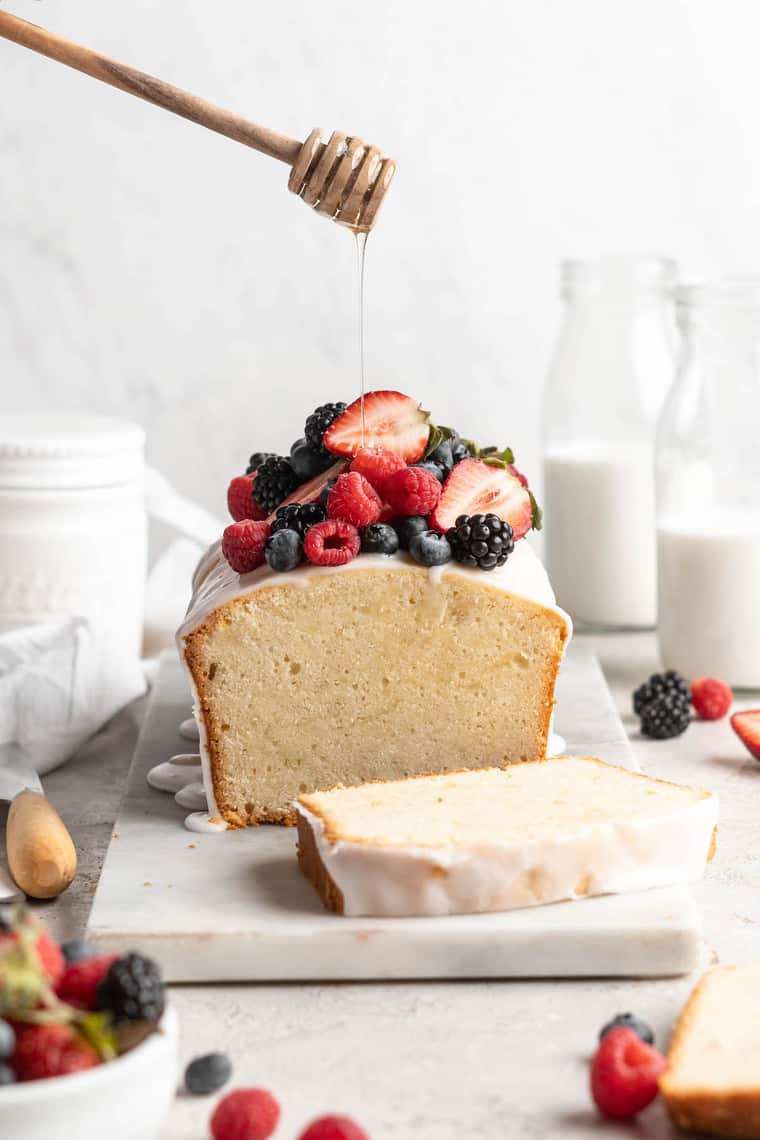 CAN I FREEZE IT?
To freeze sour cream cake: wrap it in two layers of plastic wrap and one layer of foil, then transfer to the freezer for up to 6 months. Always thaw your pound cake on the counter without unwrapping for best results.
GBC'S BIGGEST, BADDEST, BUTTERIEST POUND CAKE RECIPES
Y'all this recipe is just the beginning! Go ahead and get into a few more of my best Big-Mama inspired cake recipes: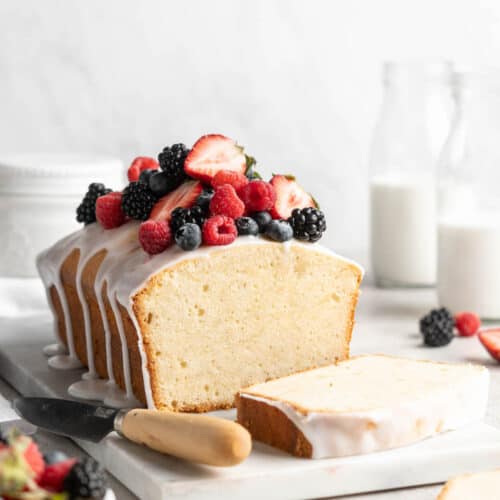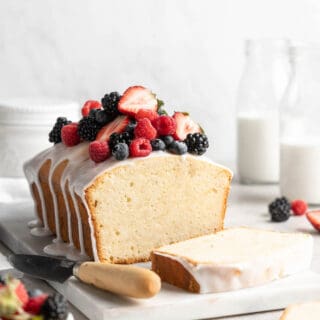 Sour Cream Cake
I'm serving up the richest, butteriest bundt in the business! My Big Mama's Sour Cream Cake is easy to make using simple ingredients and a whole lotta love! This deliciously moist pound cake is perfect for breakfast with a cup of coffee or as dessert with a dollop of whipped cream!
Print
Pin
Rate
Ingredients
1

cup

salted butter

1/2

cup

shortening

3

cups

granulated sugar

5

large eggs

3

cups

cake flour

1/2

tsp

baking powder

1/4

cup

milk

1

cup

sour cream

1

tsp

vanilla extract

1

tsp

lemon extract
Instructions
Start by preheating your oven to 300 F then liberally grease and flour a tube pan, bundt pan, large loaf pan or two smaller loaf pans or you can use non stick baking spray or my cake release recipe.

In your stand mixer bowl, add butter, shortening sugar and mix for 4-5 minutes on high speed until very pale yellow, creamy and fluffy.

Next add eggs, one at a time, combining well after each addition and scraping down the sides of your bowl as needed.

While eggs are going, sift together dry ingredients (flour and baking powder).

Turn your mixer down to its lowest speed, and slowly alternate the dry ingredients with the sour cream, milk, vanilla and lemon extract.

Pour batter into greased pan or pans. Bake in oven for 1 hour and 30 minutes for 1 vessel and start checking around 45 minutes for 2 small vessels. Or until a toothpick inserted in the center of the cake comes out clean.

Cool in pan on a wire rack for 10 minutes then invert cake on serving plate for at least an hour or until the cake is cool to touch.
Nutrition
Calories:
439
kcal
|
Carbohydrates:
55
g
|
Protein:
5
g
|
Fat:
23
g
|
Saturated Fat:
11
g
|
Polyunsaturated Fat:
3
g
|
Monounsaturated Fat:
7
g
|
Trans Fat:
1
g
|
Cholesterol:
91
mg
|
Sodium:
118
mg
|
Potassium:
83
mg
|
Fiber:
1
g
|
Sugar:
38
g
|
Vitamin A:
525
IU
|
Vitamin C:
1
mg
|
Calcium:
40
mg
|
Iron:
1
mg