Dish Washing Tips for Busy Families PLUS Perfect Southern Spaghetti Sauce Recipe – A savory and rich thick spaghetti meat sauce filled with aromatics, spices and herbs ready to devour over pastas or in baked dishes!
Disclosure: I partnered with Cascade for this post, but all opinions expressed here are my own. I am grateful for authentic partnerships like this.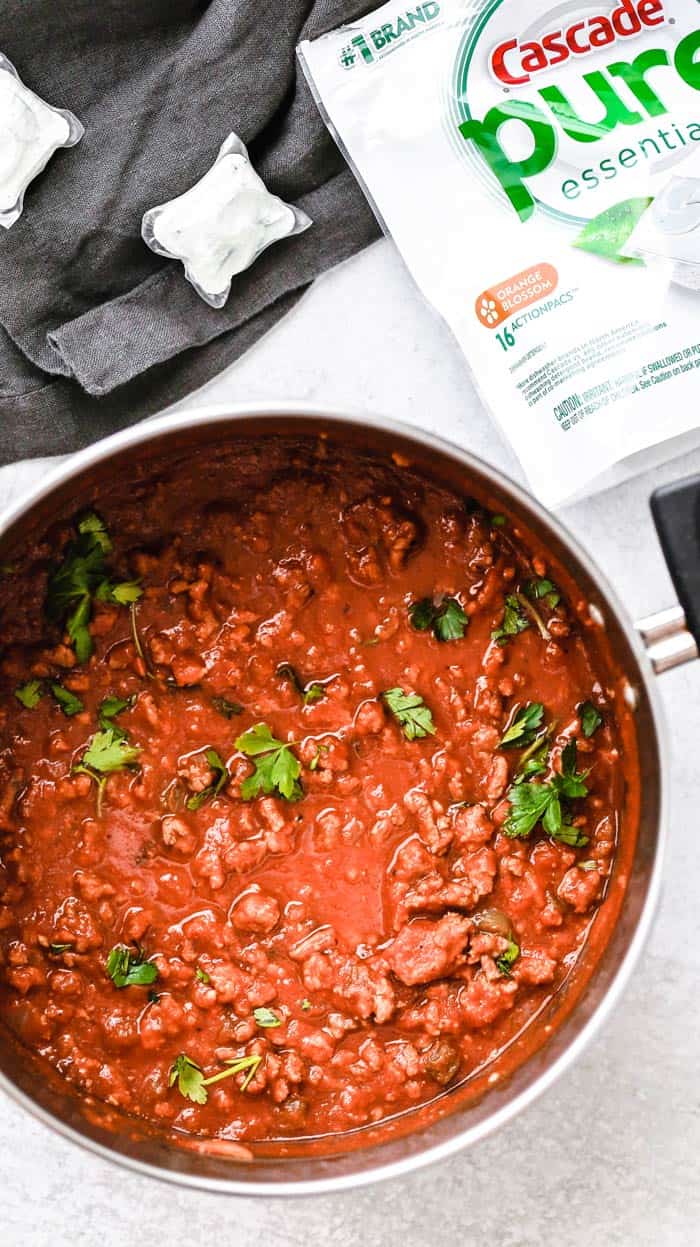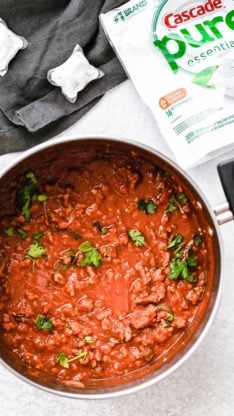 THE STRUGGLE TO KEEP A CLEAN KITCHEN
Let me paint a picture for you. An organized kitchen, spotlessly clean with all of its gadgets in all the right places. Plates and bowls are gleaming as they sit in their cabinets, waiting to be used for delicious dinners. The oven is warm and emitting scents of buttery cakes and pies made from a family cookbook resting on the counter. Sounds perfect, doesn't it? At one point this small dream of mine was a reality. For years, I came home to at least a moderately clean kitchen because I was lucky enough to have time in my daily life to maintain it. Boy oh boy, have the tables turned.
THE CHALLENGE OF CLEANING AS A NEW MOTHER
Since becoming a mother, my entire life as I've known it has turned upside down. My daughter Harmony is now the center of my universe: something I expected but didn't fully grasp until it became reality. I'm sure my fellow moms know just what I'm talking about. My once seemingly pristine kitchen is often a borderline disaster. Real talk. The previously organized drawers are littered with random kitchen tools and one too many baby spoons. There's a spot on the wall where Harmony's morning green smoothie splattered because she loves to toss her sippy cup back and forth just for fun.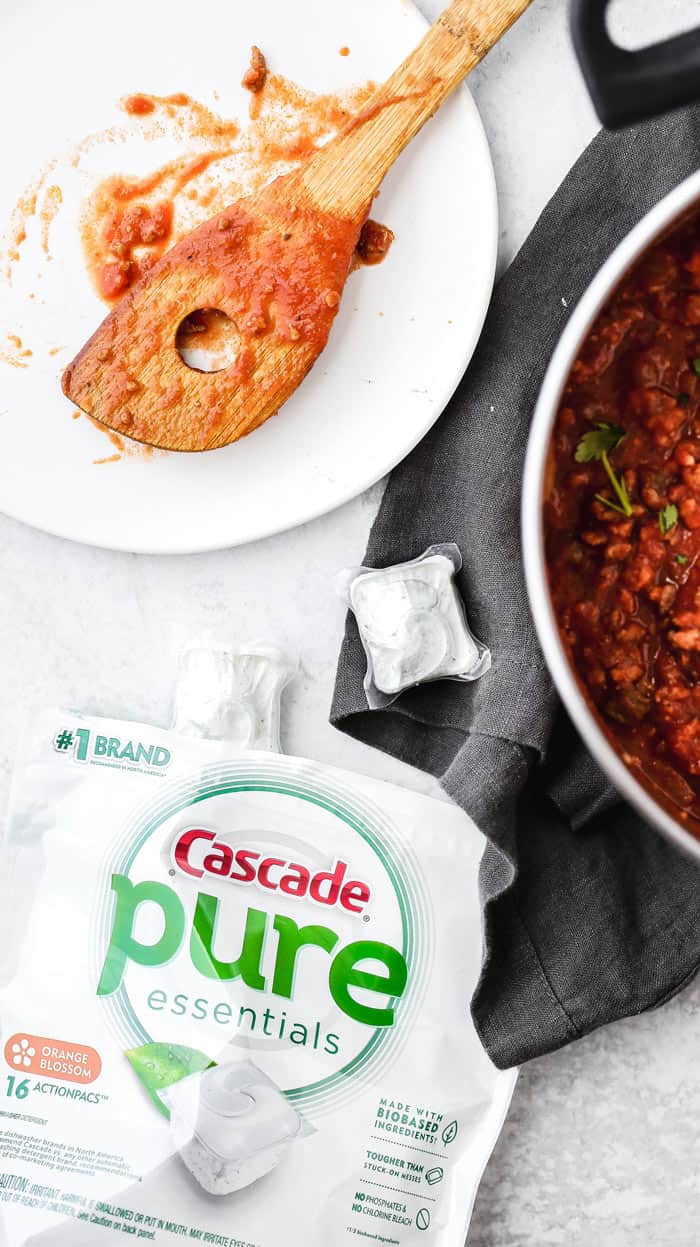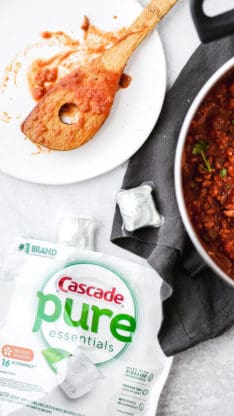 Being a mother is demanding; every day is dedicated to making sure your child is safe, fed and happy. We bend over backwards to make sure the needs of our children are met because as parents, that's our responsibility. More often than not, this leads to neglecting many of the small things we take for granted in our lives. Having time to blow dry your hair in the morning, taking that night time bubble bath or cooking your favorite dinner have become "luxuries" of the past. But what if I told you it didn't always have to be that way?
MAKING LIFE EASIER AS A WORKING MOTHER
Recently, my baby girl turned one, and I finally feel as if I'm getting my groove back. I won't lie, it's been a challenging year. I've worked hard to integrate my life as a wife and a businesswoman pre-baby into the life that I live now with the added role as a mom. Although I can accept the new standard of chaos that has entered my life, that doesn't mean I can't also figure out ways to make life a little easier and a little cleaner too. With that being said, I've decided to tackle the one space that matters to me the most: the kitchen. My kitchen is home to recipes both old and new, to mornings spent having breakfast and singing "baby shark" with my daughter, to years of holiday dinner preparations and to late night snacks that accompany television binges. Even the smallest of changes can make my space more comfortable and inviting so that these incredible moments never have to end.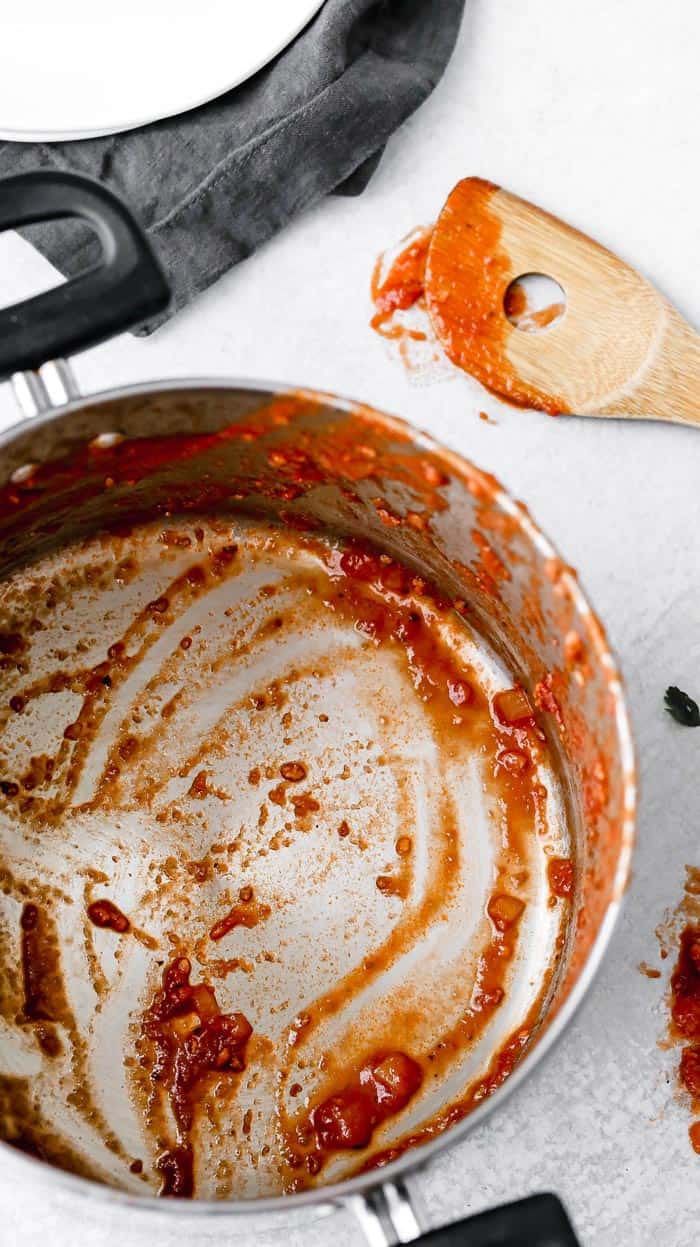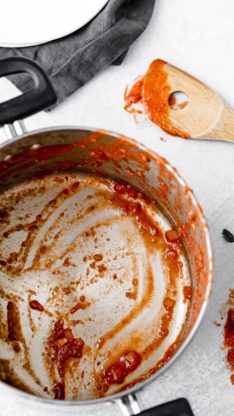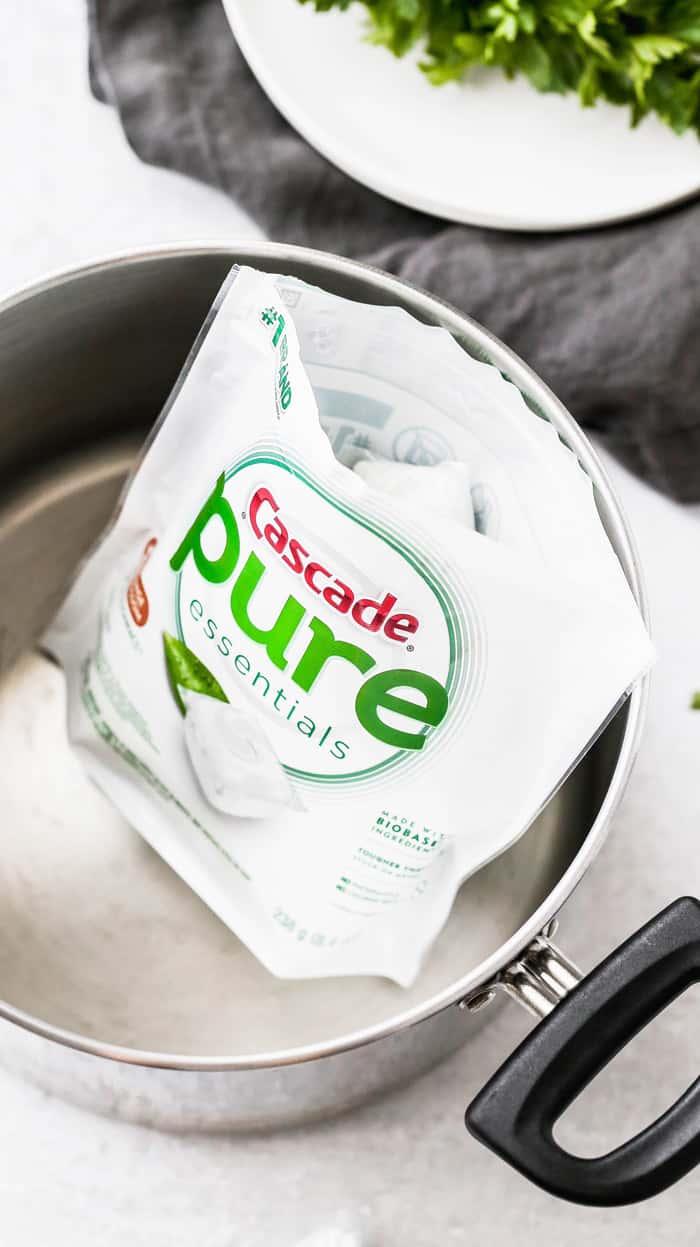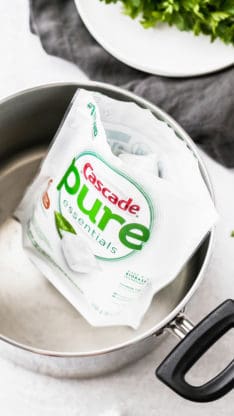 MAKING CLEANING THE KITCHEN EASIER WITH CASCADE
So let's be brutally honest here, the worst part of any kitchen is having to clean it. Cooking each night means tackling dirty dishes that pile high in the sink. But I've discovered something life-changing: Cascade pure Essentials Actionpacs Dishwasher Detergent. Cascade's newest detergent is designed for your family in mind and delivers the consistent clean you expect from Cascade. It's capability to power away stuck on food means I spend less time pre-washing dishes and more time getting in bedtime cuddles with my daughter. If that wasn't enough, it's formulated with 1/3 biobased ingredients. The detergent's perfume is infused with essential oils and offers a light citrus scent. Not only are you cleaning up dishes but your kitchen is being filled with a lovely, light scent. I think I have found the ultimate mom weapon.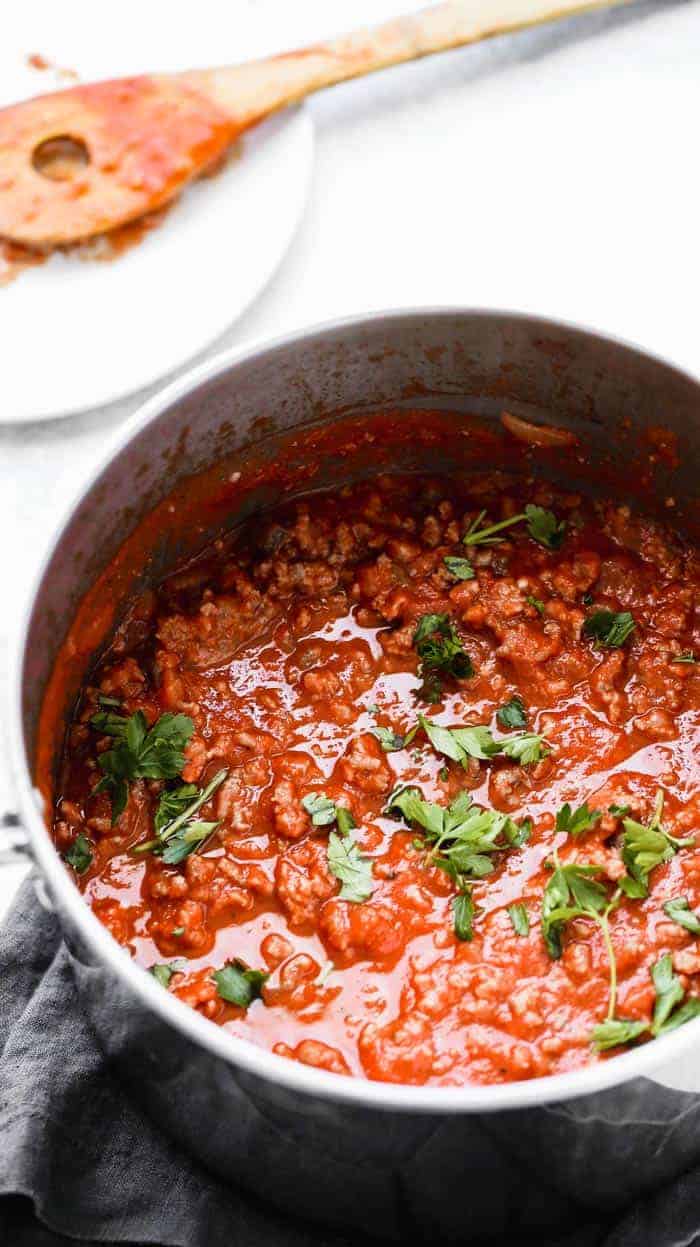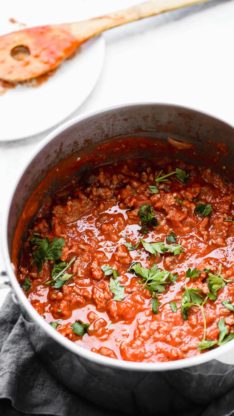 How To Make Spaghetti Sauce Recipe
You'd truly be surprised how something as simple as being able to effectively wash your dishes can help make every day just a little easier and your kitchen a little less overwhelming. Because I don't have to spend time scrubbing dishes I'm able to tackle another task in the kitchen or just take that bubble bath I find myself craving from time to time. I challenge you to try it for yourself. To do that I'm supplying you with one more of my mom weapons: my weeknight Southern Spaghetti Sauce recipe. It's a classic meaty red sauce, wonderfully seasoned and perfectly kid-friendly. Just ask Harmony that gobbles this up at least once a week!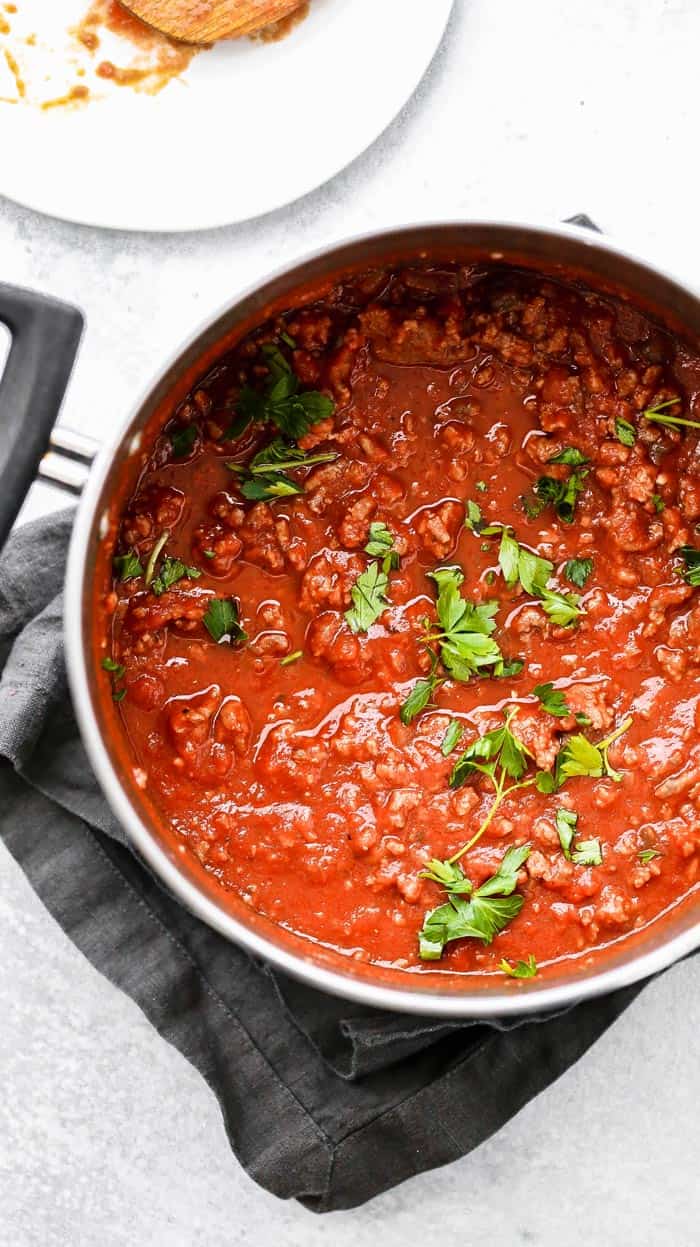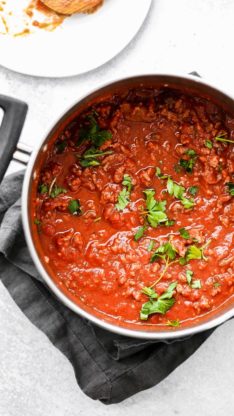 WASHING DISHES WITH CASCADE PURE ESSENTIALS
Spaghetti sauce can be a nightmare to scrape off dinner plates, especially after it's dried. But with the power of Cascade pure essentials it's not even an issue. So to all my busy mothers out there wondering how they'll fit in that evening yoga class or find time to watch that guilty pleasure show, let me offer a helping hand. It's okay to make a simple spaghetti sauce so you can enjoy a little "me time".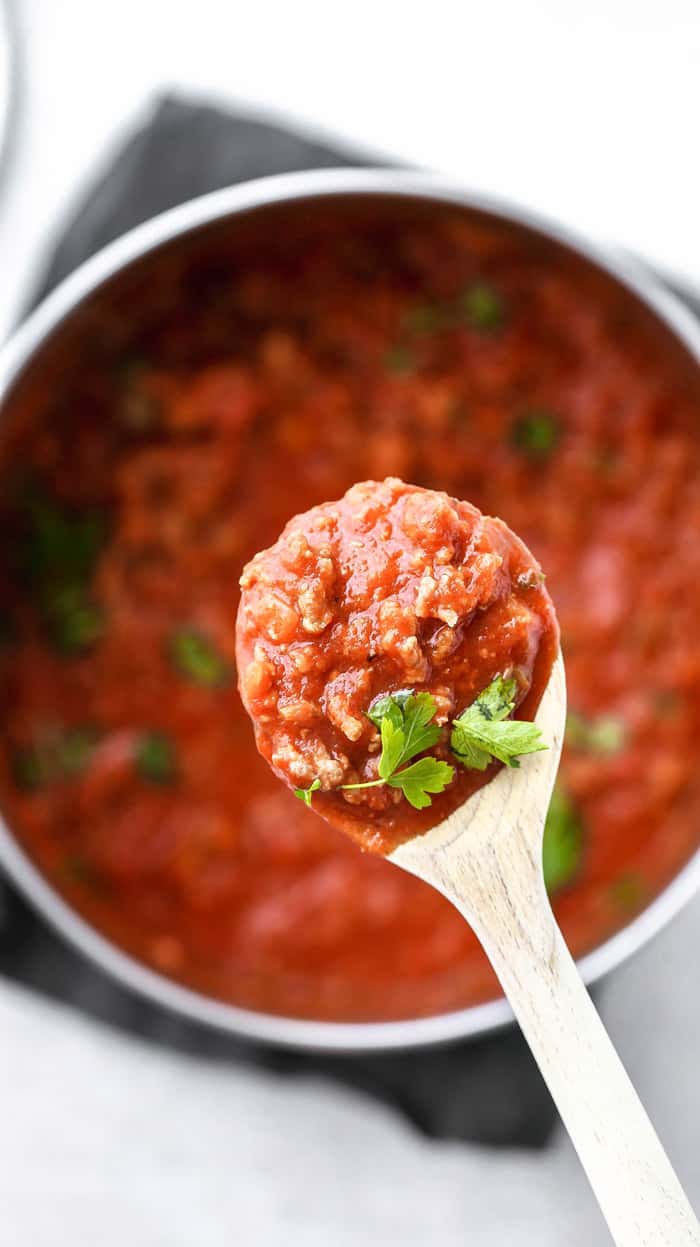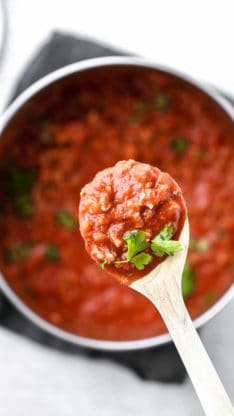 Eat the leftovers while letting that face mask work its magic. Then pop those dishes in, throw in that Cascade pure essentials Action Pac and go tuck your babies in to bed. Afterwards, you'll find that you have one less worry and you're still a darn good mom. Plus Meijer is offering $1 off a Cascade pure essentials tub or bag using the Meijer's mPerks App during all of April.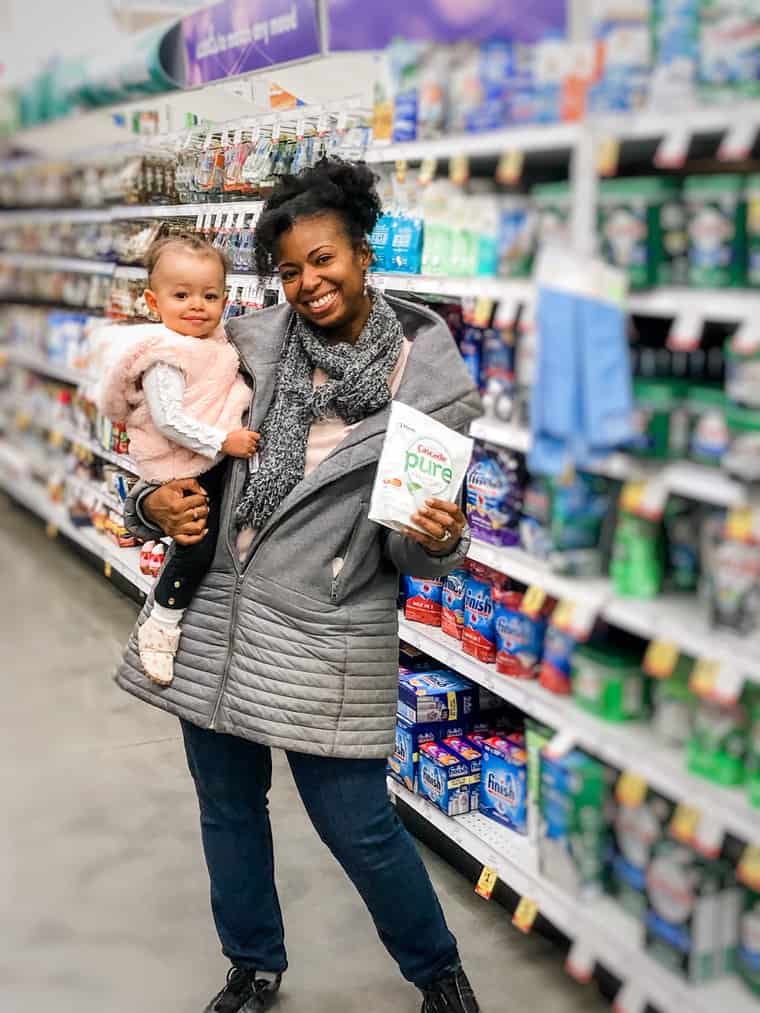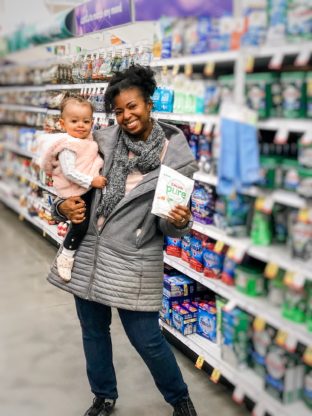 Also in honor of Earth Day, Meijer is offering buy one, get one 30% off all pure essentials from 4/14-4/20 available at checkout.
PASTA RECIPES
If you like this southern spaghetti sauce recipe, then you'll definitely like some of my other pasta dishes.
*Did you make this recipe? Please give it a star rating and leave comments below!*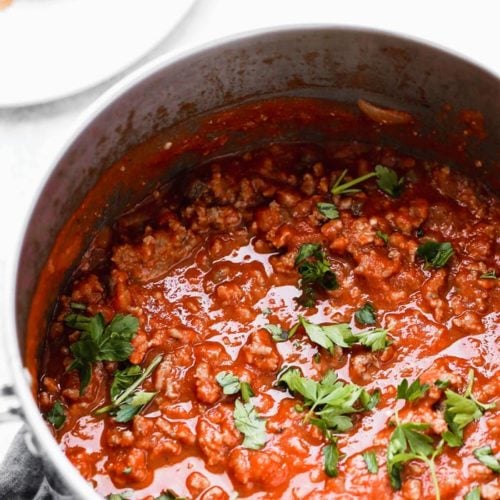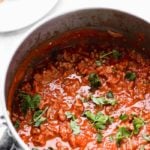 Southern Spaghetti Sauce Recipe
Southern Spaghetti Sauce Recipe - A savory and rich thick spaghetti meat sauce filled with aromatics, spices and herbs ready to devour over pastas or in baked dishes!
Cuisine:
Italian, Southern
Keyword:
italian, pasta, sauce, spaghetti
Ingredients
3

tbsp

extra virgin olive oil

1

lb

ground beef and turkey

1

lb

Italian sausage

seasoned salt

to taste

1/4

tsp

black pepper

1

cup

chopped onions

1/2

cup

chopped green peppers

1

tbsp

minced garlic

1 1/2

cans

crushed tomatoes

28 ounce can

1

can

tomato sauce

29 ounce can

2

tbsp

red wine

1/4

cup

chicken stock

1

tbsp

Italian seasoning

2

tbsp

granulated sugar

plus 1 teaspoon

1/8

tsp

crushed red pepper flakes
Instructions
Add olive oil to large pot over medium high heat on stove.

Add ground beef, italian sausage, onion, green pepper and salt and pepper. Brown until cooked.

Next add garlic and cook for 1 minute.

Then add in crushed tomatoes, tomato sauce, red wine, chicken stock, italian seasoning, sugar, and red pepper flakes. Continue to simmer until sauce has thickened about 30-40 minutes then add to additional recipes or serve.
Recipe Notes
You can also make this recipe completely vegan by substituting meat for lentils or beans for a nice chunky flavor.
Nutrition Facts
Southern Spaghetti Sauce Recipe
Amount Per Serving
Calories 264
Calories from Fat 171
% Daily Value*
Fat 19g29%
Cholesterol 47mg16%
Sodium 578mg25%
Potassium 496mg14%
Carbohydrates 9g3%
Protein 11g22%
Vitamin A 335IU7%
Vitamin C 13.4mg16%
Calcium 42mg4%
Iron 2.3mg13%
* Percent Daily Values are based on a 2000 calorie diet.