Made with crisp apples, warm cinnamon, Cabernet Sauvignon and a buttery biscuit topping, this Mulled Wine Apple Cobbler is a Fall dessert dream come true! Each bite of this cobbler is layered with comforting spice and a variety of unique, distinct textures! If you love this, you will also love this Apple Brown Betty, Dutch Apple Pie, Classic Apple Pie, Apple Tarte Tatin, and Baked Apples with a Crumble Topping!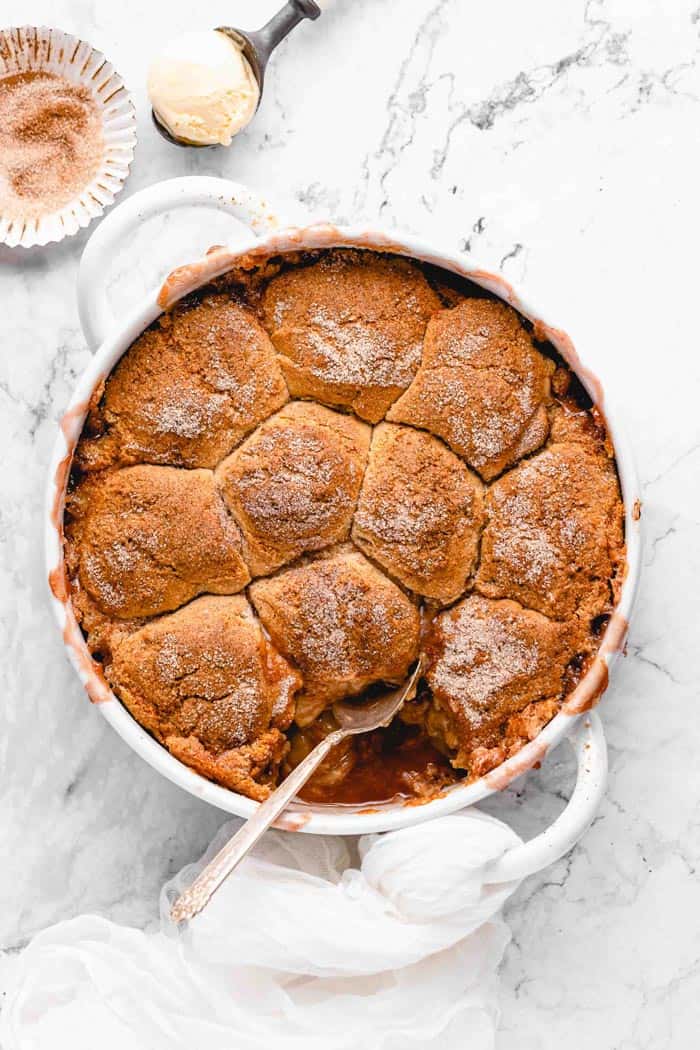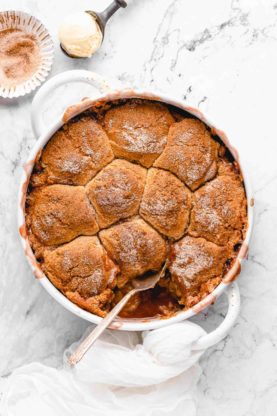 With the temperature in Dallas finally starting to drop, my cravings for all the warm, cozy foods have kicked in. Give me all the pies, stews, biscuits and hot apple cider! This past weekend, my husband and I indulged in a few warm mugs of mulled wine: a warm, fruity and tart alcoholic Fall drink. As we cozied up on the couch, binge watching streaming shows (highly recommend), a new but familiar craving for apple cobbler hit me.
Y'all already know how much I love cobbler, probably too much, but I honestly haven't had one in a while. So, I turned to my husband and he immediately recognized my got-a-new-recipe-on-the-brain look. And, boy, was it a good one!
Today's Mulled Wine Apple Cobbler takes all the Winter spices and flavor of mulled wine and infuses them into this extra sweet, cozy cobbler! The tender apples bursting with cinnamon, the fluffy topping, served warm with a scoop of vanilla ice cream, you won't be able to get enough of this.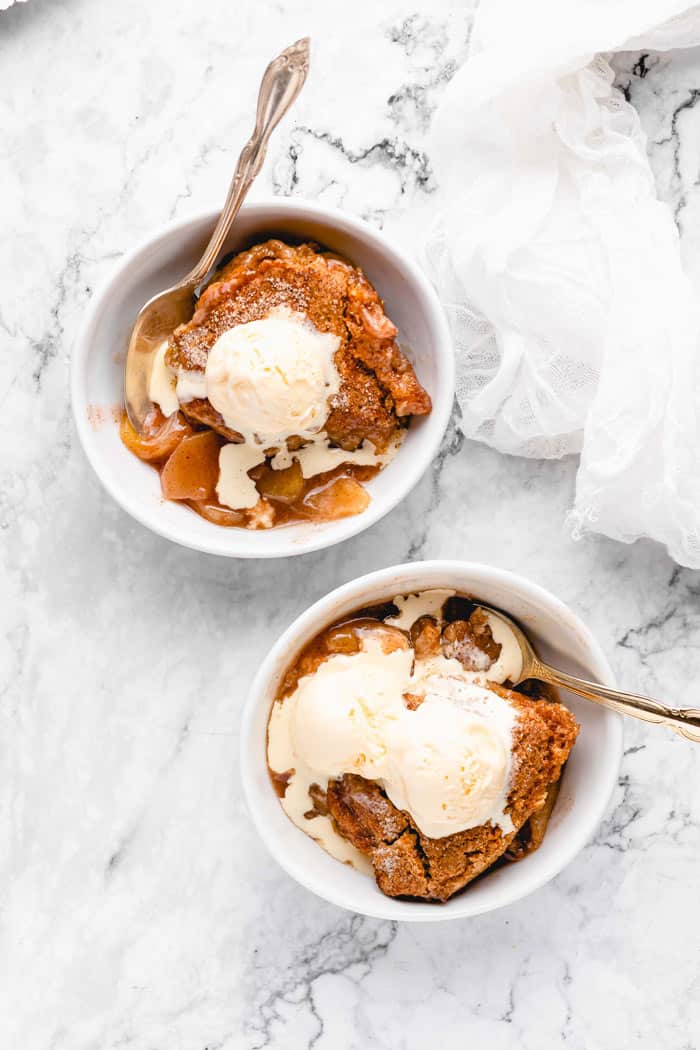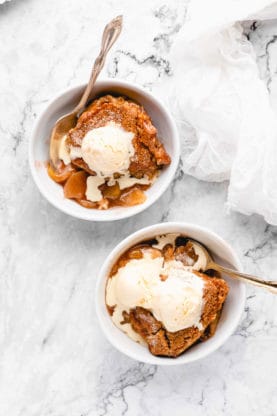 HOW TO MAKE A MULLED WINE APPLE COBBLER
The best part about this cobbler is how simple it is to make! Seriously, you can toss this bad boy together in about 30 minutes, throw it in the oven and snuggle under a blanket waiting for the smells to fill your home. It's that easy!
Here's what you'll need:
Apples-The best apples for baking are ones that hold their structure, which keeps the chunks of fruit from turning into bland pockets of apple mush. I recommend using Honeycrisp, Braeburn, Granny Smith or Pink Lady for this recipe! No matter what, be sure to slice the apples thinly.
Brown & Granulated Sugar– Both sugars help to draw out moisture from the apples as they bake, this creates a sweet, syrupy consistency to the mixture. Both light and brown sugar will work, as well as cane sugar in the place of granulated.
Flour– Flour helps to soak up extra liquid and thicken the syrup created by the apples and the sugar. If you're noticing that the apples are releasing more liquid than expected, or you prefer a thicker consistency, add an extra tablespoon or so to the mixture.
Cinnamon– Spicy, warm and fragrant, cinnamon is always a great addition to Fall recipes. If you'd like, add in a pinch of nutmeg, cardamom or allspice for an extra cozy kick!
Vanilla– As with most recipes, vanilla works as a flavor enhancer and aromatic. If you don't have any on hand, almond or orange extract could work.
Water- This may seem strange but I promise it serves a purpose! A bit of water provides moisture that kickstarts the development of that saucy, spicy mulled wine syrup.
Cabernet Sauvignon– Cabernet Sauvignon bursts with all the bold flavors of raspberry and blackberry jam. Every sip of this bold wine is smooth and so incredibly rich. Can't get your hands on this one? Merlot, Red Blend or Pinot Noir are all great options!
Homemade Biscuit Topping- Made with sifted flour, brown sugar, granulated sugar, cinnamon, and butter, this topping is the soft, crumbly biscuit topping of your dreams.
TIP: Enjoy this cobbler with a hefty scoop of vanilla ice cream or fresh whipped cream! Just like with my Sweet Potato Cobbler!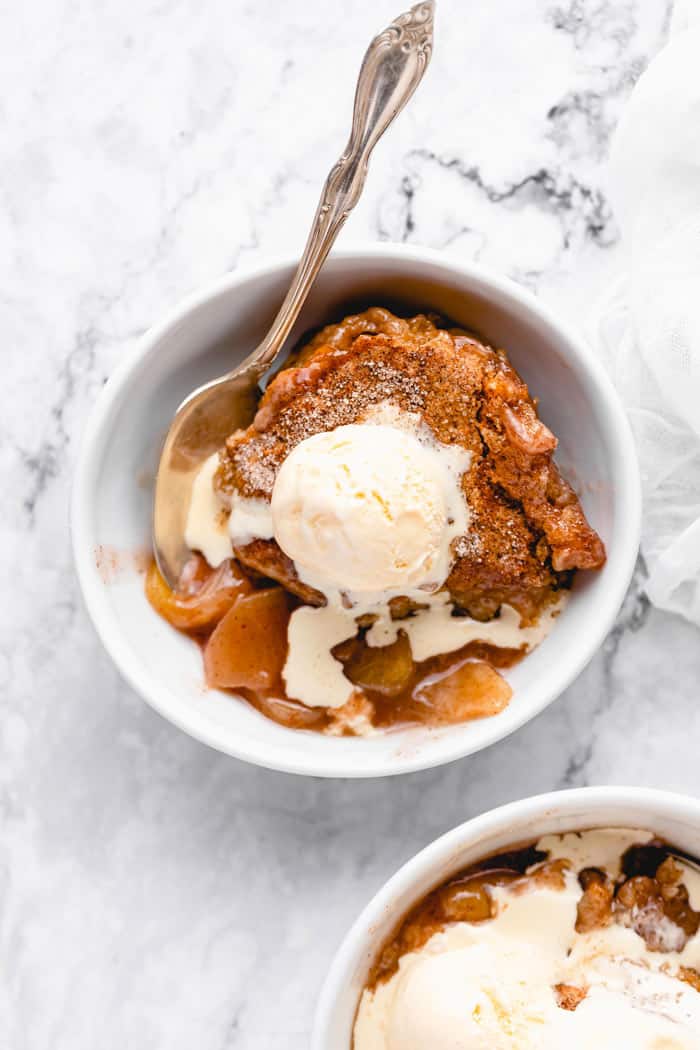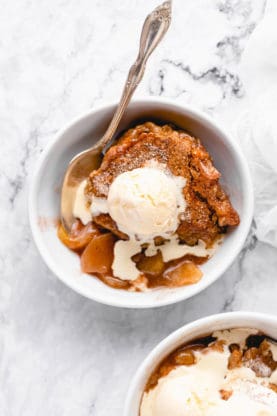 LEFTOVER STORAGE AND REHEATING
Tip: The key to perfectly storing and reheating a cobbler is allowing it to cool completely before tucking it away!
Steam= condensation. Condensation=soggy cobbler. To prevent this, I recommend cutting the cobbler into individual serving sizes and allowing them to cool uncovered on the countertop. Wait until you can hover your hand over them and not feel any radiant heat.
You can cover the slices with aluminum foil on small plates, store them in tupperware containers or place them all back into the ceramic baking dish that you made them in. Place the cobbler in the fridge, where it will keep for up to 5 days.
The secret to reheating cobblers is following the low and slow rule.
The higher the temperature, the more liquid will release, creating a soggy mess topped with a stale crumble. Yuck.
I highly recommend taking the time to reheat your cobbler in the oven! Preheat the oven to 250 degrees, take the cobbler out of the fridge and transfer it to an oven-safe dish, if need be. Once the oven is preheated, place the dish on the middle rack.
For individual serving sizes, reheat for 10-15 minutes. For an entire cobbler, reheat for 30-45 minutes. Take the cobbler out of the oven, and allow it to rest for 5-10 minutes before consuming.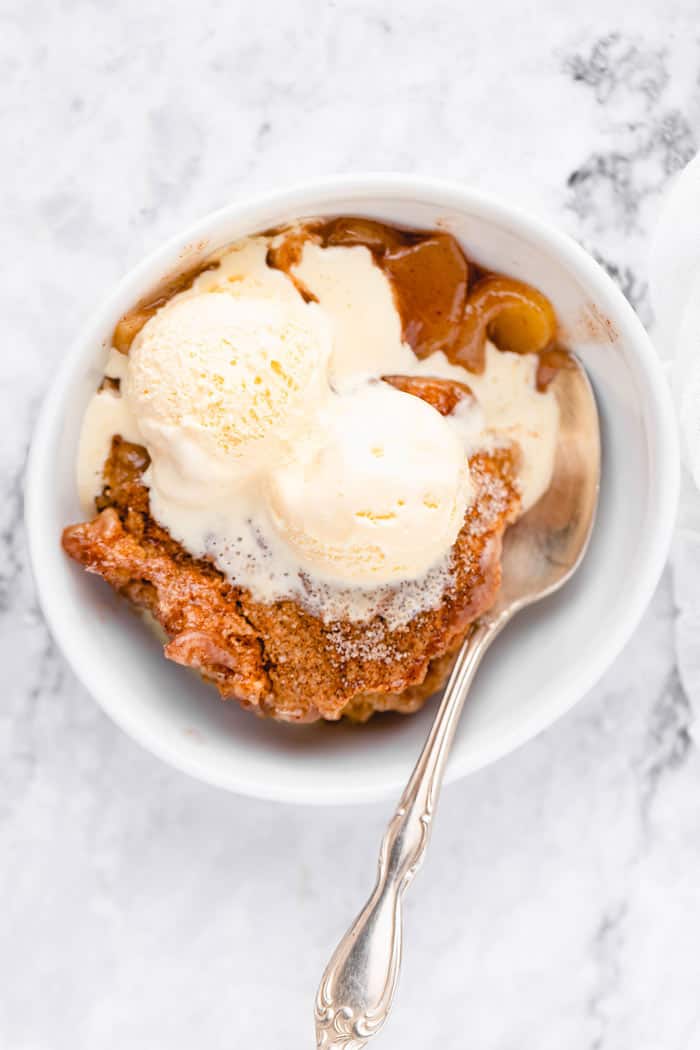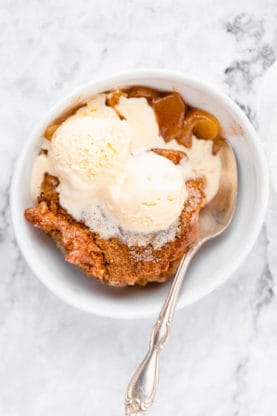 GRANDBABY CAKES' BEST FALL APPLE RECIPES
Can't get enough apples? Neither can I! Whether you're trying to use up those orchard picks or looking to take advantage of crisp grocery store finds, I've got plenty of delicious options for you.
Try out one my FAVORITE Autumn apple recipes: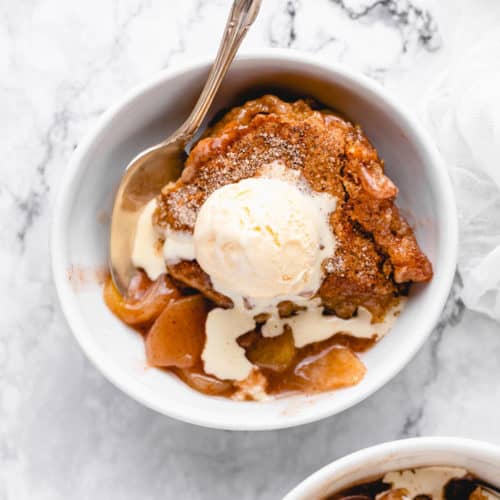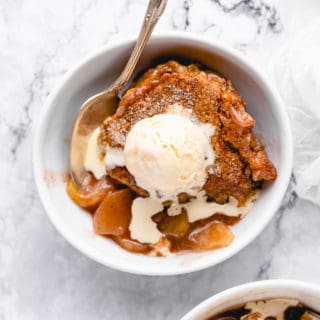 Apple Cobbler
Made with crisp, refreshing apples, warm cinnamon, red wine and a buttery biscuit topping, this Mulled Wine Apple Cobbler is a Fall dream come true! Each bite of this cobbler is layered with comforting spice and a variety of unique, distinct textures!
Print
Pin
Rate
Ingredients
For the Filling
3

lb

apples

peeled and sliced

1/2

cup

light brown sugar

packed

1/4

cup

granulated sugar

1/3

cup

all purpose flour

1

tsp

ground cinnamon

1/4

tsp

apple pie spice

1

tsp

vanilla extract

3/4

cup

water

1/4

cup

red wine
For the Topping
2

cups

all purpose flour

1

cup

plus 3 tbsp granulated sugar

divided

1

cup

light brown sugar

2

tbsp

baking powder

1 1/2

tsp

ground cinnamon

divided

1/2

tsp

salt

1/2

cup

unsalted cold butter

cubed

1/4

cup

hot water
Instructions
Preheat oven to 375 degrees F. Lightly grease a 9x13-in or large round baking pan.
For the Filling
Add sliced apples, brown sugar, granulated sugar, flour, cinnamon, vanilla, water, and wine in a large bowl. Toss to combine. Transfer apples to prepared baking pan and cover with aluminum foil. Bake for 20 minutes.

While the apples are cooking, prepare the topping.
For the Topping
Combine flour, 1 cup granulated sugar, brown sugar, baking powder, 1 tsp cinnamon, and salt in the bowl of a food processor. Pulse a few times to combine.

Add cold butter and pulse until sand-like texture. Add hot water until a dough forms. The mixture should be the consistency of drop biscuits. Add 1 -2 tablespoons at a time if your dough is too dry.

Once apples have cooked, use a large scoop or a spoon to drop the dough over the apples. Combine the remaining sugar and cinnamon and sprinkle over the dough. Bake uncovered for 30-40 minutes.
Nutrition
Calories:
633
kcal
|
Carbohydrates:
130
g
|
Protein:
4
g
|
Fat:
12
g
|
Saturated Fat:
7
g
|
Cholesterol:
31
mg
|
Sodium:
166
mg
|
Potassium:
588
mg
|
Fiber:
6
g
|
Sugar:
94
g
|
Vitamin A:
446
IU
|
Vitamin C:
8
mg
|
Calcium:
191
mg
|
Iron:
3
mg