These Easy Blueberry Crumble Bars are filled with sweetened plump, juicy vanilla and citrus hinted blueberries then layered on top of a shortbread crust and topped with a buttery crumble! These are so addictive! If you love bars like these, try this Blueberry Pancake Cobbler, Apple Berry Bars, Blueberry Coffee Cake, Easy Blueberry Cobbler, Peach Crumb Bars, Mango Lemon Bars and Raspberry Lemon Bars!!!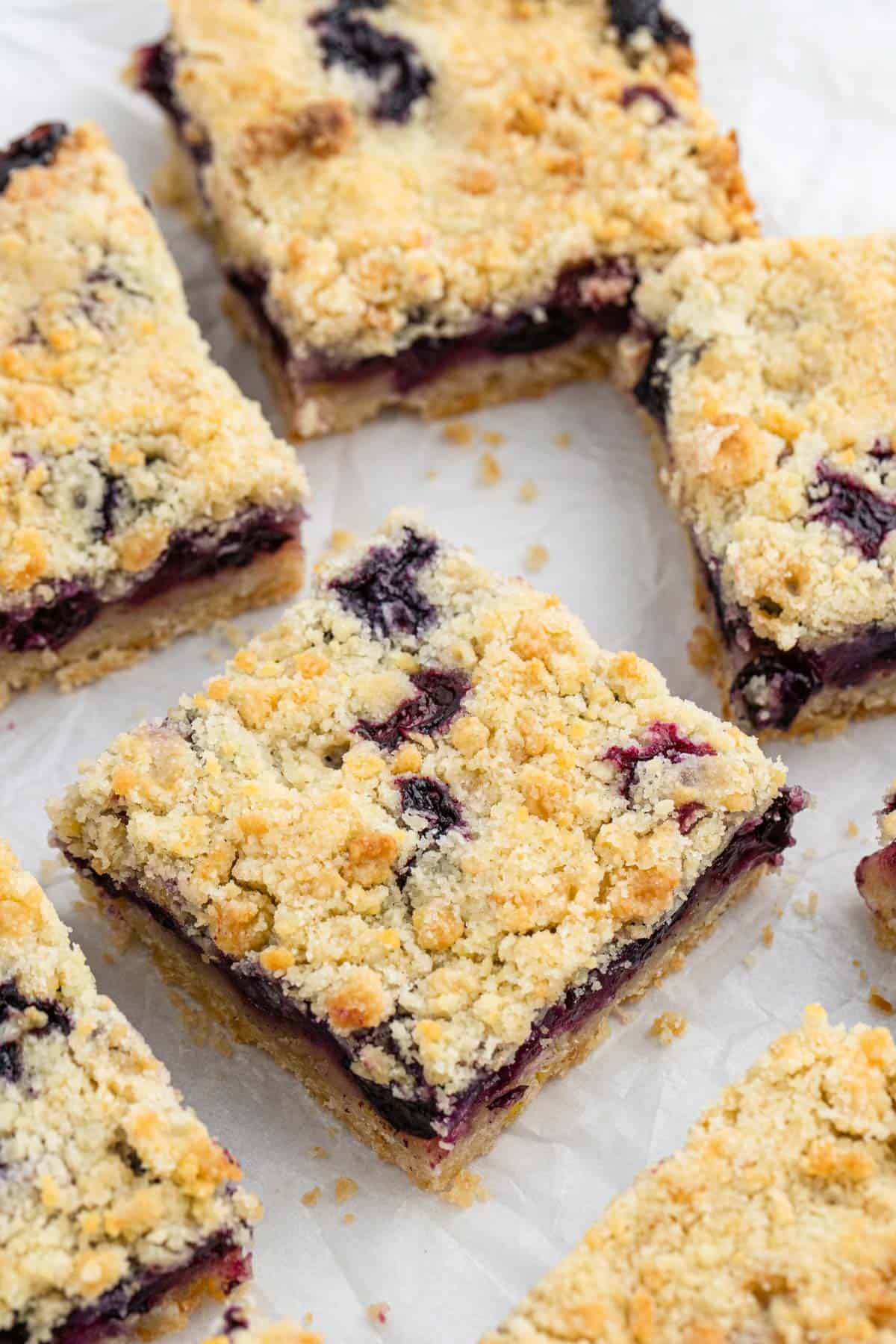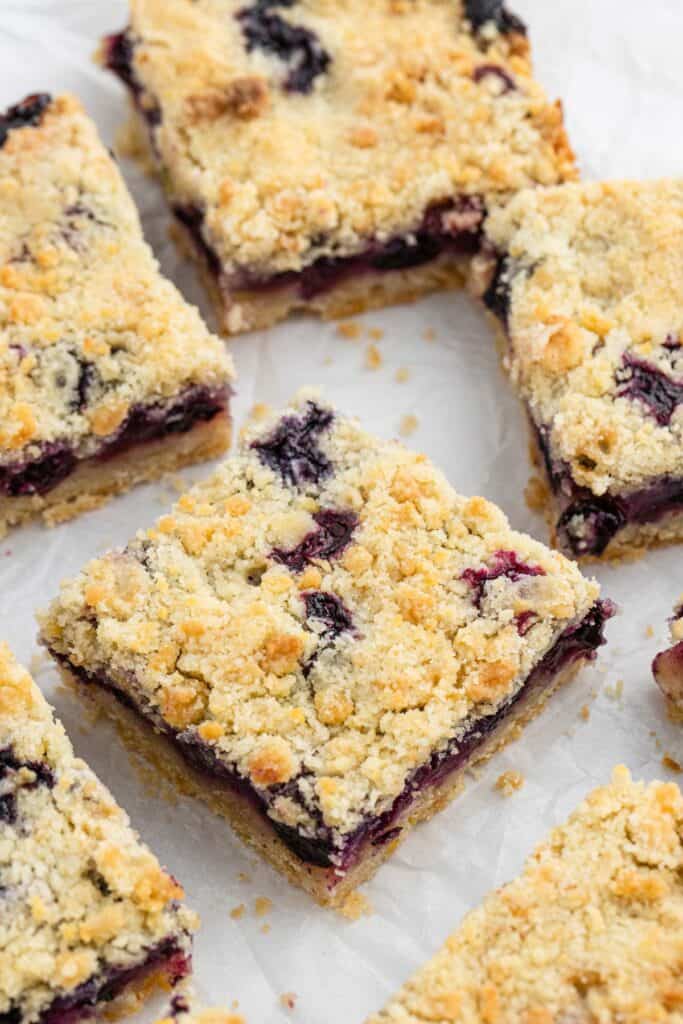 The Most Perfect and Super Easy Blueberry Crumble Bars!
I'm going through a bit of a slump. I can tell you because I'm always honest with you. I trust you. We have been in a serious relationship for 2 1/2 years, and I know you will always be my shoulder.
Before you get too worried, my slump is more of a me being lazy thing. I haven't had much energy or creativity flowing through me. I think its because I am coming out of the hugely creative process of writing my first book. It took a lot out of me, which is a good thing because I am very proud of the book. I'm hoping my vacation to Mexico in the next couple of weeks leaves me absolutely refreshed and ready to go again. But for now, I am slowly going through a phase of wanting extreme convenience and ease in my life.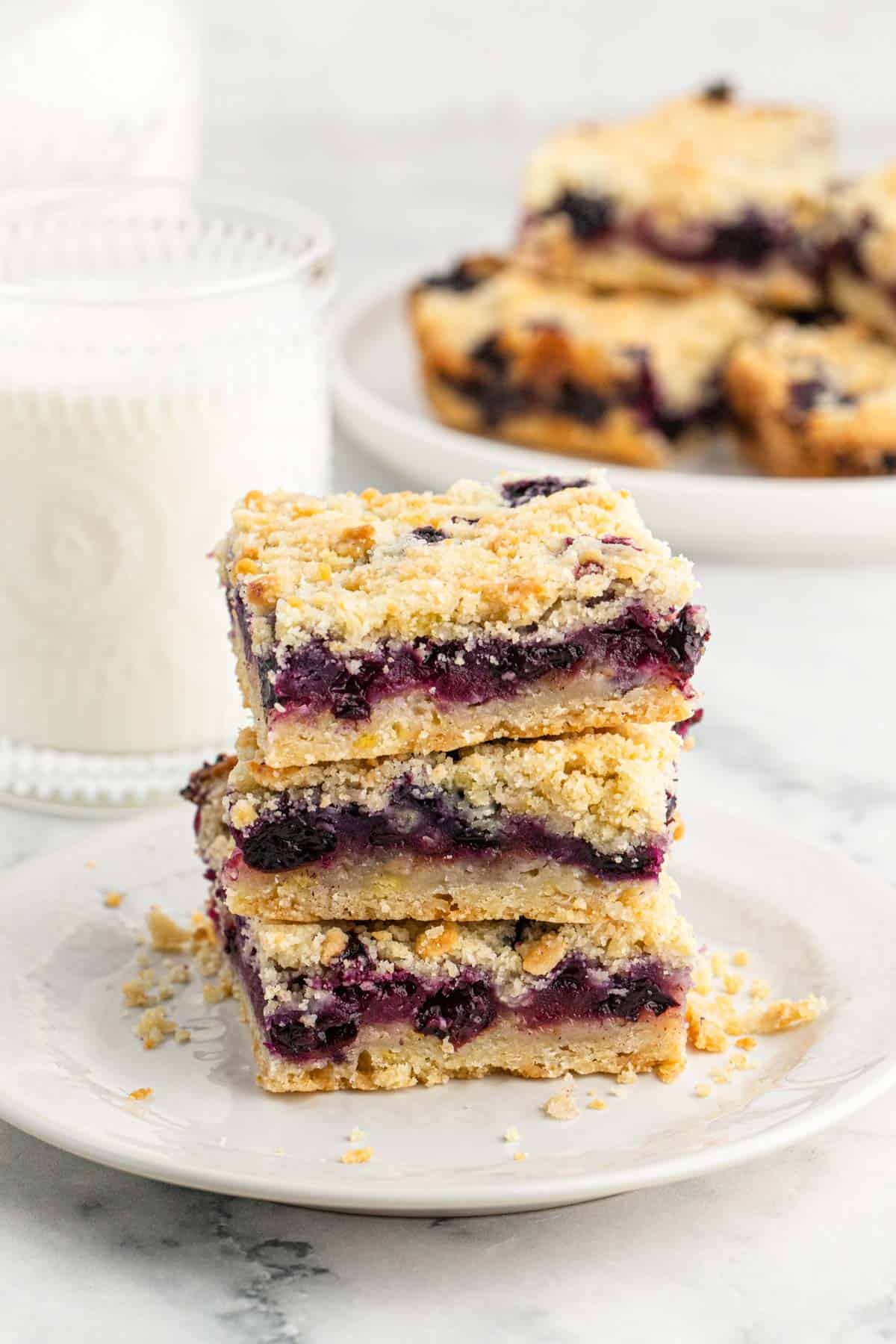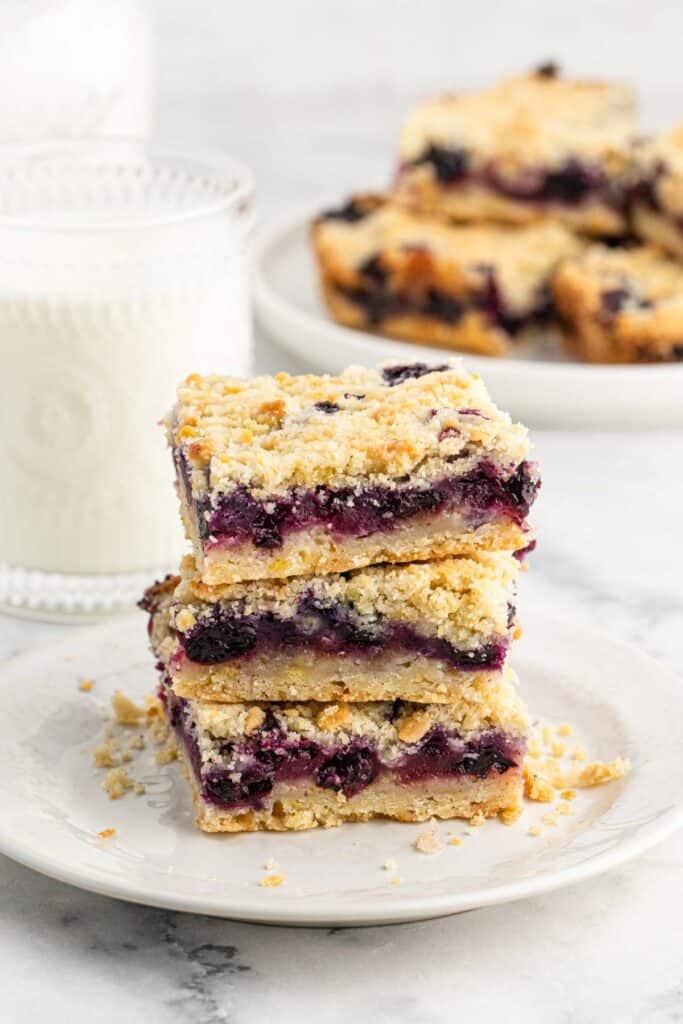 What Is a Blueberry Crumble?
Crumbles are a cousin to pies but much easier to make. I love the ease of making them and the comforting taste of them. I first fell in love with crumbles after tiring of making my family cobblers and pies. Sometimes the work involved in rolling out precious pie crusts and making sure temperatures are just right can be exhausting. I know the hard work always pays off but sometimes you just crave the same delicious taste with less work. That's when crumbles entered the picture.
When I realized how easy they were to make, I started making them all the time with any fruit I had on hand starting with my strawberry crumbles which are a hit! The creation of crumble bars came later when I realized that I would love a crumble in hand form, something I could grab and eat whenever I had the craving. From peach crumble bars to now blueberry crumble bars, I have truly found one of the world's most perfect and easy treats.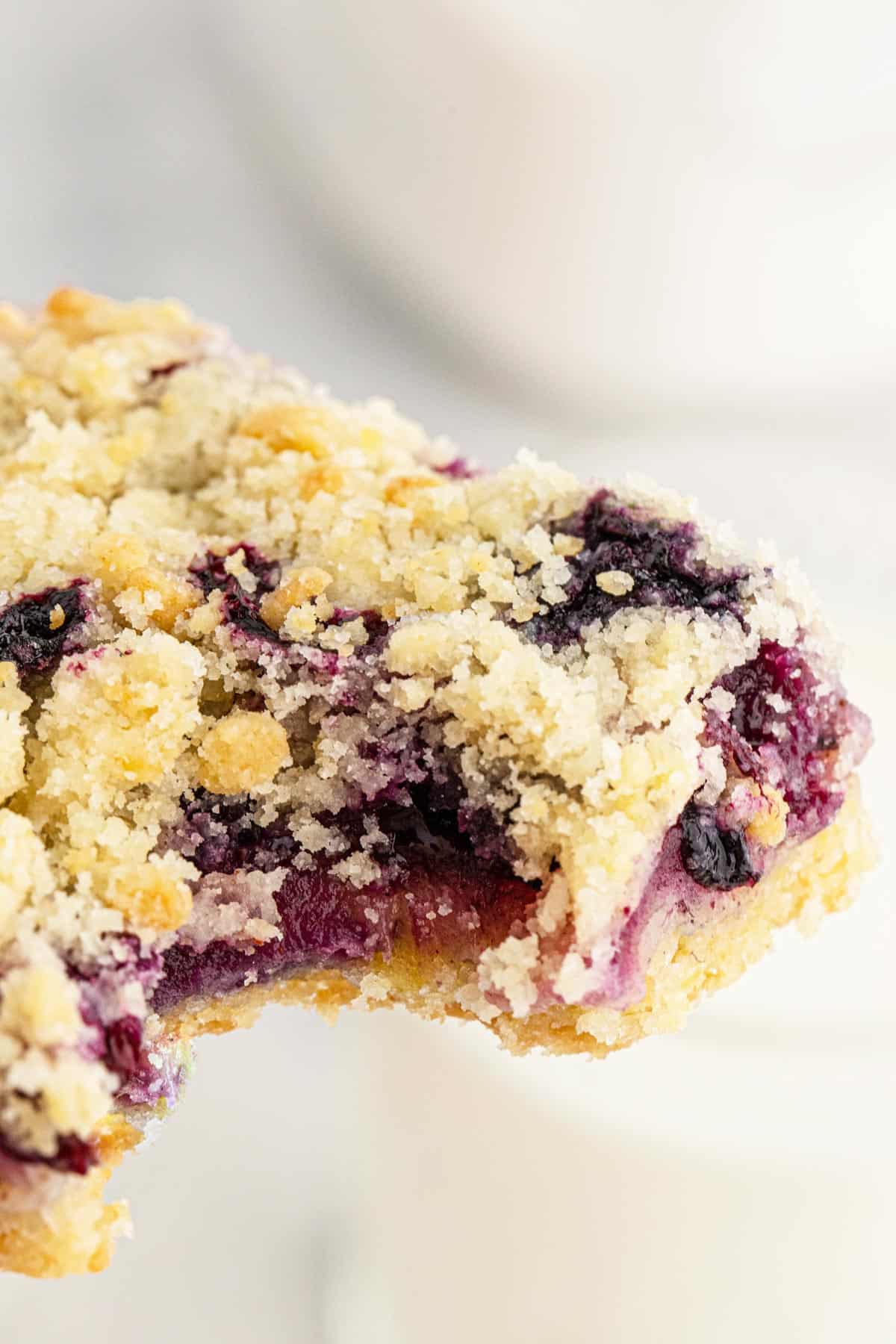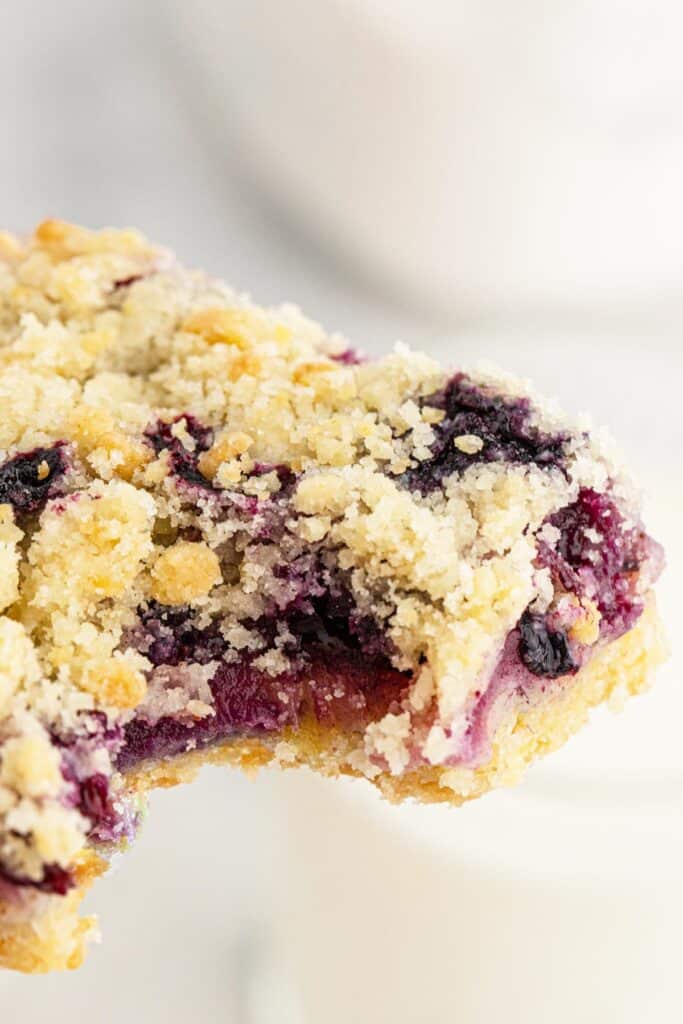 How to Make Blueberry Crumble Bars
These blueberry crumble bars are all you will ever want and need in a dessert. Simple, quick to create, and absolutely buttery, sweet and juicy from the bountiful berries.
The crumble gives that perfect amount of crunch when you bite into them. The versatility of this dessert will make you a believer, just like crumbles did for me.
How to Make Crumble Topping
This crumble topping has most of the ingredients that are used to make a pie crust but because the texture is different and less smooth, and can easily be pressed together to create something special. The key ingredients are:
Flour
Sugar
Leavening
Butter
Egg
These are the crucial ingredients you will need to create not only the crumble topping but the delicious crust as well. All purpose flour is what I used. Because we are creating a sweet but not savory crumble, a bit of sugar really adds a nice flavor. To give it a wonderful lift when baking, I also added baking powder too.
Butter is most essential to this crumble topping. Just like in a pie crust, it must be incredibly cold. The cubes are cut into the dry ingredients to create that crumble and for additional richness, I added an egg yolk. It acts as a binder. Half goes into the baking pan pressed down to make the crust and the topping is crumbled on top of fruit.
For the Blueberry Filling
Finally we need to create the filling. Fresh blueberries work best but you can always use frozen blueberries as well.
Tip: if you want to use frozen fruit, no need to unthaw the blueberries. Just roll them in a little flour so it soaks up some of the additional wetness as it bakes in the oven.
A mix of dry ingredients and wet ingredients make the filling wonderful. For flavor, we add sugar, cinnamon which really gives it that pie taste, lime juice which brightens the mix with citrus flavor and vanilla extract that always works in desserts especially this. Finally I add all purpose flour to thicken everything.
Everything bakes together perfectly. I love to serve these warm with vanilla ice cream.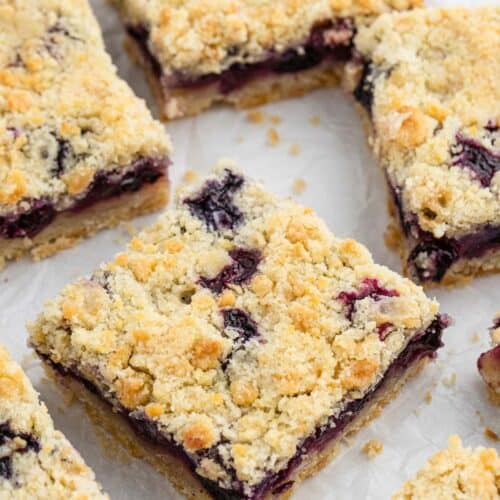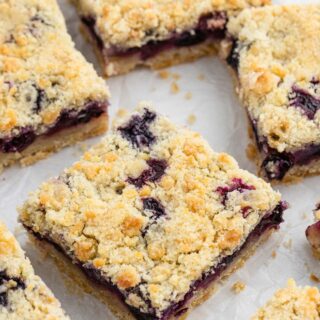 Blueberry Crumble Bars
These perfectly simple to make Blueberry Crumble Bars are filled with plump, juicy and sweet citrus hinted blueberries are layered on top of a shortbread crust and topped with a delicious buttery crumble!
Print
Pin
Rate
Ingredients
For the Crumble and Crust:
1 1/2

cups

all-purpose flour

1/2

cup

granulated sugar

1/2

teaspoon

baking powder

Pinch

salt

10

tablespoons

unsalted butter

cold and cut into cubes

1

large

egg yolk

1

tablespoon

cold water
For the Blueberry Filling:
2

cups

fresh blueberries

2

tablespoons

lime juice

2

tablespoons

all-purpose flour

1/2

cup

granulated sugar

1/4

teaspoon

ground cinnamon

1

teaspoon

vanilla extract
Instructions
For the Crumble and Crust:
Preheat the oven to 375 degrees F. Prepare a 8×8-inch baking pan with the non-stick coating of your choice.

For the crumble and crust, whisk together flour, sugar, baking powder and salt.

Next, cut in the cold butter using two forks or a pastry cutter then slowly mix in the egg yolk and cold water. Don't worry if the dough seems really crumbly. It should be!

Next take half of the crumble mixture and press into the prepared pan. The rest should be saved for the top of the bars.
For the Blueberry Filling:
Stir together blueberries, lime juice, flour, sugar, cinnamon and vanilla until combined.

To assemble, evenly add blueberry filling to top of crust.

Next sprinkle the remaining crumble over the top of the blueberry filling.

Bake for 30-38 minutes or until golden brown and set.

Cool bars to room temperature then cut and serve.
Notes
Tip: if you want to use frozen fruit, no need to thaw the blueberries.  Just roll them in a little flour so it soaks up some of the additional wetness as it bakes in the oven.
Nutrition
Calories:
230
kcal
|
Carbohydrates:
33
g
|
Protein:
2
g
|
Fat:
10
g
|
Saturated Fat:
6
g
|
Cholesterol:
40
mg
|
Sodium:
3
mg
|
Potassium:
52
mg
|
Fiber:
1
g
|
Sugar:
19
g
|
Vitamin A:
325
IU
|
Vitamin C:
3.1
mg
|
Calcium:
16
mg
|
Iron:
0.9
mg