A deliciously easy Blueberry Cobbler recipe made with fresh blueberries, zesty lemon juice, warm spice, and basic pantry ingredients! Topped with a yellow cake mix and creamy melted butter, this cobbler couldn't be any easier to make! If you love this, you will also love this Blueberry Pancake Cobbler, Blueberry Hand Pies, Sweet Potato Cobbler, Blueberry Coffee Cake, Strawberry Crumble, and Peach Cobbler.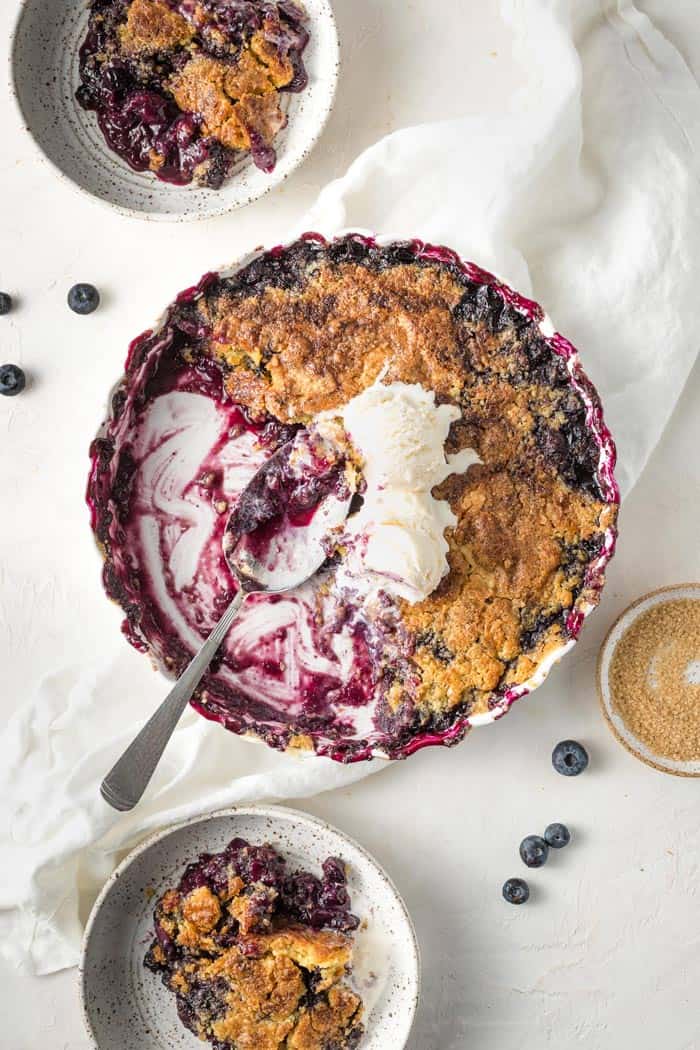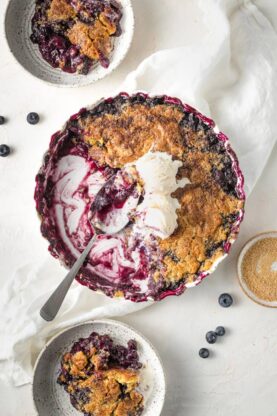 A fresh, warm fruit dessert is one of my favorite things! The way sugar dissolves into berries to form a thick, syrupy filling when baked is crazy delicious. Add a crisp, buttery topping (and a hefty scoop of vanilla ice cream) and you've got the perfect weeknight treat.
Blueberry Cobbler is a warm, sweet dessert recipe that takes just a few minutes to prepare and will satisfy every sweet-tooth craving you will ever have!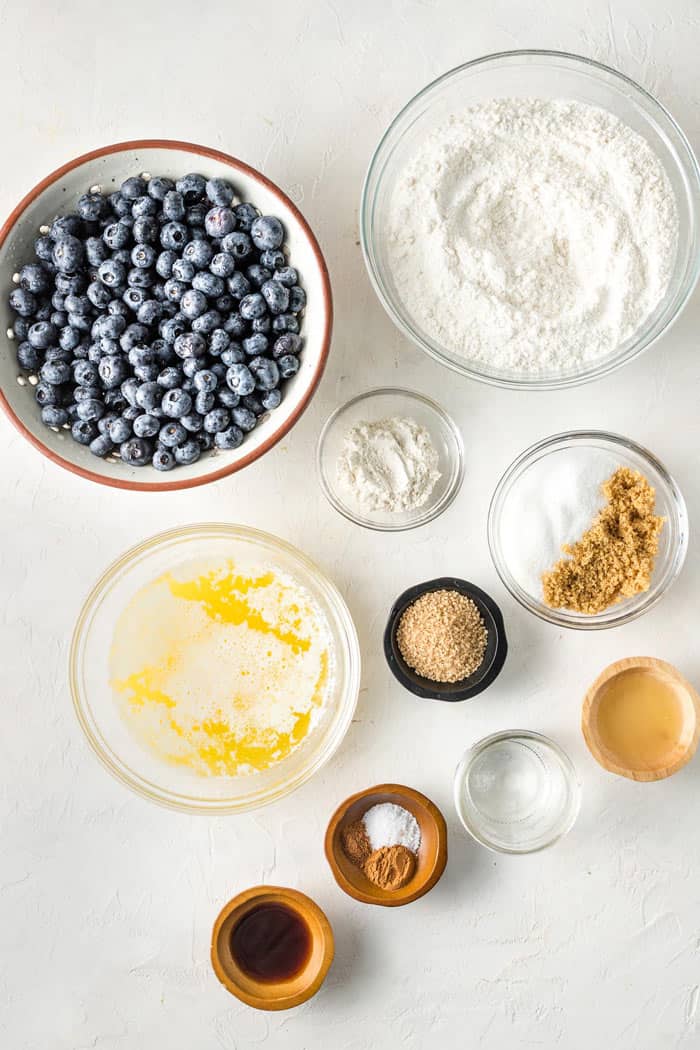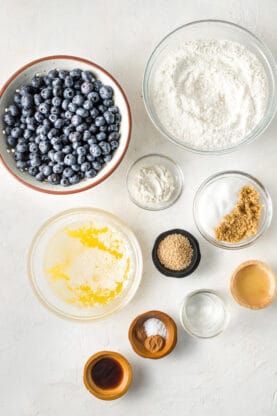 BLUEBERRY COBBLER INGREDIENTS
If you know me, you know that I'm all about utilizing pantry-staple ingredients. I aim to share recipes that don't require unnecessary trips to the grocery store or impossible to find items. Dessert should always be right at your fingertips!
So, here's how I managed to use what I had on hand to make the tastiest darn cobbler:
Blueberries- When you buy blueberries, look for berries that are firm, dry, plump, and smooth-skinned, with a silvery surface bloom and no leaves or stems. Look for berries that are deep purple-blue to blue-black.
Water- A little liquid helps to dissolve the sugar as the blueberry mixture cooks.
Light Brown & Granulated Sugar- Both act as sweeteners here. Cane sugar and dark brown sugar will also work.
AP Flour- Flour works as a filling thickener for most pie, cobbler, and crumble recipes. If desired, you can substitute with gluten-free flour.
Lemon or Lime Juice- The acid in citrus balances the sweetness of the fruit. The juice also helps to enhance and bring out the fruit's natural flavor. If you ask me, citrus is what takes an average fruit cobbler from OK to spectacular.
Vanilla Extract- Extract enhances flavor and adds a delightful aroma.
Kosher Salt- Just a little bit of salt brings out the flavors of everything, it makes those blueberries that much more blueberry-ey.
Cinnamon & Nutmeg- Both are warm, earthy, nutty, and aromatic. Each spice adds warmth and comfort to this cobbler. If you'd like, you can also experiment with using cardamom, ginger, or even ground cloves.
Yellow Cake Mix- Seriously y'all, cake mix is a game changer! There's no shame in making use of a convenient ingredient to save time, especially when the result is just as good. There are gluten-free and vegan cake-mix options that can accommodate your dietary needs too!
Melted Butter- Adding butter to the top of the cobbler is what makes for that crisp, buttery, melt-in-your-mouth cobbler topping. Both salted and unsalted butter will work, choose according to your preference. Vegan butter can be used as well.
Turbinado Sugar- I love sprinkling turbinado sugar onto just about any baked dessert. That sugary, sparkly addition is the cherry on top!
SERVING TIP: A hefty scoop of vanilla ice cream or whipped cream is a MUST. That extra layer of decadent, smooth sweetness takes this dessert to a whole new level.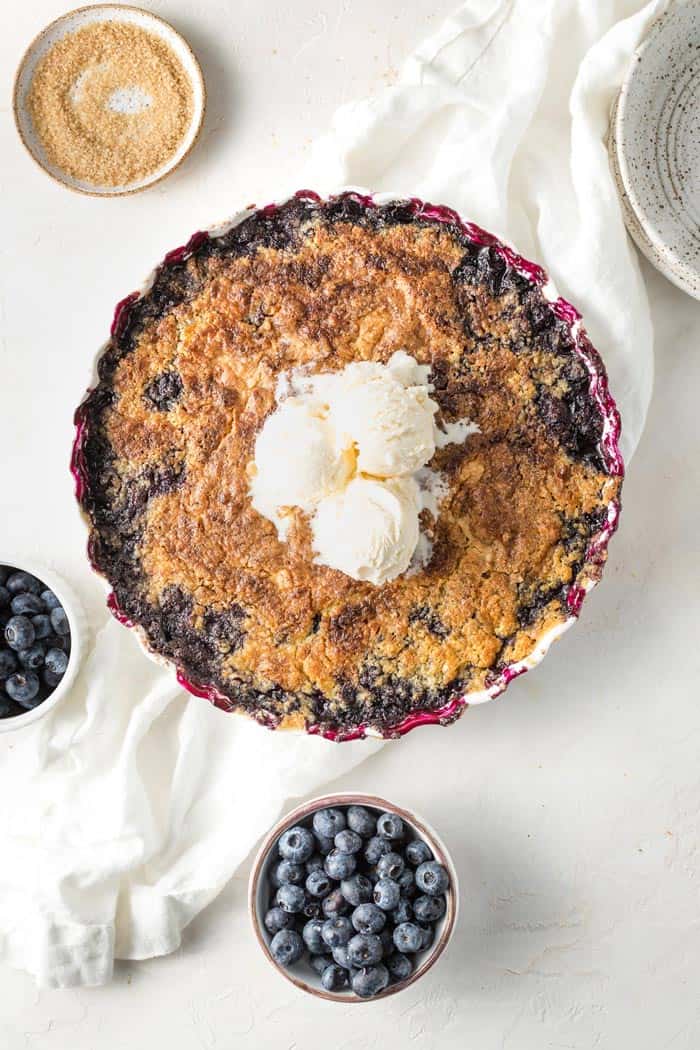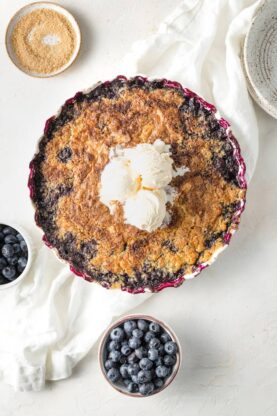 HOW TO MAKE BLUEBERRY COBBLER
The best part of this cobbler is that it's made in 3 simple steps! All you need is a large bowl, a small saucepan, a rubber spatula, and a 9×13 pan. Add a short list of ingredients and some baking time and you've got the easiest dessert you could ask for!
Here's how ya do it:
Prepare the Blueberries-

It's important that we ensure that all of our blueberry filling ingredients are properly combined before baking. By combining and partially cooking the mixture we dissolve the sugars, activate flavor, and begin the process of breaking down the fruit. Be sure to only cook the blueberries until they've come to a boil; they'll continue to cook in the oven!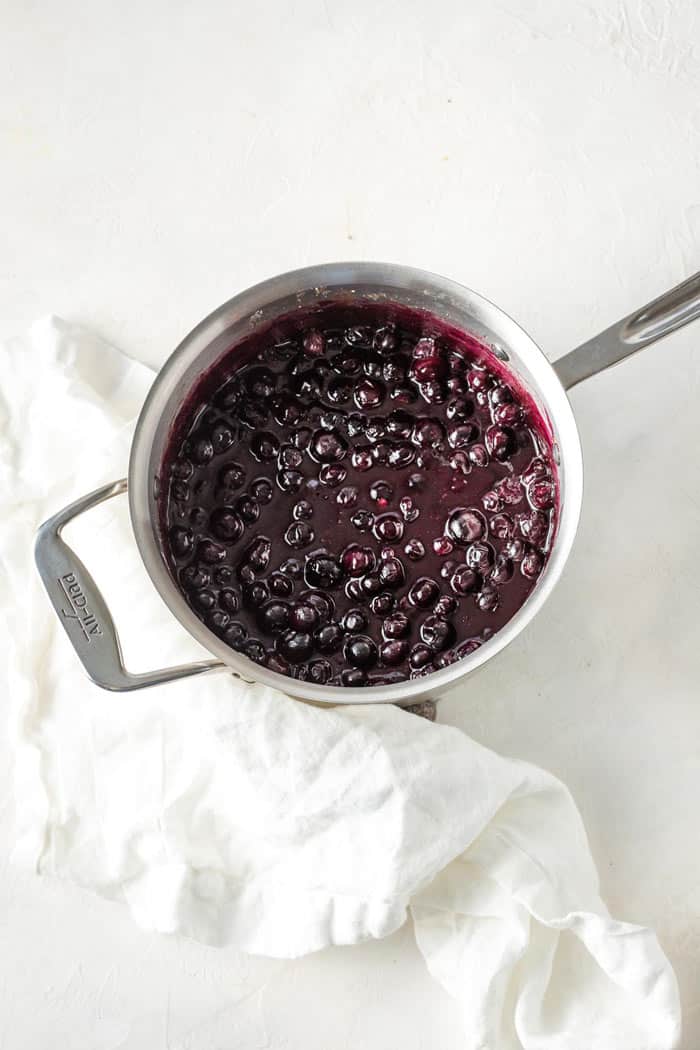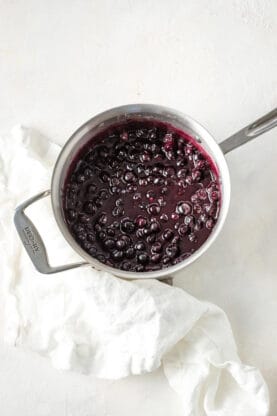 Add the Topping-

There's no need to prepare the cake mix! Simply spread the dry mix over the top of the blueberries, then pour on the melted butter, and sprinkle on the turbinado sugar to finish. It's that easy!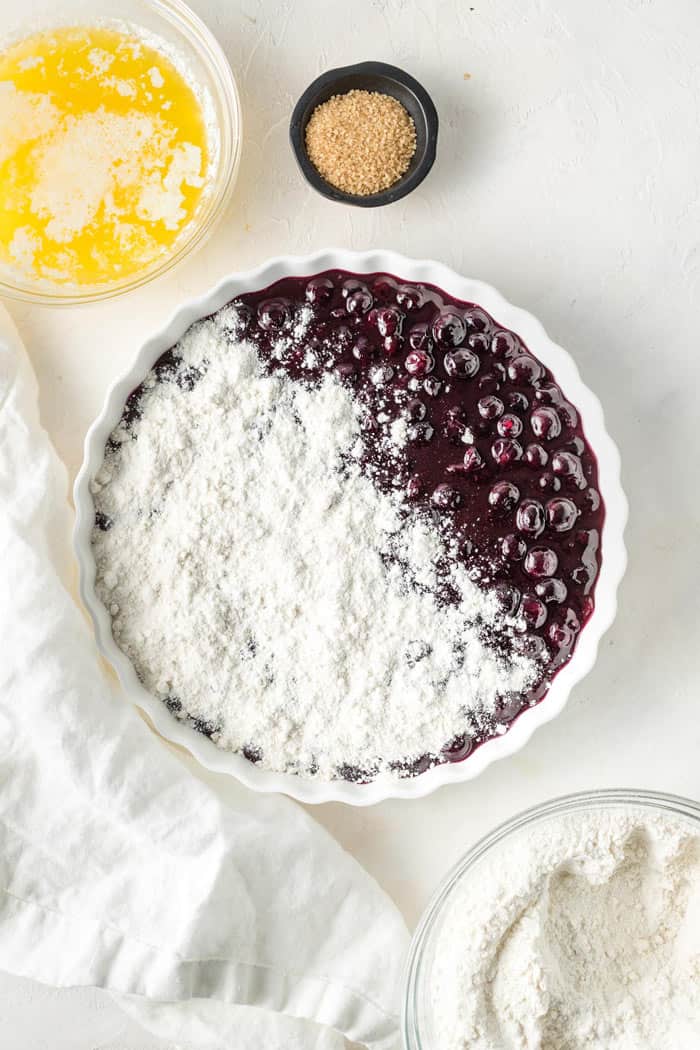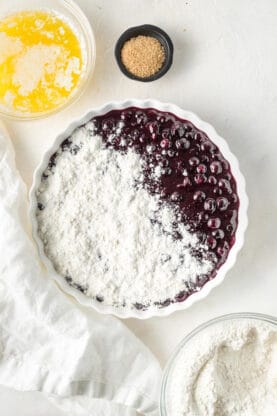 Bake, Cool, and Serve-

You'll know the cobbler is done when the filling is bubbling at the sides and the topping is more deep amber than golden brown. Allow the cobbler to cool for 10-15 minutes before serving! Enjoy!
STORAGE AND REHEATING
It's important to allow your leftover cobbler to come to room temperature before storing. You'll know it's ready when you can hover your hand over them and not feel any radiant heat. To cool quickly, I'd recommend cutting the cobbler into individual portions. You can cover them in aluminum foil on individual plates, place them back into the original baking dish, or into Tupperware containers. Place the cobbler in the refrigerator, where it will keep for 4-5 days.
To reheat the cobbler in the oven, take it out of the fridge, transfer the desired amount into an oven-safe dish, and preheat the oven to 250 degrees. For individual serving sizes, heat for 10-15 minutes. For a whole (or large amount) cobbler, heat for 30-45 minutes. Allow the cobbler to cool for about 10 minutes before serving.
To reheat in the microwave, remove the cobbler from the fridge and place the desired portion onto a microwave-safe plate/bowl. Heat the cobbler in 30 second increments so you can carefully gauge the temperature as you go. Depending on the size of the piece, I wouldn't recommend exceeding 90 seconds.
TIP: If you place the cobbler in a covered container and notice steam rising to the top, take the lid off and allow the cobbler to cool longer before covering it again. Steam = condensation. Condensation = soggy cobbler.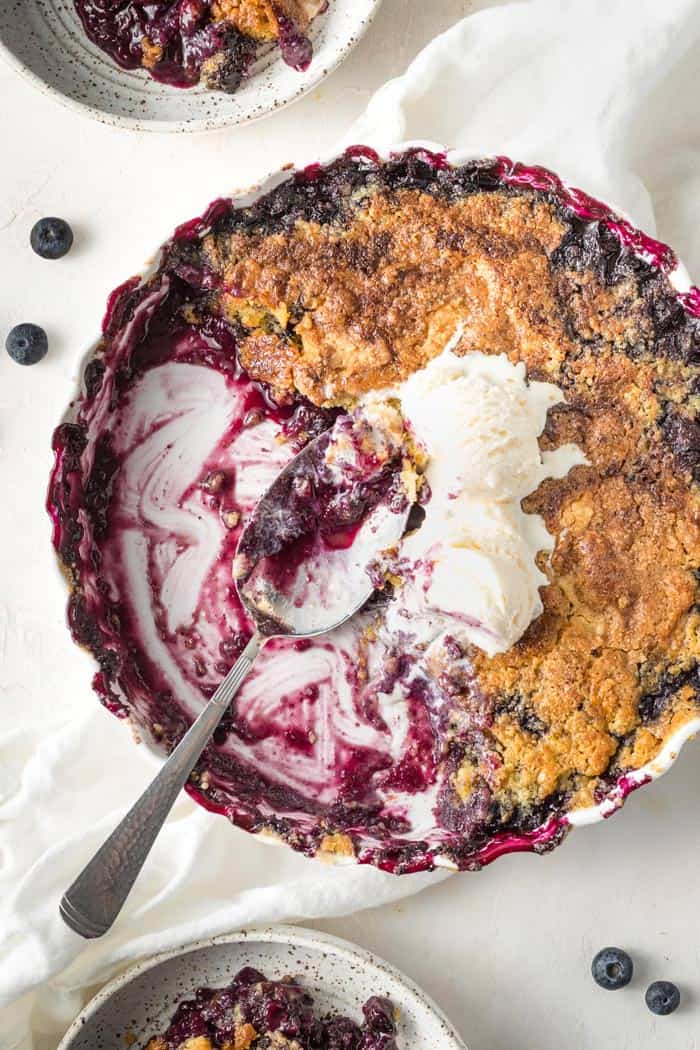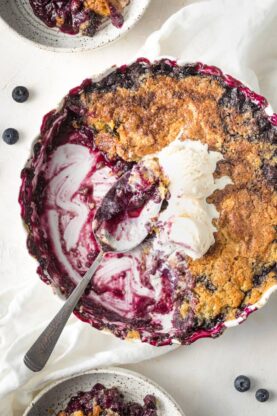 GRANDBABY CAKES' BEST COBBLER & CRUMBLE RECIPES
If you loved this recipe, try out a few more of my absolute favorite crumbly, crunchy, buttery, fruit-packed recipes!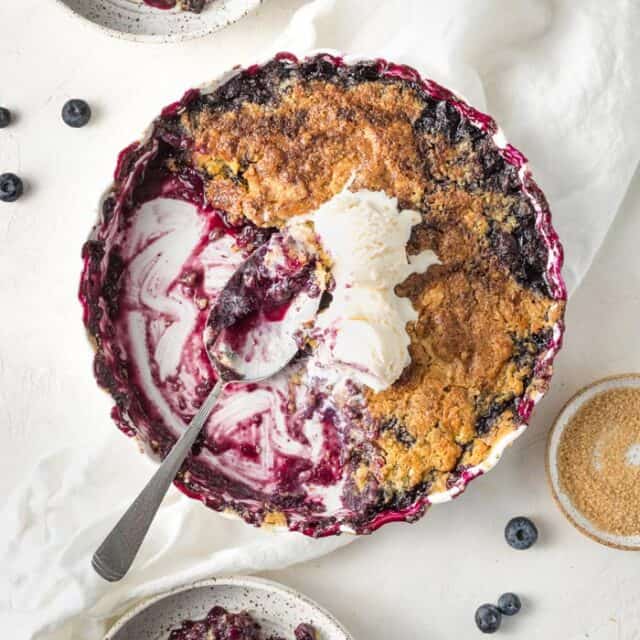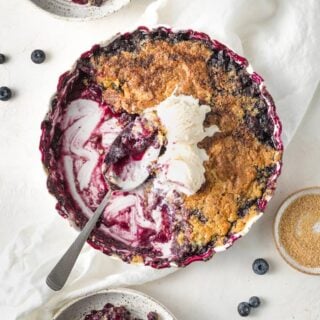 Blueberry Cobbler
A deliciously easy Blueberry Cobbler recipe made with fresh blueberries, zesty lemon juice, warm spice, and basic pantry ingredients! Topped with a yellow cake mix and creamy melted butter, this cobbler couldn't be any easier to make!
Print
Pin
Rate
Ingredients
2

pints

fresh blueberries

rinsed and drained

1/4

cup

water

1/4

cup

light brown sugar

1/4

cup

granulated sugar

2

tbsp

flour

1

tbsp

fresh lemon juice

or lime

2

tsp

vanilla extract

1

tsp

kosher salt

1/2

tsp

ground cinnamon

1/4

tsp

ground nutmeg

18

oz

yellow cake mix

1

cup

melted butter

2

tbsp

turbinado sugar
Instructions
Preheat the oven to 350 F. Grease a 9x13-inch baking pan.

In a medium sized saucepan over medium heat, add blueberries, water, both sugars, flour, citrus juice, vanilla, salt, cinnamon and nutmeg and bring to a boil stirring occasionally.

Once boiling, remove from heat and add blueberry mixture to the greased pan.

Next, evenly layer dry cake mix on the top of the blueberries and pour on the butter. Sprinkle the turbinado sugar over the top.

Bake for 45-55 minutes or until blueberries have bubbled and the top has browned and become crusty. Cool for 10-15 minutes then serve with vanilla ice cream if desired.
Notes
*This recipe can be made vegan! Use vegan butter and cake mix.  Same with gluten free for flour and cake mix.
Nutrition
Calories:
429
kcal
|
Carbohydrates:
66
g
|
Protein:
1
g
|
Fat:
19
g
|
Saturated Fat:
12
g
|
Trans Fat:
1
g
|
Cholesterol:
49
mg
|
Sodium:
427
mg
|
Potassium:
91
mg
|
Fiber:
5
g
|
Sugar:
47
g
|
Vitamin A:
658
IU
|
Vitamin C:
11
mg
|
Calcium:
86
mg
|
Iron:
2
mg