Chicken Fried Chicken, sometimes known as Country Fried Chicken, is the ultimate Southern comfort food! Tender, juicy chicken is coated in a perfectly seasoned breading and fried until deliciously crisp!! Served with a smooth and peppery gravy, this outrageous chicken recipe is to die for! If you love this, you will also love this Chicken Fried Steak, Sawmill Gravy and serve with these Garlic Mashed Potatoes.
Country Fried Chicken Recipe
This Country Fried Chicken Recipe, or "chicken fried chicken", is one of my family's favorite dinner time meals! We almost always have a package of chicken lying around at the end of the week and this is usually what it gets made into.
To make it, we simply use our classic chicken fried steak recipe and use chicken breasts (sometimes thighs) instead! It's super easy to make, very comforting, and it's smothered in gravy. What's not to love?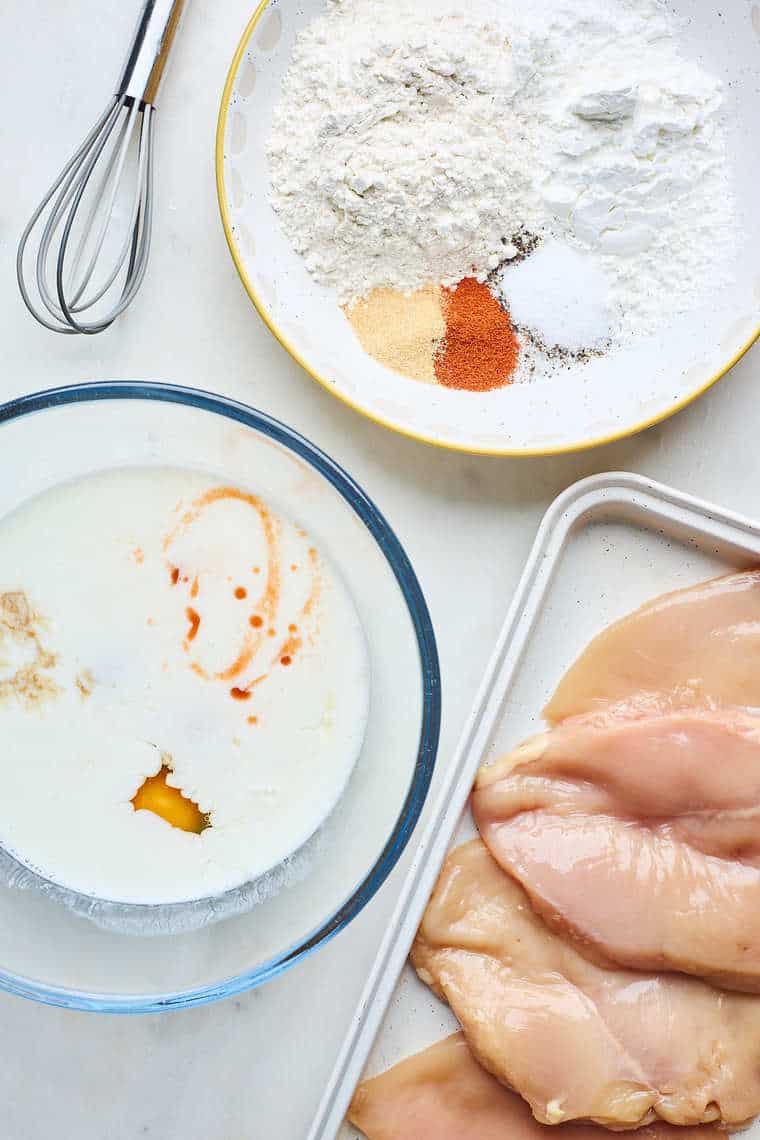 The Best Batter
Hot Tip: To make a flavorful batter that produces a deliciously crispy crust, start with a buttermilk bath! Ingredients like hot sauce and worcestershire sauce add additional flavor that gets right into the meat before you add flour to it!
This seasoned dredge is to die for! The ingredients that really take it over the top are:
Cornstarch – it adds such an incredibly crispy texture whenever it is added to fry breadings!!

Kosher salt + freshly cracked black pepper

Garlic Powder- add a little onion powder too for some extra flavor!

Cayenne – this kick of spice is nice y'all! Not a fan? Try smoked paprika instead!
How To Make Chicken Fried Chicken
Frying can be intimidating and often, super messy. But with a little confidence, and a whole lot of practice, you'll find that the process is quite simple.
Chicken fried chicken is best when deep-fried until beautifully golden-brown and crisp. To get there, here's what you'll have to do:
Fry in a Dutch Oven
Frying in a shallow pan will cause overflow. Prevent a hot mess by using a deep Dutch oven, a deep cast-iron skillet or even a heavy-bottomed stock pot.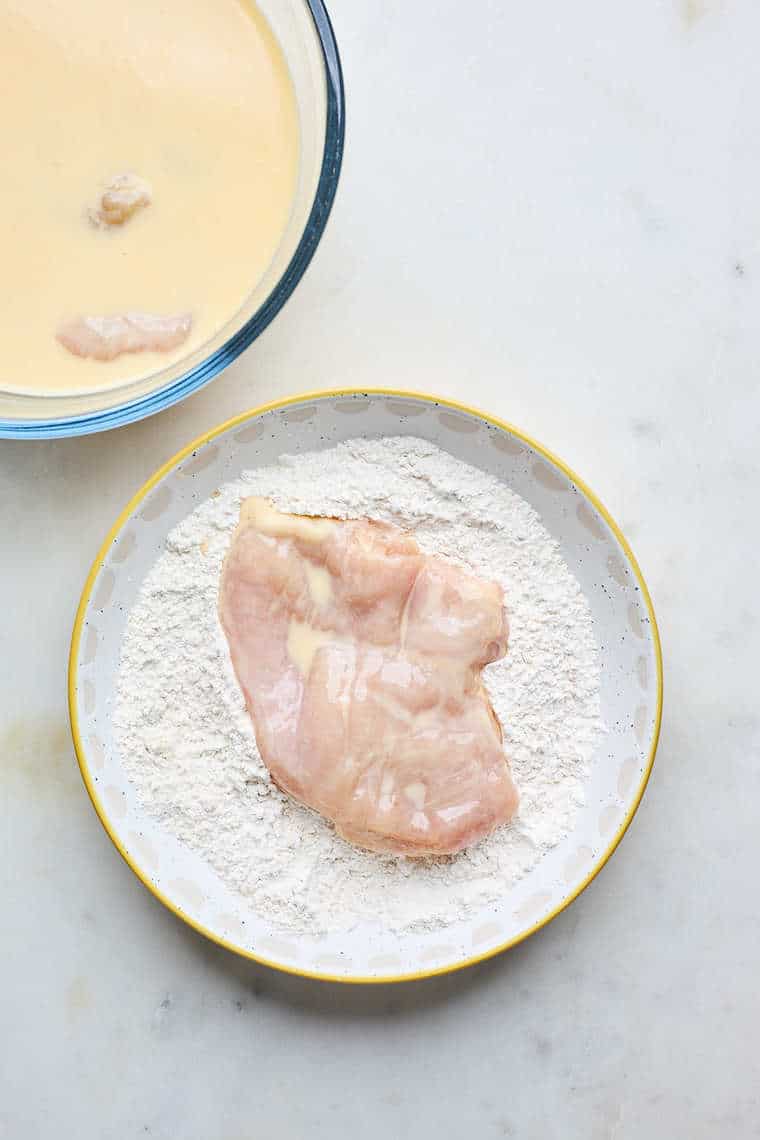 Set Up a Fry Station
Being prepared is the best way to prevent a dangerously chaotic situation. At the center of your fry station should be your Dutch oven, to left, the prepped and ready-to-fry chicken and to the right, a cooling rack set over a paper towel-lined baking sheet. Be sure to also have stainless-steel tongs or a spider strainer for lowering and removing the chicken from the pot.
Use a Thermometer
You can't rely on the chicken's coating color to determine doneness. You'll need to monitor the temperature of your oil using a deep-fry thermometer; the oil should remain at a steady 350 degrees. After about 15 minutes, the chicken should reach an internal temp of 165 degrees.
Cool Before Serving
After draining the fried chicken, cool the chicken for at least 10 minutes. Proper cooling will set the crust and ensure that the meat is fully cooked and settled.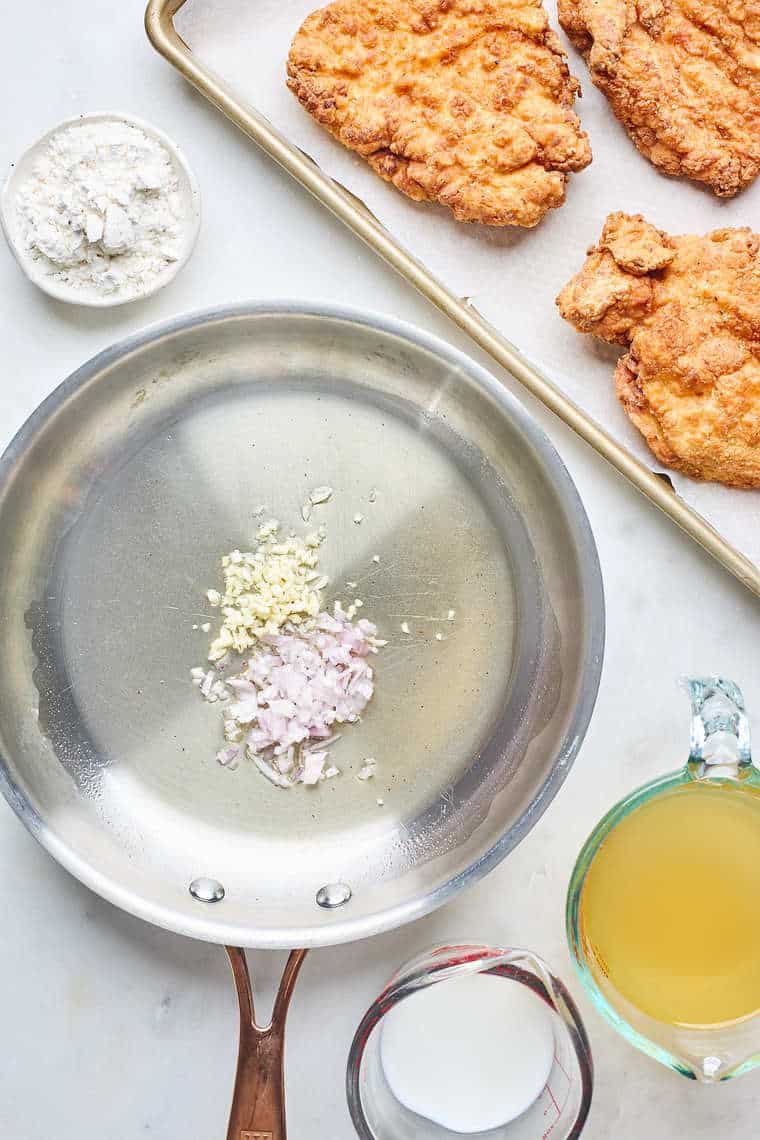 Homemade Country Gravy
This creamy country gravy has bits of onion, garlic and spice. Most country fried chicken or chicken fried chicken dishes are served with a white gravy, which is a bit thinner than a traditional brown gravy. By adding a few spices and browning the roux, we add both more flavor and color. You can opt for a lighter gravy but I just love adding an extra layer of decadence.
No matter what way you choose to make it, I promise you that this will be crazy delicious. The gravy's texture is smooth and rich, don't even get me started on the way it coats my garlic mashed potatoes!
What To Serve with It
Country-style chicken is typically served on a bed of pillowy mashed potatoes and then smothered with creamy white or brown gravy. A side of green beans couldn't hurt either.
Here are a few other odds and ends I like to serve with this recipe:
TIP: I love to use leftover chicken (assuming it's boneless) to make sandwiches! Use the bread of your choice and pile on the gravy, greens, or some slaw. You'll be dreaming about that perfect bite for days.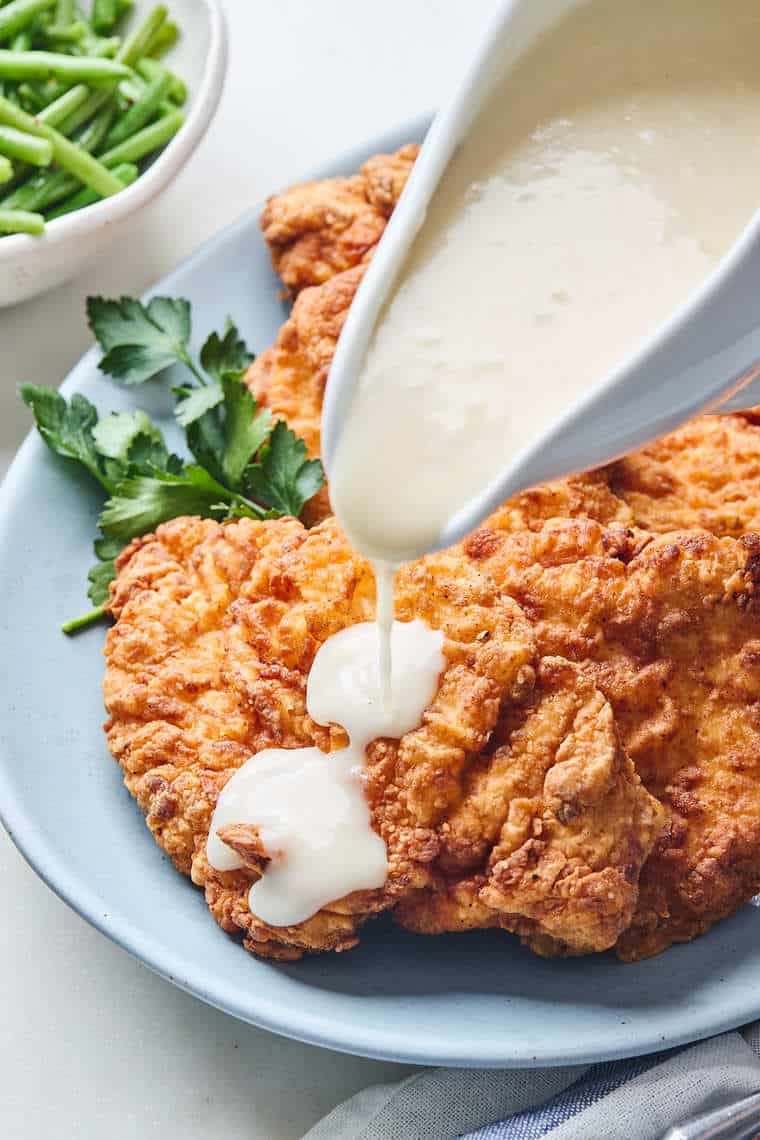 Leftover Storage and Reheating
Allow the leftover fried chicken to cool completely, then line an airtight container with paper towels and carefully transfer it in. The paper towels will absorb any condensation and keep the chicken crisp. Leftover chicken will keep in the fridge for 3-4 days.
To reheat: Let the chicken sit out at room temperature for at least 30 minutes. In the meantime, preheat the oven, toaster oven, or air fryer to 375 degrees. Arrange the chicken in a single layer and cook until heated through, flipping once to ensure even cooking.
This will take about 4-5 minutes in the air fryer and 10-15 minutes in the oven or toaster oven. Just be sure to stick close by, you don't want those precious leftovers to burn!
Check out More of GBC's Best Chicken Dinners!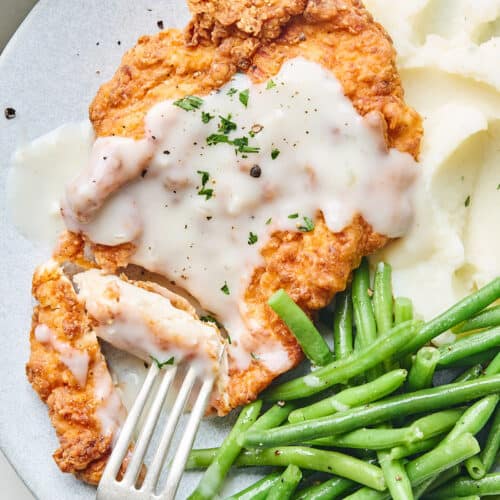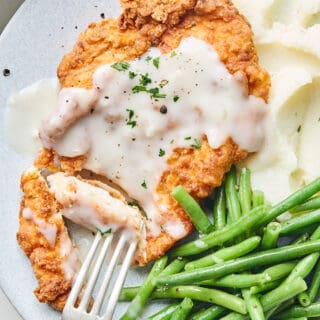 Chicken Fried Chicken
Chicken Fried Chicken, sometimes known as Country Fried Chicken, is the ultimate Southern comfort food! Tender, juicy chicken is coated in a perfectly seasoned breading and fried until deliciously crisp!! Served with a smooth and peppery gravy, this outrageous chicken recipe is to die for!
Print
Pin
Rate
Ingredients
For the Chicken:
2

cups

buttermilk

3

large

eggs

2

teaspoons

hot sauce

1

teaspoon

Worcestershire sauce

1

cup

all-purpose flour

1/2

cup

cornstarch

2

teaspoons

salt

1

teaspoon

garlic powder

1/2

teaspoon

pepper

3/4

teaspoon

cayenne

4

chicken breasts

pounded

4-5

cups

oil for frying
For the Gravy:
1/4

cup

finely chopped shallots or onions

1

teaspoon

minced garlic

3

tablespoons

all-purpose flour

1/2

cup

milk

1 1/2

cups

chicken or beef stock

pinch

cayenne

Salt and pepper to taste

Optional: Ground pepper and parsley for garnish
Instructions
For the Chicken:
To a large bowl, whisk together buttermilk, eggs, hot sauce and Worcestershire sauce.

To another bowl, whisk together flour, cornstarch, salt, garlic powder, pepper, and cayenne.

Submerge chicken to buttermilk and marinate for at least 1 hour. (2 hours preferred.)

Dip chicken, one at a time, into seasoned flour mixture coating each side then back into marinade then back into seasoned flour then finally place on a baking sheet. Place in the refrigerator for 15 minutes.

Add oil to cast iron skillet or frying pan and heat oven medium high heat. Also preheat oven to 250 degrees.

Once oil is hot and ready, fry each chicken piece on each side until golden brown. Drain on paper towels then place steaks on parchment covered baking sheets and put in the oven while you make the gravy.
For the gravy:
Add 1/4 cup of the oil from frying to a saute pan over medium.

Add in shallots or onions and garlic and cook for 2 minutes while stirring.

Next stir in flour and cook creating a roux (think a delicious light brown color). Cook until browned (but not burned).

Stir in milk and stock and turn heat up to high heat until boiling then turn heat down to medium low and allow to thicken until it coats the back of a spoon then stir in the cayenne if using.

Turn off heat and spoon gravy on top of steaks. Sprinkle with ground pepper and parsley and serve hot with mashed potatoes if you prefer.
Video
Notes
Make sure you really think about the cut of steak you decide to use for this recipe.  I personally love using cube steak because it has been tenderized with a mullet already.
Nutrition
Calories:
752
kcal
|
Carbohydrates:
55
g
|
Protein:
64
g
|
Fat:
29
g
|
Saturated Fat:
6
g
|
Polyunsaturated Fat:
6
g
|
Monounsaturated Fat:
13
g
|
Trans Fat:
1
g
|
Cholesterol:
301
mg
|
Sodium:
1871
mg
|
Potassium:
1389
mg
|
Fiber:
2
g
|
Sugar:
9
g
|
Vitamin A:
680
IU
|
Vitamin C:
6
mg
|
Calcium:
232
mg
|
Iron:
4
mg