This is the ultimate Nashville Hot Chicken Recipe!! Spicy and crispy golden brown fried chicken gets an extra coating of hot spiced glaze taking it over the top. This tastes just as delicious as the Best Hot chicken in Nashville! Serve with Collard Greens or Mustard Greens and Baked Mac and Cheese for the best Nashville meal ever!
The Most Irresistible Nashville Hot Chicken Recipe Online!
I love me some Hot Chicken. I have tried everything from Prince's Hot Chicken to Hattie B's, so I feel pretty comfortable saying that this Nashville Hot Chicken recipe is awesome.
This seriously tastes like the real thing, and it is beyond addictive y'all. Just warning you upfront!
What Is Nashville Hot Chicken?
Nashville Hot Chicken begins with fried chicken. It is the base of the recipe and needs to be fabulous on its own to hold up to the sauce.
Once the hot chicken is fried, it is then topped with a sauce created with several different spices.
For almost 70 years, hot chicken was made and sold primarily in Nashville's Black communities. Over the last decade or so, not only has the production and sales of this recipe risen but the story of its invention has become a part of local mythology.
In the 1930's, at the height of the Great Depression, there was a man named Thornton Prince. Thornton was a handsome man but he was also a womanizer. After years of his cheating ways, one of his women became fed up.
One morning, after Thornton had spent a night out, his woman had decided on making a very special breakfast. She set out to make fried chicken using the spiciest ingredients she could get her hands on. When Thornton took his first bite he disappointed his scorned lover by falling in love with the chicken.
The woman, upset by this surprising reaction, left. But Thornton went around sharing the chicken with his brothers who loved it too. Prince's Chicken Shack, which was founded about 80 years ago, still stands as the original home of Nashville's Hot Chicken.
Now, people come far and wide to enjoy Nashville's famous delicacy. But what if you could partake in the craze from your own home? I'm here to make that possible.
How to Make Nashville Fried Chicken
To make incredible fried chicken, I believe you must begin with a marinade. This chicken recipe is based on this Fried Chicken that I make a ton! The marinade will add flavor throughout the chicken making sure that every bite is injected with deliciousness.
The base of this marinade is:
Buttermilk always adds incredible tang to the chicken and also because of the acids, it helps to break it down and tenderize it. The hot sauce adds salt and heat that also injects into the chicken.
Next the flour mixture is crucial for making sure that the crispy breading is filled with flavor as well. My key ingredients for making the very best fried chicken breading are:
Flour
Cornstarch
Seasoned Salt
Paprika
Cayenne
Black Pepper
Onion Powder
Garlic Powder
I use all purpose flour but sometimes I will vary it up and use Self Rising Flour to give the chicken breading a bit of a lift.
Cornstarch is a key ingredient in creating a delicious crunch for my chicken. It adds such a wonderful texture and is crucial to this breading.
While this chicken is already going to have a wonderful kick of spice from the sauce, I also add cayenne, black pepper and paprika to the breading. It is sensational.
The onion powder and garlic powder round out the flavors even more creating something a bit more nuanced.
This Nashville Hot Chicken recipe all started a couple of weeks ago when I had the insane pleasure of having breakfast with one of my role models Carla Hall, Top Chef alum and co-host of the hit daytime ABC food show, The Chew. She gave me a lot of advice on how to make amazing Nashville Hot Chicken.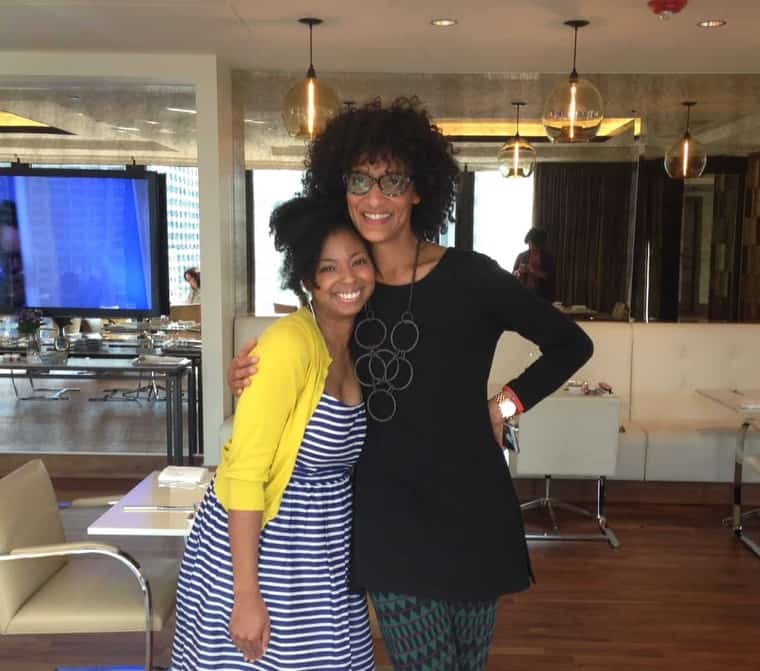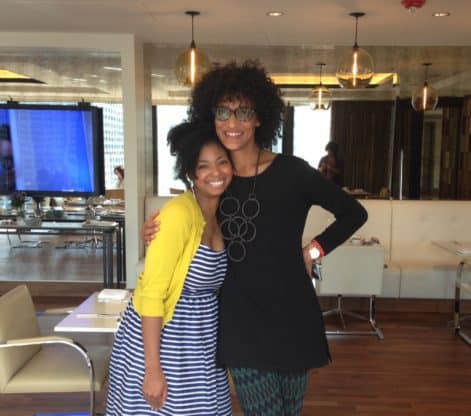 How to Make Nashville Hot Chicken Recipe Sauce!
The sauce for this Nashville Hot Chicken is what is most important! Nailing this will take an already great recipe to a higher level of incredible flavor. The key ingredients for my sauce are the following:
Cayenne Pepper (the heat is necessary for hot chicken!)
Chili Powder (more heat but provides a different flavor profile)
Brown Sugar (a lovely sweet balance to the heat)
Garlic Powder (everything tastes better with garlic)
Smoked Paprika (I love the essence of smoke here! It really changes the flavors a bit making it a hint more nuanced)
Final Tips for Making Nashville Chicken!
Double Dredge!
This chicken has a double dredge to ensure that the crust is insanely crunchy and crispy. It is one of the most important parts of making this recipe.
Rest Your Chicken!
Once you have breaded your chicken, allow it to sit for a bit. This allows the breading to really stick to the chicken.
Prop Tip: Stick the chicken in the refrigerator to really let the coating stick really well to the chicken.
Don't Fry Fridge-Cold Chicken
Don't start breading your chicken straight from the fridge. Placing cold chicken in the fryer will drop the temperature of the oil and prevent the chicken from frying evenly. Let your chicken sit out at room temperature for about 30 minutes. Then you're ready to go!
Use Oil with A High Smoke Point
Using oil with a low smoke point will ultimately result in burnt chicken and the annoying sound of smoke alarms going off all over the house. Go for a neutral-tasting oil with a high smoke point, like canola, vegetable or peanut oil. Be sure to use a thermometer to maintain the temperature of the oil, 350 degrees is perfect.
Make Sure Your Oil Is Ready!
One of the best parts of Nashville Hot Chicken is the crispy exterior of the chicken. In order to ensure your chicken is fried crispy, it must start with hot oil.
Old School Tip: Dribble sprinkles of water or even flour in the oil, once it begins to dance, it is time to fry some chicken.
I'm not sure how authentic this is but it sure did taste amazing. I can't wait to sample the real thing, especially at Carla's new restaurant!
Find more Fried Chicken recipes HERE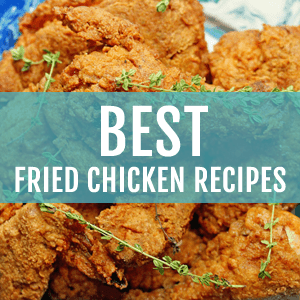 Nashville Hot Chicken
The ultimate ode to Nashville Hot Chicken. This tastes just as delicious as the original ones in Nashville restaurants.
Print
Pin
Rate
Ingredients
For the Fried Chicken
2

cups

buttermilk

1/3

cup

hot sauce

2 1/2

cups

all-purpose flour

3

tablespoons

cornstarch

3

tablespoons

seasoned salt

1

tablespoon

paprika

2

teaspoons

cayenne pepper

2

teaspoons

black pepper

1/2

teaspoon

garlic powder

1

tablespoon

onion powder

10

pieces

chicken

Vegetable oil for frying
For the Nashville Hot Mixture
1/3

cup

cayenne pepper

1 1/2

tablespoons

dark brown sugar

1

teaspoon

chili powder

1

teaspoon

garlic powder

1

teaspoon

smoked paprika

White bread and sliced pickles

for serving
Instructions
For the Fried Chicken
In a medium sized bowl, whisk together buttermilk and hot sauce and set aside.

Next add flour, cornstarch, seasoned salt, paprika, cayenne pepper, black pepper, garlic powder and onion powder to a paper bag and shake to mix well.

Dip each piece of chicken into seasoned flour and then into buttermilk then back into seasoned flour thoroughly coating each piece. Then add each piece to baking sheet to rest.

Finish coating all chicken and let sit for 15-20 minutes until coating has set.

While coating sets, add 2 - 2 1/2 inches of oil to a cast iron skillet or heavy bottom skillet and heat over medium high heat. Also turn on oven to 275 degrees.

This is my test for knowing when the oil is ready: Big Mama always tossed a tiny bit of flour in the oil and if it began to fry and sizzle, the oil was ready.

Fry four pieces at a time on each side. Make sure you don't overcrowd the pan.

After each side has turned slightly golden, put the top on the skillet to steam the inside of the chicken ensuring doneness. After a couple of minutes, remove the top and continue to fry until the crust is crispy again and completely golden brown.

Remove chicken from oil and place on paper towels or rack to drain. Once completely drained, place the fried chicken on a parchment paper covered baking sheet add to warmed oven while finishing the other chicken pieces.

Fry the remaining chicken pieces and repeat steps of draining and adding to oven.
For the Hot Chicken Preparation
Once you are done frying all chicken and it is in the oven, whisk together 1 cup of the frying oil you already used to fry the chicken, cayenne pepper, brown sugar, chili powder, garlic powder and smoked paprika until combined.

Remove chicken from the oven and brush the hot mixture over all of the pieces of chicken.

To serve, place hot chicken over white bread and serve with pickles on toothpicks.
Video
Notes
Make sure you rest your chicken before frying it to ensure that the breading stays on it.
Nutrition
Calories:
171
kcal
|
Carbohydrates:
32
g
|
Protein:
5
g
|
Fat:
2
g
|
Saturated Fat:
1
g
|
Cholesterol:
6
mg
|
Sodium:
2361
mg
|
Potassium:
158
mg
|
Fiber:
1
g
|
Sugar:
4
g
|
Vitamin A:
760
IU
|
Vitamin C:
6.4
mg
|
Calcium:
69
mg
|
Iron:
1.8
mg