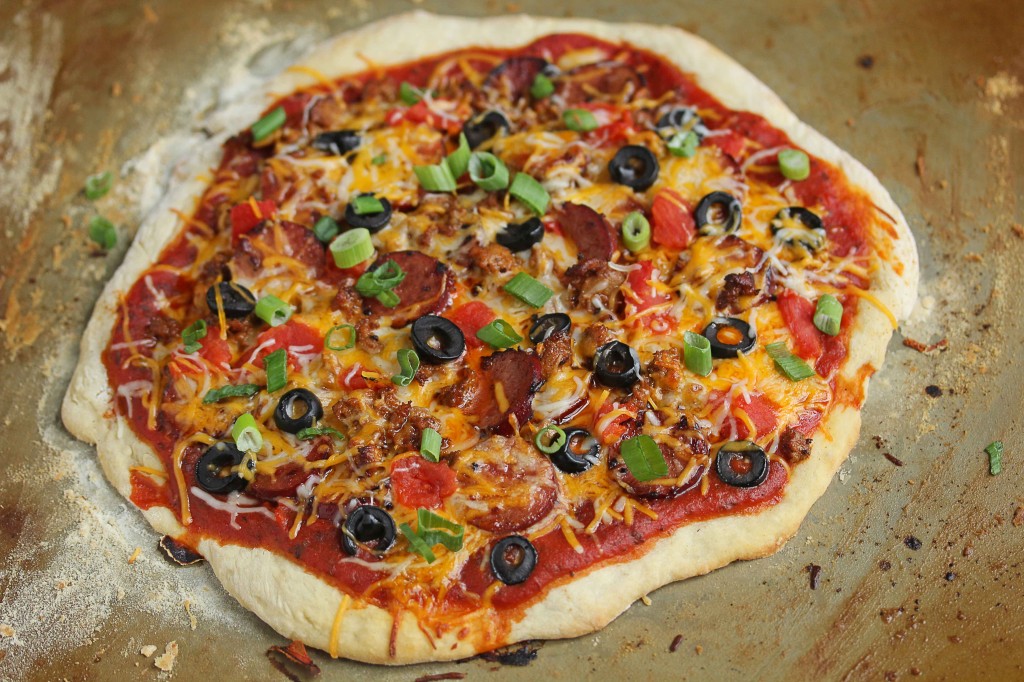 This Chorizo Mexican Pizza is dedicated to my husband Fred who has really stepped up his culinary game lately. I personally love Mexican food and just started to get my husband to pull around to love it too. He is a very picky eater and really only eats pizza and pasta. Those are his favorite things.
Most nights I appease him by either making homemade pizza with sausage and cheese or spaghetti and meatballs. That's all he truly enjoys, and I make sure that he gets one of those items at least once a week. More recently, he started branching out and trying new foods. Last summer, he happily embraced Mexican and took me to Rick Bayless' legendary restaurant Frontera Grill for my birthday, and more recently, we have been hitting this neighborhood Mexican place Nuevo Leon's regularly for our date nights.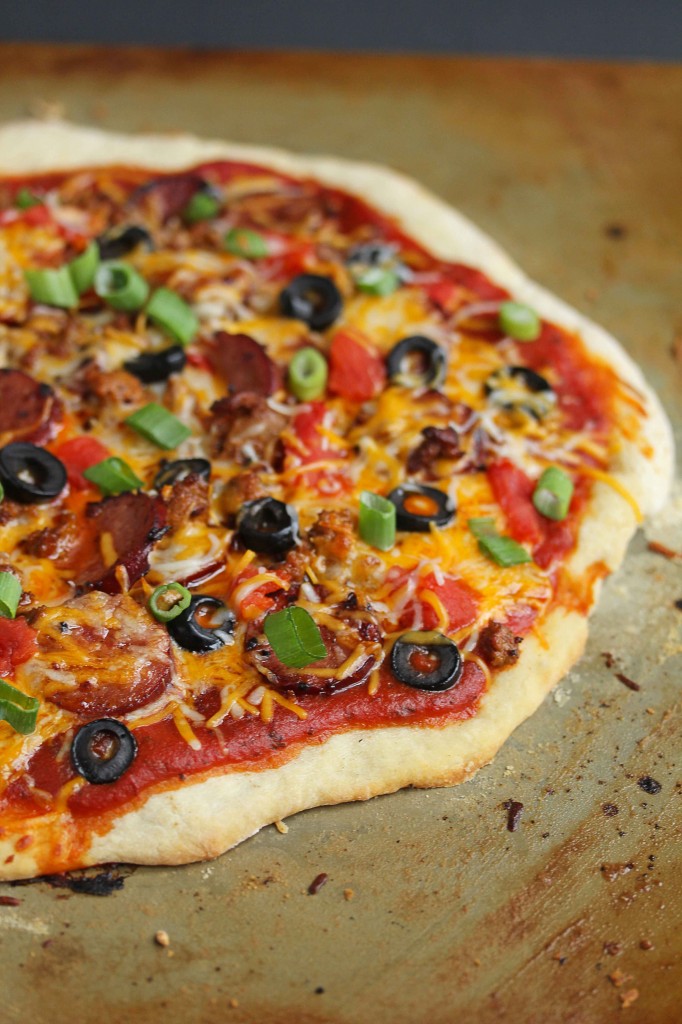 Fred has even started letting me make tacos and fajitas at home too. I thought it would be cool to add a Mexican flair to his favorite meal, pizza. I told my friend Leslie about it, and she gave me the idea of adding chorizo. Let me tell you that Mexican and Italian really are a match made in heaven. I started with my Napoli inspired Pizza Dough because it is my favorite easy dough to make, and it comes together so quickly.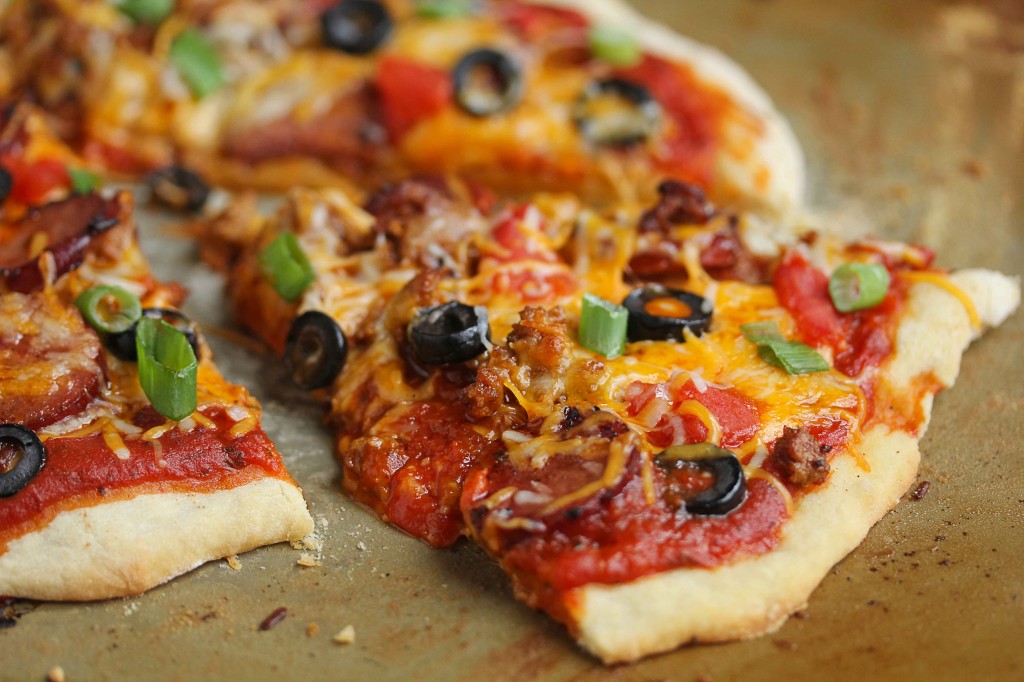 Next, I spiced up a regular pizza sauce with some taco seasoning and topped that with browned taco seasoned ground turkey and chorizo. The Mexican flair from that alone was delish. Lastly, I finished the pizza with a Mexican blend of shredded cheeses, diced tomatoes, black olive slices and green onions. It came out bubbly and delicious and full of Mexican flavor!!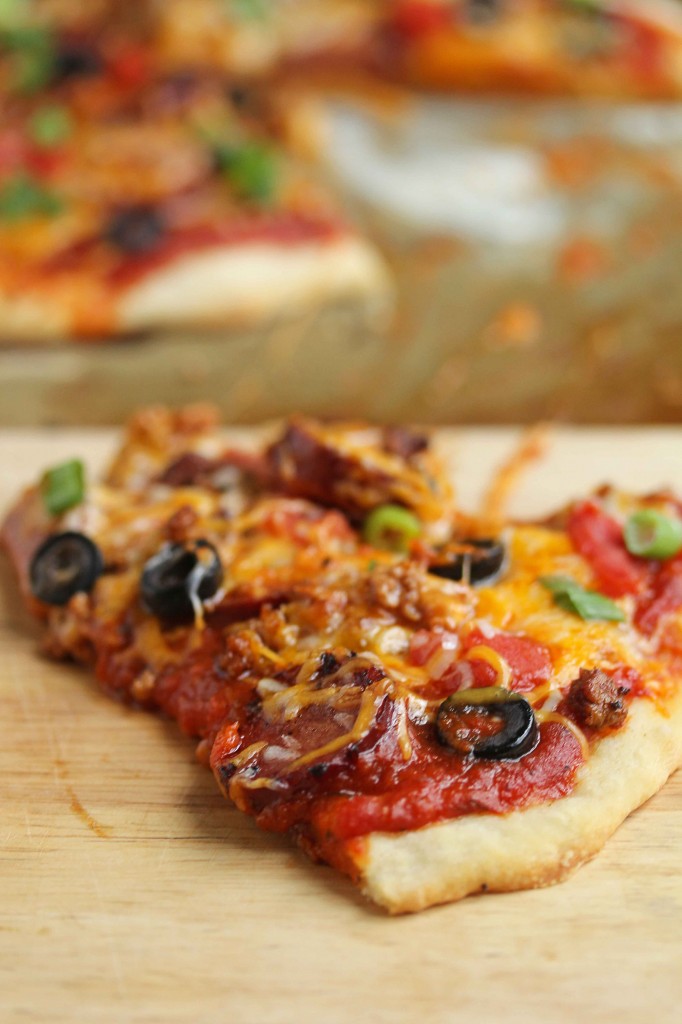 This Chorizo Mexican Pizza will be going in our rotation of Friday homemade pizza nights for sure. It's a great way to get my husband to try new flavors without going too far left. I can't wait to see what other regions I am inspired by for pizza recipe development.
Have you ever tried mixing another regional or cultural cuisine into your pizza making?
[amd-zlrecipe-recipe:109]
Chorizo Mexican Pizza
Author:
Jocelyn Delk Adams of Grandbaby-Cakes.com
Ingredients
1 (12-14 ounce) pizza sauce jar
1 tablespoon taco seasoning
½ pound ground turkey or beef, browned in skillet with 3 tablespoons taco seasoning and salt and pepper to taste
½ (14 ounce) package of Chorizo sausage, browned in skillet
1 (8 ounce) package Mexican shredded cheese
1 (2.25 ounce) can sliced black olives
2 tablespoons diced fresh tomatoes
2 tablespoons sliced green onions
Instructions
Make Napoli Inspired pizza dough according to recipe.
Preheat oven to 450 degrees.
Cut dough in half and roll out two pizza crusts on baking surfaces.
Next brush pizza sauce over both pizza crusts and sprinkle taco seasoning over the top of the sauce.
Add taco seasoned and browned ground turkey and browned chorizo on tops of both pizza crusts.
Sprinkle meat with Mexican shredded cheese then add black olives and diced fresh tomato over pizzas.
Bake pizzas one at a time for 12-18 minutes or until crust is golden brown and toppings have all melted together. Tip: If you want to brown the top even more, turn on the broiler for a few minutes but carefully watch so the pizza does not burn.
Remove pizzas, sprinkle with green onions, slice and serve.