These authentic Southern Collard Greens are braised in a savory meat flavored and perfectly spiced pot liquor resulting in an amazing tender silky texture!!!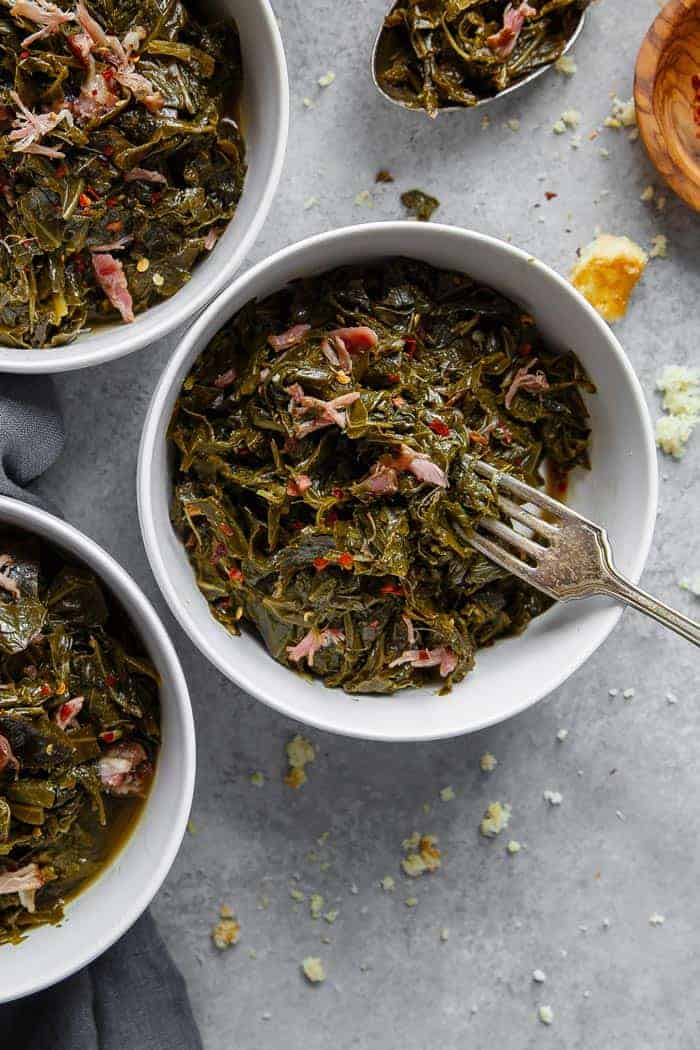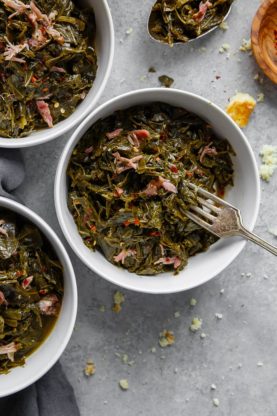 This Collard Greens recipe is a tribute to not only my childhood but to almost every other southerner. I've watched the hands that groomed and raised me make collard greens for decades, and the entire process was always so magical.  That's exactly why I included my Big Mama (grandmother's) and my mama's hands in this post showing you how to make them too.   The heritage and love associated with making greens for your family is something that can never be replaced.
We just love our greens, whether they be turnip, mustard, or collard. Just about every southerner has a personal favorite and with such unique, individual flavors I don't blame them.  This is true Southern Cooking at its finest.
In my opinion, traditional southern collard greens are the most popular rendition of this dish. The aroma of collard greens cooking on the stove fills your home with the wonderful smells of classic southern cuisine. Every bite is a true comfort to your soul.
What Are Collard Greens?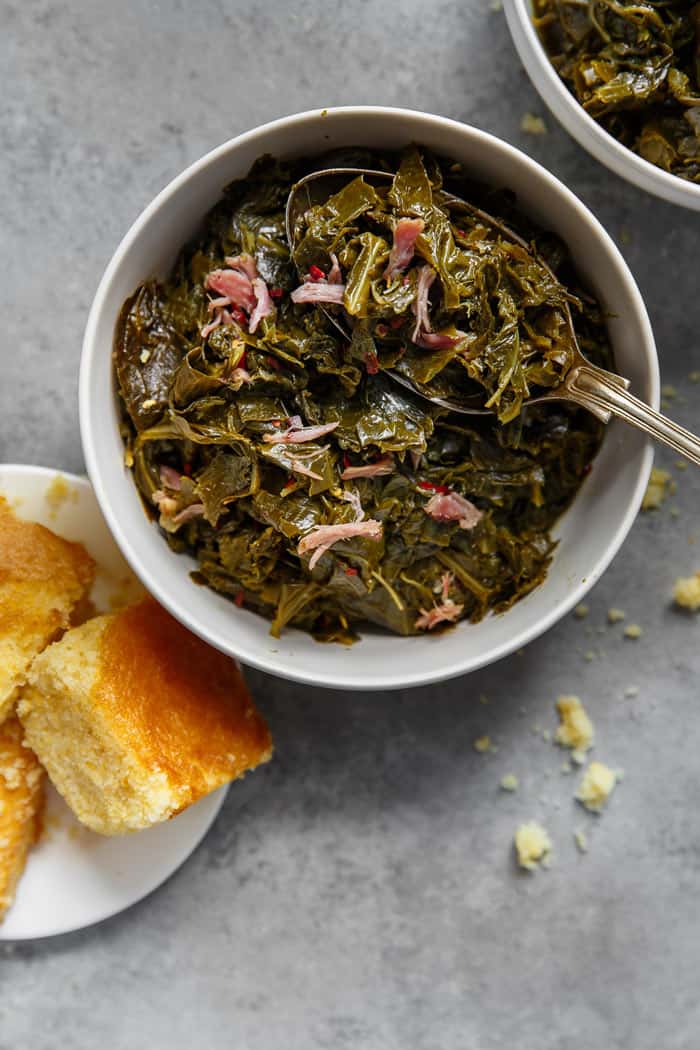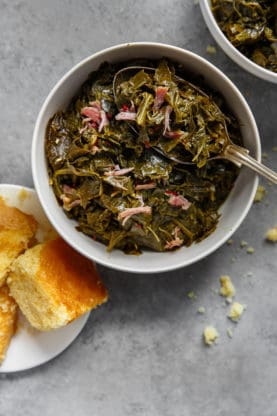 Collard greens are what I would consider the staple green vegetable of the south. They belong to the Brassica oleracea plant species like most green vegetables including cabbage (link to cabbage rolls), spinach and kale.
They are available all year round with a peak season in the winter and early spring. My mother has always picked and prepared greens all year round but there is something quite special about grabbing them when they are in season.
How To Pick The Best
To pick wonderful greens at your local grocery store or farmer's market, be sure to pay close attention to the leaves. They shouldn't be too tough. You want to make sure that the leaves are easy to pull away from the stem and tear/cut later when preparing them to cook.
How to Clean Greens
The most crucial step in making this recipe is getting those greens super clean. Greens can be very sandy, so you must adhere to these steps:
Fill your sink with lukewarm water.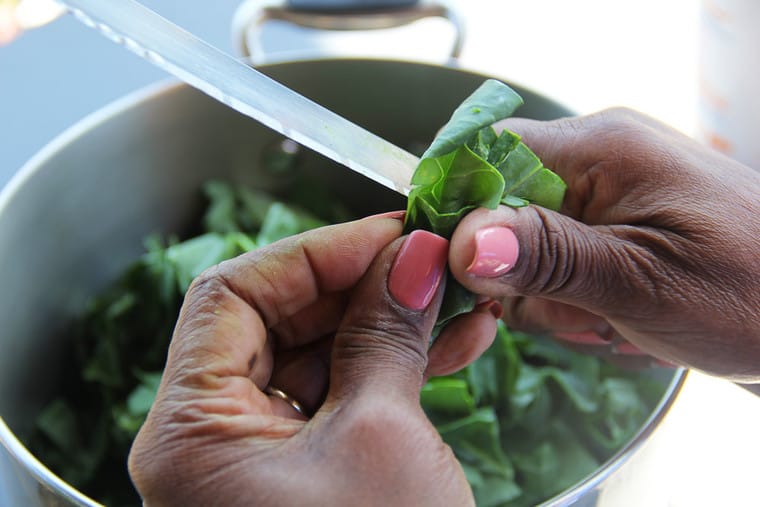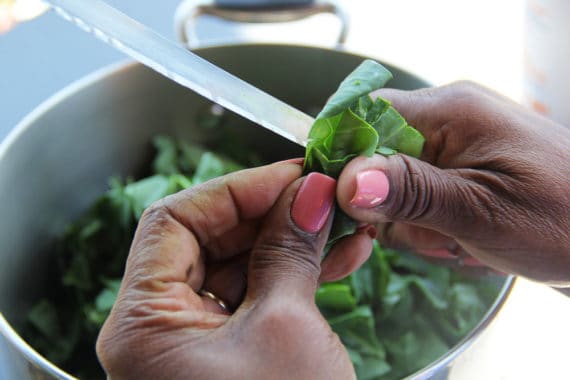 Submerge the greens in water to loosen any grit.
Thoroughly wash, making scrubbing motions with your hands.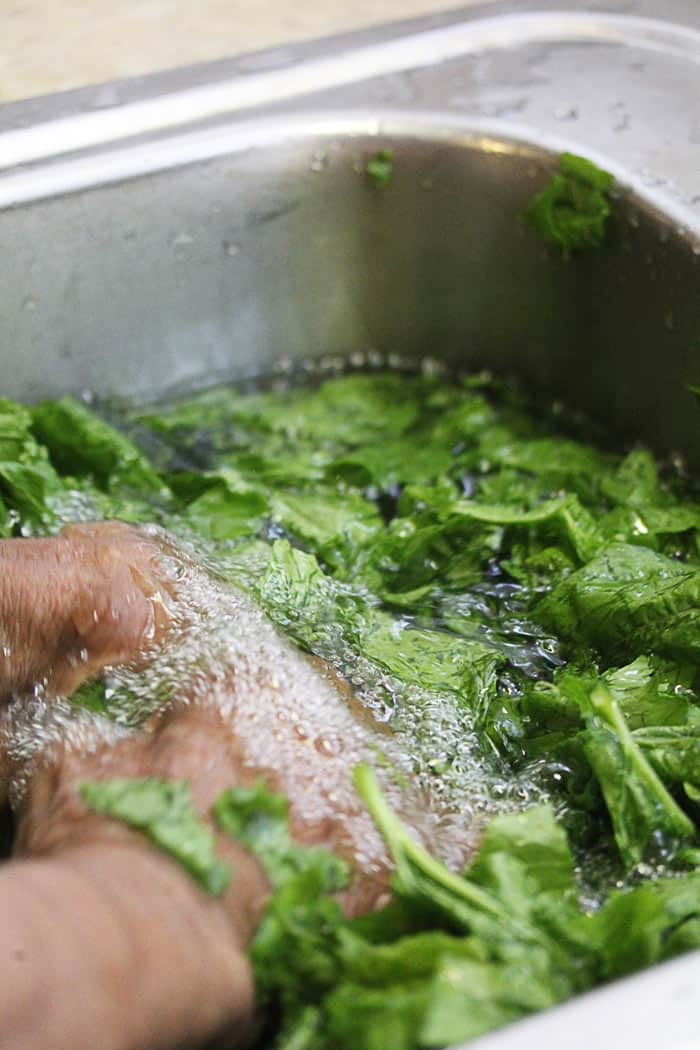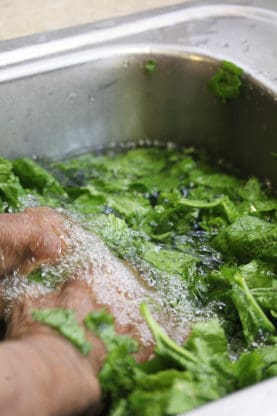 Rinse in water releasing grit.
Repeat.
This process must be done over and over and over again. My mother believes in washing greens until you don't see any grit left in the water in your sink. We like to use the deepest sink bowl available in the house so if this means washing greens in your home's laundry room, so be it! Just make sure you clean the sink out first before adding them. This will allow the greens to both achieve a better texture and soak in more flavor.
Should I remove the Stems?
This is a personal choice for most people.  In my family, we believe in removing the stems and leaving mostly just greens to cook.  However there are several that love the stems because of its major nutritional value.
An easy way to remove the stems is to hold a leaf by the end of the stem with one hand and slide the hand down the stem, tearing away the leaf as you continue to cut.
How to Cook Collard Greens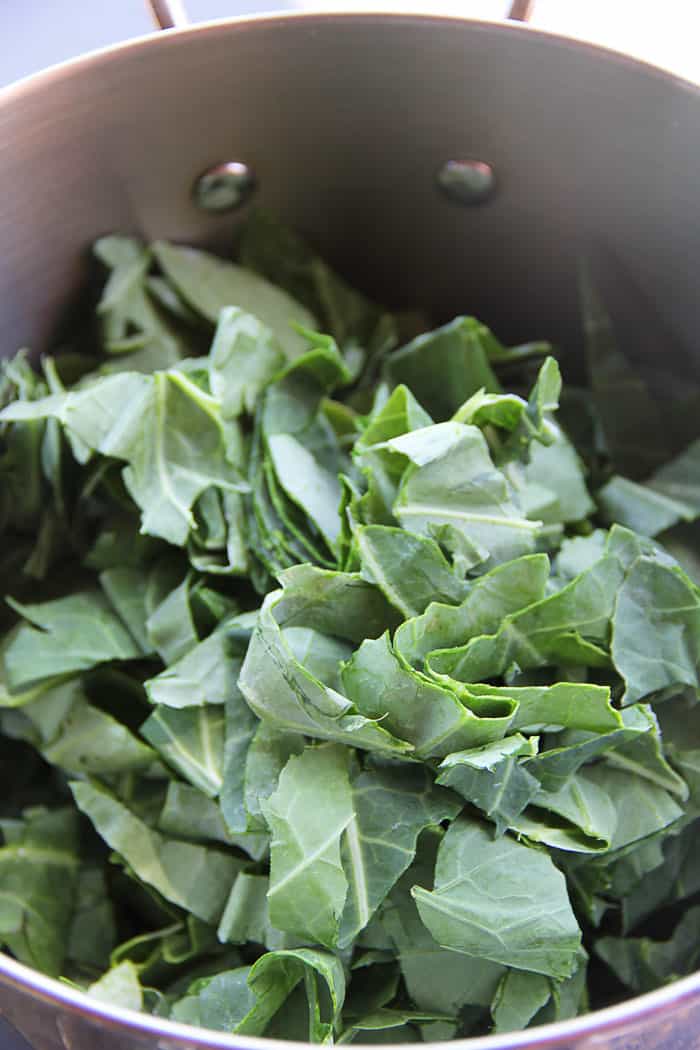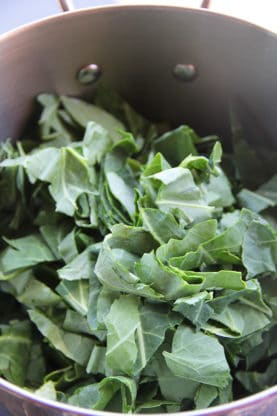 There are several ways to cook collard greens; however, the Southern technique is quite different. While you can make an Easy Collard Greens Recipe by just adding the greens to a saute' pan with some olive oil and cooking until they just begin to tenderize, Soul Food Collard Greens require quite some time to braise.
A couple hours of cooking makes the collard greens tender and almost silky, but they still have substance. They braise just like short ribs would: low and slow over heat.
The braising makes not only the greens tender and pull apart soft, it also develops the flavored pot likker that soul food greens are truly known for.
Pot Likker (or pot liquor) What is it? How to Make it
These greens are simmered away in a rich broth that develops called Pot Likker. In what the internet would term "Black Folks Collard Greens", Pot likker (or pot liquor) is the broth that becomes infused with the flavors in this recipe like fresh onions, garlic, and that smokey, salty ham hock (or turkey for you non-pork eaters).
Nothing else tastes quite like the highly concentrated, full flavored Pot Likker. I swear, you could drink it by the glass full. Lots of people use this pot likker to flavor other recipes or even make soups.
With the addition of apple cider vinegar along with red pepper flakes to my soul food collard greens recipe, these spicy collard greens really have some kick! There's no lack of flavor here.
It's simple, fresh ingredients that produce some of the best collard greens you'll ever have. I could wolf them down by the bowlful, and I'm sure you will too. Once finished, these greens make a perfect side to any meat or can be eaten on their own with cornbread.
 How to Make Vegan Greens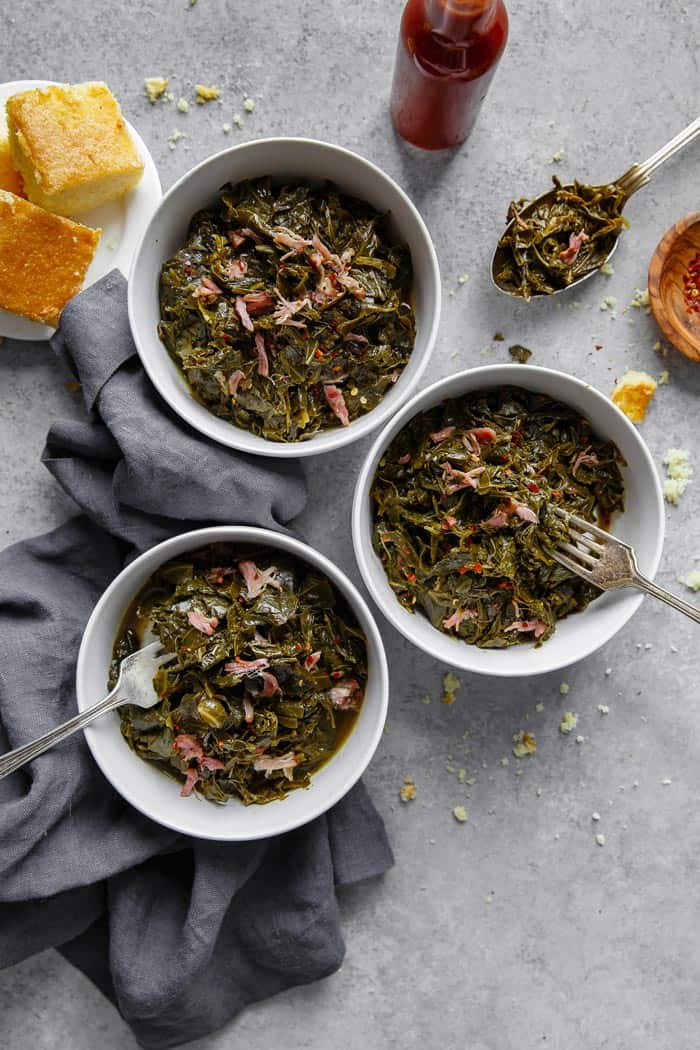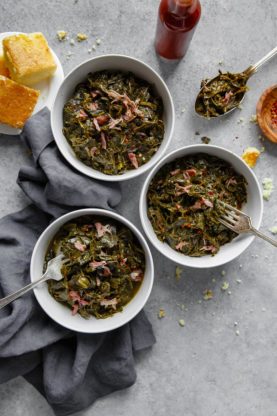 This recipe is really here to serve as a guide for you. You can make substitutions to make this recipe more to your personal liking. A lot of southerners love bacon in their greens that can be added in place of ham hock if that isn't your thing.
Also, with a huge vegan movement happening (my brother has become a huge part of this), I realize that many would love to have the taste of Soul Food Collard Greens without the meat.
This recipe can easily be adapted by removing the ham hock and bacon grease. Because the pot liquor has everything from apple cider vinegar to garlic and paprika, you can simply add collard greens, add garlic, add onion and hot peppers and even liquid smoke and the flavors will still be incredible. I promise you won't miss the meat at all.
Collard Greens With Smoked Turkey
You can also replace the ham hock in this recipe with smoked turkey easily.  It is really your choice when making this recipe your own.  You will follow the same steps in the recipe and just replace the meat with smoked turkey wings instead.  Again, make sure this is a meaty selection since it will flavor your entire batch of greens.
How to Store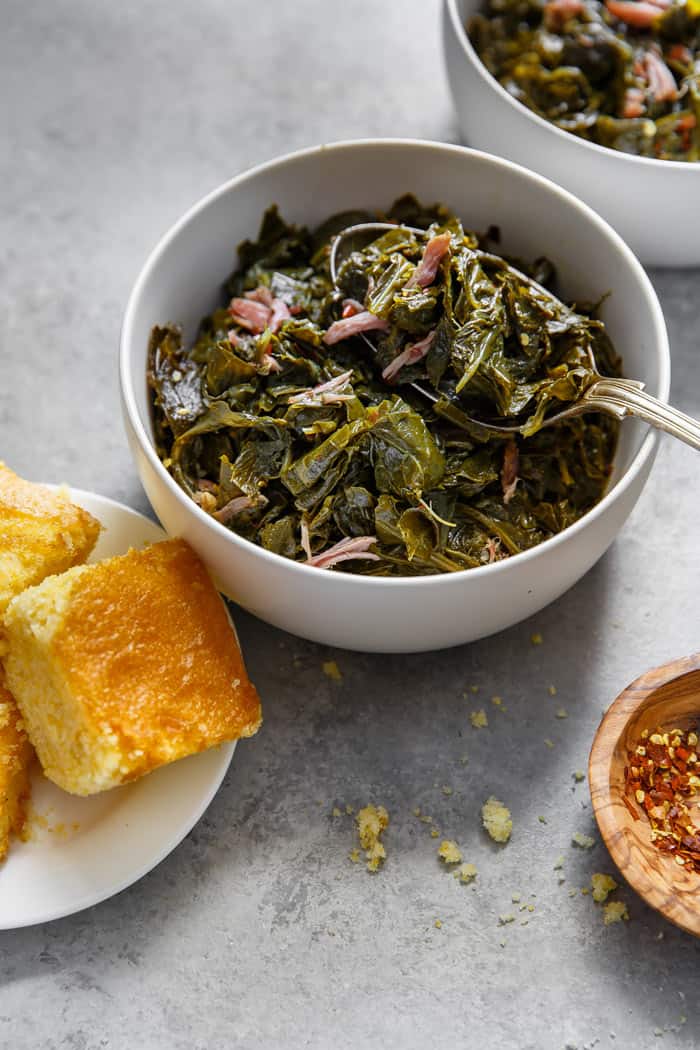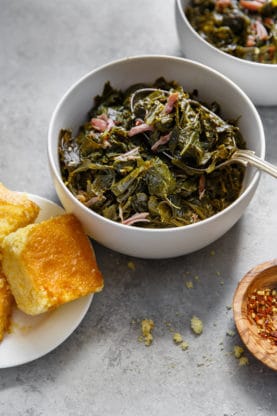 Finally you can store greens in the refrigerator in a covered container for up to 4-5 days but if you want to make them at a later time, freezing is best. We package lots of greens by placing them along with the pot liquor in freezer bags allowing all air to escape then freezing. You can keep these bags of greens for months at a time.
Simply thaw them out for a couple of hours and then cook over medium low heat to bring up to temperature to enjoy them once again.
What to Serve with Them
Want some Southern recipes or famous Soul Food recipes to serve your Collard Greens with?  Make sure you pair them with the following:
*Did you make this recipe? Please give it a star rating and leave comments below!*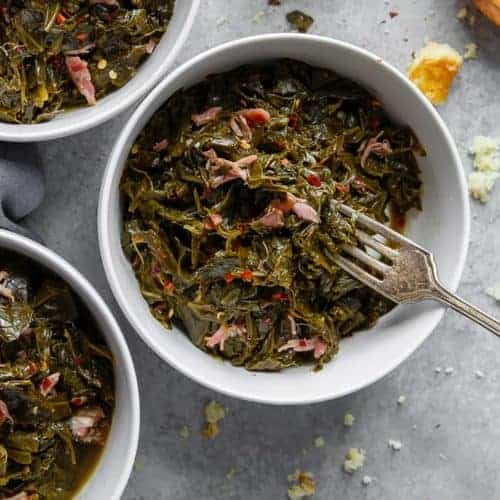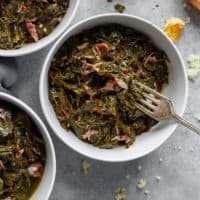 Southern Collard Greens Recipe
These authentic Soul Food Collard Greens are braised in a savory meat flavored and perfectly spiced pot liquor resulting in an amazing tender silky texture.
Print
Pin
Rate
Ingredients
6

small bunches collard greens

about 3 - 3 1/2 lbs

1

extra large smoked ham hock

make sure it is meaty!

2

tbsp

granulated sugar

1

tbsp

bacon grease

1

tbsp

seasoned salt

2

tsp

worcheshire sauce

2

tsp

apple cider vinegar

1

tsp

crushed red pepper flakes

you can go down on this to 1/2 teaspoon if you like less heat.

1/4

tsp

garlic powder

1/4

tsp

paprika

1/4

cup

finely chopped onion
Instructions
Start by pulling and tearing greens away from stems. Take a hand full of greens, roll them up and cut the rolls horizontally into small pieces. We personally remove the stems but this is a personal decision.

Next, add greens to empty clean sink and wash them removing all grit, sand and debris thoroughly with cold water until water becomes clear.

Next rinse the ham hock very well then add to a large pot along with enough water to fully submerge the ham hock then cover with a lid. Cook over medium high heat for about 45 minutes or until ham hock is near being tender.

Once ham hock is almost tender, add greens and about 4-5 additional cups of water (or chicken stock for more flavor) or enough to just barely cover greens to the pot. This will become your pot likker.

Add along the rest of the ingredients to the pot and cook while covered for at least 2 hours or until completely tender. Most water should have evaporated by this point just having enough to barely cover the greens.
Video
Notes
To pick wonderful greens at your local grocery store or farmer's market, be sure to pay close attention to the leaves. They shouldn't be too tough. You want to make sure that the leaves are easy to pull away from the stem and tear/cut later when preparing them to cook.
You can scale back the spice to 1/2 teaspoon if 1 teaspoon of red pepper flakes is too much.
You will need some liquid left for the pot likker but it shouldn't be way more water than what tops the greens.  You should continue to cook down.
Nutrition
Calories:
88
kcal
|
Carbohydrates:
4
g
|
Protein:
5
g
|
Fat:
6
g
|
Saturated Fat:
2
g
|
Cholesterol:
19
mg
|
Sodium:
936
mg
|
Potassium:
100
mg
|
Fiber:
1
g
|
Sugar:
3
g
|
Vitamin A:
485
IU
|
Vitamin C:
3.2
mg
|
Calcium:
22
mg
|
Iron:
0.4
mg