Made with creamy butter, luscious cream, tangy cream cheese, and a touch of sugar, These Super Flaky Biscuits (AKA Accordion Biscuits) are the flakiest, most buttery and tender biscuits you'll ever have! If you love these, you will also love these Honey Butter Biscuits, 7 Up Biscuits, Angel Biscuits, Sour Cream Biscuits and Southern Fried Chicken Biscuits. Use these in this Biscuits and Gravy Casserole too!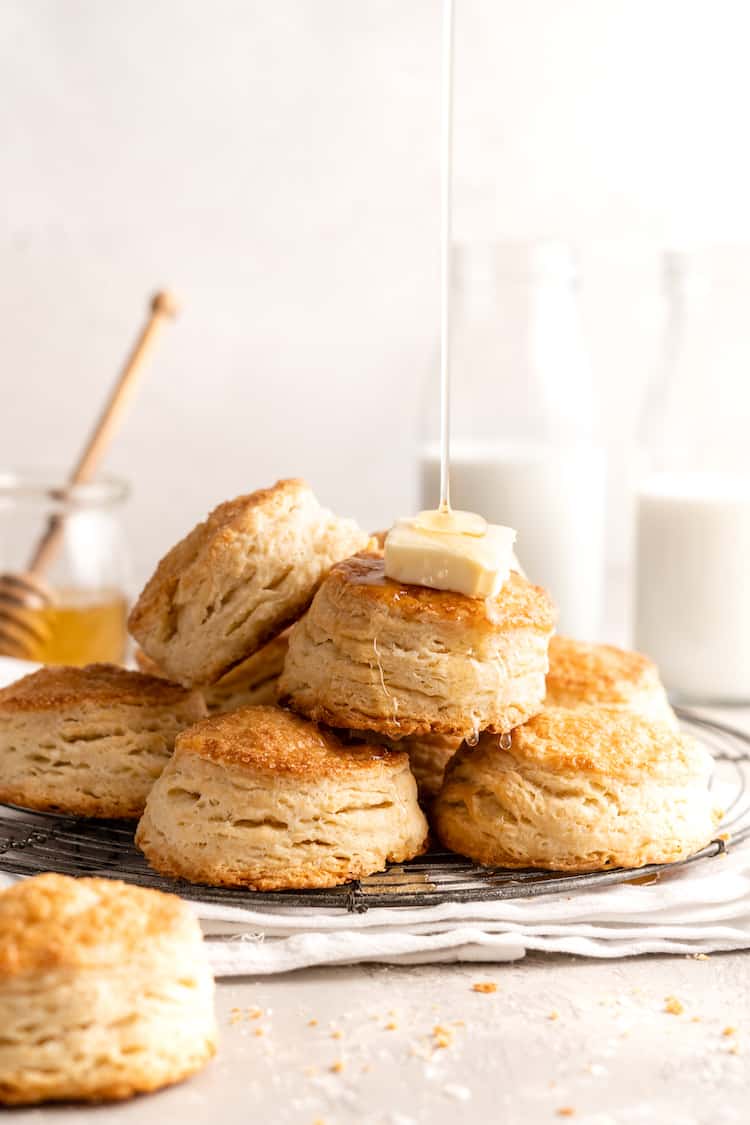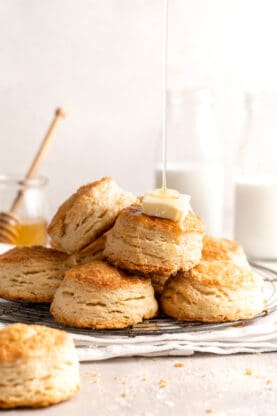 There are few things more luxurious than a warm, freshly-baked biscuit. They're just so dang good! Every bite is like biting into a buttery cloud. I make biscuits from scratch quite often in my home; they're not only a great dinner side but the leftovers can also be used to make puddings, sandwiches, croutons, casserole toppings, or even trifles!
Today, I'm sharing a biscuit recipe you won't be able to stop making. In fact, I've been churning these out nonstop! As a gift from my good girlfriend and famed baker, Valerie Lomas, I'm sharing her insanely Flaky Biscuits recipe which she calls Accordion Biscuits.
Crisp, flakey, sweet-salty, and wonderfully tender, these biscuits are coming through to change the game!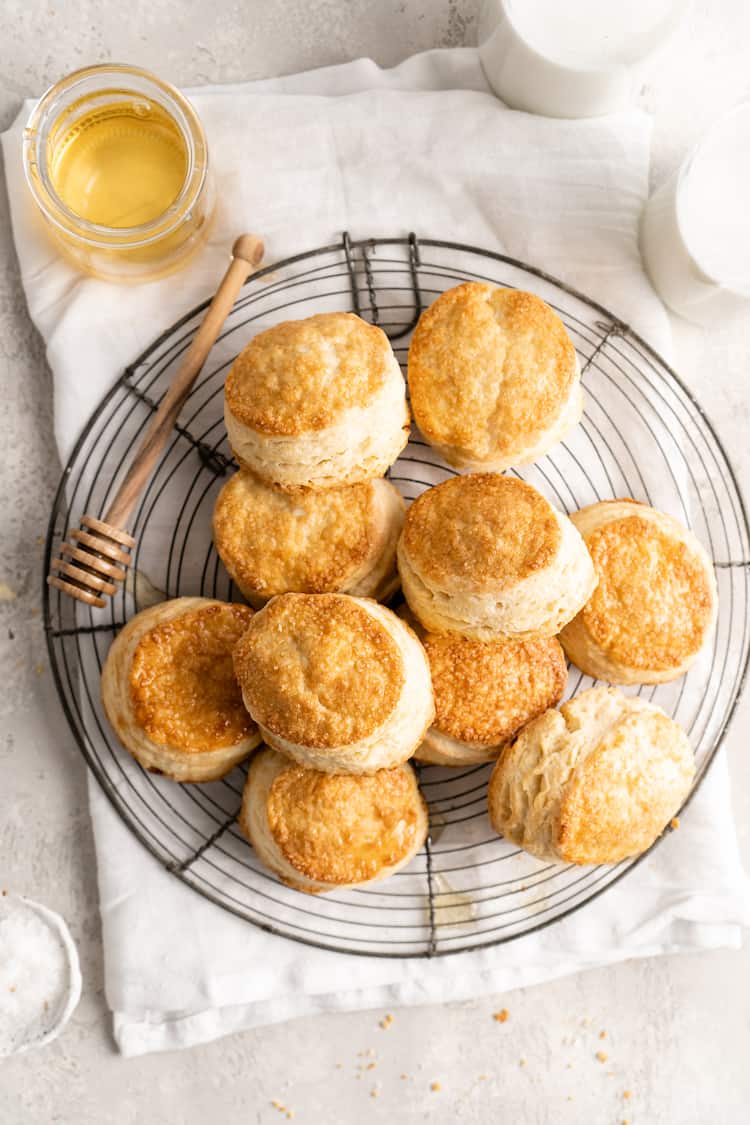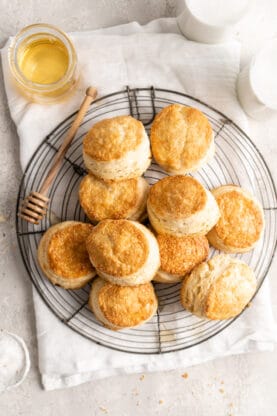 LIFE IS WHAT YOU BAKE IT
Okay yes, I am in the kitchen A LOT. But, I swear that I do also make time for everyday indulgences like a happy hour cocktail or an afternoon of TV bingeing. For a while, one of my favorite shows (and one of my greatest sources of inspiration) was the Great American Baking Show. Unfortunately, the show was cancelled after a rather scandalous turn of events.
My friend, lawyer turned baker, Vallery Lomas was a contestant and her run was cut short because of BS but I'm so glad she persevered and was able to work hard to make a place for herself in this industry. Valerie is an incredibly talented and impassioned woman with a knack for churning out delicious recipes. I am in awe of her creativity and perseverance!
Vallery's latest project, Life Is What You Bake It, is not only a collection of crave worthy recipes but it is also an empowering piece of writing that showcases the endless possibilities available to us all in and out of the kitchen.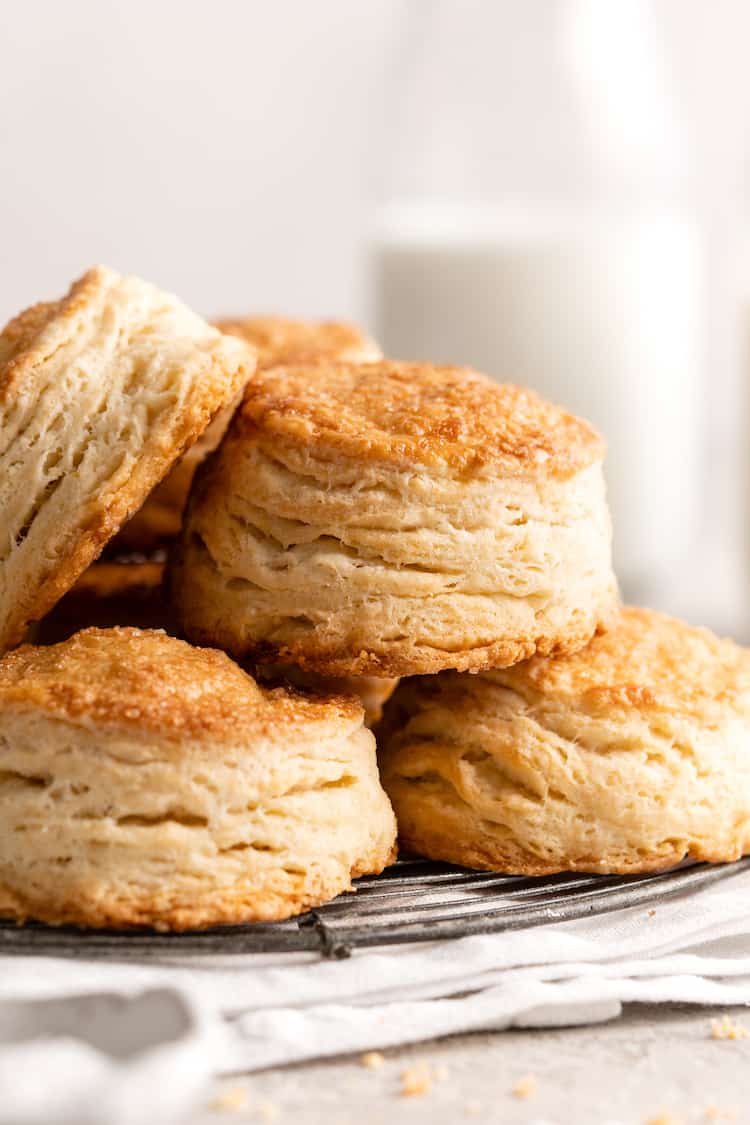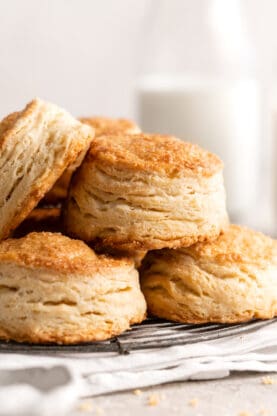 WHAT ARE ACCORDION BISCUITS?
Take a look at these biscuits, what stands out to you? Is it the gorgeous golden-brown crust? Or the sparkly flakes of sugar on top? How about those defined, buttery layers? For me, it's all the above!
Accordion Biscuits are made by flattening and stacking the dough, rather than kneading it. This process creates layers that rise in the oven and stretch out like an accordion. The end result is a crisp, flaky, and buttery biscuit layered with both sweet and savory flavors.
HOW TO BAKE SUPER FLAKY BISCUITS
If you've never done it before, baking biscuits from scratch can be a bit intimidating. But, I swear to you that it's one of the easiest things you can make. With lots of cold butter and a little handiwork, you might just be able to outdo the biscuit queen herself: me!
Here's how ya do it:
COMBINE THE DRY INGREDIENTS-

First things first, preheat the oven to 400 degrees and line 2 baking sheets with parchment paper. Then, whisk together the dry ingredients in a large bowl. Using a pastry cutter (highly recommended) or your hands, cut the cubed butter into the flour mixture. You're looking for small, ragged pieces of butter throughout the dough. Anything larger than a quarter should be broken apart.
ADD THE WET INGREDIENTS-

Set your bowl in the freezer for 5 minutes; this helps keep the butter nice and cold. Add the softened cream cheese (or Greek yogurt) and eggs to the bowl, then whisk to combine. You're looking to create a shaggy, kinda messy dough. Overmixing will prevent the layers from properly rising.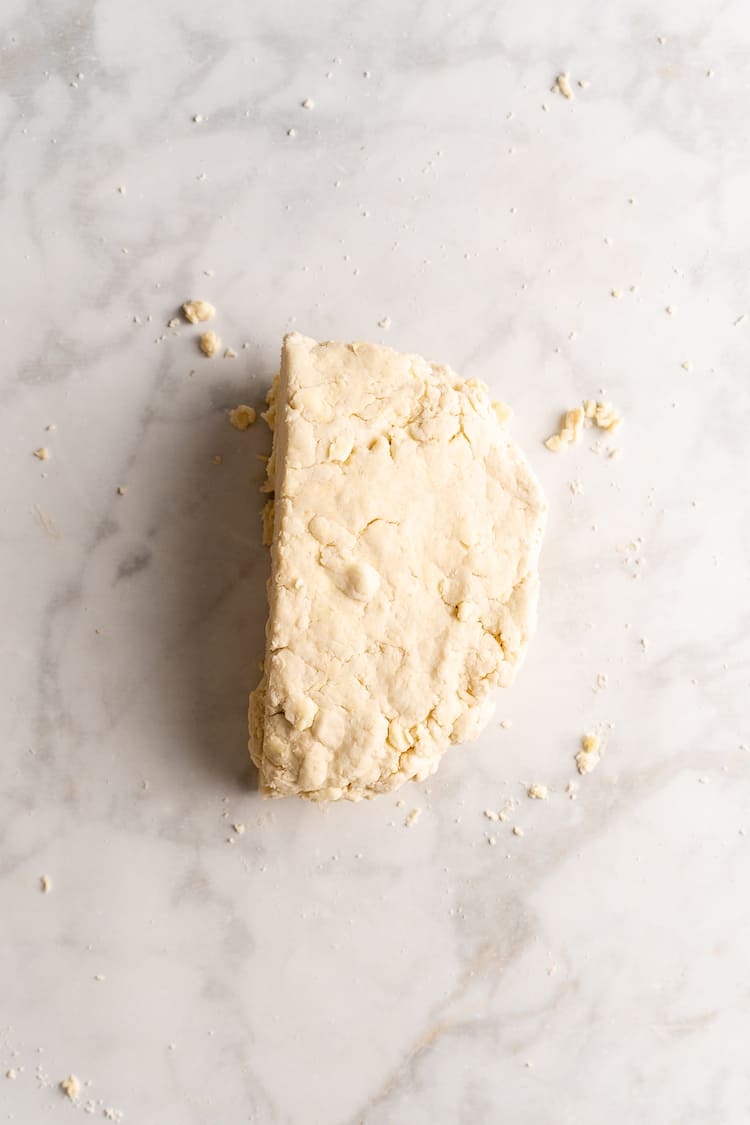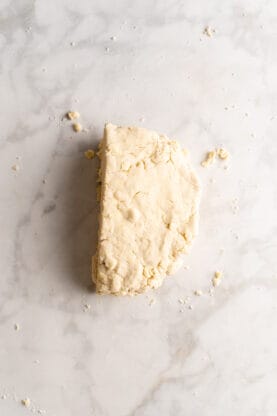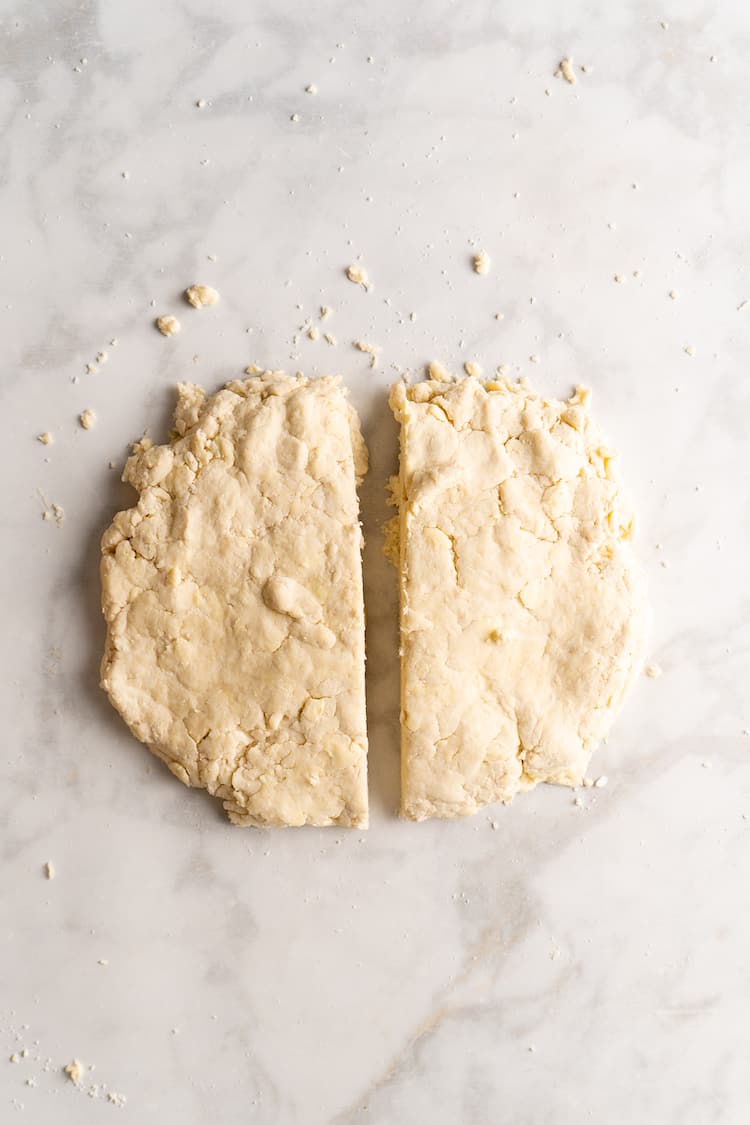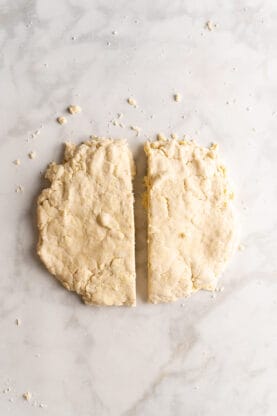 SHAPE AND STACKING THE BISCUITS-

This is where all the magic happens y'all! Do your best to form the biscuits in a cool, dry environment. Run your hands under cold water to keep them cool as well. Carefully follow the instructions: patting, cutting, and stacking the dough until all the layers have formed. Use a biscuit cutter or the open mouth of a small mug to cut the biscuits. Don't toss the scraps! Reform them into more biscuits!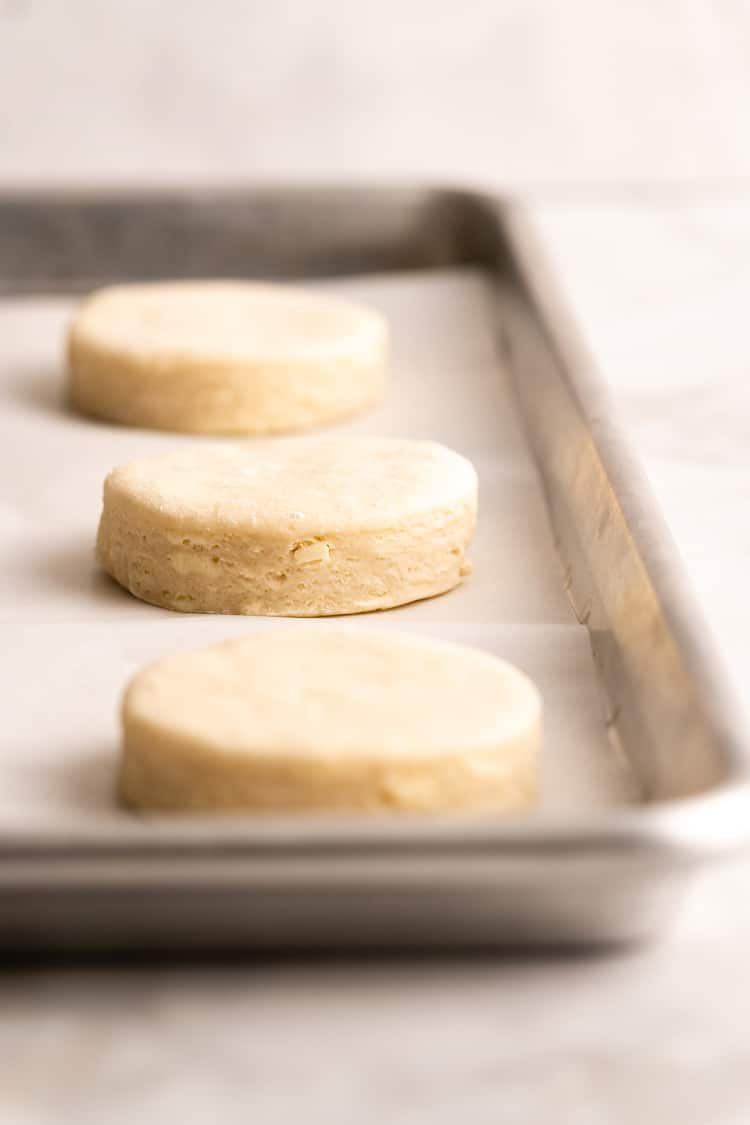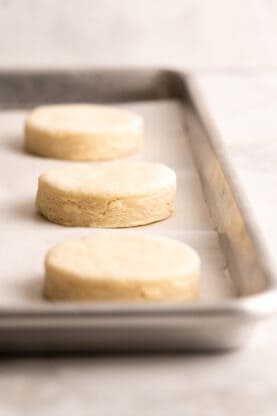 FREEZE & BAKE-

To ensure that the butter will melt slowly throughout the baking process, we're going to briefly freeze the biscuits. A quick freeze will help to resolidify any partially melted butter. Once out of the freezer, quickly brush the tops of the biscuits with the remaining egg, sprinkle on the sugar, and transfer the pan into the oven. Bake the biscuits until they're golden-brown (a bit more amber around the edges) and puffed up. Allow them to cool slightly before eating, but don't wait too long! These babies are best served nice and hot.
WHAT CAN I SERVE WITH FLAKY BISCUITS?
I am totally guilty of eating biscuits for dinner. In fact, it has happened on more than a few occasions. I mean, a few biscuits, a slab of butter, and a glass of wine? It doesn't get any better than that!
But, on the off-chance that you'd like to serve a well-rounded meal (shocking, I know), I'd recommend dishing up these biscuits as a side to almost anything!
Here are few of my own recipes that I would go beautifully with these buttery bad boys:
Regardless of what you serve alongside your biscuits, it's bound to be a good time. Let me know how you chose to serve it in the comments below!
STORING LEFTOVER BISCUITS
Keep freshly baked biscuits at room temperature for up to 3 days. You'll need to cover your leftovers with foil or plastic wrap, then place them in a sealable ziploc bag to keep from drying out. Biscuits can also be kept in the fridge for up to a week.
Before eating, reheat the biscuits for 4-6 minutes in a conventional or toaster oven at 350 degrees. Brush the biscuits with fresh butter for a little extra goodness!
TIP: Baked biscuits can also be frozen for up to 2 months.
GRANDBABY CAKES' BEST BISCUIT RECIPES
Biscuit baking is in my blood y'all! With just a few flicks of the wrist, I can whip up the butteriest, baddest biscuits you've ever had.
Don't believe me? Test out a few of my ICONIC biscuit recipes for yourself: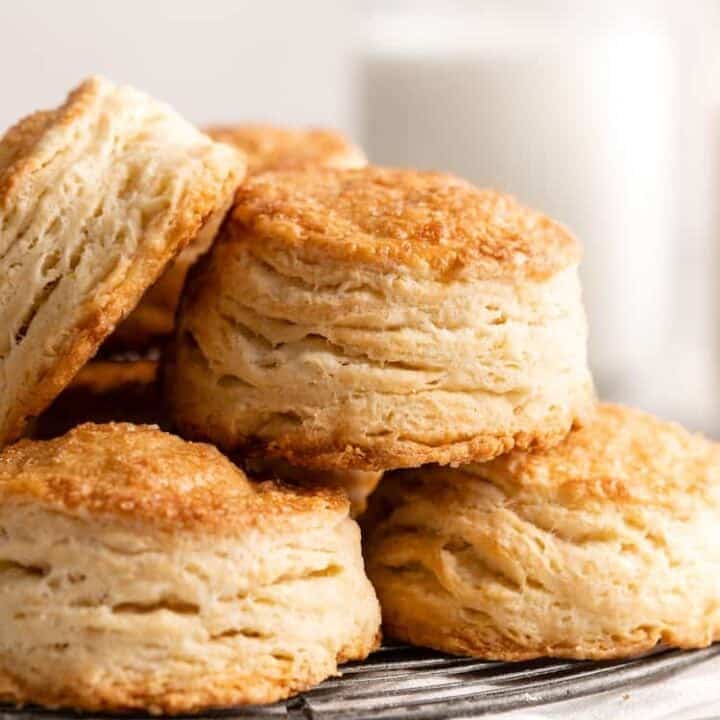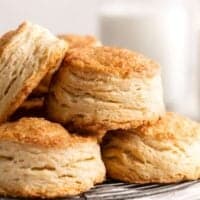 Flaky Biscuits (Accordion Biscuits)
Made with creamy butter, luscious cream, tangy cream cheese, and a touch of sugar, Accordion Biscuits are the flakiest, most tender biscuits you'll ever have! Straight out of baker Valerie Lomas' latest cookbook Life Is What You Bake It, this biscuit recipe is a true gift!
Print
Pin
Rate
Ingredients
4

cups

all urpose flour

plus extra for shaping

2

tbsp

baking powder

1/4

cup

granulated sugar

2

tsp

kosher salt

1

cup

unsalted butter

COLD, cut into 1/2 inch pieces

2

large eggs

1 1/2

cups

heavy cream

1/2

cup

full fat softened cream cheese

or full fat Greek yogurt

Demerara or granulated sugar for sprinkling on top

optional
Instructions
Preheat the oven to 400 F and place a rack in the middle of the oven. Line 2 baking sheets with parchment aper and set aside.

Whisk the flour, baking powder, granulated sugar, and salt together in a large bowl.

Add the butter to the flour mixture and toss to coat each piece with the flour mixture (this will prevent the butter from clumping together). Use your fingertips to smash each piece of butter fat. If any flattened bits are larger than a quarter, break them up, continuing to coat each butter piece with the flour mixture.

Set the bowl in the freezer for 5 minutes. Whisk one of the eggs in a medium bowl. Add the cream and cream cheese and whisk to combine.

Remove the flour mixture from the freezer and our the egg mixture over it. Use a large silicone spatula to fold the mixture until the dry ingredients are just moistened. Tip the shaggy dough out of the bowl and onto a floured surface (it is okay if there are some dry bits of flour that aren't yet incorporated.)

Using floured hands, pat the mixture into an 8 by 6 inch rectangle. Cut the block in half crosswise, and stack one half on top of the other half. Then, repeat the procedure, patting, cutting, and stacking two more times. Pat the dough down one last time until it's 1 inch thick. Using a 2 1/2 inch round cutter, press straight down into the dough without twisting. Repeat, leaving enough space between each round of dough so that the edges don't pinch together. Transfer the rounds to the prepared baking sheets, leaving 2 inches of space between each round of dough. Lightly knead the scraps and repeat to stamp out the remaining biscuits. Place the baking sheets with the biscuits in the freezer for 10 minutes.

Meanwhile, whisk the remaining egg in a small bowl. Remove the biscuits form the freezer and brush the tops with the beaten egg. You want the biscuits to be as cold as possible when going into the oven so work quickly. Sprinkle with sugar if using.

Transfer a baking sheet to the oven and bake until the biscuits have puffed up and are browned on to, 20 to 24 minutes. Remove the biscuits from the oven and repeat with the second baking sheet (or bake both at once if your oven rack allows). Place the baking sheets on a rack to cool slightly before serving.
Notes
Make Ahead: The Biscuits can be made ahead through step 6 and then frozen.  Continue with step 7 then bake completely frozen for 25 to 28 minutes.
The biscuits are excellent warm, but they can be stored in an airtight container at room temperature for up to 3 days, once cooled.  The baked biscuits may also be frozen for up to 2 months.
Nutrition
Calories:
451
kcal
|
Carbohydrates:
38
g
|
Protein:
7
g
|
Fat:
31
g
|
Saturated Fat:
19
g
|
Polyunsaturated Fat:
1
g
|
Monounsaturated Fat:
8
g
|
Trans Fat:
1
g
|
Cholesterol:
119
mg
|
Sodium:
444
mg
|
Potassium:
297
mg
|
Fiber:
1
g
|
Sugar:
5
g
|
Vitamin A:
1077
IU
|
Vitamin C:
1
mg
|
Calcium:
130
mg
|
Iron:
2
mg