Get ready to indulge in the wonderful combination of orange and chocolate with these easy-to-make Orange Chocolate Cookies! They perfectly marry the refreshing hint of fresh orange zest with the deep, rich notes of Dutch-processed cocoa powder, resulting in a cookie that's a delight for the senses. These cookies are gluten-free and have the best contrast of crisp exterior with a luxuriously fudgy interior, are a chocolate lover's dream.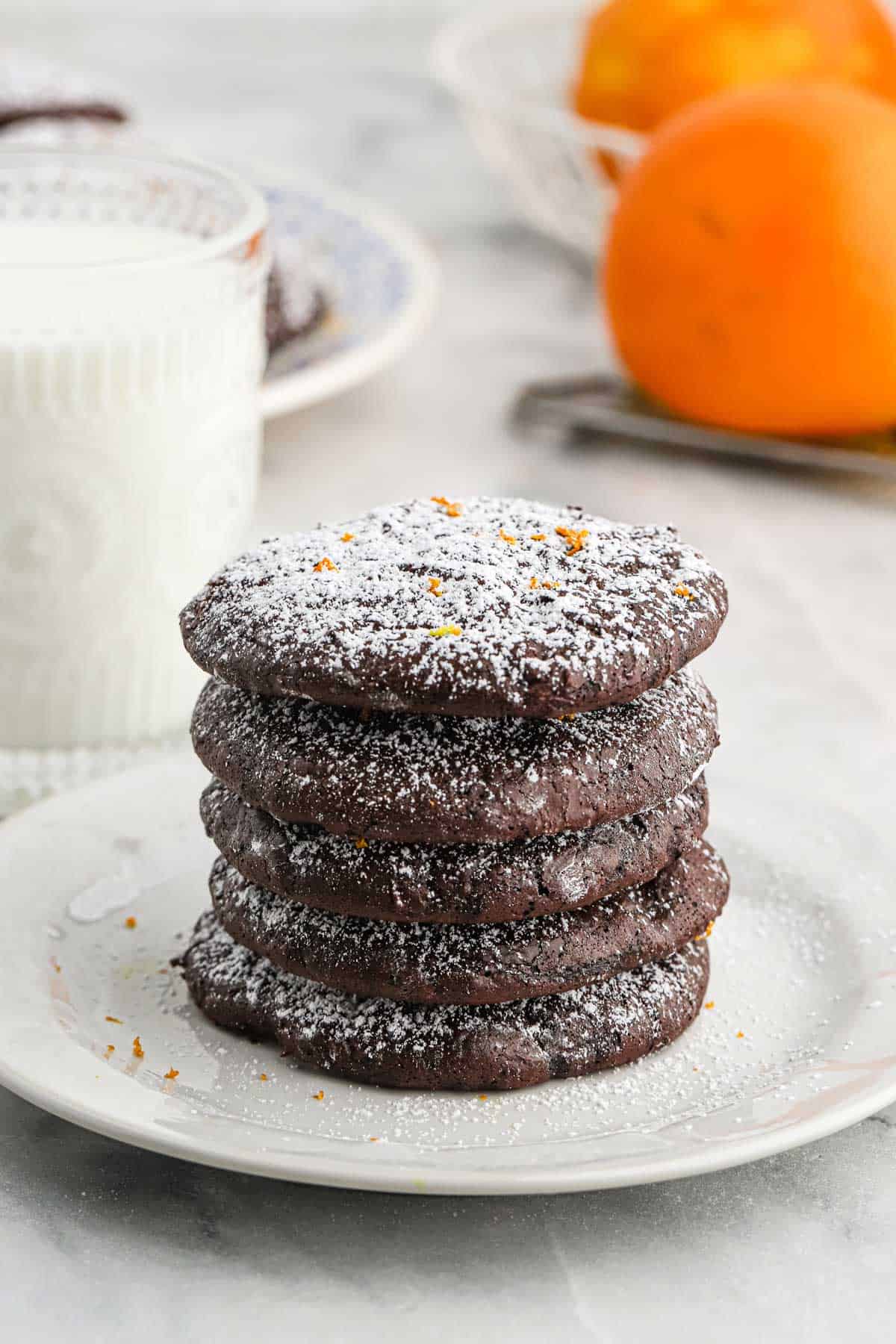 These orange chocolate cookies are dense, chewy, and addicting. You can never go wrong with citrus and a little bit of chocolate, right?
These are cookies you can enjoy any time, and they're perfect to carry along to a party, especially if you know someone will be there who can't eat gluten! Enjoy them with other gluten-free desserts such as gluten-free brownies and flourless chocolate cake.
If you love baking with orange, you've got to try my orange blueberry muffins, orange and white chocolate truffles, orange cinnamon rolls, and orange no-bake cheesecake! You won't be disappointed.
Why You'll Love These Flourless Orange Chocolate Cookies
They're flourless! This makes them gluten-free, but I promise no one will be missing it!
They're sensational! The chewy texture is to die for, with a chocolate flavor that's beyond intense.
Chocolate + Orange. Citrus flavors and chocolate go together amazingly, especially orange. You can use a variety of oranges for a more nuanced flavor or simply use your standard navel orange.
Easy cookie recipe. The ingredient list is short and sweet and they mix up in just a few minutes.
Ingredients to Make Orange Chocolate Cookies
I had a combination of blood oranges and navels in my fridge, but any will do for this cookie. I definitely added the blood orange flavor because their seasonal window will be gone before we know it. Without flour, the egg whites help to stiffen the batter and give it the structure of a cookie.
Confectioners' sugar: The texture of powdered sugar works perfectly to blend into the chocolate cookie batter.
Dutch-processed cocoa powder: For the best flavor, use Dutch-processed cocoa powder. It's been treated with an alkalizing agent, which makes the cocoa slightly less bitter.
Orange zest: This adds plenty of orange flavor to these dense chewy chocolate cookies.
Egg whites: These help to stiffen up the batter since we're cooking without flour. It's what gives these flourless cookies their structure.
Pure vanilla extract: Sticking with pure vanilla means your vanilla is gluten-free, but if you're using an imitation or less quality vanilla, be sure to check that it's gluten-free.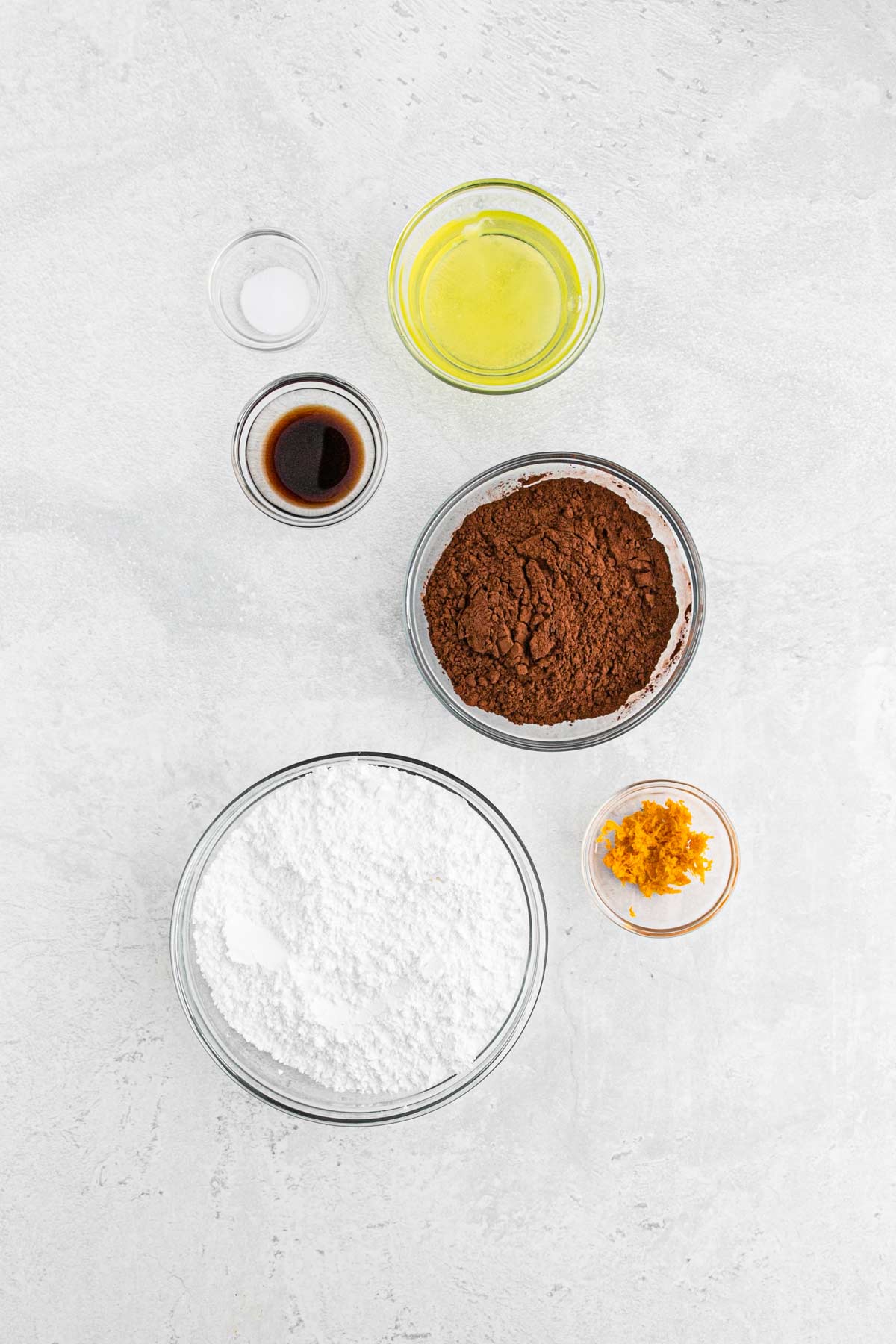 How to Make Orange Chocolate Cookies
These cookies go together without any need for an electric mixer. They mix up quickly and then bake into perfection.
Whisk together the confectioner's sugar, cocoa powder, salt, and orange zest in a medium-sized bowl.
Slowly whisk in the egg whites and vanilla extract until everything is combined. Continue folding the batter with a spatula. The mixture will get harder and harder to mix and will be quite thick. This is completely normal.
Spoon the batter using a tablespoon on a baking sheet lined with parchment paper. Be sure to leave an inch of space between cookies on the baking tray.
Bake the cookies for 12-14 minutes and then allow them to cool.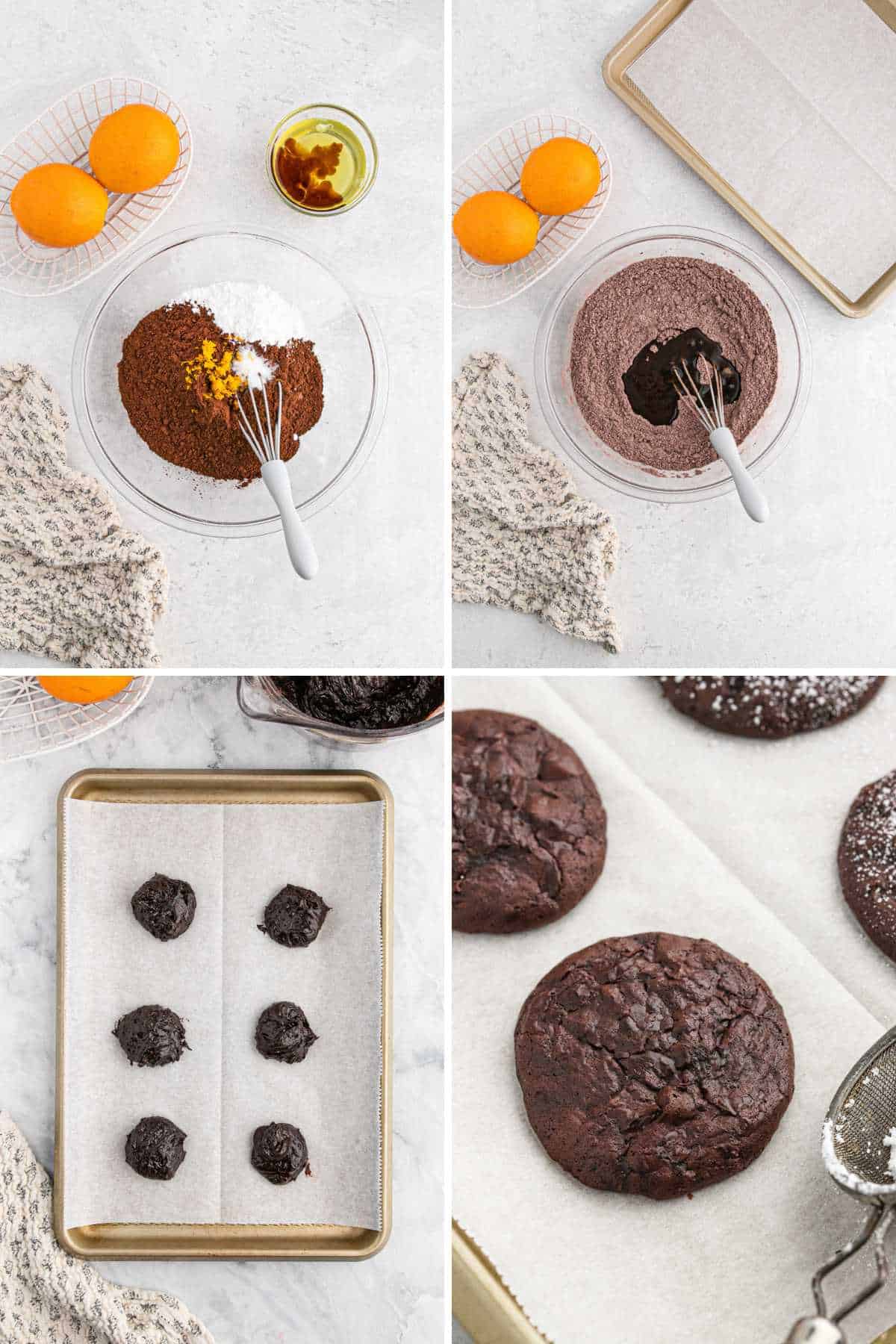 Sprinkle the cooled cookies with confectioner's sugar and serve. I love them warm.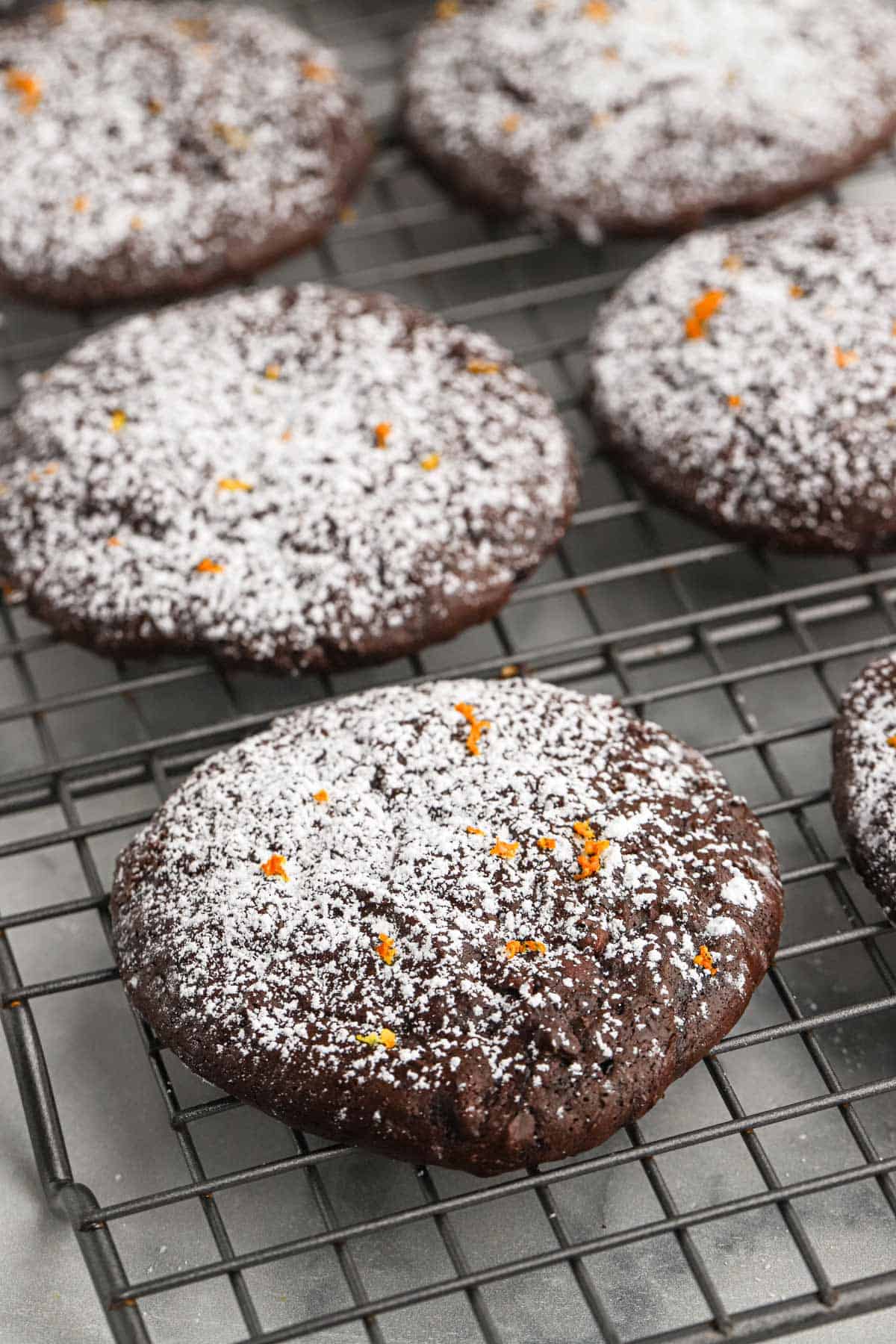 Tips for Making the Best Gluten-Free Chocolate Cookies
Quality Ingredients: The quality of the cocoa powder you use is crucial for the best-tasting cookies. Look for a good-quality Dutch-processed cocoa powder. It has a deeper and richer chocolate flavor that enhances the overall taste of your cookies. The same goes for the orange zest – use fresh oranges for a bright and strong citrus flavor.
Egg Whites: Make sure your egg whites are at room temperature. Cold egg whites won't incorporate as smoothly into the mixture.
Mixing: When mixing the cookie batter, it may get quite thick – don't worry, this is normal. Ensure to fold the batter well, so all the ingredients are fully incorporated. Don't overmix, though, as this can make the cookies tough.
Baking: Keep a close eye on the cookies as they bake. They should be set on the edges but slightly soft in the middle. They will firm up as they cool, so don't wait for them to completely harden in the oven.
Parchment Paper: Always use parchment paper when baking these cookies. It prevents them from sticking and helps achieve that delightful texture – crisp on the outside and soft on the inside.
Resting Time: Let the cookies cool on the baking sheet for a few minutes before transferring them to a wire rack. This resting period helps them set and gives you the best texture.
Popular Substitutions & Additions
Different Citrus Zests: If you're not an orange fan or simply want to try a new flavor, lemon or lime zest would also pair well with the chocolate. The freshness of these citrus fruits will complement the richness of the cocoa.
Add Nuts: For a crunchier texture, consider adding chopped nuts to your cookie batter. Almonds, pecans, or walnuts would work well with the chocolate and orange flavor. If you're using nuts, remember to toast them lightly before adding to bring out their full flavor.
Spice It Up: A pinch of cayenne pepper can add a surprising twist to your cookies. The subtle heat balances the sweetness and enhances the chocolate flavor. Alternatively, a bit of cinnamon or nutmeg could also add a nice warmth.
Chocolate Chips or Chunks: For chocolate lovers, adding chocolate chips or chunks to the batter can make the cookies even more indulgent. Use dark chocolate for a less sweet but deeper chocolate taste.
Swap Vanilla Extract: For a different twist, try using almond extract or peppermint extract instead of vanilla. Both can give your cookies an exciting new flavor profile.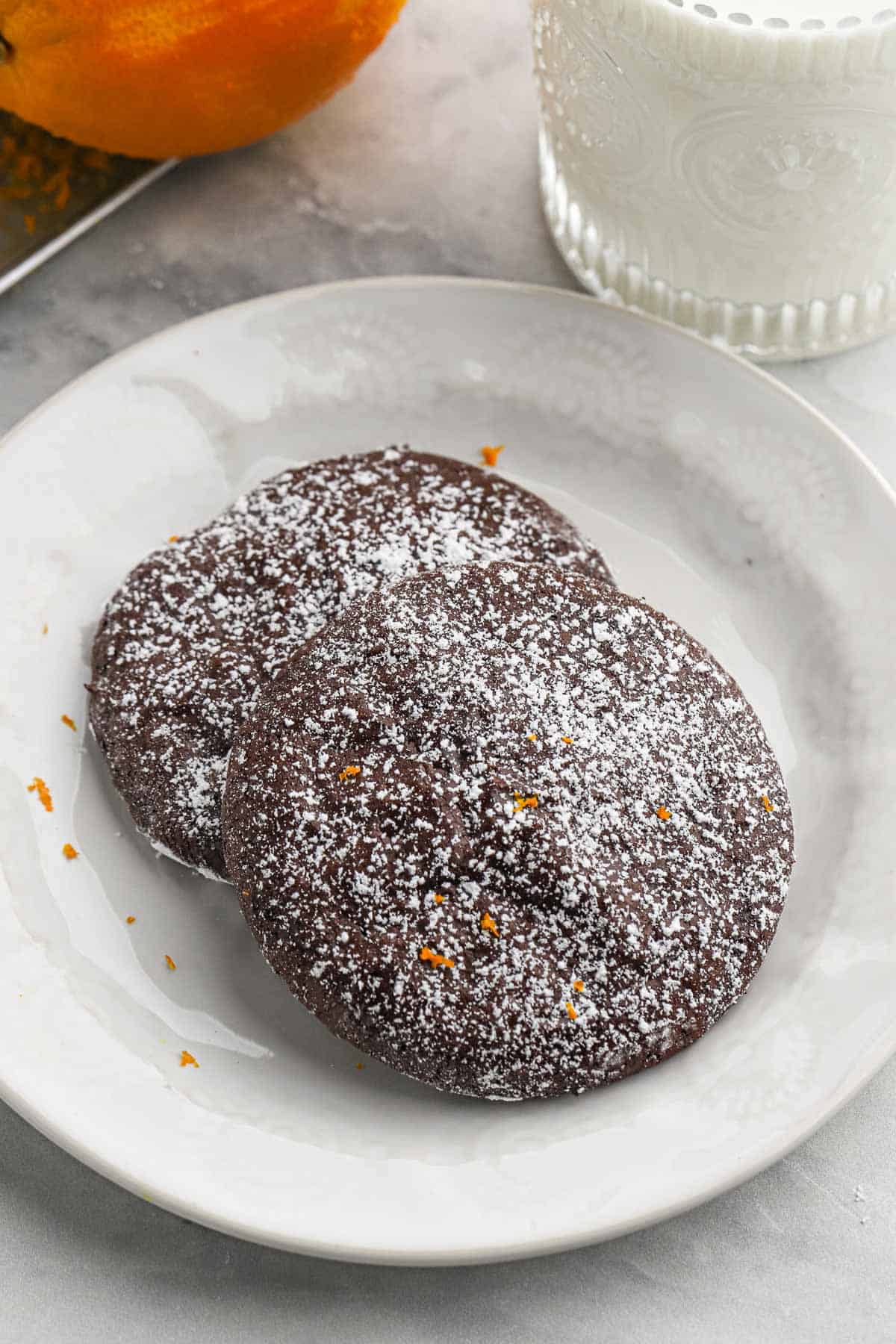 What to Serve With Flourless Chocolate Orange Cookies
How to Store Chocolate Orange Cookies
For best results, store baked cookies in an airtight container at room temperature. You can not make the dough ahead and store it to bake later.
How long will chocolate orange cookies last?
Well, they may not last long if everyone devours them! But if you have some left, they will last up to three days stored in an airtight container for up to three days.
Can I freeze flourless chocolate orange cookies?
Yes, you can for up to three months. They will keep their chewy texture but may lose the crispy edges.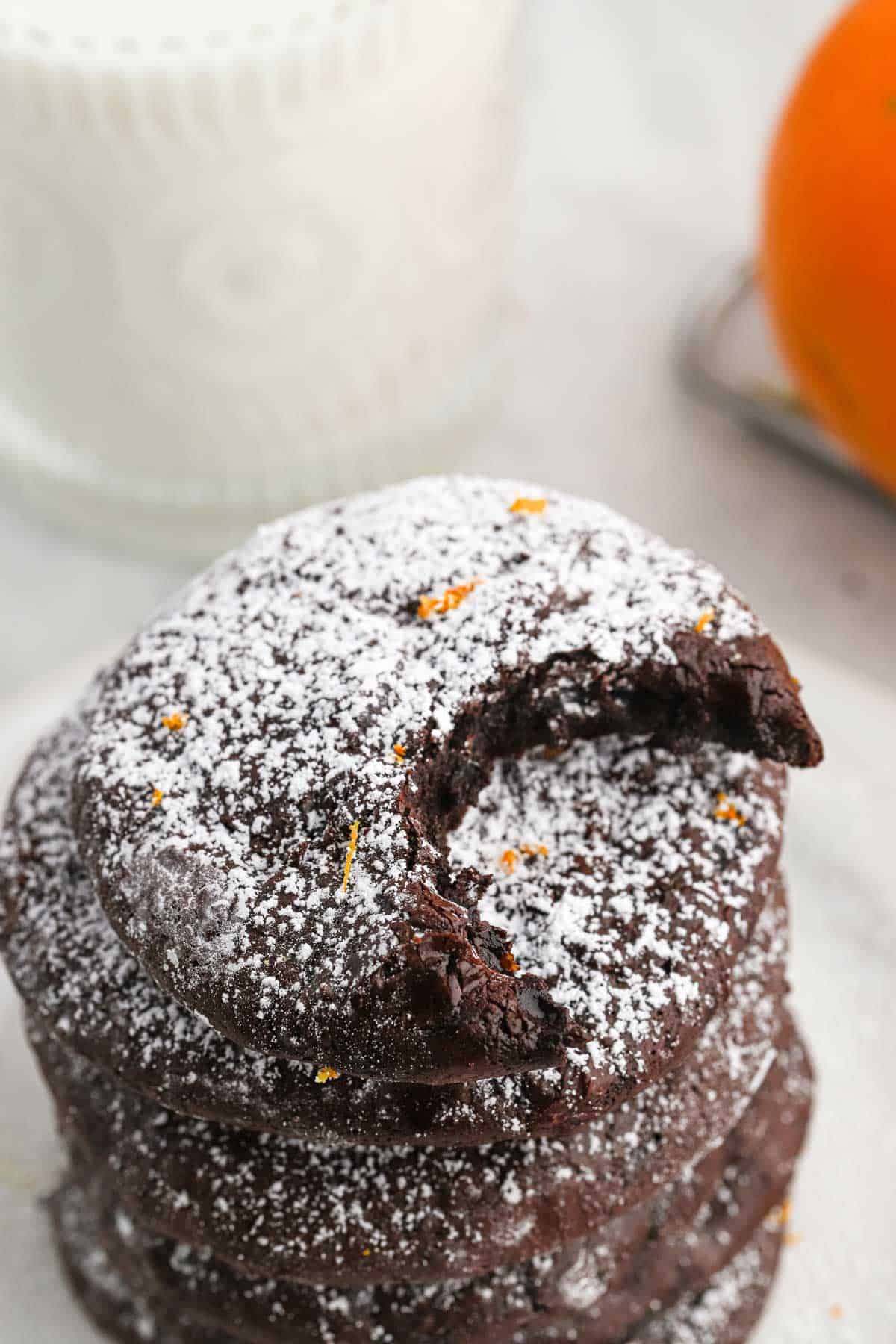 Frequently Asked Questions
Do I have to use Dutch cocoa?
No, but I find that it makes the chocolate flavor a bit richer and smoother. You can also use natural cocoa powder or even extra black cocoa powder for a more intense chocolate flavor.
Can I leave out the egg whites?
Unfortunately, you can't. The egg whites are crucial to making these flourless cookies as it's what gives them their structure.
Can I add chocolate chips?
Yes, of course! You can add white chocolate chips, dark chocolate chips or semi-sweet depending on your preference.
Enjoy these chocolate orange cookies! The results are completely decadent, and I feel certain you won't miss the gluten! Bake up a batch of flourless chocolate cookies for your next event and see if anyone notices!   If you like these cookies, you will also love these Chocolate Sugar Cookies and Hot Chocolate Cookies.
More Cookie Recipes
*Did you make this recipe? Please give it a star rating and leave comments below!* Post a photo of how your version of the recipe came out on Instagram (using #grandbabycakes)!!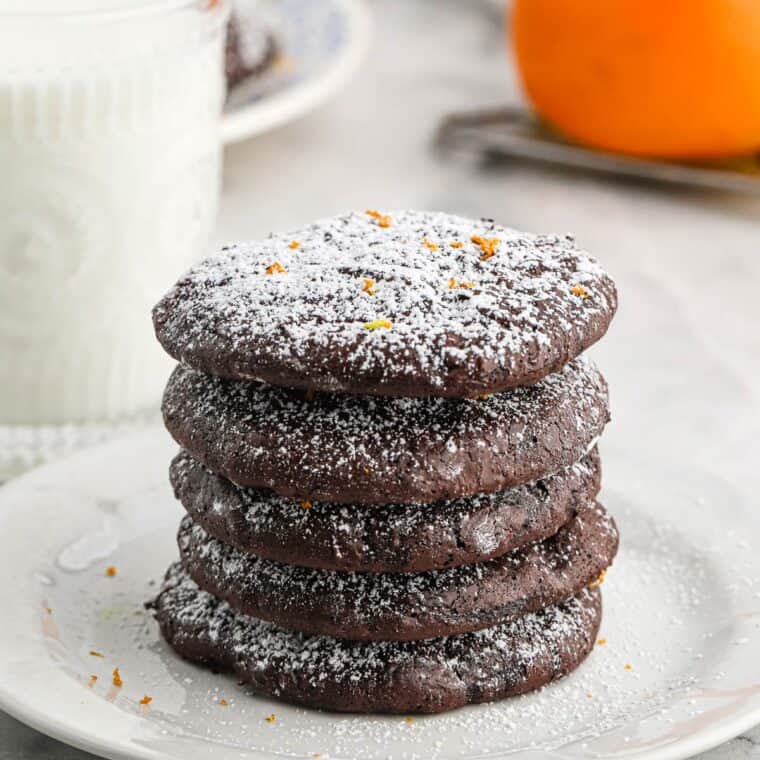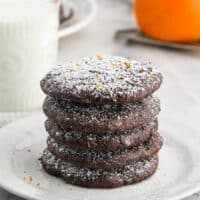 Flourless Chocolate Orange Cookies
These chocolate orange cookies are perfectly chewy and fudgy! The combination of chocolate and orange is amazing! Even better, they're flourless making a delicious cookie that's gluten-free!
Print
Pin
Rate
Ingredients
2 ¼

cups

confectioners' sugar

¾

cup

dutch processed cocoa powder

½

teaspoon

salt

1

tablespoon

fresh orange zest

3

large

egg whites

1

tablespoon

pure vanilla extract

make sure its gluten free
Instructions
Preheat oven to 350 degrees.

Whisk together confectioner's sugar, cocoa powder, salt and orange zest in a medium sized bowl.

Slowly whisk in egg whites and vanilla extract until combined. Continue folding the batter with a spatula. The mixture will get harder and harder to mix and will be quite thick. This is completely normal.

Spoon tablespoons of batter on parchment lined baking sheet inch apart. Bake for 12-14 minutes then cool.

Sprinkle with confectioner's sugar and serve. I love them warm.
Notes
Don't skimp on the orange zest! It's what brings all the orange flavor to these cookies.
Don't worry if the cookie dough is thick, it's actually supposed to be that way.
Allow the cookies to cool slightly on the pan before moving them to a wire rack. This allows them to set up a bit more.
These cookies spread! Be sure to leave space in between your cookies.
Nutrition
Calories:
108
kcal
|
Carbohydrates:
26
g
|
Protein:
2
g
|
Fat:
1
g
|
Saturated Fat:
0.4
g
|
Polyunsaturated Fat:
0.02
g
|
Monounsaturated Fat:
0.2
g
|
Sodium:
112
mg
|
Potassium:
98
mg
|
Fiber:
2
g
|
Sugar:
22
g
|
Vitamin A:
2
IU
|
Vitamin C:
1
mg
|
Calcium:
9
mg
|
Iron:
1
mg