This Oreo Cheesecake is the creamiest, craziest, cookie-filled dessert EVER! A buttery Oreo crust, a luscious New York style cheesecake base and crisp oreo pieces all meet together to make the BEST cookies and cream cheesecake in the game! If you love this, you will also love this Fried Oreos, Oreo Frosting, Oreo Pancakes recipe, Oreo Milkshake and Oreo Bars!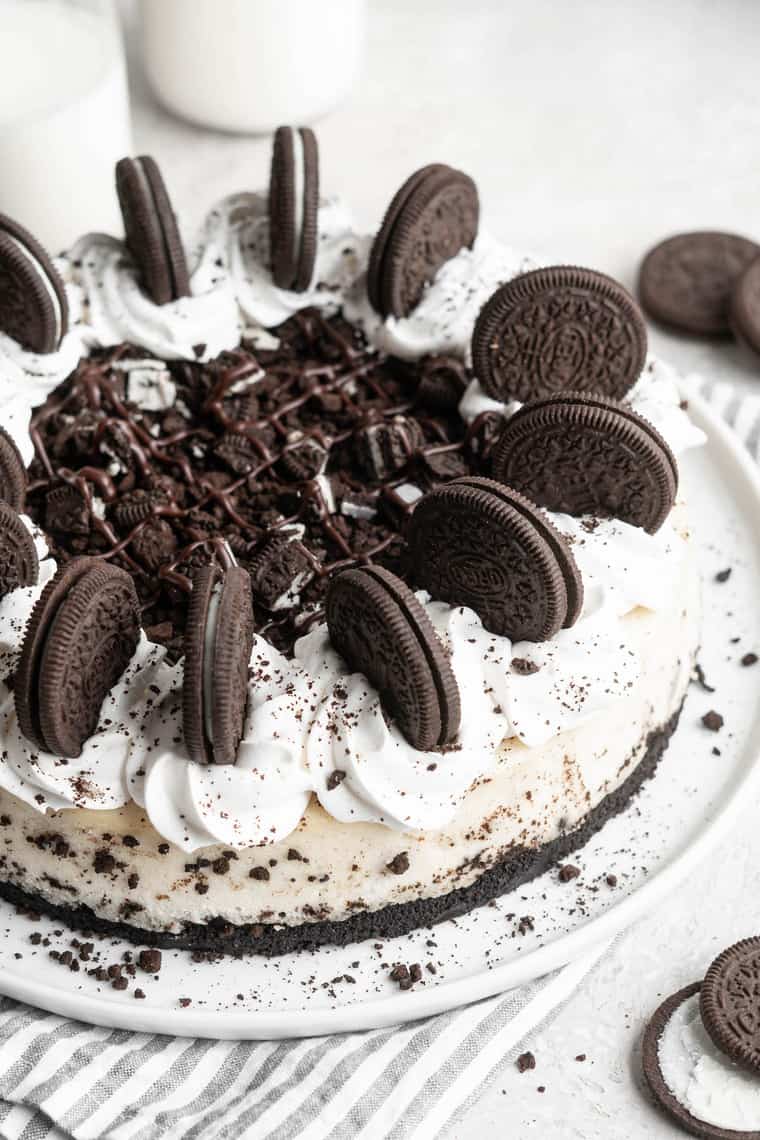 Oreo Cheesecake Recipe
I've always been an oreos and milk kind of girl. I just love dunking those crunchy, crème-filled chocolate cookies into cold milk and waiting until they're the perfect level of sogginess. I can taste that bite now!
Though I don't enjoy milk's favorite cookie as much as I used to, I do like to incorporate it into my baking here and there. Have you ever met a cookies and cream flavored dessert you didn't like?
Oreo Cheesecake is a classically creamy way to enjoy the flavors of smooth, tangy vanilla and crisp, chocolatey cookies! Each bite is complexly textured and out-of-this-world flavored! If you make this one, go ahead and save me a slice.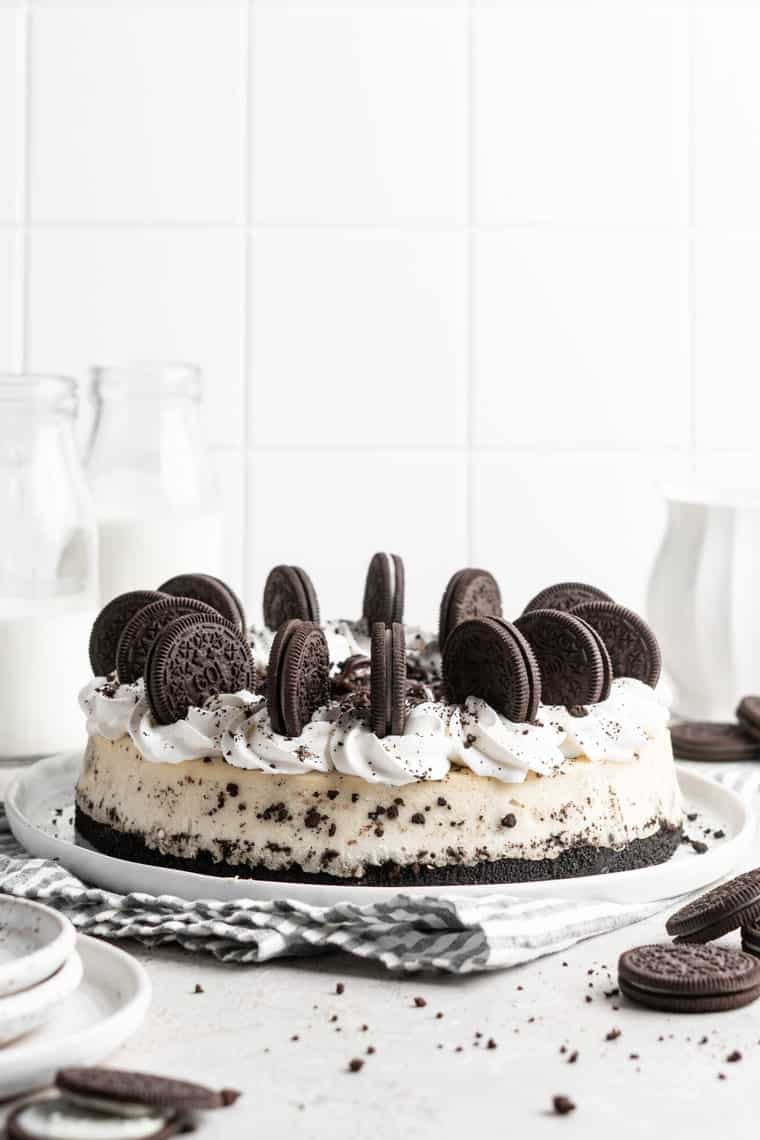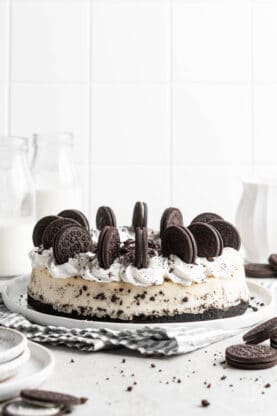 Ingredients
There are quite a few ingredients in this cookies and cream cheesecake recipe but I would like to highlight a few of the most important ones:
OREOS-

these nostalgic, crisp, chocolatey cookies make up the buttery crust and are scattered throughout the filling.

CREAM CHEESE-

brick-style cream cheese is the way to go here. You want all the full-fat goodness for the creamiest, smoothest result!

EGGS-

the proteins in the egg help to bind the filling as well as thicken it too. It's very important to use fresh, room temperature eggs.

SOUR CREAM-

the tangy flavor balances out sweetness and the consistency adds richness to the filling.

VANILLA BEAN PASTE-

vanilla bean paste has an enhanced sweet, woody flavor. The specks freckled throughout the cheesecake are gorgeous too!
Recipe Variations for Cookies and Cream Cheesecake
The best part about this recipe is its versatility! The base ingredients create a simple cheesecake that can serve as the canvas to so many different flavors. Experiment by swapping out the oreos for chocolate chunks, snickers candy bits, peanut butter cups, or even swirl in your favorite flavor of jam!
One of my favorite ways to tweak this cookies and cream cheesecake recipe is by using a fun-flavored Oreo. Golden and Double Chocolate are my go-tos!
How to Make Oreo Cheesecake At Home
The only thing difficult about making a homemade cheesecake is having to wait for it to chill. The rest is pretty straightforward!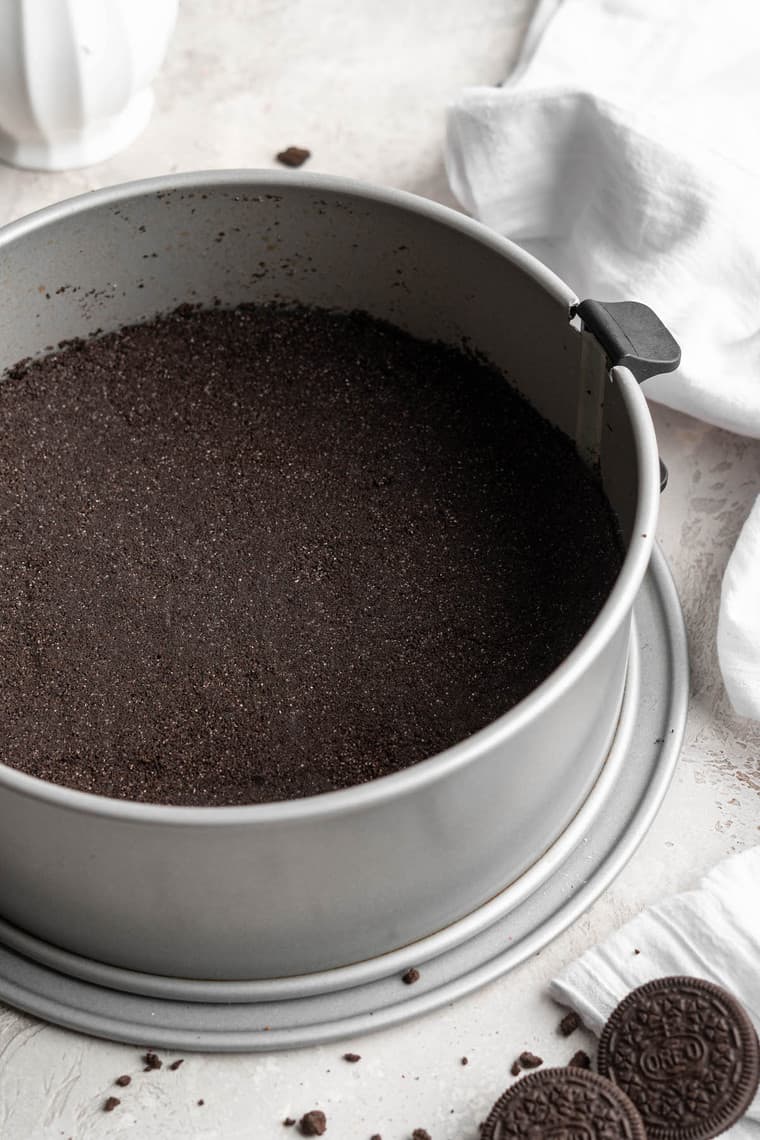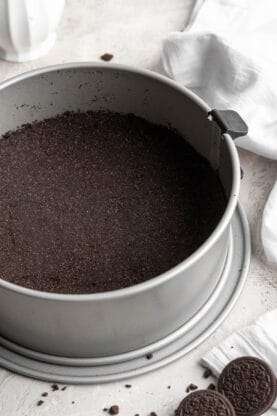 It starts with a homemade oreo crust which, if you've ever made a graham cracker crust before, you'll know is easy to make. All you need is a blender, some butter, and a whole lotta cookie. For a finer crumb, remove the filling from each of the oreos before blitzing them.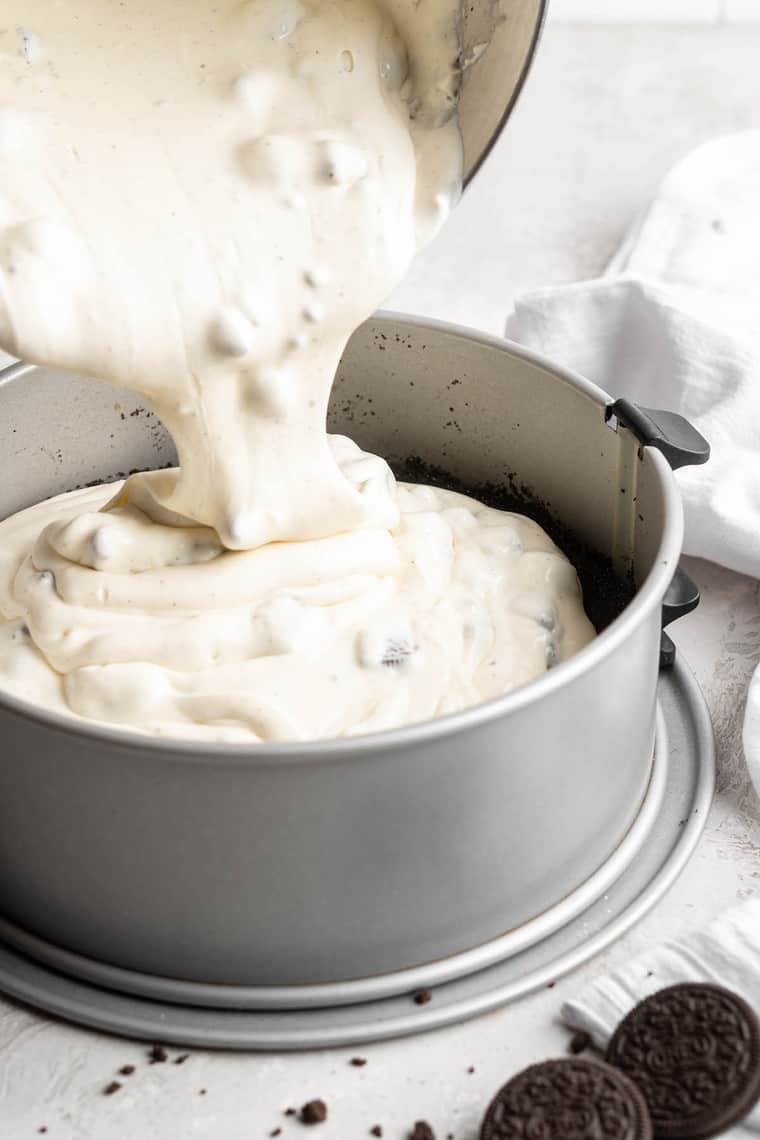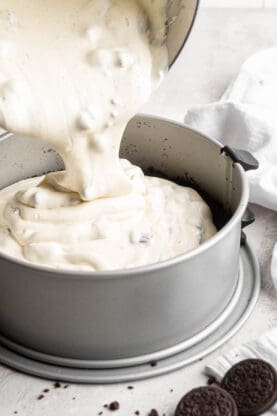 While that crust pre-bakes, you'll need to pull together that luscious oreo filling. Be patient with this process. Add each ingredient slowly and give everything time to properly combine. Scrape down the sides between additions too!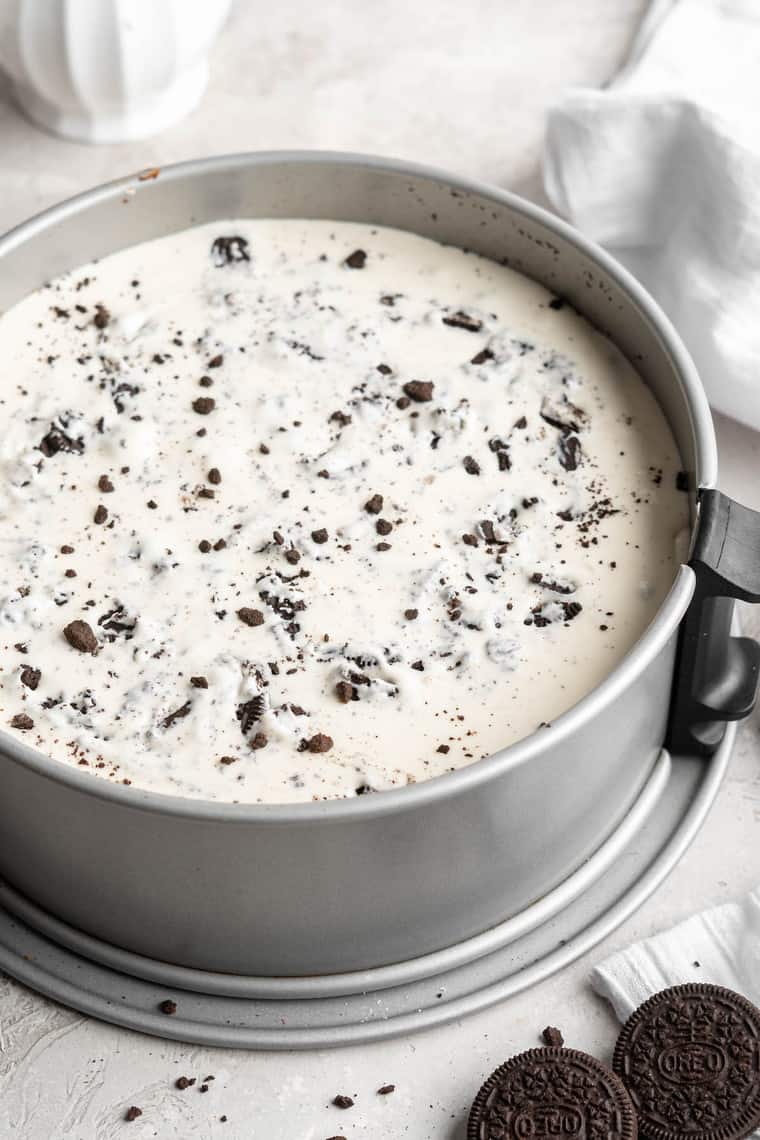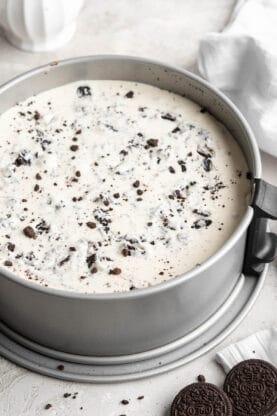 Bake the cookies and cream cheesecake, making sure to leave it in the oven for the full 4 hours after turning it off.
Top your cheesecake with loads of chocolate ganache, whipped cream, Oreo buttercream, and way too many crushed oreos! Choose one or choose none but this cheesecake is gonna be delicious no matter what.
Water Bath for Cheesecake
Why is it so important to bake cheesecake in a water bath? The key to a perfectly smooth and luscious cheesecake that bakes evenly and without cracks? Low and gentle heat!
A water bath ensures even baking so that the outside of the cheesecake doesn't become tough, rubbery, burnt, or curdled before the inside can finish baking.
To use one, wrap your springform pan in heavy duty foil, then fold and press the foil tightly to the pan.
Place the springform into a deep roasting pan and pour boiling water in until it comes halfway up the tin foil. The water should come up about ½ – 1 inch up the pan. Make sure the water doesn't come up too high or the water will get inside the foil and make the cheesecake soggy.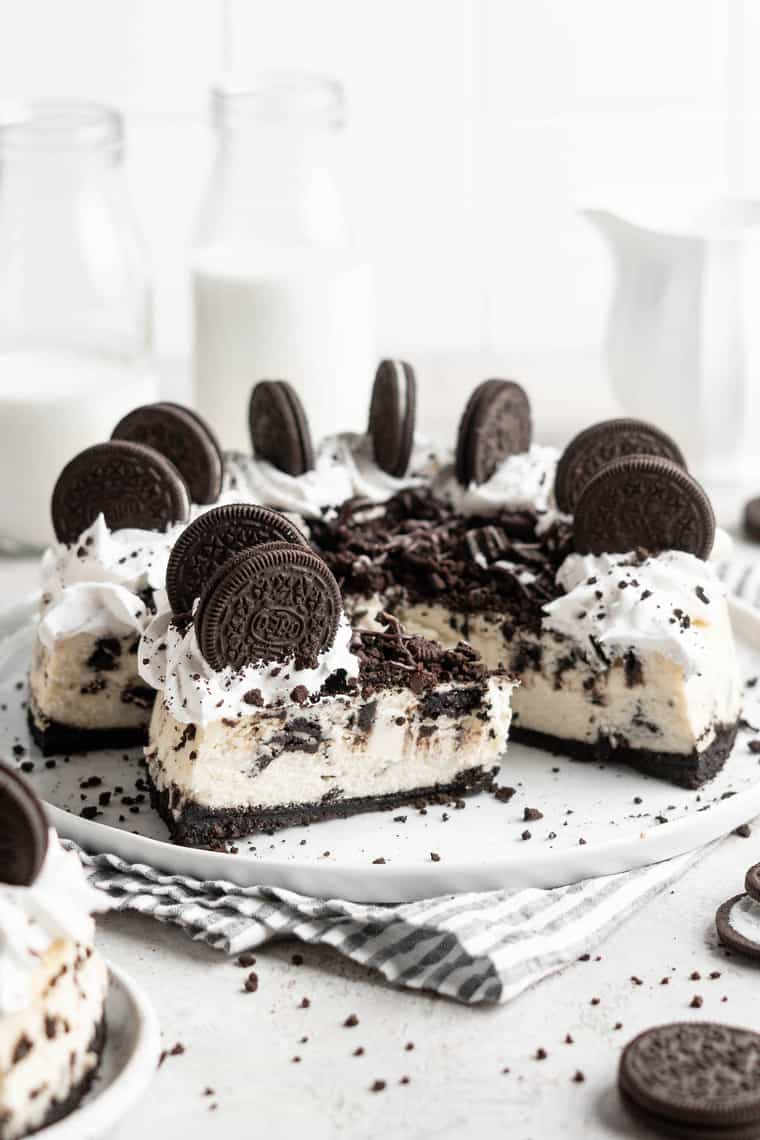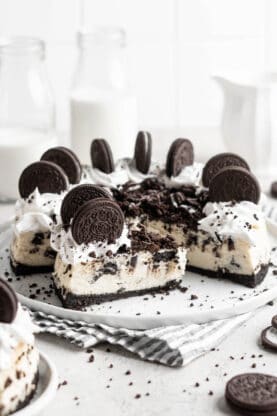 Tips and Tricks
Want a super smooth, creamy cheesecake?

Use room temperature ingredients!

Doing so ensures that your ingredients will incorporate better with each other.

Whip the cream cheese well.

Under-whipped cream cheese will make for a lumpy batter. The smoother the cream cheese is, the creamier your cheesecake will be. Only whip until smooth and fully incorporated, otherwise the batter will start to form unwanted air bubbles.
Grease the pan.

Cheesecakes shrink as they cool. So, if your pan isn't adequately greased it will stick to the edge as it shrinks causing yucky edge cracking and missing chunks.

Keep an eye on that cheesecake!

You'll want the edges to look puffy but the center should be jiggly. Overcooking will cause severe cracking and dry out the cheesecake.
How to Store It
Keep any leftover Oreo Cheesecake covered in the fridge for up to 5 days. Do not leave an uncovered cheesecake out at room temperature for longer than 2 hours.
If you'd like to freeze this cheesecake, place it in the freezer without toppings until it's frozen solid. Wrap the cheesecake with a layer of plastic wrap and a layer of heavy duty aluminum foil. Keep frozen for 2-3 months.
When ready to serve, allow the cheesecake to thaw out overnight in the refrigerator and then decorate it.
NOTE: You can freeze already decorated pieces of oreo cheesecake cake, just keep in mind that the texture of your toppings will change a bit.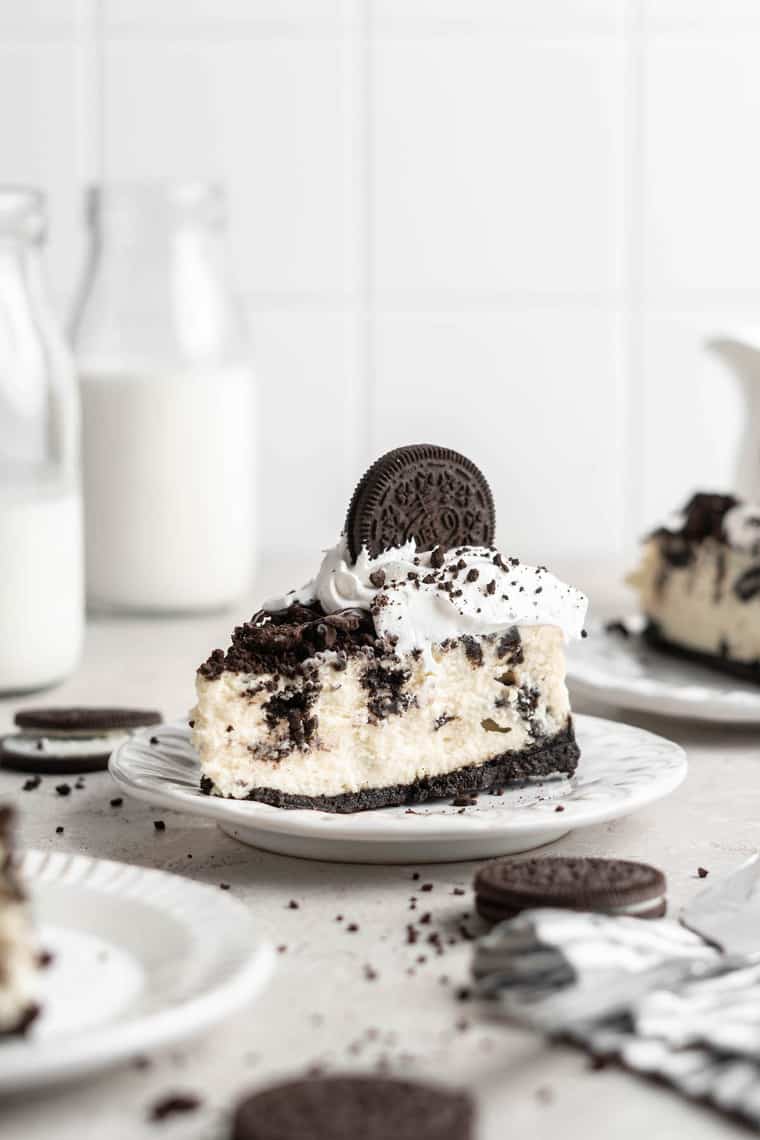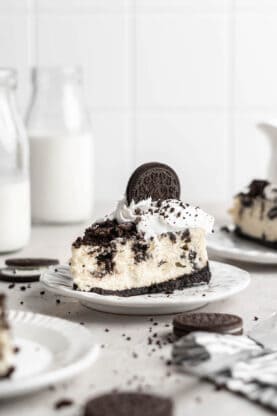 Grandbaby Cakes' Best Cheesecake Recipes
Are y'all loving this recipe as much as I am? If the answer is "heck yeah!", check out a few more of my creamiest cheesecake recipes: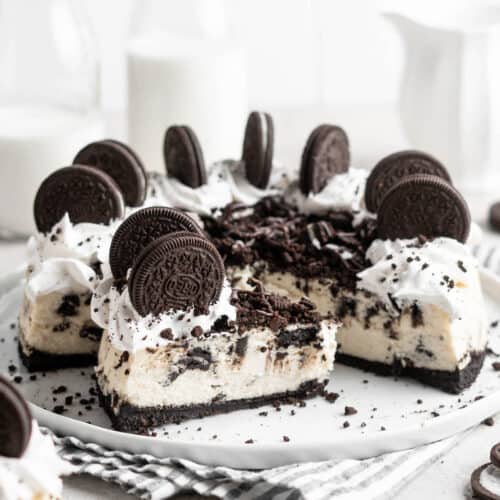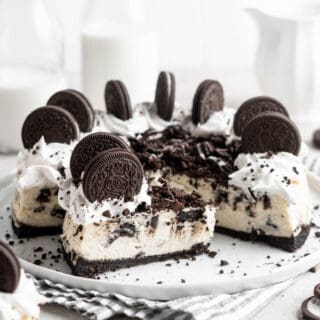 Oreo Cheesecake
This Oreo Cheesecake has a buttery oreo crust, luscious New York style cream cheese base with oreo pieces, chocolate ganache and whipped cream topping!
Print
Pin
Rate
Ingredients
For The Crust
1 1/2

cup

oreo/ cookies and cream crumbs

3

tbsp

granulated sugar

5

tbsp

melted butter
For The Cheesecake Filling
4

cream cheese packages

8 ounces packages/ room temperature

1 1/2

cup

granulated sugar

3/4

cup

heavy cream

4

large eggs

room temperature

1

cup

sour cream

room temperature

1 1/2

tbsp

vanilla bean paste or vanilla extract

1/4

cup

all-purpose flour

1

cup

crushed oreos
For the Chocolate Ganache
1/2

cup

heavy whipping cream

3/4

cup

semi-sweet chocolate chips
For Garnish
1

cup

whipped cream

1

cup

crushed oreos
Instructions
For The Crust
Preheat oven to 350 degrees F (175 degrees C). Spray a 9 inch springform pan with at least 2 ¾ inch sides or a 10 inch springform pan with non-stick baking spray. Make sure it is properly secured too!

Whisk together oreo crumbs, sugar and melted butter. Press mixture into the bottom of the springform pan and bake in the oven for 10 minutes. 
For the Cheesecake Filling
In the bowl of your stand mixer, beat together cream cheese and sugar until completely smooth. Next add heavy cream then add eggs one at a time, mixing until incorporated.

Next add sour cream, vanilla bean paste and flour and mix until smooth.

Finally fold in the oreo pieces and pour cheesecake filling into baked crust.

Bake cheesecake for 1 hour and 20 minutes then turn the oven off and allow the cake to cool in the oven with the door closed for 4 hours.

Remove cheesecake from oven and allow it to come to room temperature.
For the Chocolate Ganache
Heat the heavy cream and chocolate chips over low heat in a pan while continuously whisking until everything is melted and smooth. Allow to cool to room temperature before adding to the top of the cheesecake.
To Assemble
Once cheesecake has completely cooled and has been at room temperature for at least 30 minutes, decorate cheesecake with ganache, whipped cream and oreo pieces and then store in the refrigerator overnight before serving.
Notes
TIP 1: Start with room temperature ingredients. This will ensure that your cheesecake does not have lumps. And believe me, you don't want that. TIP 2: For extra insurance against cracks, USE A WATER BATH! 
Nutrition
Calories:
588
kcal
|
Carbohydrates:
63
g
|
Protein:
17
g
|
Fat:
30
g
|
Saturated Fat:
16
g
|
Polyunsaturated Fat:
2
g
|
Monounsaturated Fat:
9
g
|
Trans Fat:
1
g
|
Cholesterol:
120
mg
|
Sodium:
705
mg
|
Potassium:
418
mg
|
Fiber:
2
g
|
Sugar:
49
g
|
Vitamin A:
789
IU
|
Vitamin C:
1
mg
|
Calcium:
328
mg
|
Iron:
5
mg