Smoky, tangy, spicy and tasty, this marinated and roasted Pollo Asado is the most flavorful and moist tender chicken recipe! Put a Latin spin on tonight's dinner using this meal-prep worthy recipe. If you love this, you will also love these Turkey Legs, Baked Turkey Wings, Rosemary Roast Chicken and this Lemon Roast Chicken and Potatoes!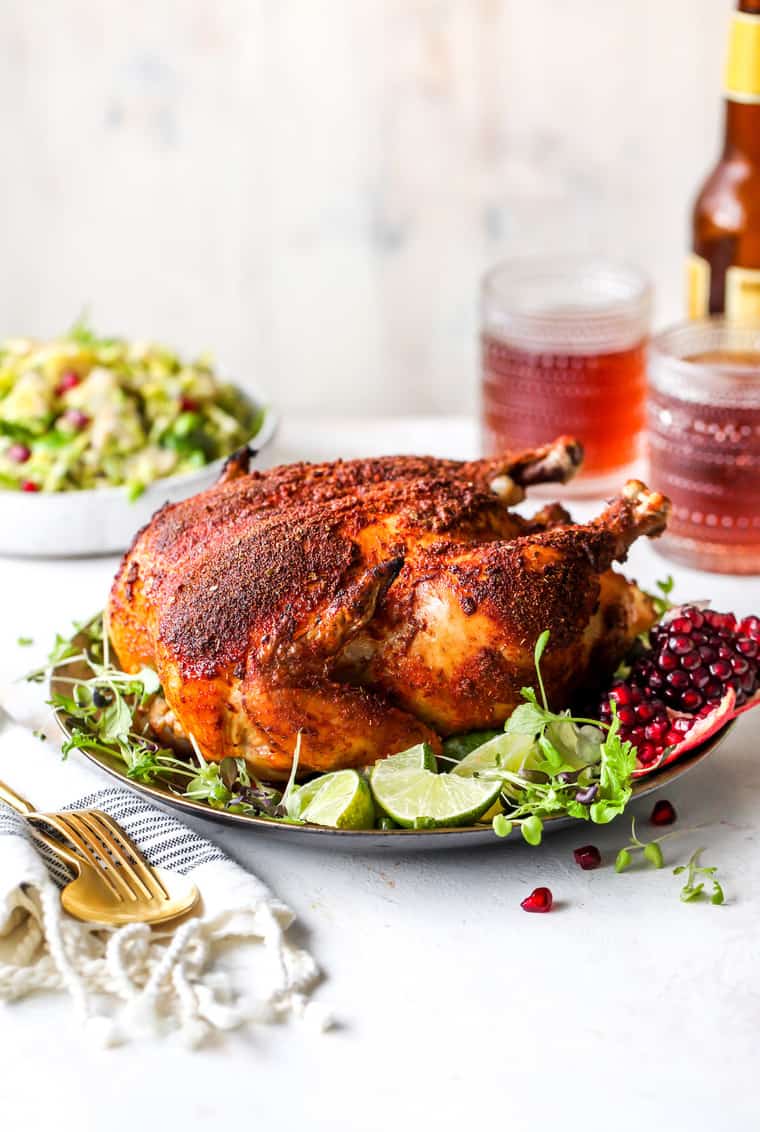 POLLO ASADO RECIPE
I'll be honest, I can get pretty lazy when it comes to weeknight meals. What can I say? Mama is tired. Long work days turn into long work weeks and the burnout is REAL.
But, I'm trying to be better y'all! Meal prep is KEY. If things get done in advance, I can guarantee a quick, delicious meal at any time. That's where this recipe comes in!
Straight from my latest favorite cookbook, this Pollo Asado is a busy parent's dream. Easy-to-make and even easier to store and reheat, this chicken is a weeknight dinner made decadent. Each tender cut of meat is bold in flavor and juicy in texture.
SKINNYTASTE MEAL PREP COOKBOOK
Contrary to what you might think, I don't eat pie for breakfast and cake for dinner. Not saying that I haven't, it's just not in my daily practice. I consistently rely on healthy, make-ahead meals to give me energy I need to make it through my busy days! I mean, a girl can't live on just sugar (I've tried).
My secret to making healthy meals simple, diverse and flavor-packed? Skinnytaste Meal Prep! Gina Homolka's latest release is full of recipes meant to help you save time on busy weeknights, keep your grocery budget low and keep hearty, nutrient dense food at your fingertips.
Whether you're looking to lose weight, eat a little healthier or save some time, this book is a tool that you can't afford not to have in your belt!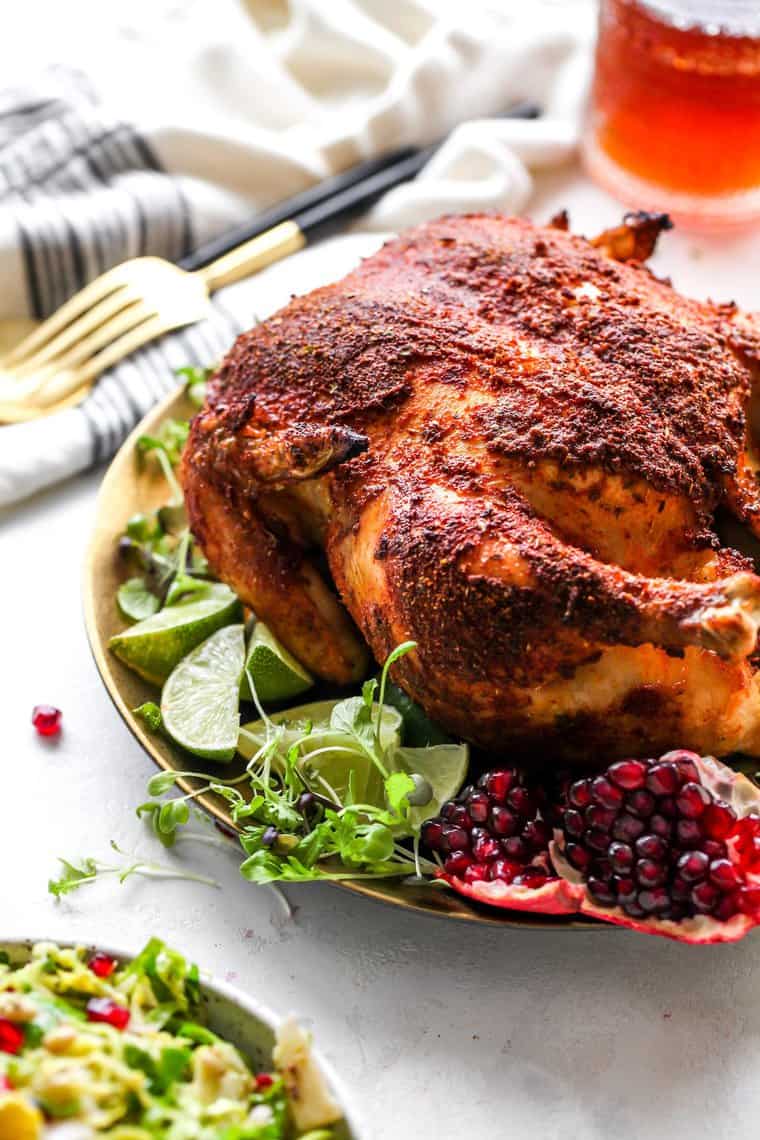 WHAT IS POLLO ASADO?
This Pollo Asado recipe is an incredible and authentic version of the classic roasted chicken commonly made in Puerto Rico, Cuba and other parts of the Caribbean. Made with bold spices and baked to juicy, flavorful perfection, this chicken is chock-full of zesty Latin flavor and fantastically moist meat.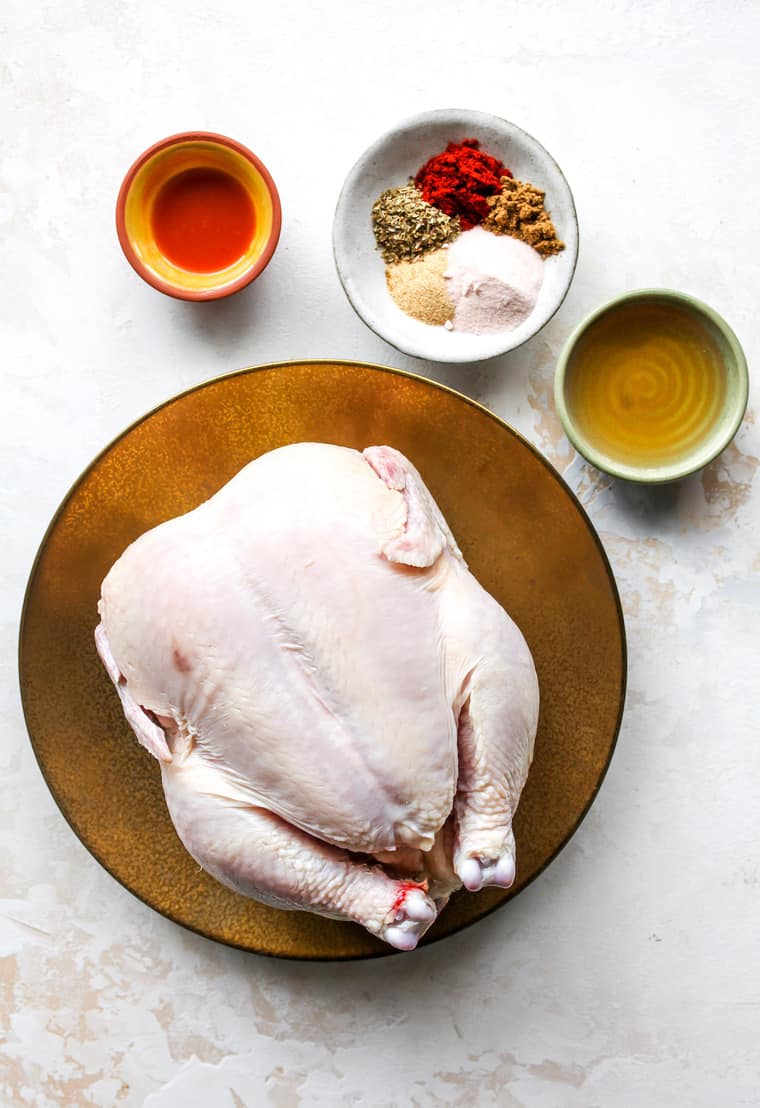 POLLO ASADO SEASONING INGREDIENTS
What makes Pollo Asado stand out is the delicious spices and herbs used. Latin cooking is known for its bold and exciting flavors, and this recipe is no exception!
Here's what you'll need:
White or Apple Cider Vinegar-

acetic acid in vinegar breaks down meat fibers, making them more tender and flavorful.

Cayenne Pepper Hot Sauce-

Just a few dashes adds a subtle, yet necessary kick!

Ground Oregano-

if you can get your hands on it, Mexican oregano works best; it has lemon and citrus flavors as well as some tones of licorice. I find that Mexican oregano pairs beautifully with latin dishes. Both regular ground oregano or dried oregano will also work!

Ground Annatto or Achiote-

Annatto/Achiote is a deep red spice that can be found in most latin markets; it makes for an authentic red-colored chicken, and adds a slightly peppery, smoky flavor. If you can't get your hands on this stuff, sweet paprika is a great substitute!

Garlic Powder-

I love the salty-sweet kick that garlic powder brings to the table.

Ground Cumin-

earthy and warm, with an edge of citrus, cumin adds instant depth to any dish.

Kosher Salt-

Everything needs salt, don't be shy.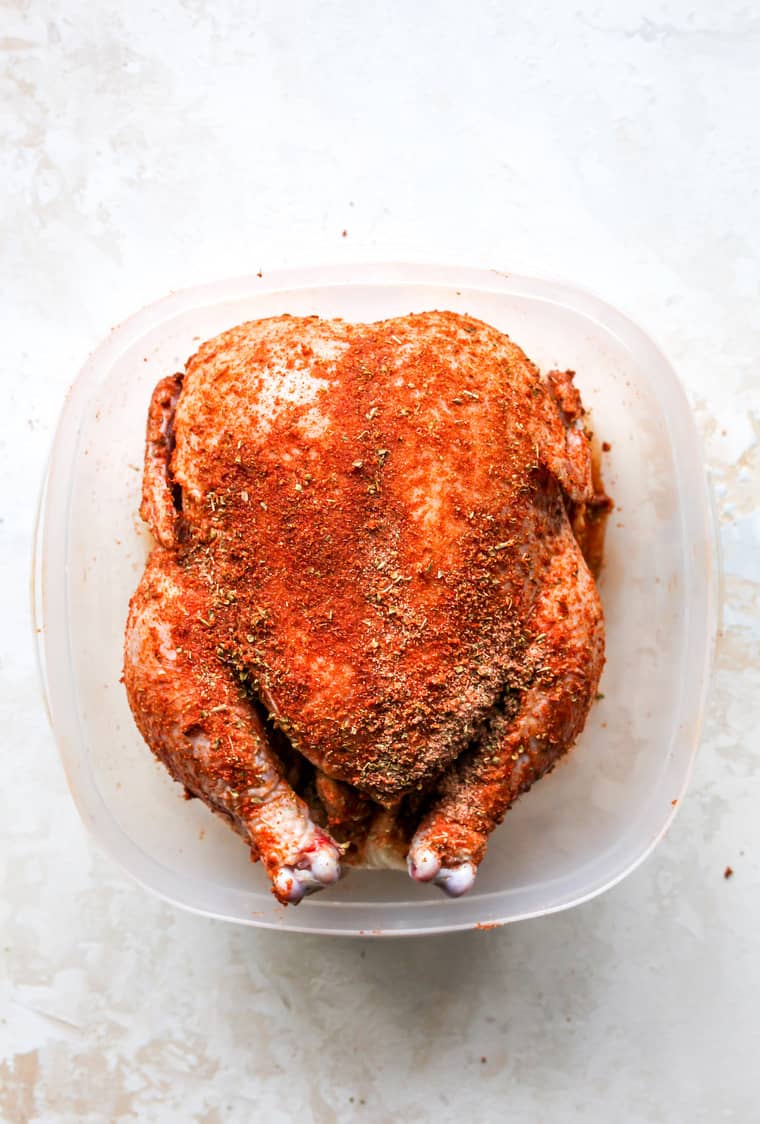 HOW TO COOK POLLO ASADO
Pollo asado is a dish made with very few ingredients and very little active effort. In fact, you could probably make it with your eyes closed! But I wouldn't (and shouldn't) recommend that.
Making one chicken makes for a more simplified process that results in lots of yummy leftovers. If you prefer to use cuts, I recommend drumsticks, thighs, bone-in breasts or wings. Just be sure to use an equal amount of meat, about 3 pounds.
Folks living in warmer climates often prefer to either grill or smoke their pollo asado. But, for the sake of simplicity, we're baking it! The low and slow cook in the oven produces a very tender and juicy result.
HOW TO GRILL POLLO ASADO
During the warmer months, I love to throw this recipe on the grill! The charred seasoning is absolutely delicious.
Here's how ya do it:
Preheat the grill to medium heat (350°F-375°F). Light the burners (or charcoal) on one half of the grill, and leave them off on the other half. This creates a zone of direct heat and a zone of indirect heat.

Grease the preheated grill grates to prevent sticking by wiping them down with a folded paper towel that's been soaked in vegetable oil.

Remove the chicken from the marinade and shake off the excess. Grill chicken skin side down over direct heat for about 8 to 10 minutes with the lid closed as much as possible, until the skin is crisp and golden. Flip chicken over, move to indirect heat and grill for 15 to 20 minutes more, or until cooked through.
WHAT TO SERVE WITH POLLO ASADO
In the Caribbean, most proteins are served with rice, beans, plantains, and some avocado or a simple green salad. Pollo Asado goes incredibly well with the sides mentioned, but I recommend making this meal as dressed up or down as you'd like.
Serve this chicken with a simple salad, use it for sandwiches or create a customized spread. This is your party people!
Here's what I chose to serve with my bird:

STORAGE
This is one of those recipes that yields fantastic leftovers! With each passing day, the flavor of this chicken seems to get better and better. Store any leftover chicken in an airtight container in the refrigerator for up to 4 days.
LEFTOVER POLLO ASADO RECIPES
Rather than simply reheating those leftovers (which is also perfectly fine), repurpose them into something new and creative!
Try shredding the meat and serving it alongside corn tortillas, cilantro, lime and a bit of sour cream or salsa for a family Taco Tuesday! Burritos and quesadillas also make a great home for your flavorful seconds.
GRANDBABY CAKES' BEST WEEKNIGHT CHICKEN RECIPES
Opt out of that weeknight chicken rut by introducing a few of my tastiest recipes into your rotation. Kick basic recipes to the curb and replace it with something new and improved!
Check these out: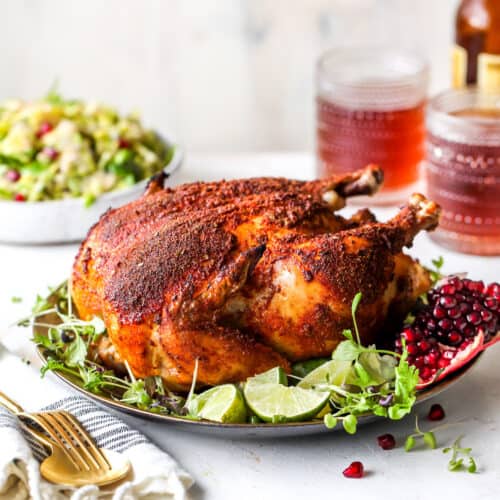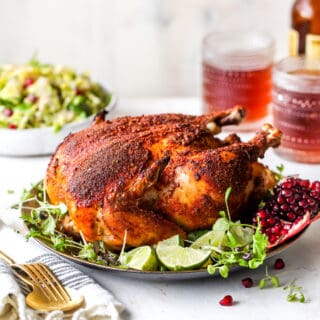 Pollo Asado
Smoky, tangy, spicy and tasty, this marinated and roasted latin Pollo Asado is the most flavorful and moist tender chicken recipe!
Print
Pin
Rate
Ingredients
1

whole chicken

3 1/2-4 lb, giblets removed, patted dry with paper towels

4

tbsp

apple cider vinegar

can also use white

1

tbsp

mild cayenne pepper hot sauce

like Frank's RedHot

2

tsp

kosher salt

1/2

tbsp

ground oregano

1

tsp

ground annatto

or sweet paprika

1

tsp

garlic powder

1/2

tsp

ground cumin
Instructions
Place the chicken in a large container and rub the vinegar and hot sauce all over it, inside and out.

In a small bowl, combine the salt, oregano, annatto, garlic powder and cumin, and season the chicken inside and out with the mixture to evenly coat (it's best to wear gloves so you don't stain your hands). Refrigerate for 8 to 24 hours.

When ready to roast the chicken, preheat the oven to 450 degrees.

Transfer the chicken, breast side up, to a roasting pan with a rack, or a large rimmed sheet pan.

Roast the chicken with the legs toward the back of the oven until it starts to brown, about 20 minutes.

Reduce the oven temperature to 350 and continue cooking until the juices run clear when the thigh is pierced with a knife, or when the internal temperature between the thickest part of the leg and the thigh is 165, 45 to 55 minutes more.

Let the chicken stand uncovered for 10 minutes before carving. Serve with or without the skin.
Notes
TIP: Looking for a creative way to use those leftovers? Try shredding the meat and serving it alongside corn tortillas, cilantro, lime and a bit of sour cream or salsa for a family Taco Tuesday!
Nutrition
Calories:
418
kcal
|
Carbohydrates:
1
g
|
Protein:
36
g
|
Fat:
29
g
|
Saturated Fat:
8
g
|
Cholesterol:
143
mg
|
Sodium:
1413
mg
|
Potassium:
380
mg
|
Fiber:
1
g
|
Sugar:
1
g
|
Vitamin A:
305
IU
|
Vitamin C:
5
mg
|
Calcium:
31
mg
|
Iron:
2
mg