This Savannah Red Rice recipe is a Southern Low Country delicacy! White rice is steeped in tangy tomatoes, flagrant and spicy seasonings, and aromatics like garlic and onion then topped with tender shrimp and rich bacon! If you love this Shrimp Creole, Brazilian Seafood Stew, Paella, Jollof Rice, Dirty Rice, or even Spanish Rice, you will adore this!
Thank you to Gina of What's Gina Cooking for the incredible recipe!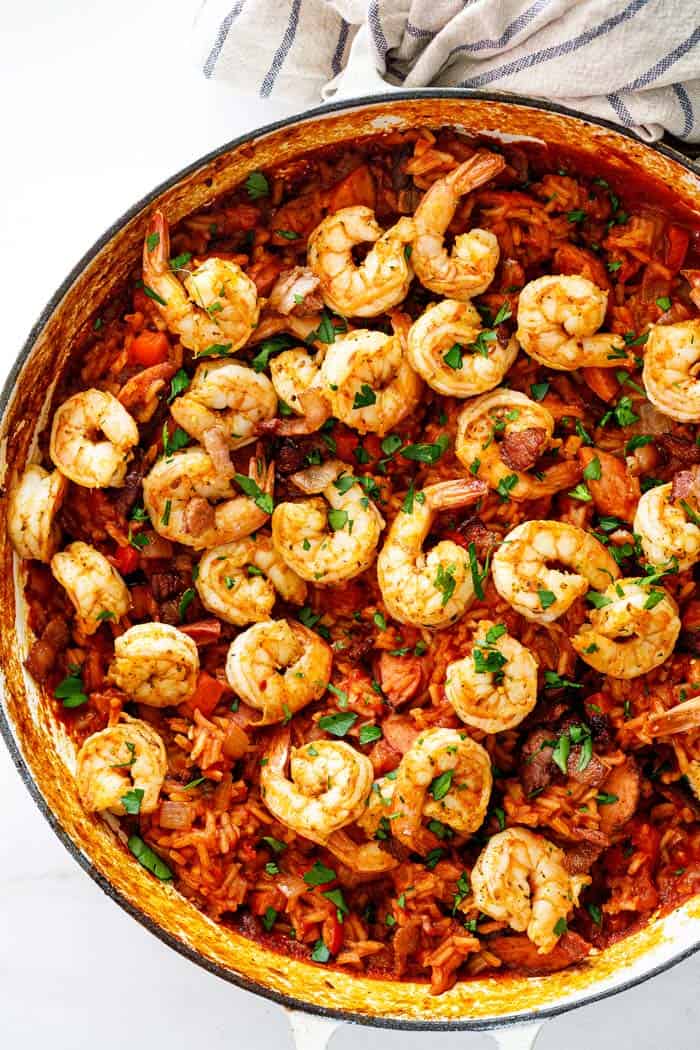 Savannah Red Rice is more than just a "regular" side.
It's a one-pot explosion of flavors that serves as a Low Country favorite, but has strong ties to Nigeria's Jollof Rice. Now I am not going to get into who makes the best "Red Rice", because I'm biased and I'm going to say it's ours. But I will share my recipe and tell why it will become one of your favorites.
First of all once you master this, several things will happen: Everyone will want you to bring a pan to every function known to man, and you will finally get upgraded from bringing the paper goods at Thanksgiving dinner.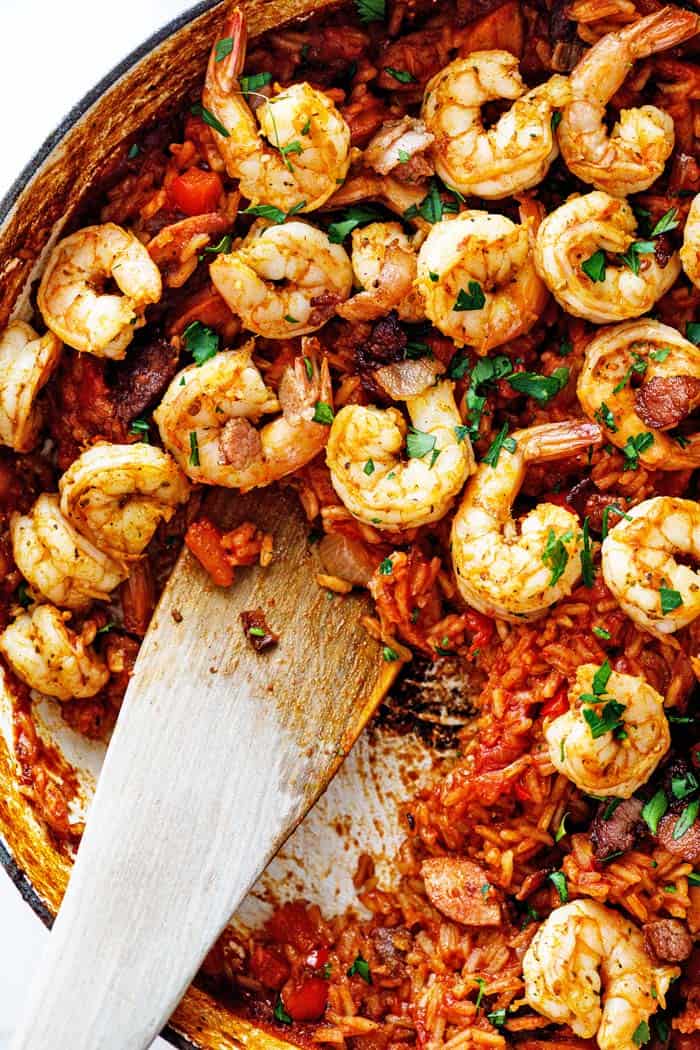 WHAT IS SAVANNAH RED RICE?
Southern Cuisine is known for its way with rice-based dishes: Jambalaya, Cajun Dirty Rice, Pilau and so much more. Rice is simple to cook, quick to make and extremely cheap. What's not to love? Savannah Red Rice is the defining dish of the Georgia Coast. The recipe calls for long-grained rice to be simmered in a flavorful broth until tender. It's a simple dish, but when well made, the smoky bacon and bright tomatoes make for something incredibly special.
The flavors in a Red Rice are complex, yet subtle. You can find varying recipes all over the internet; some add chicken, pork or in this case, shrimp. No matter how you make it, this dish is delectable.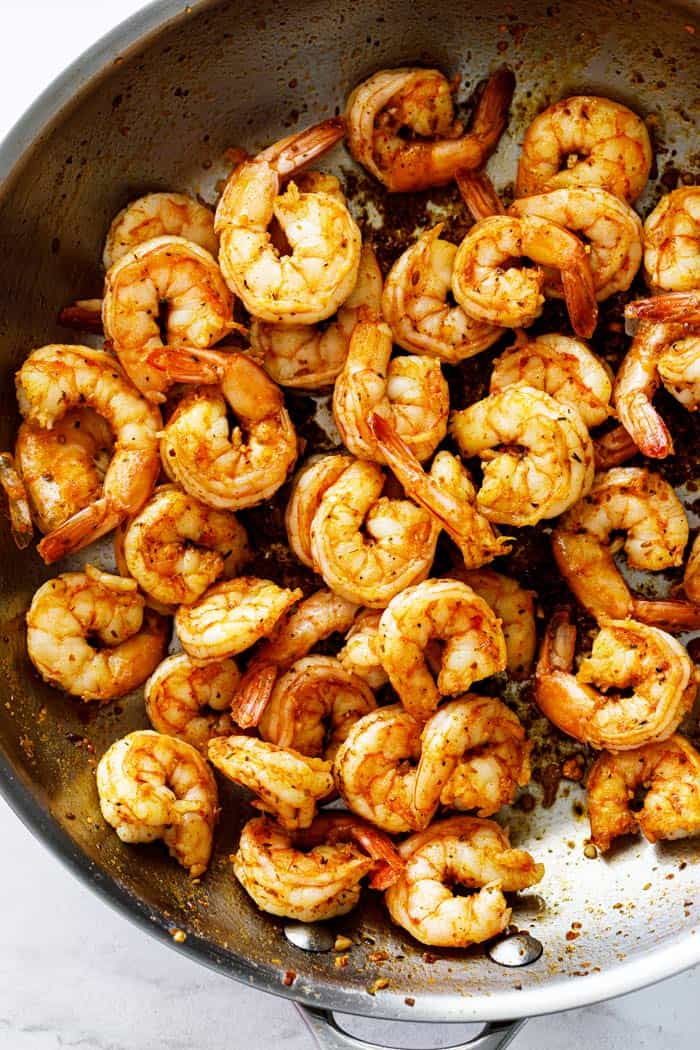 HOW TO MAKE RED RICE
Savannah Red Rice is packed with a variety of complex spices, tender protein and bright vegetables. As the ingredients come together, the rice becomes spicy, sweet and everything in between. Each bite is full of astounding texture and taste. All components of this recipe are important but, some are shining stars.
Bacon & Kielbasa
One of the most prominent flavors in this rice is smoke. Bacon and sausage are both proteins that contain a heavy amount of smokiness. Their fat imparts a considerable amount of flavor that intensifies just about every other ingredient involved.
Tomatoes (3 Ways)
This recipe calls for tomato paste, tomato sauce and canned diced tomatoes. You might say that's overkill but, I promise it's not. Tomatoes are bright, sweet and tangy; their addition creates a base to build spice while still maintaining balance.
Creole Seasoning
Creole Seasoning is filled with the perfect blend of dried peppers, herbs and spices. Do I need to say more?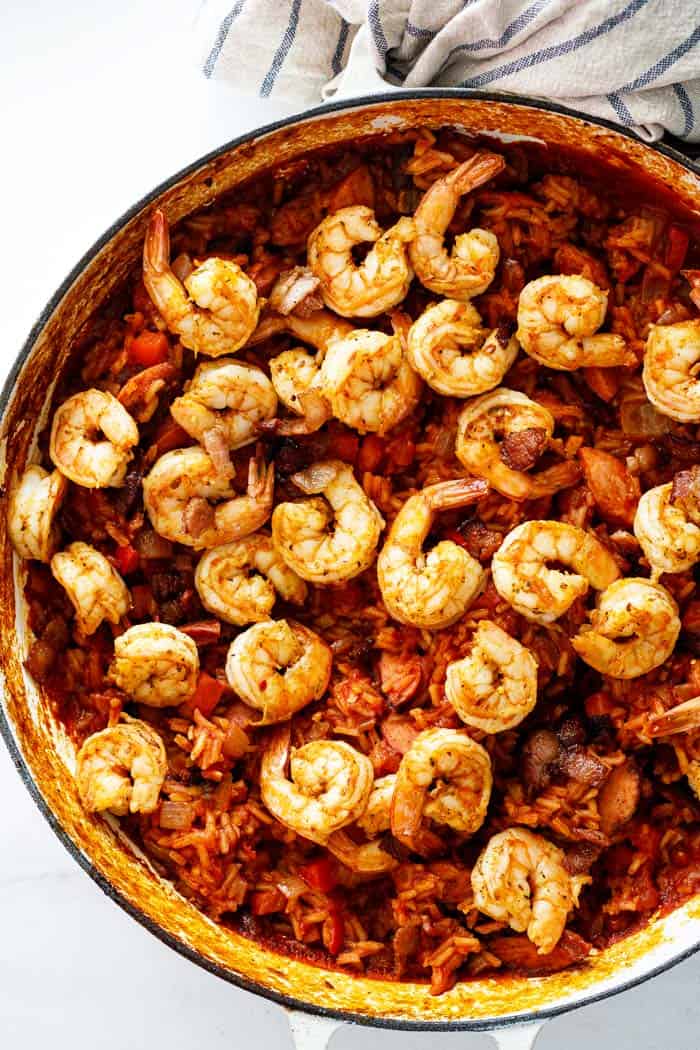 A FEW EXTRA TIDBITS
I find making rice to be quite technical; it's important to adhere to measurements and use the right tools. There always seems to be steps to follow and passed-down family tricks to make use of. Red Rice is no exception to this but, luckily for you I've got all the best tricks up my sleeve.
Here's what you need to know:
Use the Oven
Do not try to cook this rice on the stovetop. Ovens maintain temperature and allow the rice to cook in a more controlled setting.
Get a Crisp Crust
Resist the temptation to lift the lid and stir while cooking. Doing this will develop a crisp crust at the bottom of the pot. Once mixed, you'll have a pleasantly fluffy texture studded with crunchy bits of seasoned rice.
Don't Stir with a Spoon
Using a spoon will only cause the grains to stick together. Instead, use a fork and watch those tender grains fluff up perfectly.
Add the Shrimp Last
Overcooked shrimp is no fun. Add the protein in last so it does not continue to cook in the pot and become tough.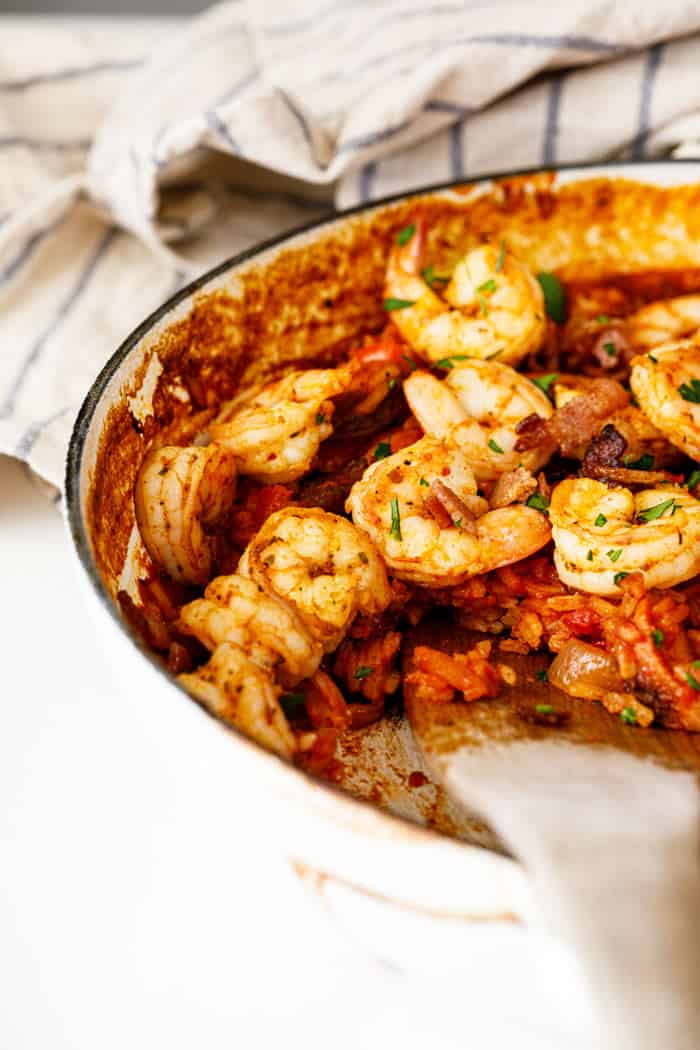 WHAT DO I SERVE WITH RED RICE?
After you've fluffed up the rice a bit (using a fork), transfer it into a serving bowl and stir in the shrimp so that it is evenly distributed.
Because this dish contains both carb and protein, I find that simply making a vegetable side will create a complete meal. But, if you're serving this dish for a large group or if you've left out the shrimp, making something a little extra is great too. I normally serve this alongside Fried Fish or any other of my favorite Southern-inspired seafood dishes.
Enjoy!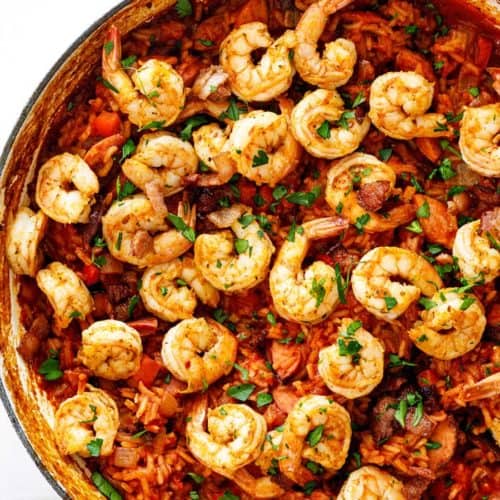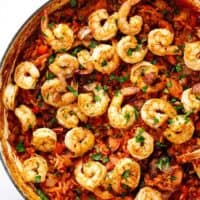 Red Rice Recipe
This Savannah Red Rice recipe is a Southern low country delicacy! White rice is steeped in tangy tomatoes, flagrant and spicy seasonings, aromatics like garlic and onions, and then topped with tender shrimp and bacon!
Print
Pin
Rate
Ingredients
4

bacon slices

fried crisp, crumbled and reserved

16

oz

kielbasa sausage

sliced

1

onion

finely diced

1/2

bell pepper

finely chopped

1/2

tsp

minced garlic

1

celery stalk

chopped

1

cup

white rice

uncooked

14

oz

canned tomatoes

undrained

14

oz

canned tomato sauce

3/4

cup

chicken broth

2

tbsp

tomato paste

1 1/2

tsp

creole seasoning

divided

1/4

tsp

cayenne pepper

1/2

tsp

granulated sugar

1/2

tsp

hot sauce

1 1/2

cups

shrimp

shelled and deveined

parsley for garnish

for garnish
Instructions
In a large skillet, fry bacon and sausage. Remove the bacon when crispy and set aside. Continue to cook sausage until brown.

Next saute onion, bell pepper, garlic and celery until tender.

Add rice, tomatoes, tomato sauce, chicken broth, tomato paste, 1 tsp of creole seasoning, cayenne, sugar, and hot sauce. Cook down for 15 minutes.

Stir well. Transfer everything to a lined (with foil) 1 1/2 quart baking dish.

Cover with foil. Bake at 350 degrees for 30 minutes. Remove from oven and see if the rice is soft and fluffy by stirring with a fork. If not, place back in the oven for an additional 10 minutes.

While it bakes, season shrimp with remaining 1/2 teaspoon of Creole seasoning, saute and then place on top of rice when finished baking with reserved bacon and garnish with parsley if desired. Serve hot.
Notes
Overcooked shrimp is no fun. Add the protein in last so it does not continue to cook in the pot and become tough.
Nutrition
Calories:
382
kcal
|
Carbohydrates:
29
g
|
Protein:
18
g
|
Fat:
22
g
|
Saturated Fat:
7
g
|
Cholesterol:
107
mg
|
Sodium:
1203
mg
|
Potassium:
613
mg
|
Fiber:
3
g
|
Sugar:
6
g
|
Vitamin A:
795
IU
|
Vitamin C:
23
mg
|
Calcium:
77
mg
|
Iron:
3
mg