If there's one thing we love, it's good ol' Southern hospitality and delicious drinks that make us feel like we're basking in the warm sunshine. Our delightful rum punch cocktail is a true testament to the laid-back and refreshing spirit of the region, combining tropical juices, a splash of spiced rum, and a hint of grenadine for that perfect touch of sweetness.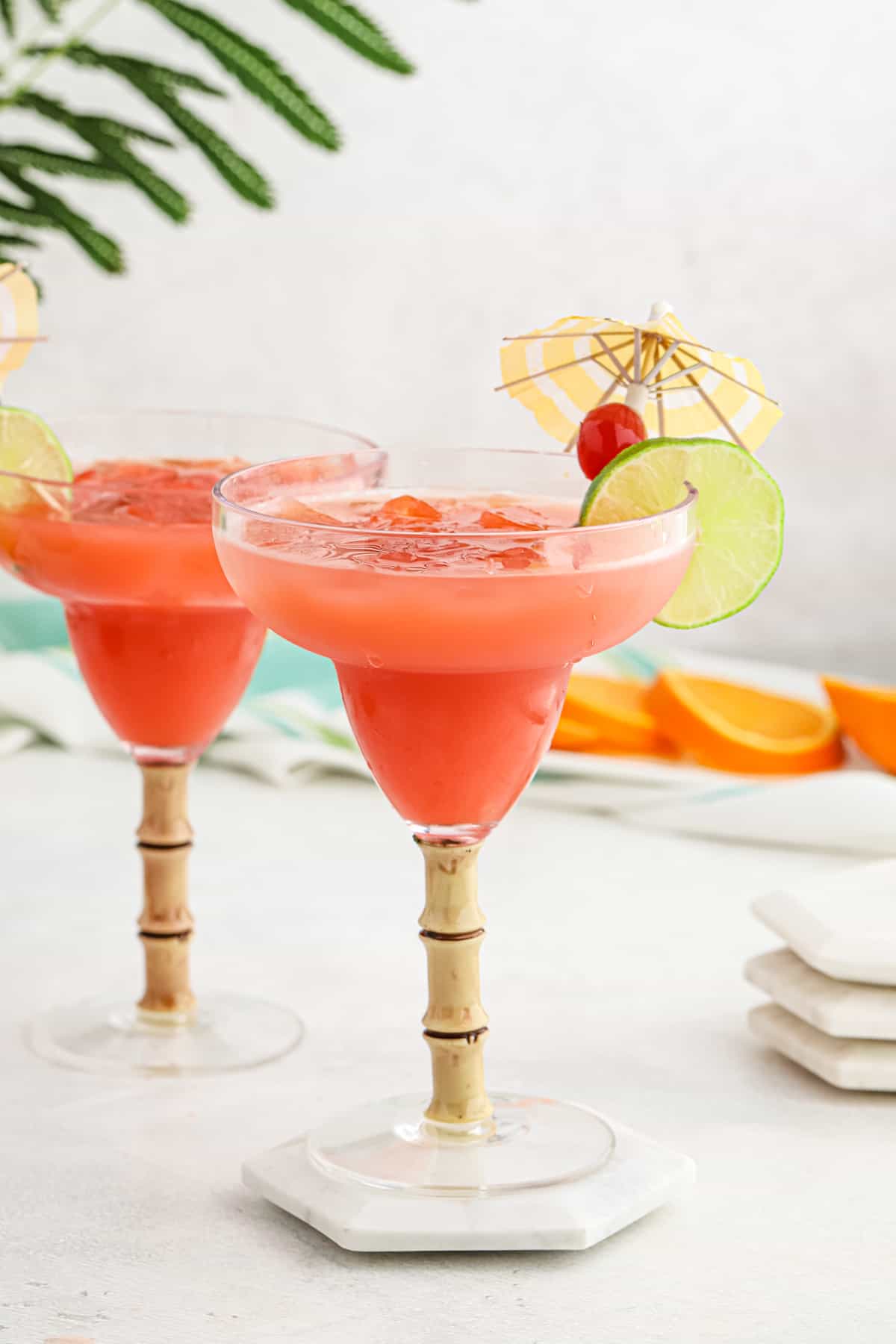 Whether you're planning a backyard barbecue, hosting a pool party, or simply looking to unwind after a long day, this rum punch recipe is the perfect companion for all your celebrations. So, grab a glass, fill it with crushed ice, garnish it with a fresh orange slice, and get ready to enjoy!
Why you'll love this Recipe
When the hot Southern sun beats down, there's nothing quite like a refreshing sip of rum punch to cool you off.
A delightful blend of tropical flavors that will transport you to a sunny paradise with every sip.
Whether you're lounging by the pool, hosting a backyard barbecue, or simply looking for a way to unwind after a long day, rum punch is the perfect companion.
Ingredients To Make Rum Punch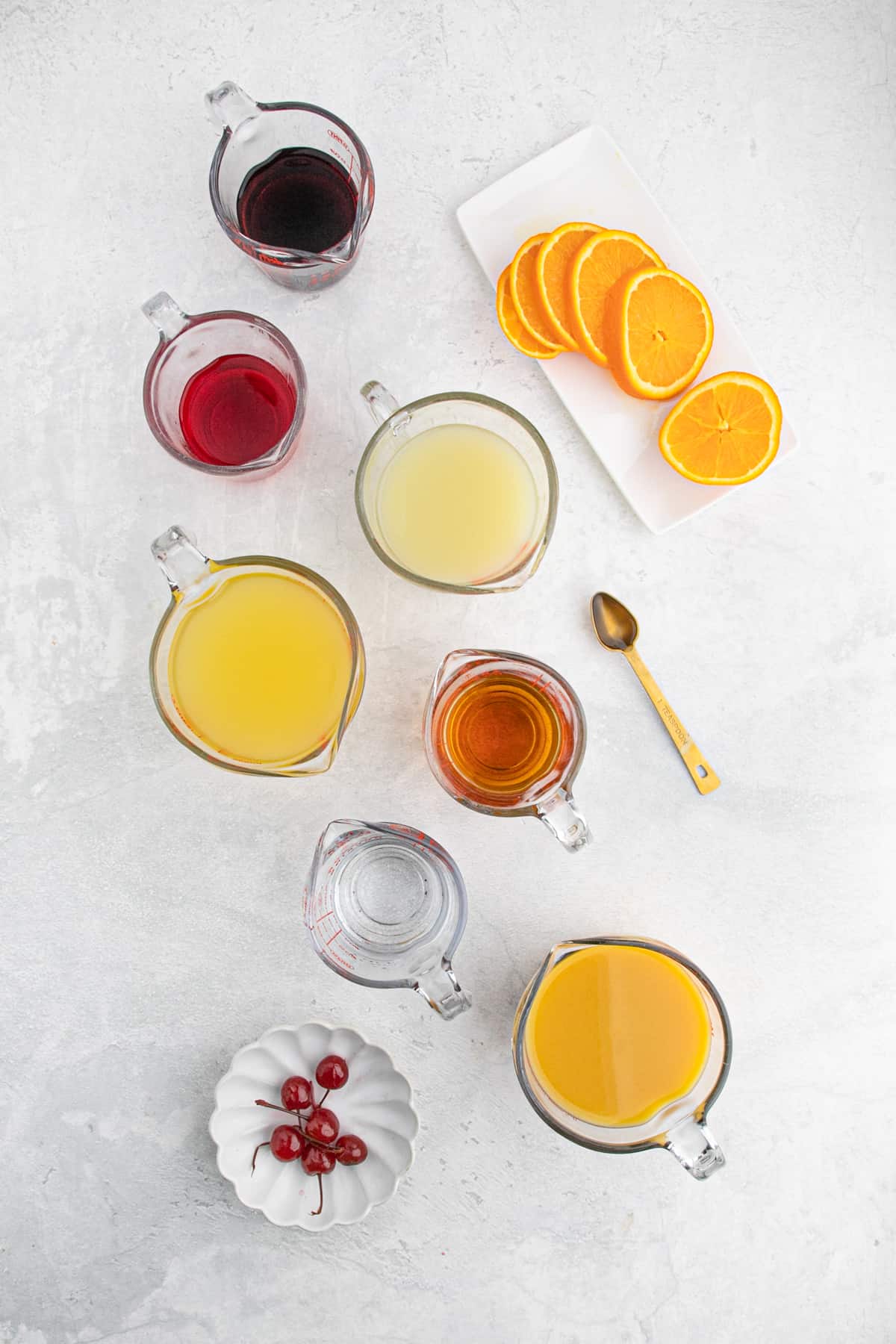 Spiced rum: Adds warmth and depth to the cocktail, infusing it with a hint of exotic spices.
White rum: Balances the flavors and contributes a smooth and light character to the drink.
Pineapple juice: Provides sweet and tropical notes.
Orange juice: Adds a burst of refreshing citrus flavor, complementing the other ingredients.
Fresh Lime juice: Brings a tangy and zesty element that enhances the overall taste of the punch.
Tart cherry juice: Imparts a subtle tartness and a lovely ruby hue to the cocktail.
Grenadine: Adds a touch of sweetness and vibrant red color, making the drink visually appealing.
Angostura bitters: Provides a unique depth of flavor and adds complexity to the punch.
Navel orange: Offers a beautiful finishing touch to your drink.
How to make Rum Punch
In a pitcher, stir together the pineapple juice, freshly squeezed orange juice, freshly squeezed lime juice, tart cherry juice, grenadine, and Angostura bitters.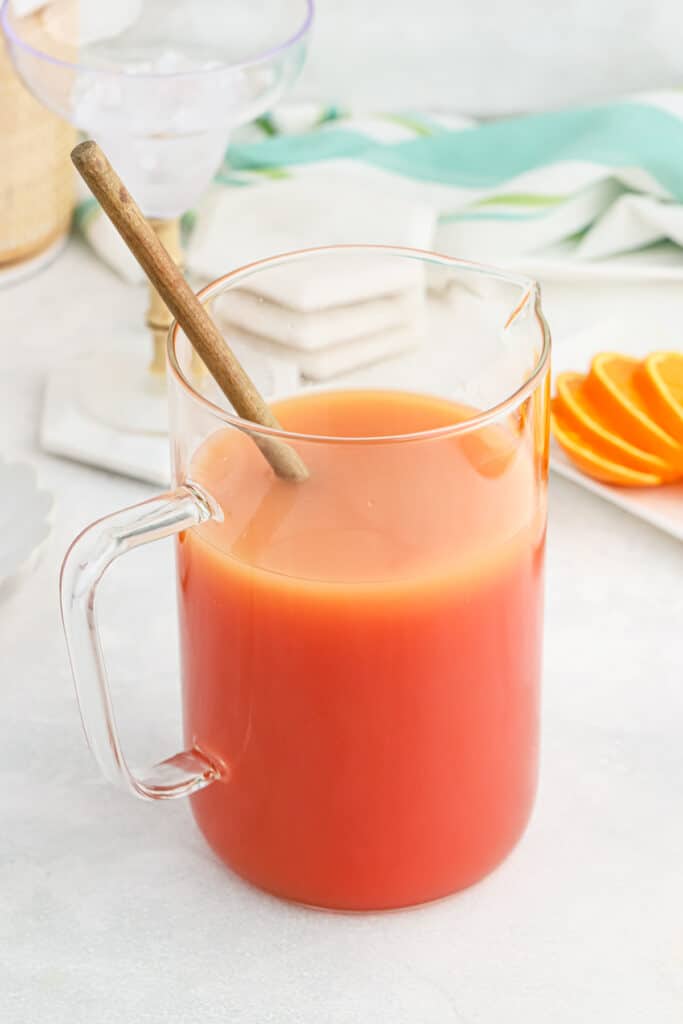 Add the spiced rum and white rum to the mixture, stirring gently to combine all the flavors.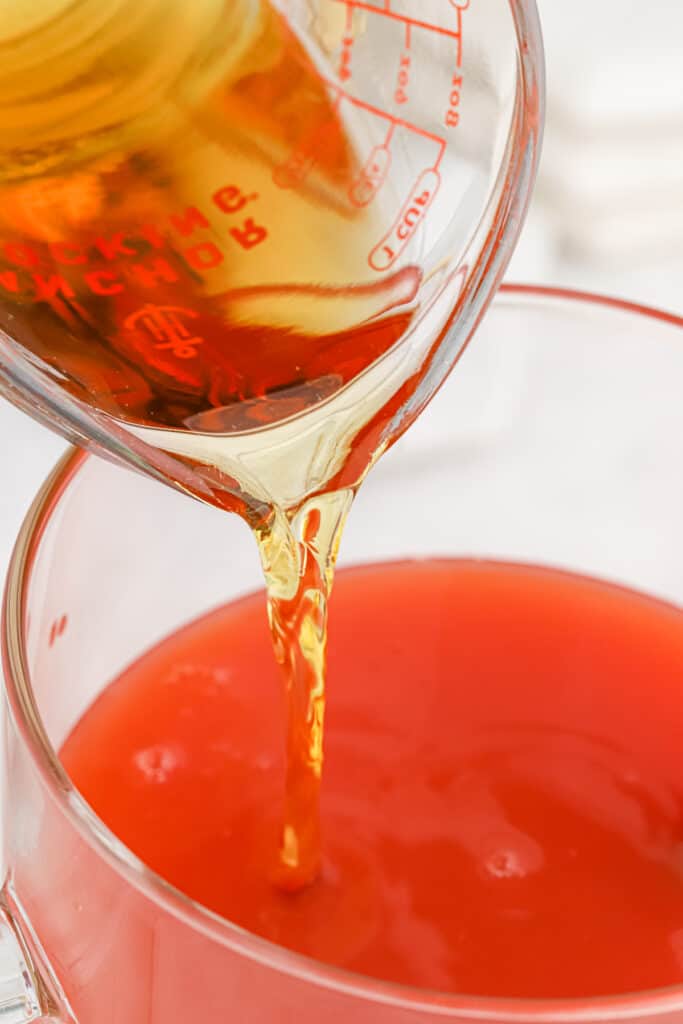 Fill glasses with crushed ice and pour the rum punch over the ice.
Garnish each glass with a slice of navel orange for an extra burst of citrus freshness.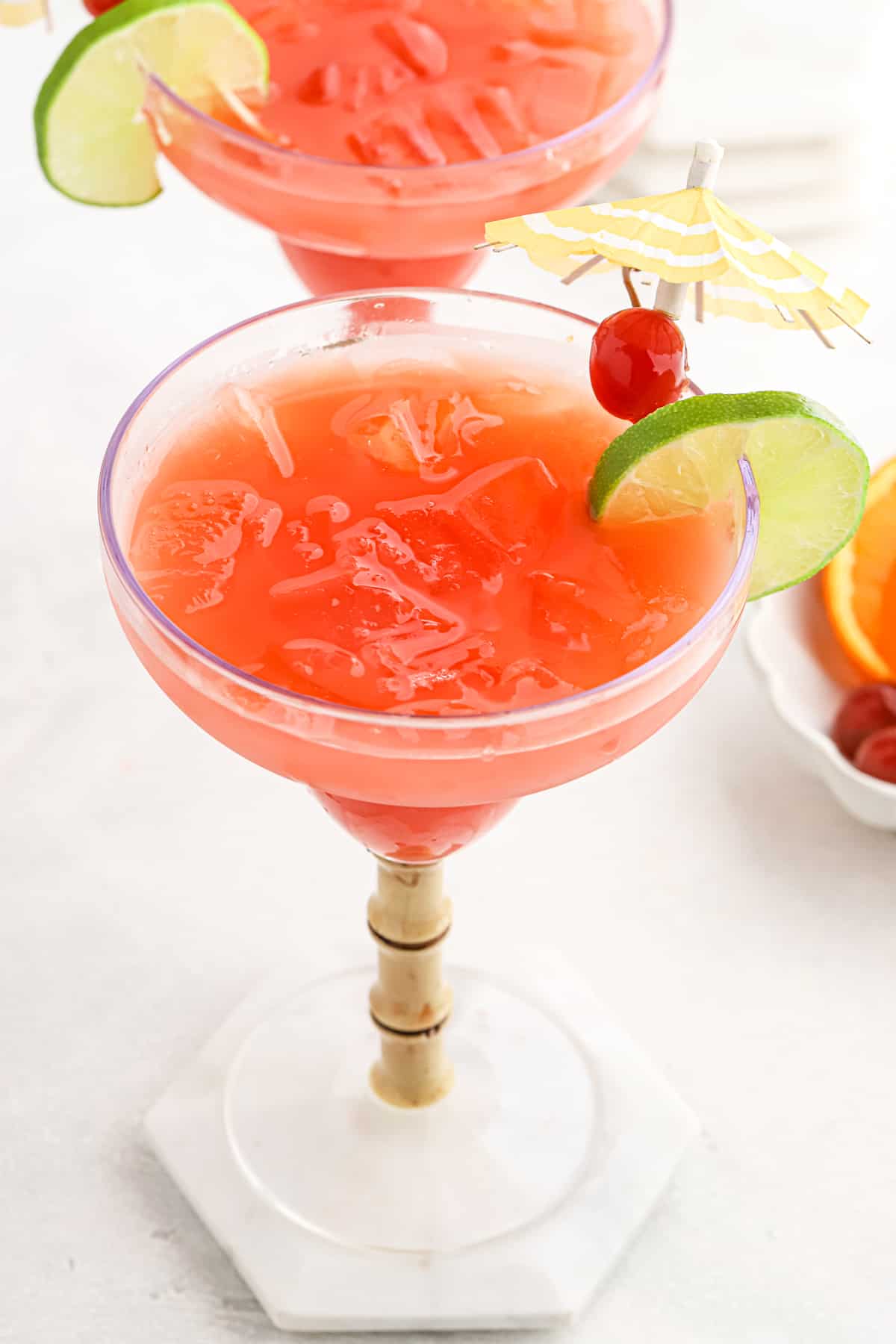 How To Serve Rum Punch
Here are a few ideas to inspire your serving choices:
Poolside: Picture yourself lounging by the pool, with the sun-kissed flavors of the rum punch in hand. Serve it in tall, ice-filled glasses with colorful paper umbrellas for a festive touch.
Backyard BBQ: Hosting a summer cookout or a laid-back gathering? Serve the rum punch in mason jars with striped straws and garnish each with a sprig of fresh mint for a charming rustic vibe.
Party: Planning a larger gathering? Consider making a big batch of rum punch in a punch bowl, complete with floating citrus slices and an ice ring, for a stunning presentation.
Recipe Variations
While this rum punch recipe is already a masterpiece, you can always add your personal touch to make it uniquely yours. Here are a few variations to consider:
Tropical Twist: Substitute the pineapple juice with mango or passion fruit juice for an even more exotic flavor.
Sparkling Sensation: Top off your rum punch with a splash of sparkling water or club soda to give it a fizzy finish.
Berry Bonanza: Enhance the fruity profile by adding a handful of fresh berries, such as raspberries or strawberries, to the pitcher.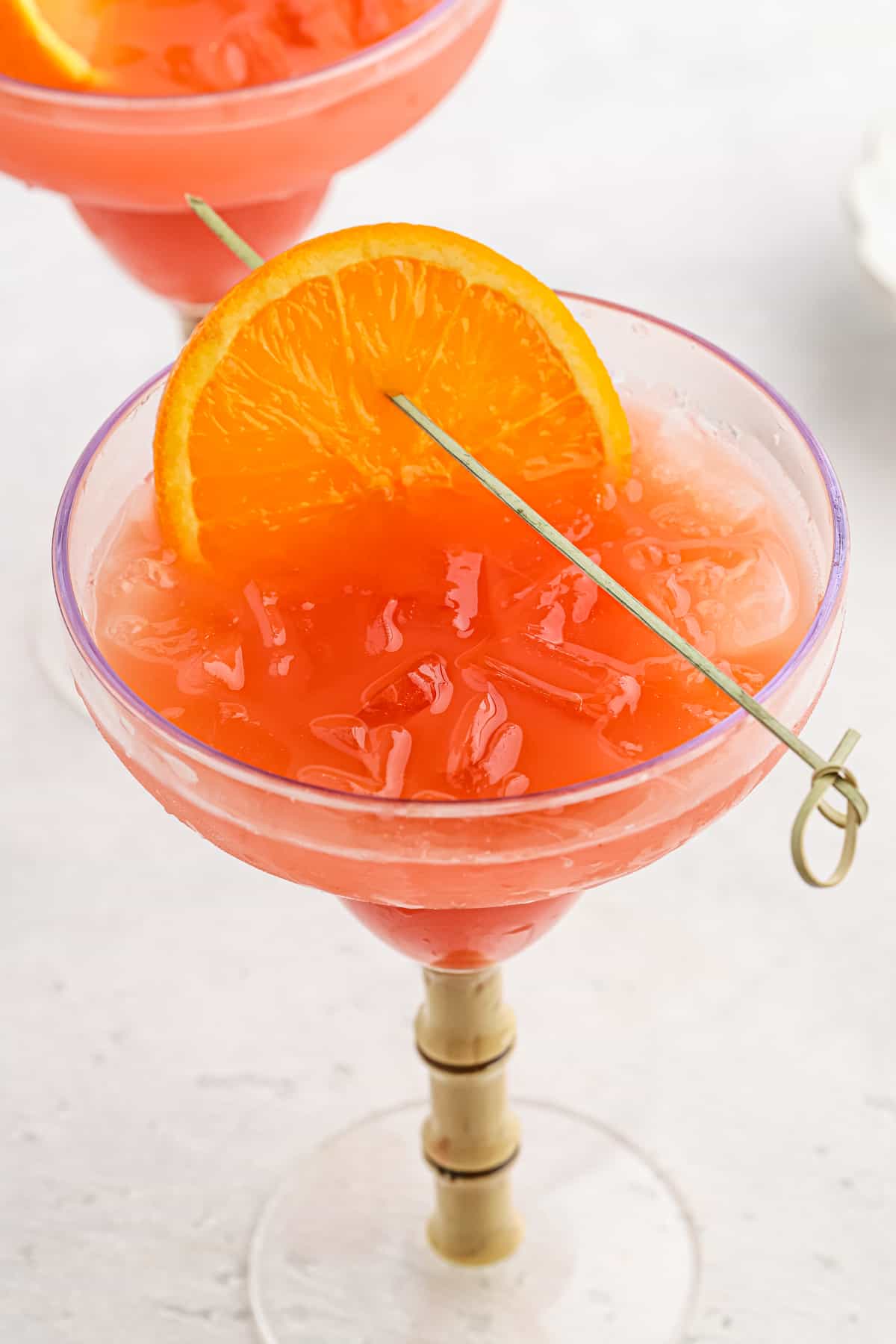 Rum Punch FAQs
Can I make a non-alcoholic version of this rum punch?
Absolutely! To make a non-alcoholic version, simply omit the spiced rum and white rum from the recipe. Increase the amount of pineapple juice, orange juice, lime juice, tart cherry juice, and grenadine to maintain a balanced flavor profile. You can also consider adding a splash of ginger ale or sparkling water for a refreshing fizz.
Can I prepare the rum punch in advance?
Yes! You can prepare the fruit juices, grenadine, and bitters mixture in advance and store them in the refrigerator. When you're ready to serve, simply add the rums and garnish the glasses with ice and an orange slice.
Can I use different types of rum?
While the recipe calls for spiced rum and white rum, you can experiment with different rum varieties to suit your taste. Dark rum can add a richer flavor, while coconut rum or mango rum can introduce a tropical twist to the punch.
Can I adjust the sweetness of the rum punch?
If you prefer a sweeter punch, you can increase the amount of grenadine or add a touch of simple syrup to the mixture. On the other hand, if you prefer a less sweet version, you can reduce the grenadine or even omit it entirely.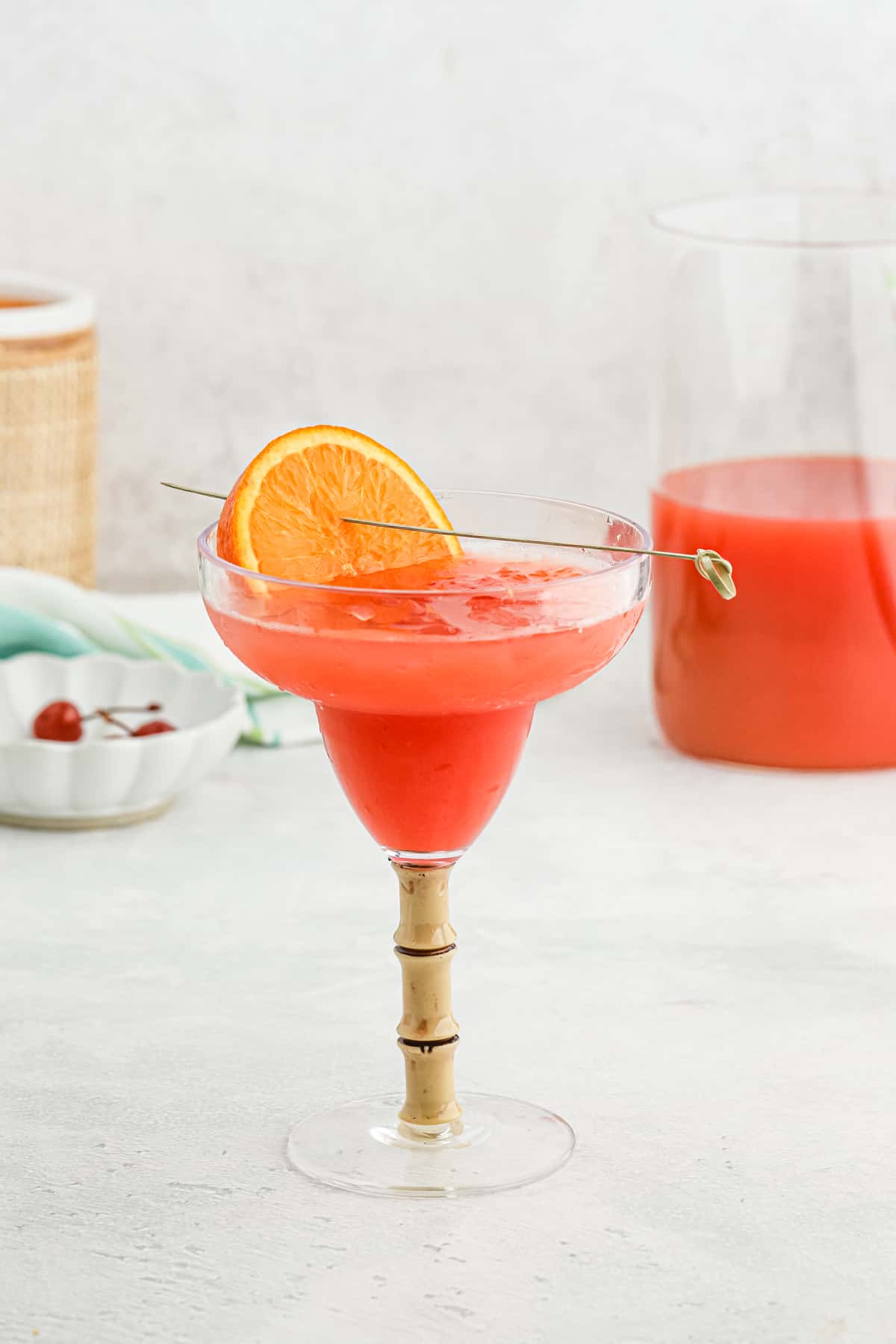 More refreshing punch recipes
*Did you make this recipe? Please give it a star rating and leave comments below!* Post a photo of how your version of the recipe came out on Instagram (using #grandbabycakes)!!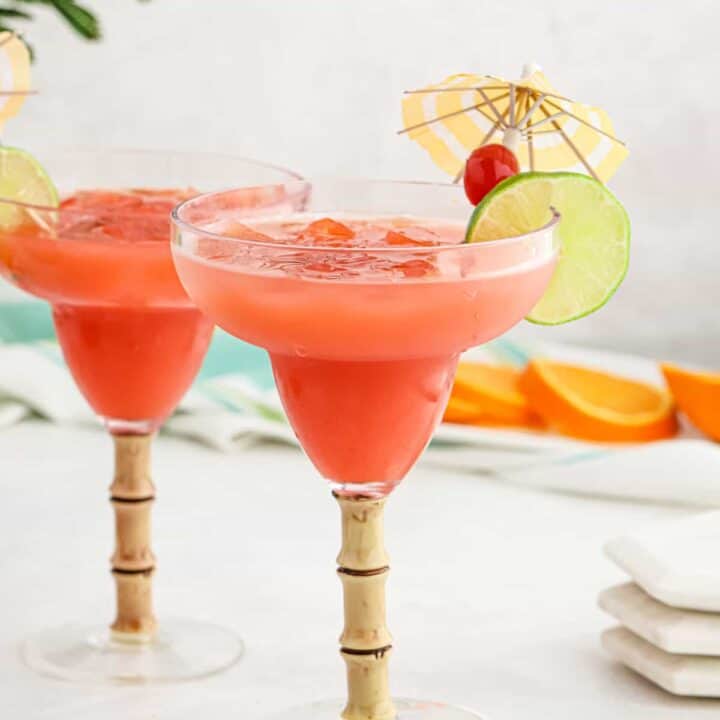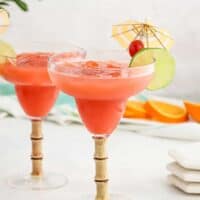 Rum Punch
Fruity and delicious this Rum Punch cocktail is everything you want in a tropical drink! Made with spiced and white rum along with pineapple, tart cherry and orange juice you can't go wrong!
Print
Pin
Rate
Ingredients
1/2

cup

Spiced rum

1/2

cup

White rum

2

cups

Pineapple juice

2

cups

Orange juice

freshly squeezed

1 1/2

cups

Lime juice

freshly squeezed

1/2

cup

Tart cherry juice

1/2

cup

Grenadine*

1

teaspoon

Angostura bitters

1

Navel orange
Instructions
Stir together fruit juices, grenadine, and bitters.

Pour over crushed ice in glasses.

Garnish with an orange slice.
Notes
Note: If you prefer a sweeter drink, you can increase the grenadine.
Nutrition
Serving:
1
g
|
Calories:
213
kcal
|
Carbohydrates:
36
g
|
Protein:
1
g
|
Fat:
0.3
g
|
Saturated Fat:
0.03
g
|
Polyunsaturated Fat:
0.1
g
|
Monounsaturated Fat:
0.04
g
|
Sodium:
10
mg
|
Potassium:
314
mg
|
Fiber:
1
g
|
Sugar:
24
g
|
Vitamin A:
193
IU
|
Vitamin C:
61
mg
|
Calcium:
31
mg
|
Iron:
0.5
mg