These authentic Southern Mustard Greens Recipe with Smoked Turkey are slowly braised in a savory smoked turkey flavored pot liquor with a kick of spice until it becomes the soul food meal dreams are made of. Different from the texture of my Creamed Spinach, this Braised Cabbage, or Collard Greens, these are a must try.  Serve with hot water cornbread, Southern Chitterlings, Hog Maws, traditional cornbread or my corn muffins and hot sauce for a true down home meal.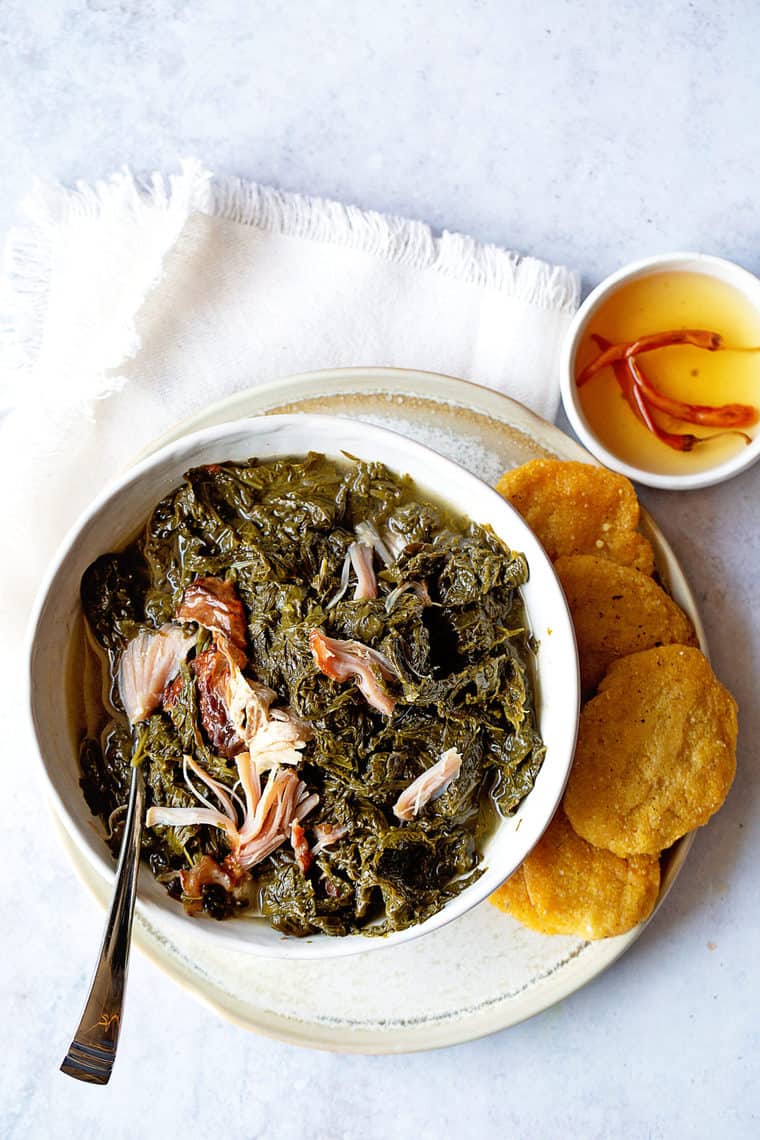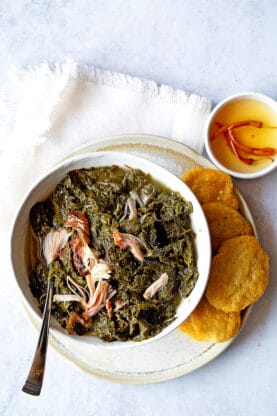 Greens are a quintessential component to Southern cuisine: they serve as the ultimate side dish to every delicious entree. Whether you're at a BBQ where greens are being served alongside smoked meats or it's New Years Day and your plate is filled with black eyed peas and collard greens, the green can sometimes steal the show. They are tender, acidic yet sweet, smokey and slightly spiced. Is there a better way to get your veggies in? I think not.
I grew up on greens, I could smell them slowly stewing in the kitchen while the baked macaroni and cheese cooked and the buttermilk fried chicken. Even at a young age I understood that the greens offered balance to every meal it was served with. As an adult, a soul food meal isn't complete in my house without the greens.
One of the best things about greens is their ability to be customized to your own preferences. You can add or subtract sugar to adjust sweetness, adjust the amount of red pepper to control heat or reduce your use of vinegar if you prefer things on the less acidic side. Personally, I love to change up the kinds of greens I use in order to achieve a slightly different texture and flavor.
What Are Mustard Greens?
Mustard greens are much lighter green than collards. They are thinner and more tender, and shrink to a much smaller amount during cooking than collard greens do. As for flavor, mustard greens are quite peppery and lively in flavor, while collard greens tend to be strongly leaf-flavored and bitter.
I absolutely love how easy this recipe for smoky mustard greens is to pull off. In just a few easy steps you have a pot of greens that you can either keep to yourself or share with others. I won't judge.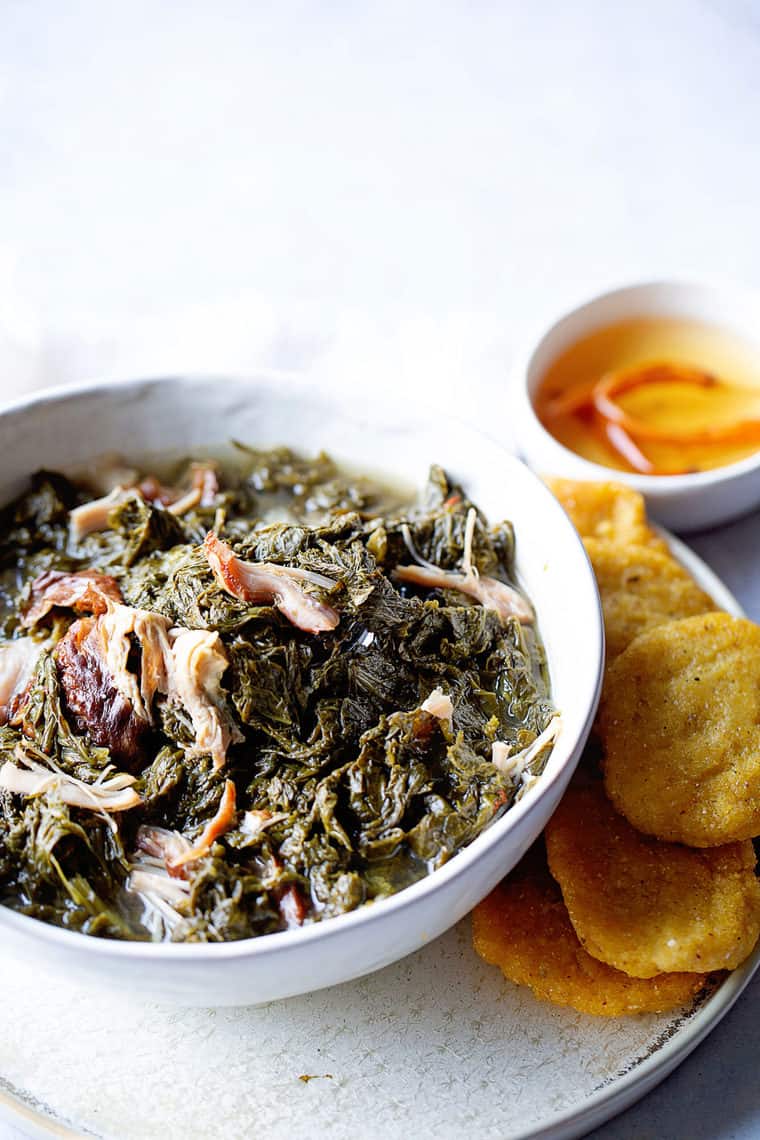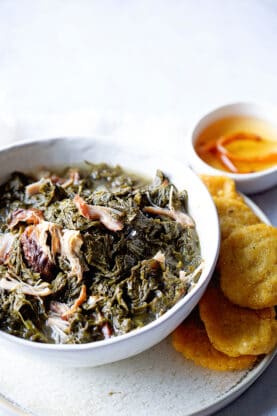 Substitute
If you don't have, or don't like, mustards I would likely replace it with an alternative leafy green like kale or chard. I know it might seem more obvious to use collard greens but the cooking process for the two are different and I wouldn't use them interchangeably.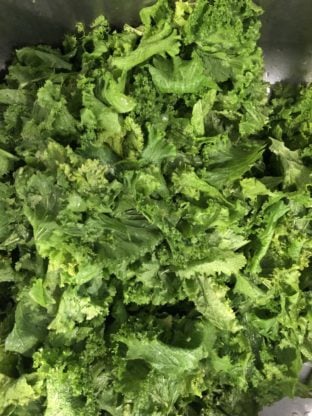 How To Clean Them
Mustard greens, like most other fruits or vegetables, should be thoroughly washed before use. This ensures that all the dirt, grit, and grime is long gone!
If you don't properly clean your greens, y'all are just asking for a gritty texture and a dirty aftertaste.
After they've been cleaned, prep your greens by tearing the leaves from the stems, rolling them up tightly, and horizontally cutting them once. You should be left with medium-sized strips.
Some folks do prefer to keep the stems because they contain extra nutrients. Personally, I just don't like the texture and I don't think they absorb the flavor well. The choice is up to you!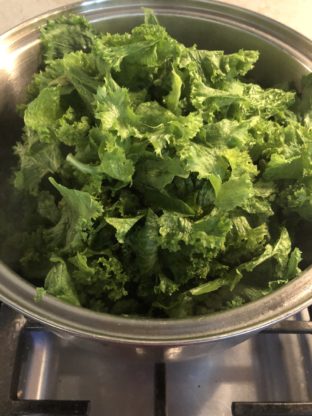 How To Cook Mustard Greens
Making mustard greens is a breeze y'all! In fact, most of the time spent on this recipe is hands-free!
All you have to do is:
Cook the Turkey
Add the turkey to a large pot along with enough water to fully submerge the turkey then cover with a lid. Cook over medium high heat until the turkey is just about tender which should take about forty-five minutes.
Add the Greens and Cook
Add both the greens and about 4 or 5 additional cups of water (or enough to just barely cover greens) to the pot. Cover and cook your greens for about an hour or until they are tender and flavorful. You will have most of the water evaporate leaving the pot likker.
Lastly, serve your greens and wait to see how long they'll last. Spoiler alert: it won't be long.
TIP: If you have a lot of water left, remove the lid and allow the greens to continue to cook until the excess water has cooked down level with the greens. Most of the water should be gone.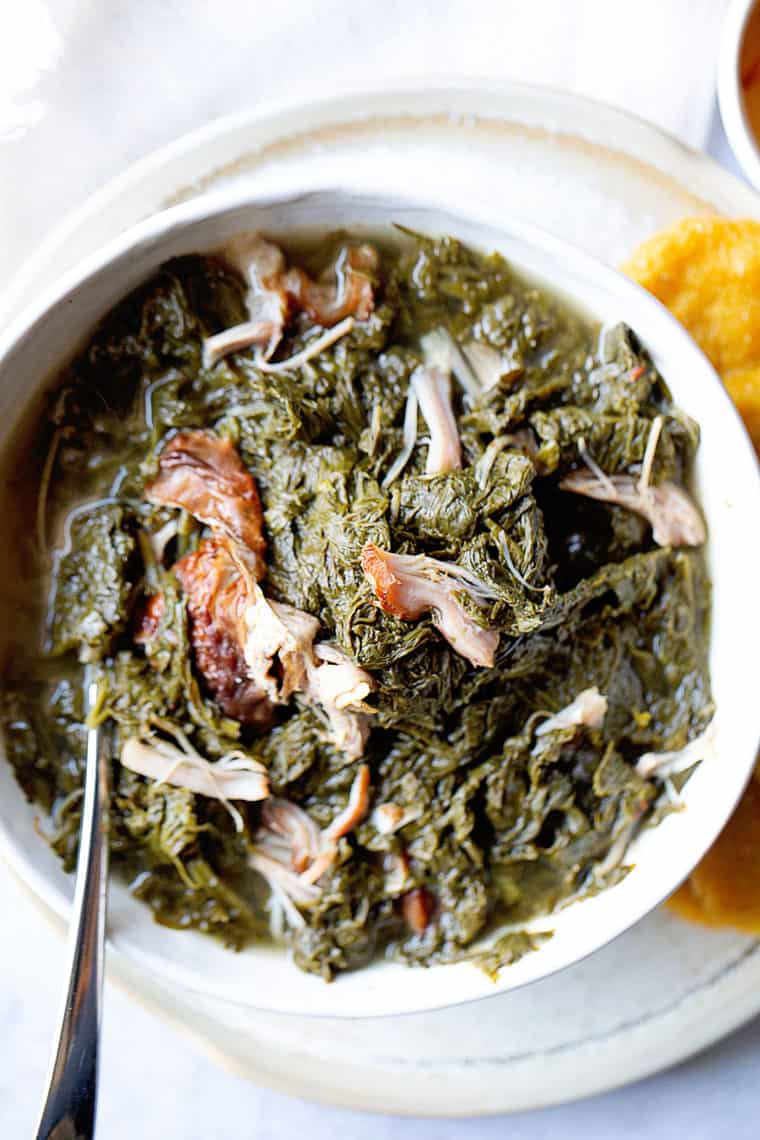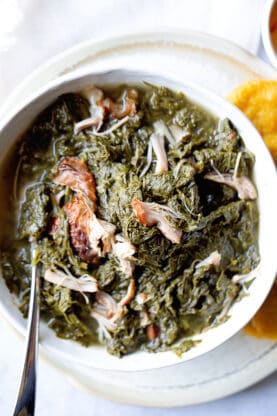 Smoked Turkey
When selecting your smoked turkey, you should really be able to smell that great smoked scent outside of the package. They should also be nice and meaty.
We personally use smoked turkey wings for our greens but you can use whatever you prefer. You can also substitute the smoked turkey for ham hock. We have also used Smoked Turkey Necks as well with great success. This is totally up to you and your preference!
How Long to Boil the Smoked Turkey
Smoked Turkey Wings should be boiled for at least an hour before adding the greens. You want the wings to be incredibly tender so they fall apart as you mix it all together.
WHAT TO SERVE WITH GREENS
Because Mustard Greens is truly a staple in Soul Food cuisine, you definitely want to pair it with Southern classics. Here are some amazing ones to consider!
Leftovers
Store cooked greens and their pot liquor (the delicious juice at the bottom of the pot) in the refrigerator for up to 3 days. You can also freeze the greens in a heavy duty plastic bag for up to 3 months. Be sure to leave a little air space in whatever storage container you choose.
Best Greens Recipes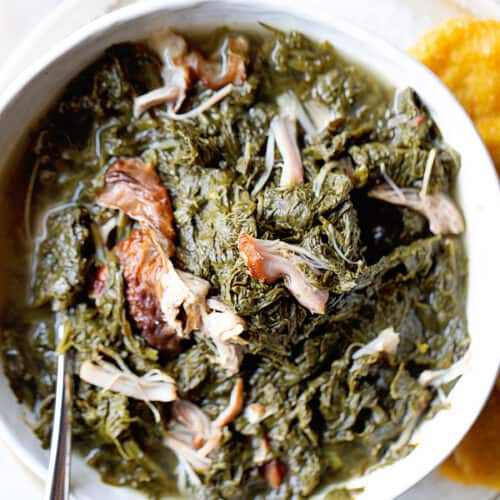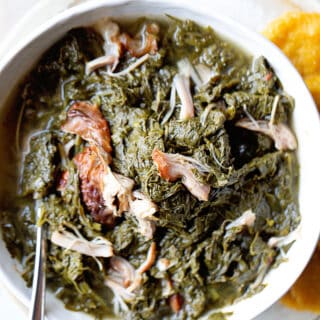 The BEST Southern Mustard Greens Recipe
These authentic Mustard Greens are slowly braised in a savory smoked turkey flavored pot liquor with a kick of spice until it becomes the soul food meal dreams are made of.
Print
Pin
Rate
Ingredients
5

medium bunches of mustard greens

about 3 lbs

1

extra large smoked turkey wing

3

tbsp

granulated sugar

2

tsp

seasoned salt

2

tsp

worcheshire sauce

2

tsp

apple cider vinegar

1

tsp

crushed red pepper flakes you can go down on this to 1/2 teaspoon if you like less heat.

1/4

tsp

garlic powder

1/4

tsp

paprika

1/4

cup

finely chopped onion
Instructions
Start by pulling and tearing greens away from stems. Take a hand full of greens, roll them up and cut the rolls horizontally once resulting in medium size pieces.

Next, add greens to empty clean sink and wash them removing all grit, sand and debris thoroughly with cold water until water becomes clear.

Next rinse the turkey very well then add to a large pot along with enough water to fully submerge the turkey then cover with a lid. Cook over medium high heat for about 45 minutes or until turkey is almost tender.

Once turkey is almost tender, add greens then add about 4 or 5 additional cups of water or enough to just barely cover greens to the pot. This will become your pot likker.

Add all ingredients to the pot and cook while covered for about an hour or until completely tender and excess water has cooked down level with the greens. Most of the water should be gone.
Notes
To pick wonderful greens at your local grocery store or farmer's market, be sure to pay close attention to the leaves. They shouldn't be too tough. You want to make sure that the leaves are easy to pull away from the stem and tear/cut later when preparing them to cook.
You can scale back the spice to 1/2 teaspoon if 1 teaspoon of red pepper flakes is too much.
You will need some liquid left for the pot likker but it shouldn't be way more water than what tops the greens. You should continue to cook down.
Nutrition
Calories:
64
kcal
|
Carbohydrates:
6
g
|
Protein:
4
g
|
Fat:
3
g
|
Saturated Fat:
1
g
|
Cholesterol:
15
mg
|
Sodium:
613
mg
|
Potassium:
76
mg
|
Fiber:
1
g
|
Sugar:
5
g
|
Vitamin A:
128
IU
|
Vitamin C:
1
mg
|
Calcium:
5
mg
|
Iron:
1
mg