If there's one thing that screams "summer celebration," it's a Strawberry Shortcake Trifle—individually served, of course, for that personal touch. Trust me, this is no ordinary trifle. It's a glorious marriage of homemade strawberry cake, luscious cream, and strawberry glaze, all layered to perfection. This heavenly concoction takes the essence of the classic shortcake and elevates it into a delight you'll want to dive spoon-first into.
Did I mention the strawberries? Oh, those ripe Driscoll's strawberries make all the difference. They're pureed into the cake batter and sliced for those tempting layers. Their natural sweetness pairs harmoniously with the richness of real whipped cream, creating an intimate dessert experience like no other. So go ahead, grab your individual trifle glasses, and make summer memorable, one spoonful at a time!
Ingredients To Make Single-Serve Strawberry Shortcake Trifles
Unsalted Butter: Key for a moist and flavorful cake. It also makes an appearance in the creamy whipped topping.
Canola or Vegetable Oil: This ensures that your cake stays soft and adds an extra layer of moisture.
Granulated Sugar: Sweetens up the cake batter and works in tandem with the strawberries for a balanced flavor profile.
Fresh Driscoll's Strawberries: Pureed for the cake and sliced for the layers, these strawberries are the star of the show.
Strawberry Gelatin Powder: Adds both color and flavor to your cake, enhancing the natural strawberry notes.
All-Purpose Flour: The structural backbone of your cake, because every cake needs a good foundation.
Sour Cream: Adds richness and a slight tanginess to your cake, making the crumb incredibly tender.
Vanilla Extract: For that background note of aromatic sweetness that complements the fruity flavors so well.
Whipped Cream Topping: Light and fluffy, it contrasts beautifully with the denser cake layers.
Strawberry Glaze: This can be store-bought or homemade, but it's crucial for adding that extra layer of strawberry goodness.
How to Make Individual Strawberry Shortcake Trifles
Prepare Cake Batter and Oven
Start by creaming together butter, oil, and sugar in a large mixing bowl. Get your oven preheated and your cake pans prepped. The butter forms the rich base, while the strawberry puree and gelatin add vibrant flavor.
Assemble and Bake the Cake
Next, gradually incorporate your dry ingredients into the wet mix. Don't forget the sour cream and vanilla extract for added richness and flavor. Pour this batter into your cake pans and bake until a toothpick comes out clean. Once the cakes are cooled, cut them into small squares to fit into individual serving glasses.
Layer Your Trifle
Begin layering by placing cake squares at the bottom of each glass. On top of the cake, add a layer of whipped cream, followed by a dollop of strawberry glaze. Now add a layer of fresh strawberry slices for a burst of natural sweetness.
Repeat and Garnish
Continue layering these components until your individual glasses are filled. Finish off with a generous dollop of whipped cream and garnish with a fresh strawberry slice. Now you've got a layered masterpiece ready to delight your taste buds.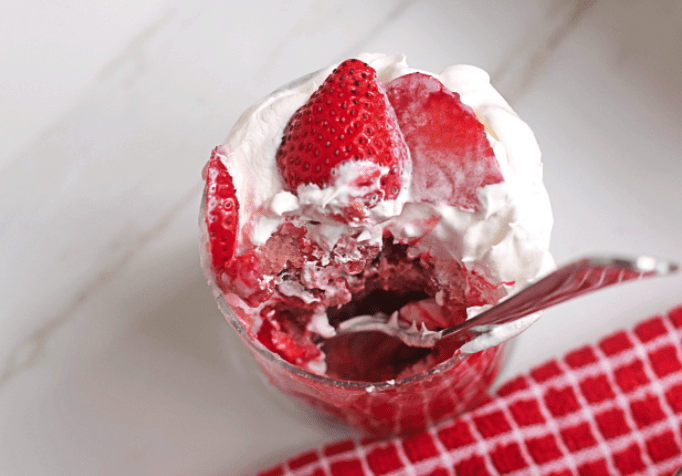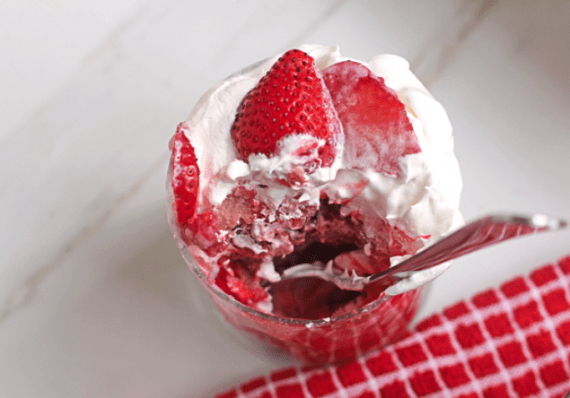 Tips for Making the Best Strawberry Shortcake Trifles
Choose Fresh, Ripe Strawberries: The quality of your strawberries can make or break this dessert. Opt for ripe, juicy berries for the best natural sweetness and flavor.
Don't Overmix the Cake Batter: Overmixing can make the cake dense rather than light and fluffy. Mix just until the dry ingredients are incorporated into the wet ones.
Layer with Care: The art of layering is key in a trifle. Make sure each layer is evenly distributed for a beautiful presentation and a well-balanced bite.
Chill Before Serving: Letting the trifle sit for a bit allows the flavors to meld together, giving you a dessert that's greater than the sum of its parts.
Use Real Whipped Cream: Opt for real whipped cream over the synthetic varieties for a richer taste and texture.
Personalize Your Glaze: If you're feeling adventurous, consider making your own strawberry glaze instead of using a store-bought version. It's an extra step that can really elevate the dish.
Frequently Asked Questions
Can I make this trifle in advance? Yes, you can prepare the cake and strawberry layers a day in advance. However, it's best to add the whipped cream shortly before serving to keep it fresh and fluffy.
Can I use frozen strawberries? While fresh strawberries are ideal, frozen can work in a pinch. Just make sure to thaw and drain them well to prevent excess moisture from making the trifle soggy.
Is there a substitute for sour cream? If you don't have sour cream, you can use plain Greek yogurt as a substitute. It will still give you a creamy texture but with a slightly different tang.
What can I use instead of strawberry gelatin powder? If you'd prefer not to use strawberry gelatin, you can replace it with a tablespoon of strawberry extract to keep that berry flavor.
How do I know when the cake is done? Insert a toothpick into the middle of the cake layer. If it comes out clean or with a few crumbs, it's done. If it's wet, give it a few more minutes.
Why is my whipped cream deflating? Whipped cream can deflate if over-whipped or if exposed to warm temperatures for an extended period. Always use chilled cream and watch closely during the whipping process.
Can I use store-bought cake? Absolutely! If you're short on time, a store-bought sponge or angel food cake can be a good substitute. Just make sure it complements the strawberry and cream flavors.
Ingredients
2

sticks

unsalted butter

at room temperature

1/4

cup

canola or vegetable oil

1 3/4

cups

granulated sugar

3

large

eggs

2

cups

fresh Driscoll's strawberries pureed

I used my food processor to perfectly grind them

2

tablespoons

strawberry gelatin powder

3

cups

all-purpose flour

1

teaspoon

baking powder

1/4

teaspoon

salt

1

teaspoon

baking soda

3/4

cup

sour cream

1

tablespoon

pure vanilla extract

1

container real whipped cream topping

1

container store bought strawberry glaze or check out my recipe here for homemade glaze

2

cups

fresh Driscoll's strawberries

sliced
Instructions
For the Cake:
Preheat oven to 350 degrees.

In a mixing bowl, combine butter, oil and sugar and beat on medium high speed until nice and fluffy, about 5 minutes.

Add eggs, one at a time and beat until incorporated.

Next add strawberry puree and gelatin powder and slow mix into batter.

In a separate medium sized bowl, sift together all-purpose flour, baking powder, salt and baking soda.

Slowly add half of the flour mixture to the mixing bowl and mix on low until combined.

Then add sour cream and combine on low.

Pour in the remaining flour mixture and mix on low until well incorporated.

Lastly, add vanilla extract and mix until entire batter is smooth (just be careful not to overmix the batter).

Evenly pour strawberry cake batter into two 9" round cake pans sprayed with nonstick baking spray. Bake in oven for 25-35 minutes or until a toothpick inserted in the center comes out clean.

Remove from oven and cool in pans for 10 minutes then transfer to cooling racks.

Once cake layers are cool, cut the cake into small squares.

To assemble the mini trifles, place small squares of cake into the bottom of glasses, then layer with whipped cream topping.

Next add a tablespoon of strawberry glaze and follow up with fresh strawberry slices.

Repeat steps until glass is full.

Add whipped cream to the top of glasses and garnish with fresh strawberries.

Cake recipe adapted from Paula Deen's Strawberry Cupcakes recipe
Nutrition
Calories:
704
kcal
|
Carbohydrates:
87
g
|
Protein:
8
g
|
Fat:
36
g
|
Saturated Fat:
23
g
|
Cholesterol:
141
mg
|
Sodium:
267
mg
|
Potassium:
273
mg
|
Fiber:
2
g
|
Sugar:
49
g
|
Vitamin A:
940
IU
|
Vitamin C:
42.6
mg
|
Calcium:
81
mg
|
Iron:
2.9
mg