I'm so excited to share with y'all a recipe that's near and dear to my heart – a classic, ultra-creamy Velveeta Mac and Cheese! There's just something about the combination of that gooey Velveeta cheese and tender elbow pasta that takes me straight back to the comforting meals of childhood. It's simple, it's buttery, and it's absolutely delicious!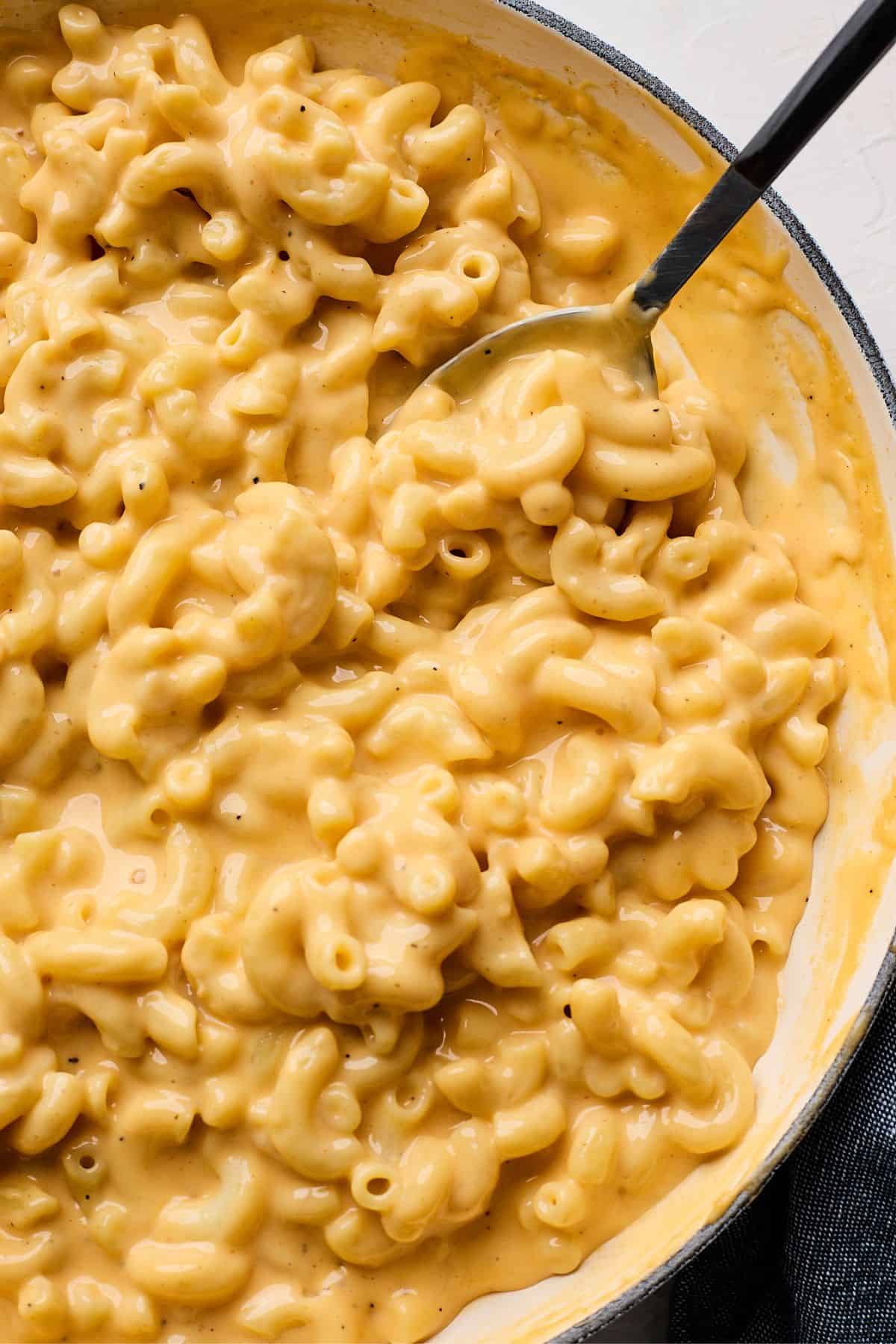 This Velveeta Mac and Cheese recipe has got all the creamy, cheesy goodness of the boxed stuff we all remember, but without the bright yellow powdered cheese and the mushy pasta. I'm talking creamy cheese, perfectly cooked pasta, and a handful of spices to elevate the flavor to something truly special. As a self-proclaimed mac n' cheese connoisseur, I can confidently say that this velveeta mac and cheese will become one of your fave macs.
Now, don't get me wrong, I'm all for experimenting with fancy ingredients and unique twists on classic recipes. I mean, who can say no to a decadent serving of mac and cheese with nutty Gruyère and tender lobster? Certainly not me! But sometimes, just sometimes, there are days when I craaave the simplicity and nostalgia of the super creamy mac and cheese I grew up with.
Why you'll love this creamy velveeta mac and cheese
Quick and Easy Prep: With minimal prep and simple steps, you can have a pot of the creamiest, dreamiest Velveeta Mac and Cheese ready in less than 26 minutes. It's straightforward, fuss-free, and just waiting to become your new go-to recipe for busy nights!
Layers of Flavor: Don't let the simplicity fool you! From the creamy Velveeta to the zing of cheddar, the aromatic garlic and onion powders, to the subtle warmth of smoked paprika – every bite of this mac is packed with layers of flavor.
Versatility at Its Best: Want to throw everything in a crockpot and let it do its magic? Go right ahead! Prefer to bake it until it's bubbling and golden on top? You absolutely can! This recipe is ready to adapt to whatever cooking method you prefer.
Perfect as a Main or Side: This creamy velveeta mac and cheese is rich and fulfilling enough to stand alone as a meal but also plays well with others as a side, next to your favorite juicy meats (hello, Tanksgiving turkey!) or veggies.
Guaranteed Crowd-Pleaser: Let's be honest, is there really anyone out there who can resist the deliciousness of a good mac? Kids love it, adults crave it, and it's always one of the first dishes to disappear at any gathering.
Ingredients to make velveeta mac and cheese
Elbow Pasta: The classic choice for mac and cheese! Elbow pasta holds perfectly onto all the cheesy goodness, ensuring you get a perfect bite every time.
Whole Milk: This is the base of our creamy sauce, adding richness and smoothness to the dish. Whole milk works wonders with cheese, it ensures that every spoonful of the sauce is as luscious and velvety as can be.
Kosher Salt: Just a pinch to bring out all the flavors.
Black Pepper: A bit of spice is always nice! Black pepper adds a subtle warmth and a gentle kick.
Garlic Powder: This is where we start building those layers of flavor. Garlic powder adds a savory and aromatic touch that complements the cheese beautifully.
Onion Powder: Like garlic powder, onion powder contributes to the savory profile of the dish.
Smoked Paprika: This is my secret weapon! A touch of smoked paprika adds a smoky, slightly spicy layer of flavor to this homemade velveeta mac and cheese.
Velveeta: Every time I cook with Velveeta, I remember why I loved it so much as a child. It melts like a dream, creating a smooth, velvety sauce that coats the pasta perfectly. It's the key to that classic, nostalgic mac and cheese flavor we all know and love.
Shredded Cheddar: For an extra boost of cheesy goodness! It brings a sharp, tangy flavor that balances out the Velveeta.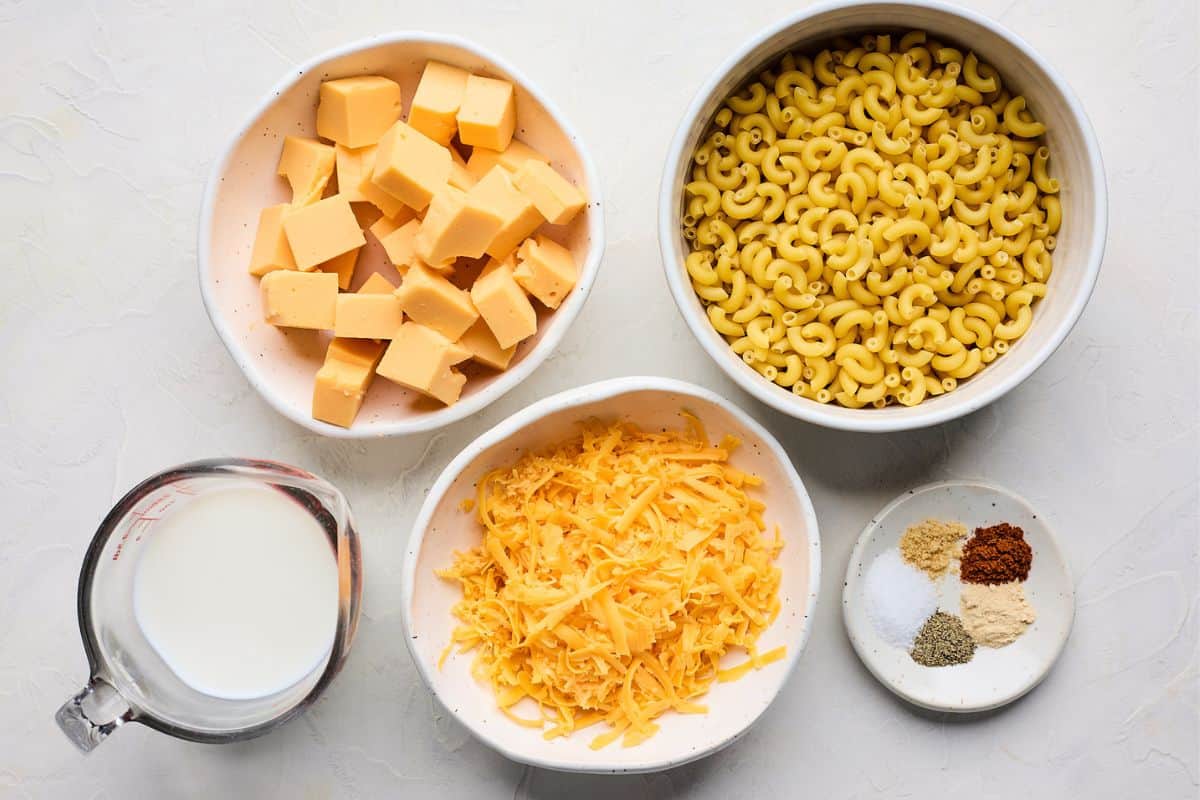 How to make velveeta mac and cheese
Cook pasta in well-salted water.
Drain and set aside.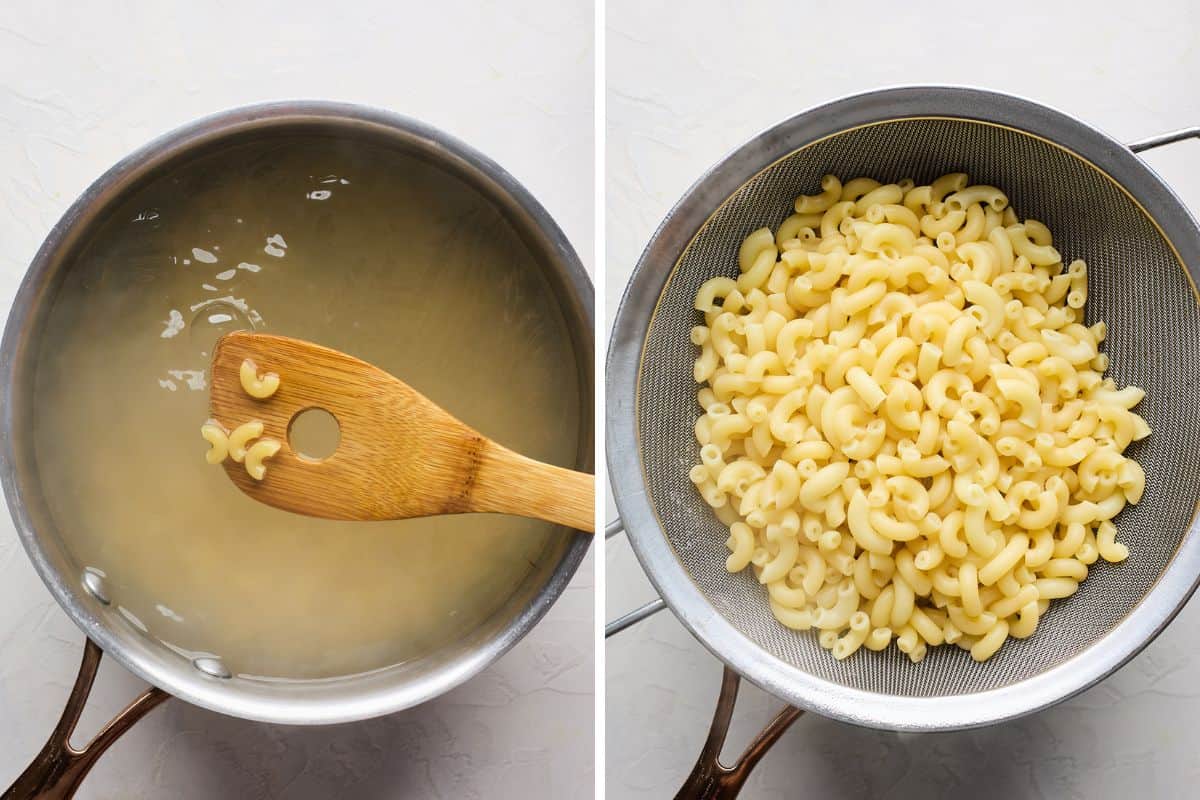 In a saucepan, add milk.
Then, add salt, pepper, garlic and onion powders, and smoked paprika. Heat until hot.
Add in Velveeta and shredded cheddar.
Whisk together until smooth and creamy.
Remove from heat and add cooked pasta.
Fold in the pasta until it is completely covered with the cheese sauce.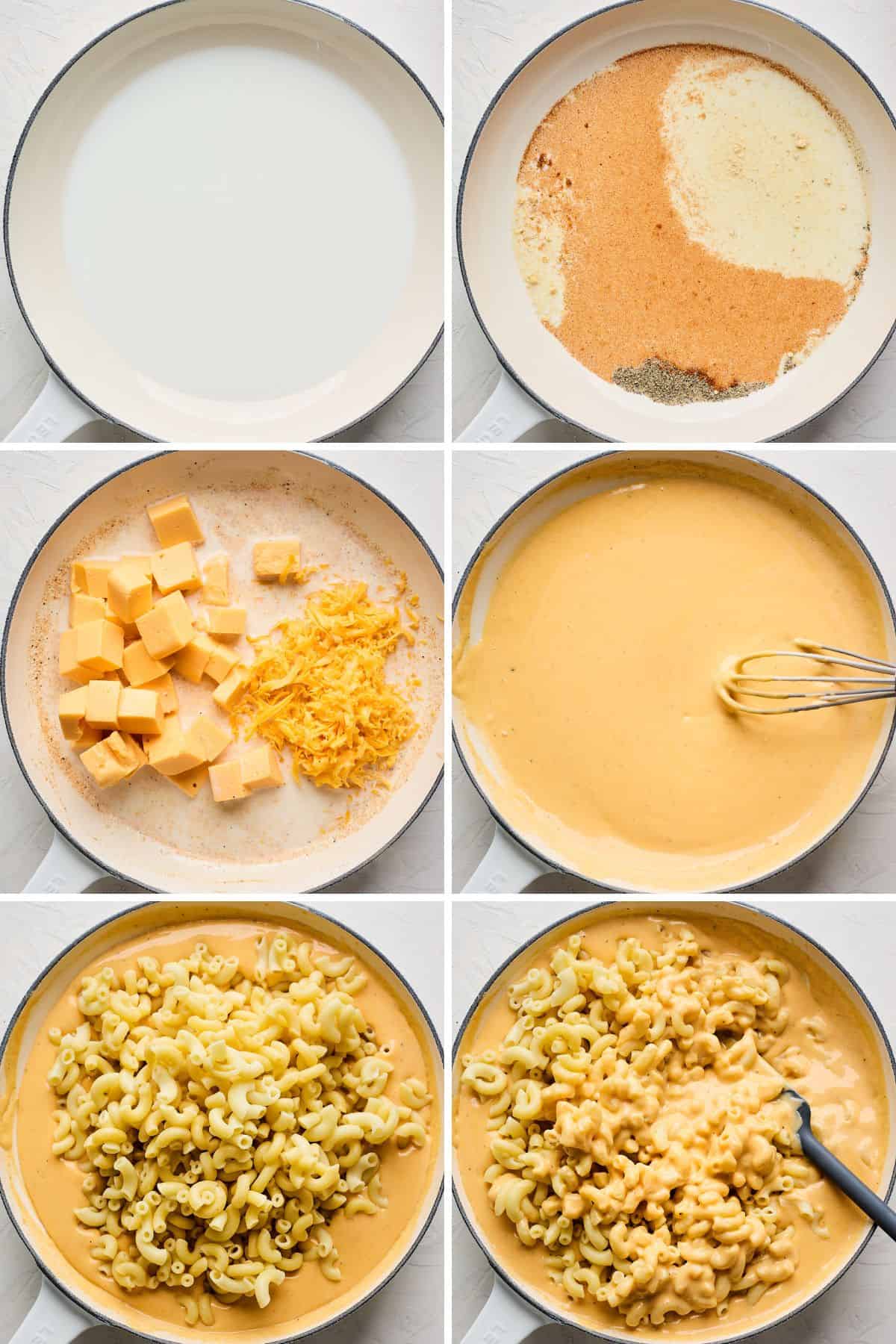 Tips for making the best homemade velveeta mac and cheese
Avoid the Boil: Keep a close eye on your milk and spices mixture. You want it hot enough to melt the cheese but bring it to a boil, and you might end up with a lumpy sauce. A gentle simmer is all you need!
Don't Overcook the Pasta: Since we're combining the cooked pasta with the hot cheese sauce, aim for al dente when boiling your pasta. The warm sauce will continue to cook the pasta, so boiling it al dente prevents it from ending up mushy.
Add Sugar to the Water: This might sound weird, but adding just a pinch of sugar to your pasta boiling water can enhance the pasta's natural flavors. Trust me, it makes a difference!
Grate Your Own Cheddar: While it might be tempting to grab a bag of pre-shredded cheese (we all love a shortcut!), grating your own cheddar ensures a smoother melt. Pre-shredded cheeses often have anti-caking agents that can mess with the meltiness.
Substitutions & additions
Add Some Protein: How about you beef this velveeta mac and cheese up a bit? Tossing in some diced ham, crispy bacon, or juicy cooked sausages can really take things to the next level.
Fold in Veggies: I know for some adding veggies to mac and cheese is a crime, but stick with me. A handful of steamed broccoli or some sautéed spinach can add a lovely pop of color and a boost of nutrients, making this comfort food feel a tad bit healthier. And honestly, it tastes pretty darn good too!
Try Different Cheeses: Cheddar and Velveeta are a classic pairing, but you can play around with some other cheeses too. Parmesan, Gouda, or Monterey Jack can make this dish even more irresistible.
Add a Kick with Hot Sauce: For my spice lovers out there, a dash or two of hot sauce can really liven things up. Just remember, a little goes a long way, so start small and work your way up to your perfect level of spiciness.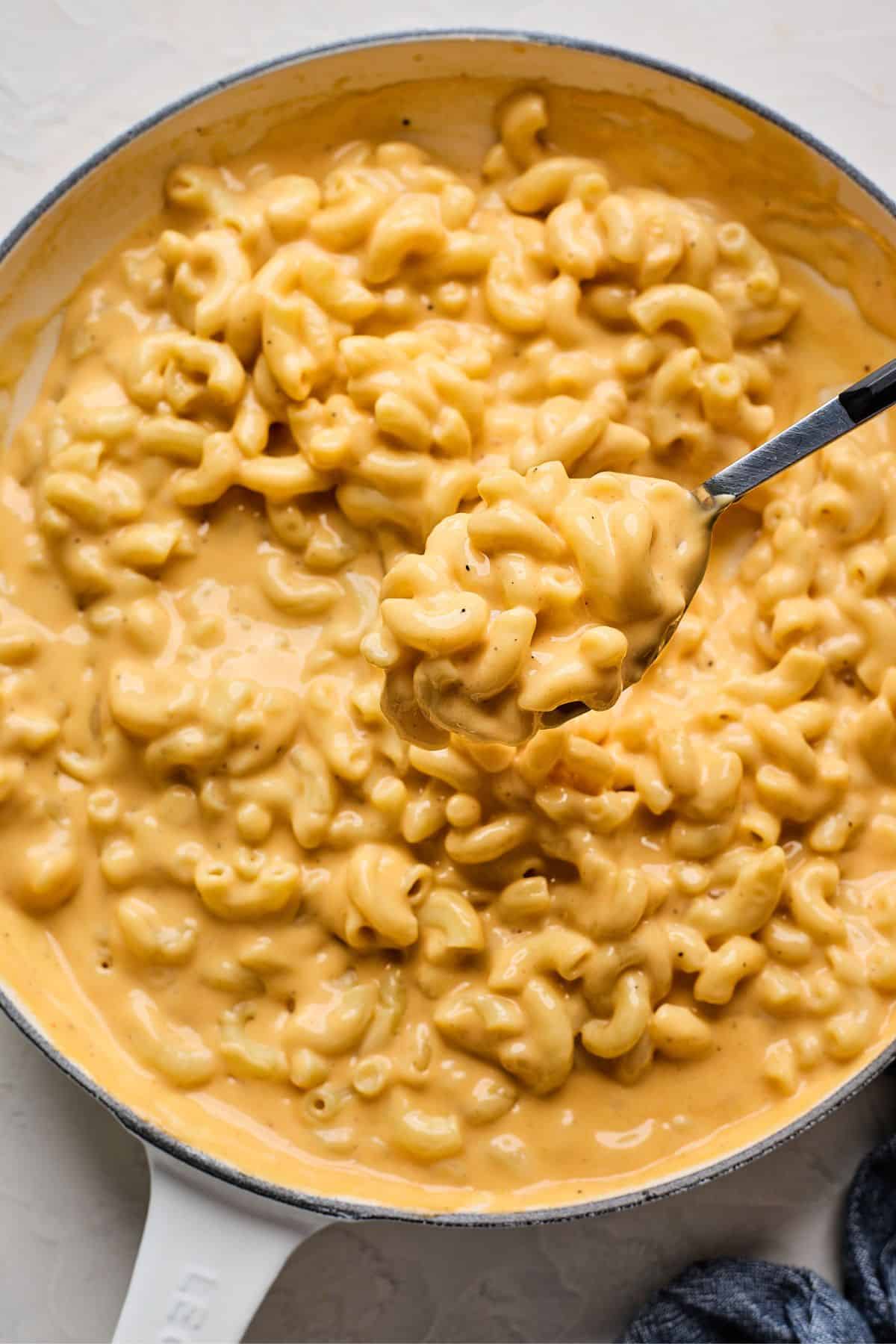 What to serve with super creamy mac and cheese
How to store & reheat velveeta mac and cheese
Storing this luscious Velveeta Mac and Cheese is as easy as pie! To keep it fresh, pop any leftovers into an airtight container and place it in the fridge.
When you're ready for round two, simply scoop out your desired portion and reheat it in the microwave using 30-second intervals, giving it a good stir in between until it's nice and hot. If you find it's too thick, don't fret – just splash in a bit of milk and it'll be back to its creamy glory in no time!
How long will velveeta mac and cheese last in the fridge?
Your mac will stay good and tasty in the fridge for about 3 to 5 days. But, let's be real, with something this delicious in the fridge, the leftovers might not make it that long!
Can I freeze this stovetop velveeta mac and cheese recipe?
You can totally freeze your homemade velveeta mac and cheese! Just place it in a freezer-safe, airtight container or a freezer bag. It'll stay good for about 2 months. Just remember, the texture might change due to the freezing process, but it'll still taste great!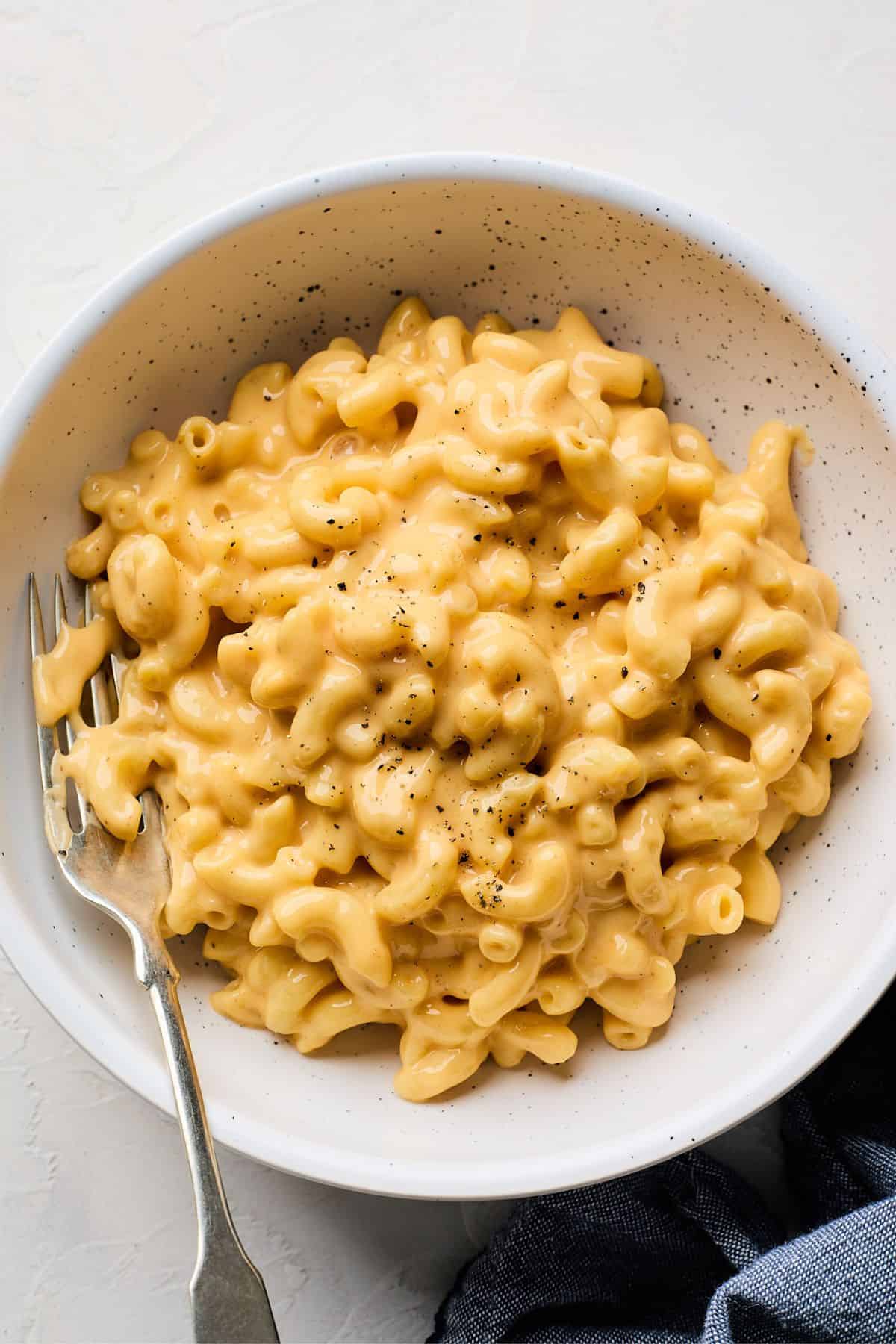 Frequently asked questions
Can I use a different type of pasta instead of elbow macaroni?
Absolutely! Feel free to switch it up with shells, penne, or any other pasta you have on hand. Just keep an eye on the cooking time, as different types of pasta might need a little more or less boiling time.
My cheese sauce turned out a bit too thick. How can I fix it?
If your cheese sauce is thicker than you'd like, simply stir in a tablespoon of milk at a time until you reach your desired consistency. And remember, keep the heat low and stir continuously to ensure a smooth and creamy sauce.
Is Velveta real cheese?
Velveeta is actually classified as a "processed cheese product." While it does start with real cheese, it's melted down and combined with other ingredients like milk proteins and emulsifiers, resulting in its signature smooth and creamy texture. So while it's not considered "real" cheese in the traditional sense, it does taste like cheese!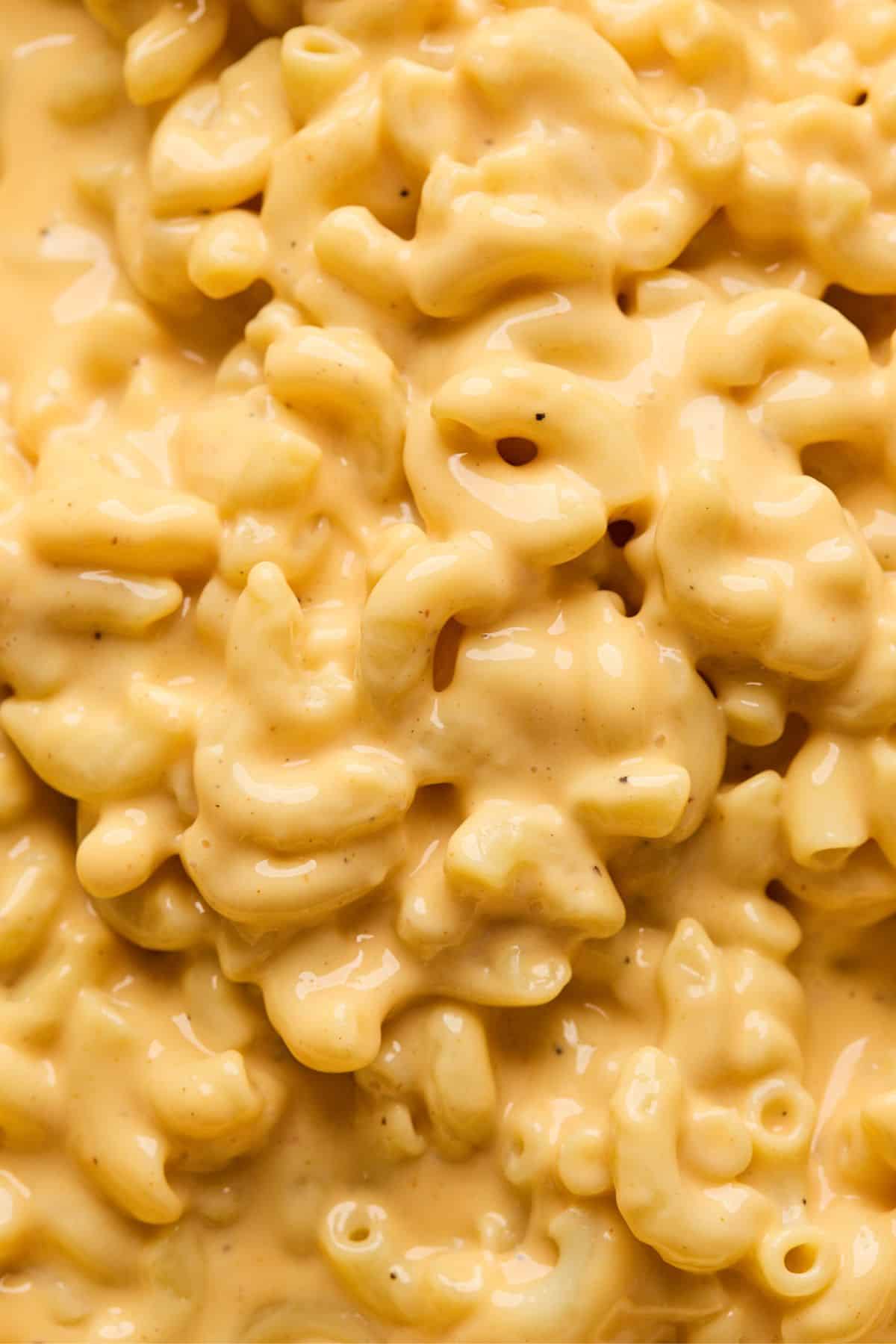 If you're craving something cheesy, gooey, and oh-so-delicious, this Velveeta Mac and Cheese is the answer! The best part? It's incredibly easy to whip up, making it perfect for busy weeknights, last-minute dinners, or anytime you need a little comfort food in your life. So grab your favorite pot and a box of elbow pasta, and dive into the creamy goodness of mac!
More Mac And Cheese Recipes
*Did you make this recipe? Please give it a star rating and leave comments below!* Post a photo of how your version of the recipe came out on Instagram (using #grandbabycakes)!!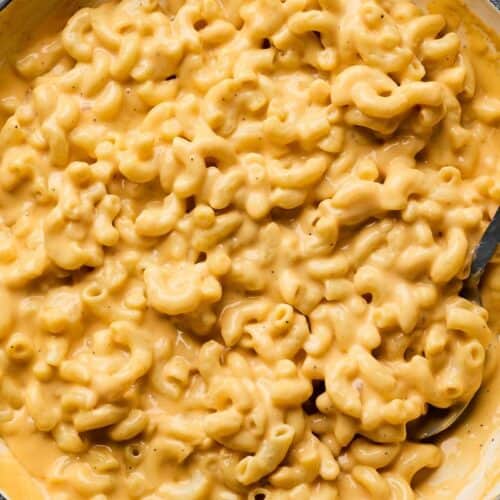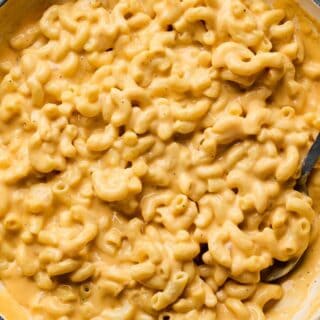 Velveeta Mac & Cheese
This Velveeta Mac and Cheese is creamy, gooey and perfectly delicious with tender elbow pasta.
Print
Pin
Rate
Ingredients
8

ounces

elbow pasta

¾

cup

whole milk

½

teaspoon

kosher salt

¼

teaspoon

black pepper

½

teaspoon

garlic powder

¼

teaspoon

onion powder

¼

teaspoon

smoked paprika

8

ounces

Velveeta

cubed

1

cup

cheddar

shredded
Instructions
Cook pasta in well-salted water. Drain. Set aside.

In a large saucepan over medium heat, add milk, salt, pepper, garlic and onion powders, and smoked paprika. Heat until hot, but not boiling.

Add in Velveeta and shredded cheddar. Whisk together until smooth and creamy.

Remove from heat and stir in cooked pasta. Enjoy immediately.
Notes
Packaged, pre-shredded cheeses are coated with a substance that helps the cheese not stick together, however when melted, it leaves a gritty mouthfeel. For the creamiest, smoothest mac and cheese, grate your own cheddar. For easier grating, pop the cheddar block in the freezer for 10 minutes.
Nutrition
Calories:
321
kcal
|
Carbohydrates:
35
g
|
Protein:
18
g
|
Fat:
12
g
|
Saturated Fat:
7
g
|
Polyunsaturated Fat:
0.5
g
|
Monounsaturated Fat:
2
g
|
Cholesterol:
38
mg
|
Sodium:
931
mg
|
Potassium:
282
mg
|
Fiber:
1
g
|
Sugar:
6
g
|
Vitamin A:
651
IU
|
Vitamin C:
0.1
mg
|
Calcium:
397
mg
|
Iron:
1
mg