Classic Yellow Cake Recipe with Chocolate Frosting. This yellow cake is a gem, so moist and buttery, and the chocolate frosting is whipped to perfection!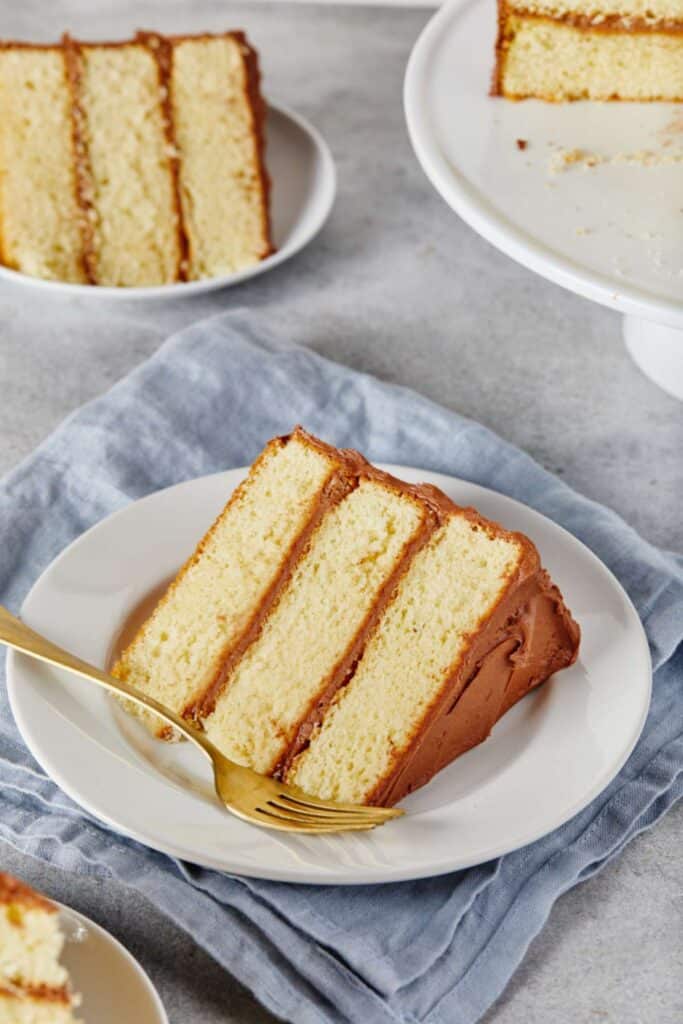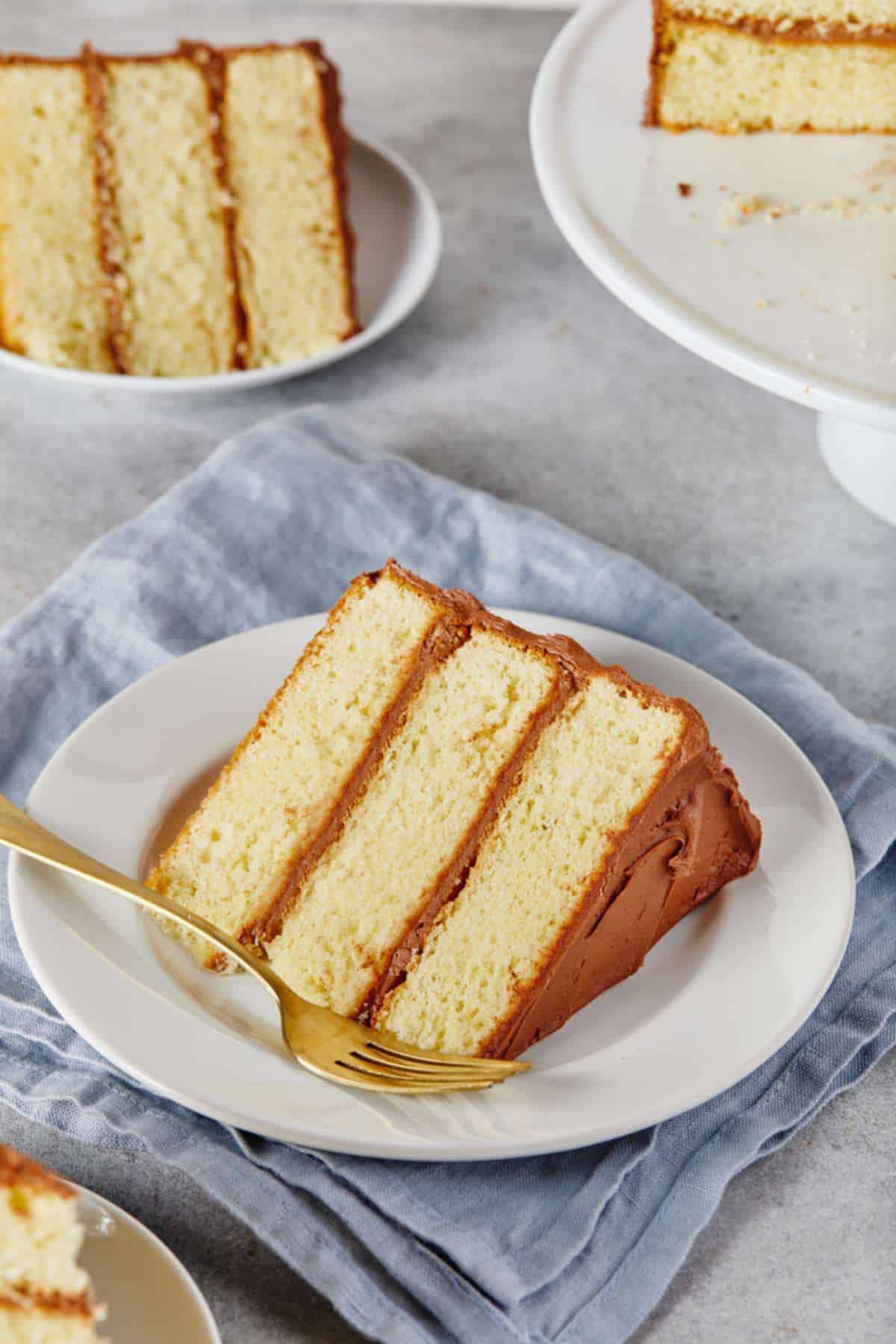 Find my UPDATED YELLOW CAKE RECIPE WITH CHOCOLATE FROSTING IN MY NEW COOKBOOK GRANDBABY CAKES!
I've been told I'm high maintenance. This yellow cake recipe with chocolate frosting was created to prove that notion dead wrong. I'm a simple gal with simple wants and needs. Do I love shopping for new clothes and shoes? Sure! What girl doesn't. Do I sometimes have a tendency to order the most expensive thing on the menu? Yep, but it really is because I enjoy quality food. It has nothing to do with pricing.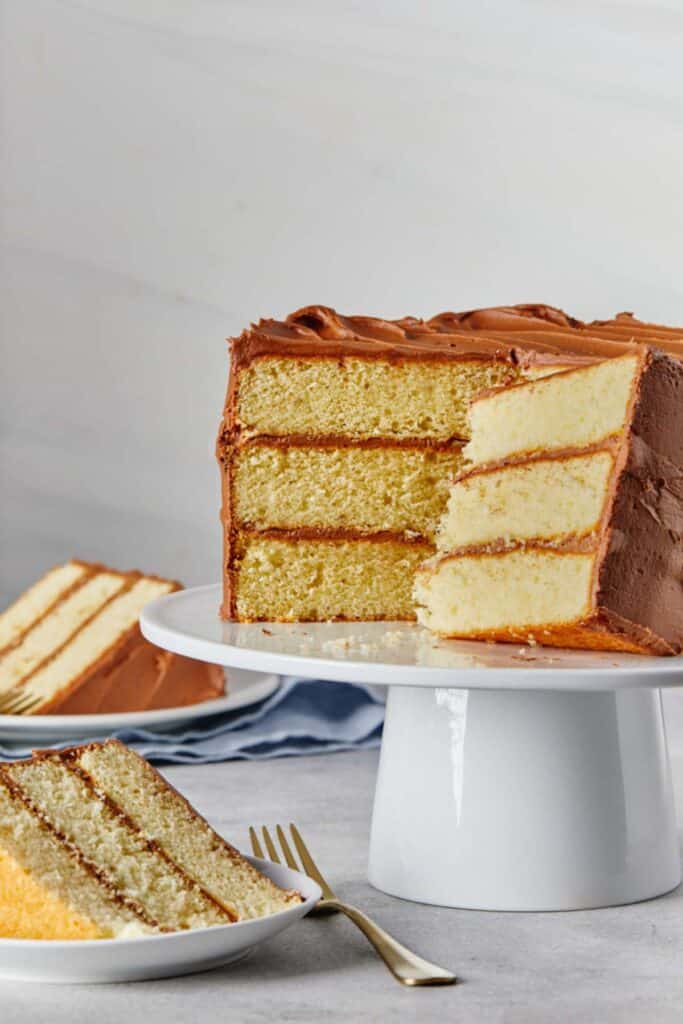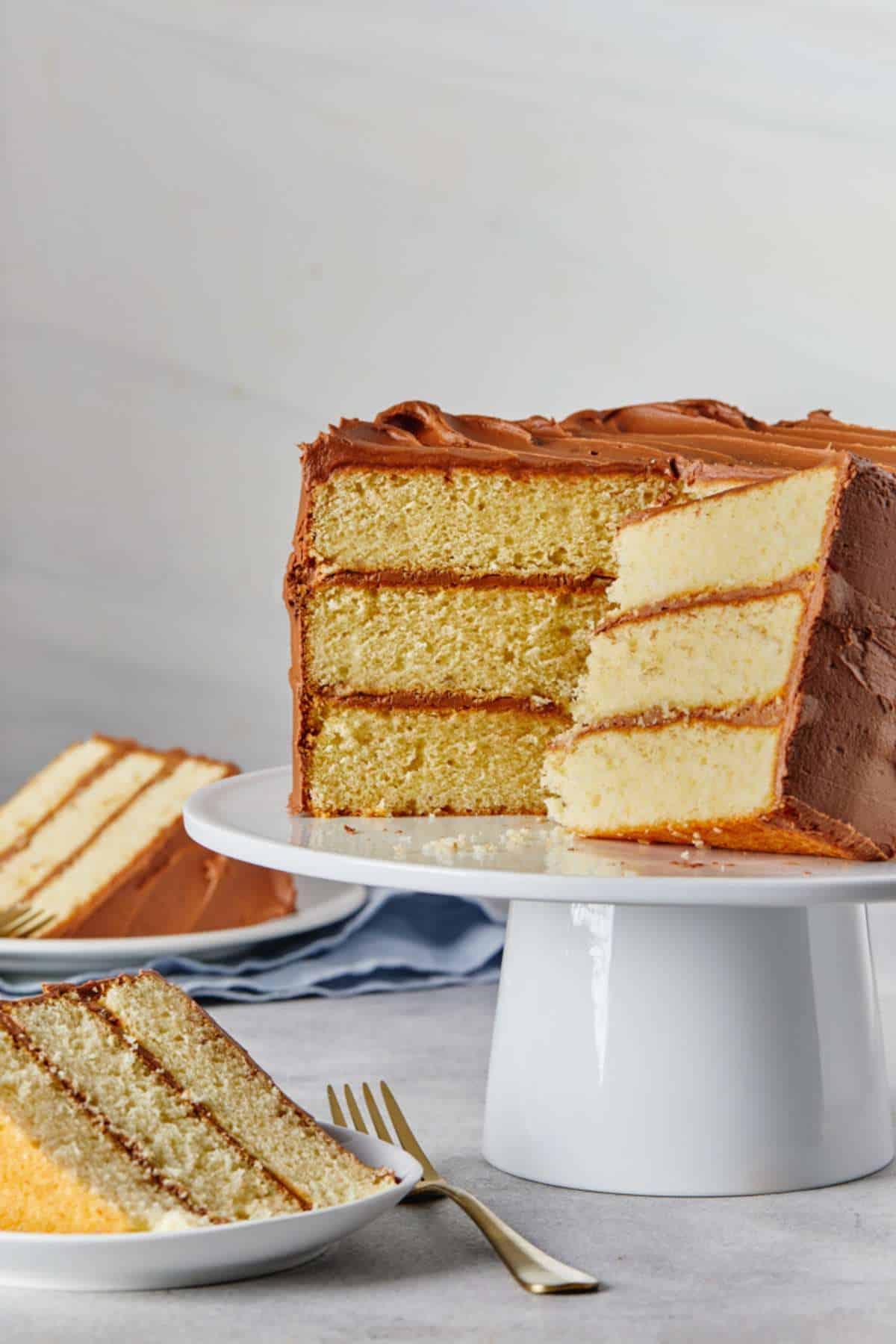 I may be guilty of enjoying lovely (yet high maintenance) things from time to time but I love classic and easy going things as well, like this cake. This yellow cake recipe with chocolate frosting is a traditional plain jane cake that I grew up on but adore. I need no other cake in the world. This satisfies me each and every time.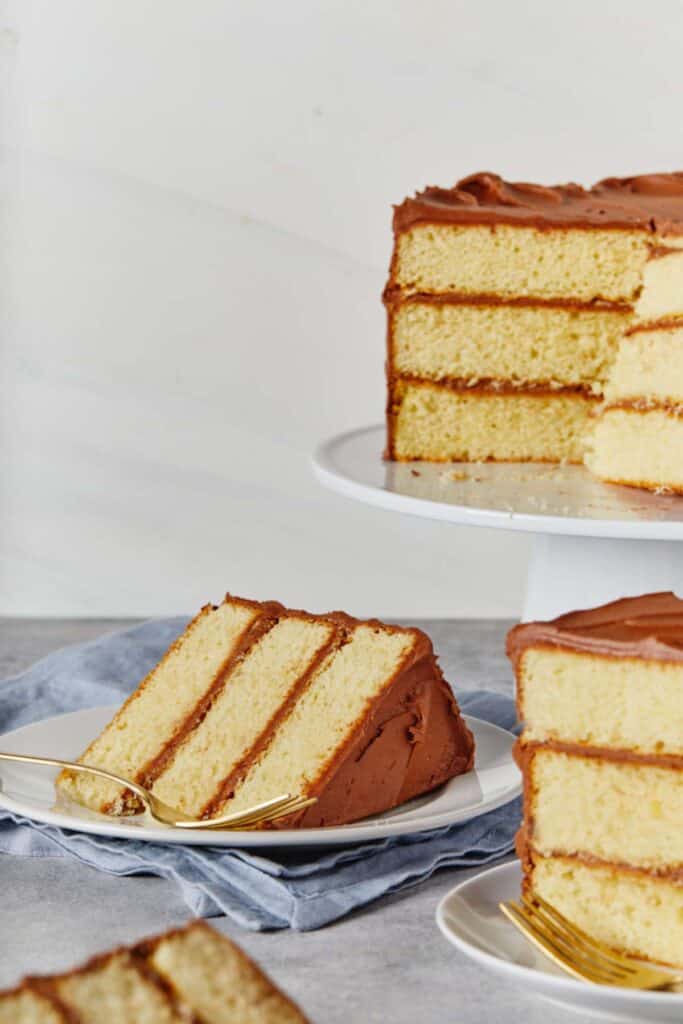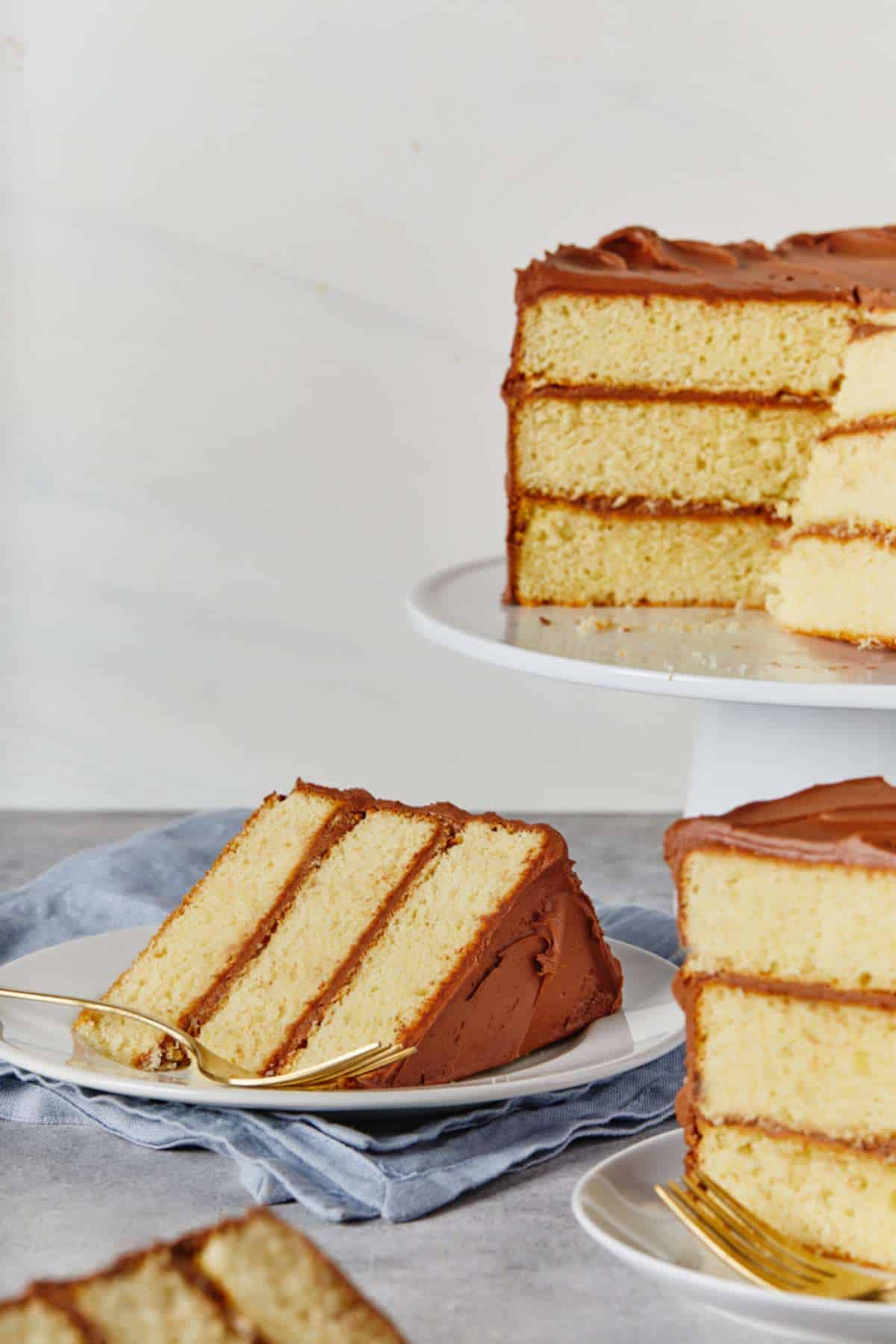 What makes this cake so special is its traditional flavors and staying power. This is indeed a classic in every possible way. If I ever had homemade cake on my birthday, it was a yellow cake with chocolate frosting. This rendition does my memory good.
The yellow cake recipe yields a simple yet delicious yellow cake which is moist and flavorful with the richness of fresh butter and vanilla. It is the perfect sponge for a fluffy yet smooth chocolate buttercream or chocolate frosting or chocolate icing, whichever you like saying. While there are tons of classic yellow cake recipes with chocolate frosting recipes out there (most starting with a box mix), this one brings home that nostalgic flavor you remember with the payoffs only scratch can sometimes give.

Yellow Cake with Chocolate Frosting
Author:
Jocelyn Delk Adams of Grandbaby-Cakes.com
Ingredients
For the Cake:
2 sticks unsalted butter, room temperature
⅓ cup vegetable oil
1 teaspoon salt
2½ cups granulated sugar
7 large eggs, room temperature
3 cups cake flour
½ teaspoon baking powder
½ teaspoon baking soda
1 cup sour cream, room temperature
1 tablespoon pure vanilla extract
1 teaspoon butter extract
For the Frosting:
2 sticks unsalted butter, room temperature
4 cups confectioner's sugar
½ cup cocoa powder
1 tablespoon pure vanilla extract
3 tablespoons heavy whipping cream
2 tablespoons vanilla extract
Instructions
For the Cake:
Preheat the oven to 350 degrees.
Prepare 3 9" round baking pans with non-stick baking spray and put aside.
In the bowl of your mixer, beat butter, vegetable oil, salt and sugar on high until fluffy and smooth (about 5 minutes).
Next, add eggs one at a time to the bowl and beat on medium until well incorporated.
In a separate large bowl, sift cake flour, baking powder and baking soda together.
Turn the mixer to low and add half of flour mixture to the mixer and fully incorporate.
Next add sour cream to mixer and blend well and lastly finish with remaining flour mixture and mix well.
Finally add vanilla extract and butter extract to mixer and finish beating on low until everything is well mixed.
Make sure to scrap the bottom of the bowl as well.
Evenly add cake mixture into prepared baking pans and place in oven to bake for 25-30 minutes or until a toothpick inserted into the center of the cake comes out clean but don't overbake (crucial not to overbake this cake)!!
Remove cakes and oven and rest in pans for 10 minutes.
Next remove layers from pans and place on cooling racks for one hour.
Wrap each layer in plastic wrap and place in the freezer for 1 hour to make it easier to work with when assembling the cake.
For the Frosting
Add butter, confectioner's sugar and cocoa powder to bowl of mixer and mix on high speed until smooth.
Lastly add in heavy whipping cream and vanilla extract until frosting is fluffy and smooth.
Frost each layer of cake with frosting then frost the end.