My Big Mama's (my grandmother's) recipes are the epitome of timeless. While growing up, I would watch in awe as she cooked in her small rustic kitchen in Mississippi. From the prep work of dicing and slicing to her impressive dinner table display, there was always such an electric energy pulsing in that space that transferred to everyone around it. The charming Southern cooking and laughter from our "back in the day" conversations with my grandparents, parents, aunts and uncles are the memories I cherish.
Each dish on Big Mama's dining room table has inspired creativity in my own culinary experiments. Each memory has become part of the fabric of who I am and served as the catalyst for starting Grandbaby Cakes. Big Mama's remarkably inspired recipes remain alive today through this blog and I'm more than proud to have every one of them in my arsenal.
One of her best recipes is this Classic Fried Chicken! Whenever we visited my grandparents down South, this chicken ended up on the dinner table. It was always a fresh bird, well- seasoned with a juicy inside and golden brown crunchy crust on the outside. Absolutely perfect.
THE ORIGIN OF BIG MAMA'S FRIED CHICKEN RECIPE
The "back in the day" story of Big Mama's fried chicken is quite fetching. According to my mom, Big Mama fried chicken at least once a week when she was growing up. She would buy live chickens from her neighbor Ms. Barnett's hatchery, then load the chicken crates into the back of Big Daddy's pickup truck. My mom would shudder as the chicken crates were unloaded at home because she knew the inevitable was coming for these poor chickens.
Big Mama would wring the chickens' necks, then drop them in scalding water so she could then pluck all of their feathers. By the time Big Daddy got home from work, fresh fried chicken was on the table for supper!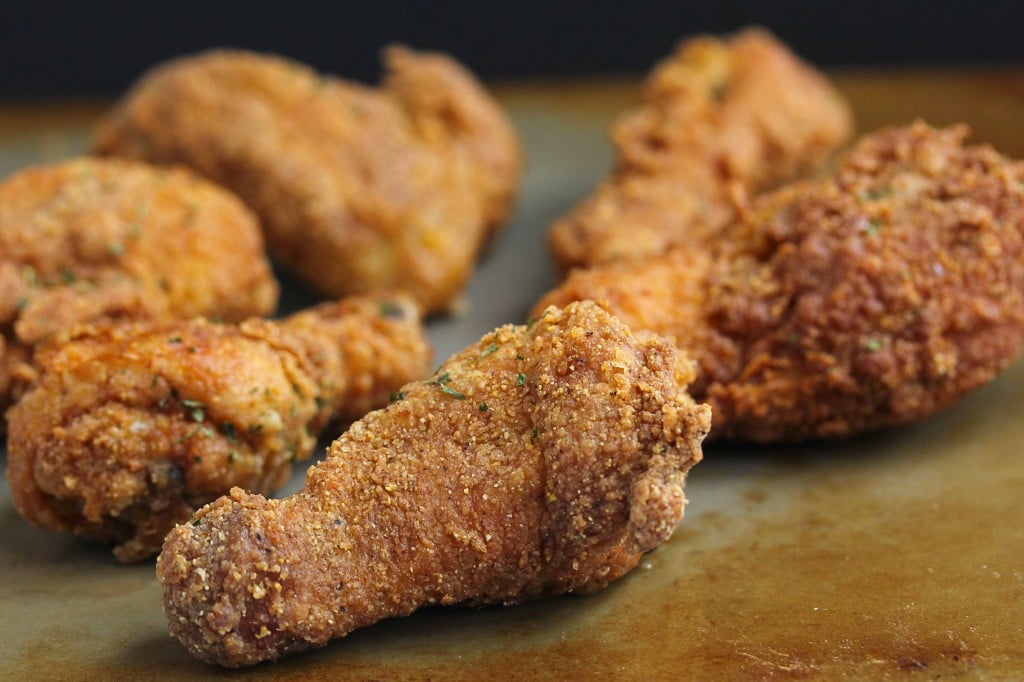 HOW TO MAKE FRIED CHICKEN
Big Mama's approach to frying chicken was quite minimalist: the chicken was coated with plain salt, pepper, and flour in a brown paper bag, then fried in a worn cast iron skillet with lard. As time went on and more ingredients became available, she would sometimes dip the chicken in eggs or buttermilk for a crispier crust texture or add different spices to her flour to vary the taste. By the time I learned to fry chicken from my mom and Big Mama, the recipe had evolved quite a bit from the original.
This fried chicken recipe honors that classic while embracing newer techniques picked up along the way. Passed down from my grandmother to my mother and eventually to me, we have all taken this recipe and created our own unique spin on it. Now I am delighted to pass this family heirloom down to you!
Here's how my Big Mama worked her wizardry:
Chicken Pieces
Be sure to use fresh, plump pieces of chicken! If your preference is drumsticks, stick to those. If you're a thigh fan, cook 'em up. Don't feel pressured to cook up pieces of meat that you don't enjoy eating.
Eggs
Egg contains a high amount of protein which creates a thicker, more stable crust.
Hot Sauce
A few dashes adds the necessary kick! Feel free to omit or add extra based on your preference.
Worcestershire Sauce
The added savory and sweet tang from it is more than welcome! This was definitely a new school addition to big mama's recipe.
All-Purpose Flour
Flour is the base for our seasoning and helps to create that mege-crisp, seasoned crust.
Seasoned Salt & Pepper
No good fried chicken happens without some salt and pepper.
Cornstarch
The added starch aids in creating a golden, crispy crust.
Paprika
A few dashes adds a sweet, smoky flavor and a wonderful color.
Cayenne Pepper
Cayenne has a strong, pungent bite that heightens the flavor of every other seasoning in this recipe.
Garlic & Onion Powder
Both are aromatic, subtle and sweet. The hints of garlic and onion come through in every bite.
HOW TO BATTER AND FRY CHICKEN
I get it, frying is intimidating and often, super messy. There are dangers and frustrations that come with using hot oil in the kitchen. Splattering, overflow and overcooked or undercooked food are all valid concerns associated with frying chicken.
So, let's address some of these concerns head on and create a smoother, cleaner frying experience:
Fry in a Deep Cast Iron Skillet or Dutch Oven
Frying in a shallow pan will cause overflow. Prevent a hot mess by using a deep Dutch oven, a deep cast-iron skillet or even a heavy-bottomed stock pot.
Set Up a Fry Station
Being prepared is the best way to prevent a dangerously chaotic situation. At the center of your fry station should be your Dutch oven, to left, the prepped and ready-to-fry chicken and to the right, a cooling rack set over a paper towel-lined baking sheet. Be sure to also have stainless-steel tongs or a spider strainer for lowering and removing the chicken from the pot.
Use a Thermometer
You can't rely on the chicken's coating color to determine doneness. You'll need to monitor the temperature of your oil using a deep-fry thermometer; the oil should remain at a steady 350 degrees. After about 15 minutes, the chicken should reach an internal temp of 165 degrees.
Cool Before Serving
After draining the fried chicken, cool the chicken for at least 10 minutes. Proper cooling will set the crust and ensure that the meat is fully cooked and settled.
WHAT SHOULD I SERVE WITH THIS FRIED CHICKEN RECIPE?
No matter what it's served with, this Fried Chicken recipe is destined to be the star of any spread. I mean, with crisp golden skin and tender, juicy meat like this, how could anything else compete? With that being said, I will say that fried chicken enjoys having a few friends to mingle with.
Create your own Southern-style spread making a few of Grandbaby Cakes' iconic Southern sides:
HOW TO STORE AND REHEAT LEFTOVER FRIED CHICKEN
Allow any leftover chicken to cool completely on a cooling rack set over a paper towel lined baking sheet. Then, line an airtight container with paper towels and carefully transfer the chicken. The paper towels will absorb any condensation and keep the chicken crisp. Leftover fried chicken will keep in the fridge for 3-4 days.
To Reheat: Let the chicken sit out at room temperature for at least 30 minutes. In the meantime, preheat the oven to 400 degrees and line a baking sheet with aluminum foil. Spread out the chicken and cover with another baking sheet to insulate. Heat for 20 minutes and then, let rest for at least 5 minutes.
GRANDBABY CAKES' BEST FRIED CHICKEN RECIPES
Fried Chicken is an art! It's time to fine tune your personal masterpiece by trying out a few of my crispiest, tastiest recipes. Give 'em a shot, you won't regret it: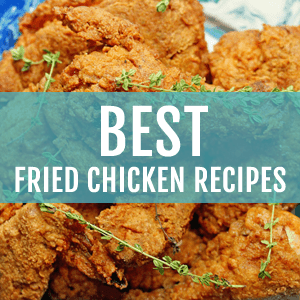 *Did you make this recipe? Please give it a star rating and leave comments below!*
Fried Chicken Recipe
Fried Chicken Recipe - My Big Mama's Southern Fried Chicken Recipe gets a modern twist making it the best fried chicken recipe on the web.
Print
Pin
Rate
Ingredients
8

pieces

chicken

3

large

eggs

beaten

1

teaspoon

hot sauce

1

teaspoon

Worcestershire

2 1/2

cups

all-purpose flour

3

tablespoons

seasoned salt

3

tablespoons

cornstarch

2

teaspoons

paprika

1/2

teaspoon

cayenne pepper

2

teaspoons

black pepper

1/2

teaspoon

garlic powder

1

tablespoon

onion powder
Instructions
In a medium sized bowl, whisk together eggs, hot sauce and worcestershire and set aside.

Next add flour, cornstarch, seasoned salt, paprika, cayenne pepper, black pepper, garlic powder and onion powder to a paper bag and shake to mix well.

Dip each piece of chicken into egg wash coating both sides then dip into seasoned flour thoroughly coating each piece. Then add piece to baking sheet to rest.

Finish coating all chicken and let sit for 10-15 minutes until coating has set.

While coating sets, add 1-1/2 inches of oil to a cast iron skillet or heavy bottom skillet and heat over medium high heat. Also turn on oven to 275 degrees.

This is my test for knowing when the oil is ready: Big Mama always tossed a tiny bit of flour in the oil and if it began to fry and sizzle, the oil was ready.

Fry four pieces at a time on each side starting with dark meat since it takes longer. Make sure you don't overcrowd the pan.

After each side has turned slightly golden, put the top on the skillet to steam the inside of the chicken ensuring doneness. After a couple of minutes, remove the top and continue to fry until the crust is crispy again and completely golden brown.

Remove chicken from oil and place on paper towels or rack to drain. Place chicken on a baking sheet covered with parchment and add to warmed oven while finishing the other chicken pieces.

Fry the remaining chicken pieces and drain and add to oven. Add the remaining chicken to the oven.

Serve when ready.
Nutrition
Calories:
189
kcal
|
Carbohydrates:
34
g
|
Protein:
6
g
|
Fat:
2
g
|
Cholesterol:
70
mg
|
Sodium:
2666
mg
|
Potassium:
100
mg
|
Fiber:
1
g
|
Vitamin A:
400
IU
|
Vitamin C:
0.6
mg
|
Calcium:
24
mg
|
Iron:
2.4
mg