This Lemon Blueberry Pound Cake Recipe is moist, decadent, and the perfect combination of sweet blueberries and tart citrus flavor!!  Each bite of this lemon blueberry cake is irresistible!  The flavors make it a wonderful cake to make for Spring and Summer get-togethers, but you can serve all year round! While this bundt cake may look fancy, it's actually straightforward to make and requires simple, everyday ingredients. You can easily whip up this lemon blueberry pound cake for a BBQ, and it also makes a delicious addition to a brunch menu or a comforting treat just because.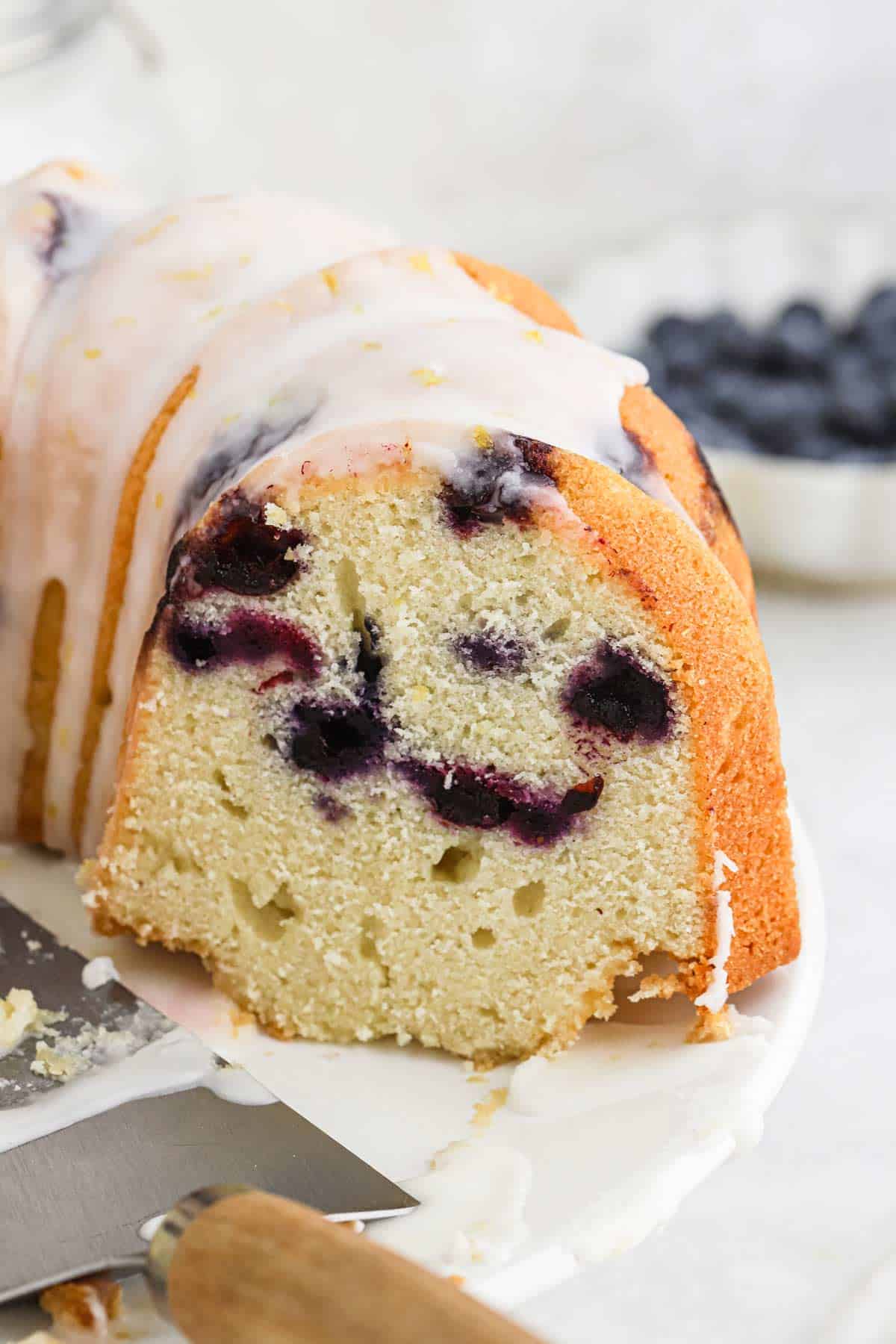 When life hands you lemons, why not mix them with some sweet blueberries and bake a scrumptious Lemon Blueberry Pound Cake? This vibrant bundt cake recipe takes the classic pound cake to a whole new level of deliciousness. Perfect for the spring and summer months when fresh berries are plentiful, it brings together the tangy-sweet flavors of lemon and blueberry in every mouthwatering bite.
I just love the combination of blueberry and lemon. The zesty citrus flavor of the lemons combines nicely with the sweet, but not too sweet flavor of the blueberries.
This blueberry lemon recipe combo is the inspiration behind this lemon blueberry pound cake recipe. These two fruit flavors combine to make a moist and delicious cake that's full of fresh sweetness. I know you will love it.
Why You'll Love This Lemon Blueberry Bundt Cake
Great Way to Use Fresh Berries: If you find yourself with a bounty of blueberries during the summer months, this recipe is a fantastic way to use them up and add some fruity goodness to your baking.
No-Fuss Baking: Despite its fancy looks, this bundt cake is a breeze to make. No need for any weird gadgets or gizmos – just a good old-fashioned bundt pan.
Smells Amazing: When this baby is baking in your oven, your whole house will smell like a bakery. Who needs scented candles when you've got a Lemon Blueberry Pound Cake?
Satisfyingly Dense: Unlike light and airy cakes, this pound cake has a satisfying heft to it that'll make you feel like you're eating something substantial. It's comfort food at its finest.
Ingredients to Make Lemon Blueberry Pound Cake
This recipe is very similar to other pound cakes on my website. These are the key ingredients that make a difference in making this cake:
Butter: Use unsalted butter for the most control over the salt when baking your cake. Also, it's important to let it sit to warm up to room temperature before mixing.
Sugar: For the perfect amount of sweetness! Use regular white granulated sugar which won't add an color to the cake.
Eggs: Eggs are the stabilizer of this recipe, and you will need 6 eggs! It might seem like a lot but it is wonderful, trust me!
Flour: This recipe uses all purpose flour instead of cake flour because it just needs a bit more heft to ensure that the blueberries stand up to the batter.
Leavening: Blueberry lemon cake uses a combination of baking powder and baking soda to create a cake with plenty of lightness.
Sour Cream: This is the liquid and moisture for this cake. It makes your cake so moist with a wonderful texture.
Blueberries: Definitely use fresh blueberries!
Lemon: To amp up the citrus flavor, this recipe uses both the lemon zest and lemon juice.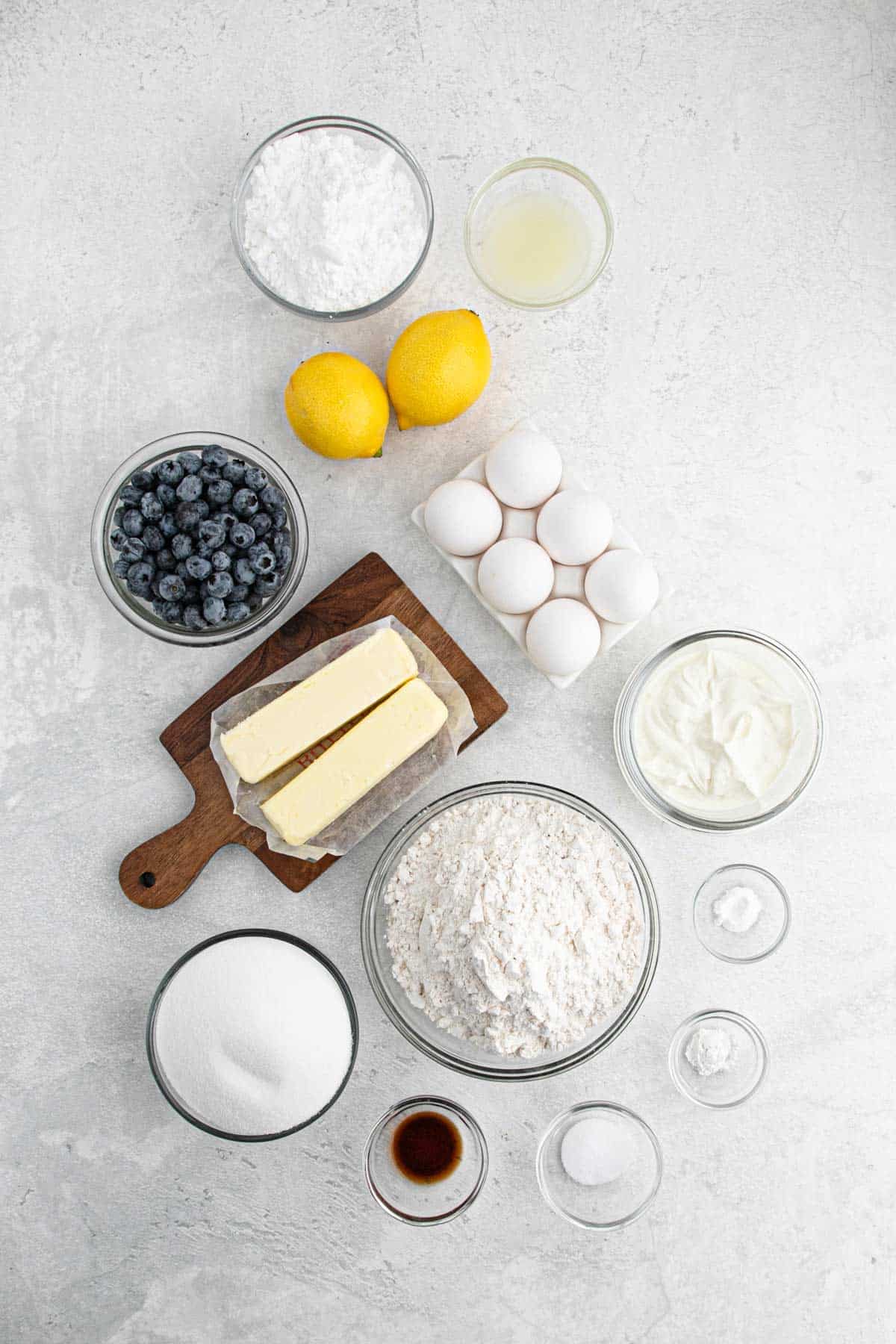 How to Make A Lemon Blueberry Pound Cake
This blueberry lemon pound cake recipe is not difficult to make, especially for experienced bakers. The key to it, like with all cake baking, is to be patient when mixing the cake ingredients.
PRO TIP: This recipe calls for some ingredients (sugar, eggs) to be added slowly or one at a time in the case of the eggs so be sure to check all the details in the recipe card before you get started.
Combine the flour, salt, baking powder, and baking soda in a bowl and stir with a whisk.
Beat the butter with an electric mixer for 30 seconds. Gradually add the sugar to the butter beating on medium speed about 10 minutes or until light and fluffy.
Add the vanilla and eggs one at a time. Beating on low to medium speed for one minute after adding each egg. Be sure to scrape down the sides of the bowl frequently.
Slowly add the flour mixture and sour cream to the butter mixture beating on low speed after each addition. Be sure you mix only until these ingredients are mixed in.
Add the berries, lemon zest, and juice and gently fold them into the cake batter.
Pour the pound cake batter into your prepared pan and spread it out evenly in your bundt pan. Bake your cake.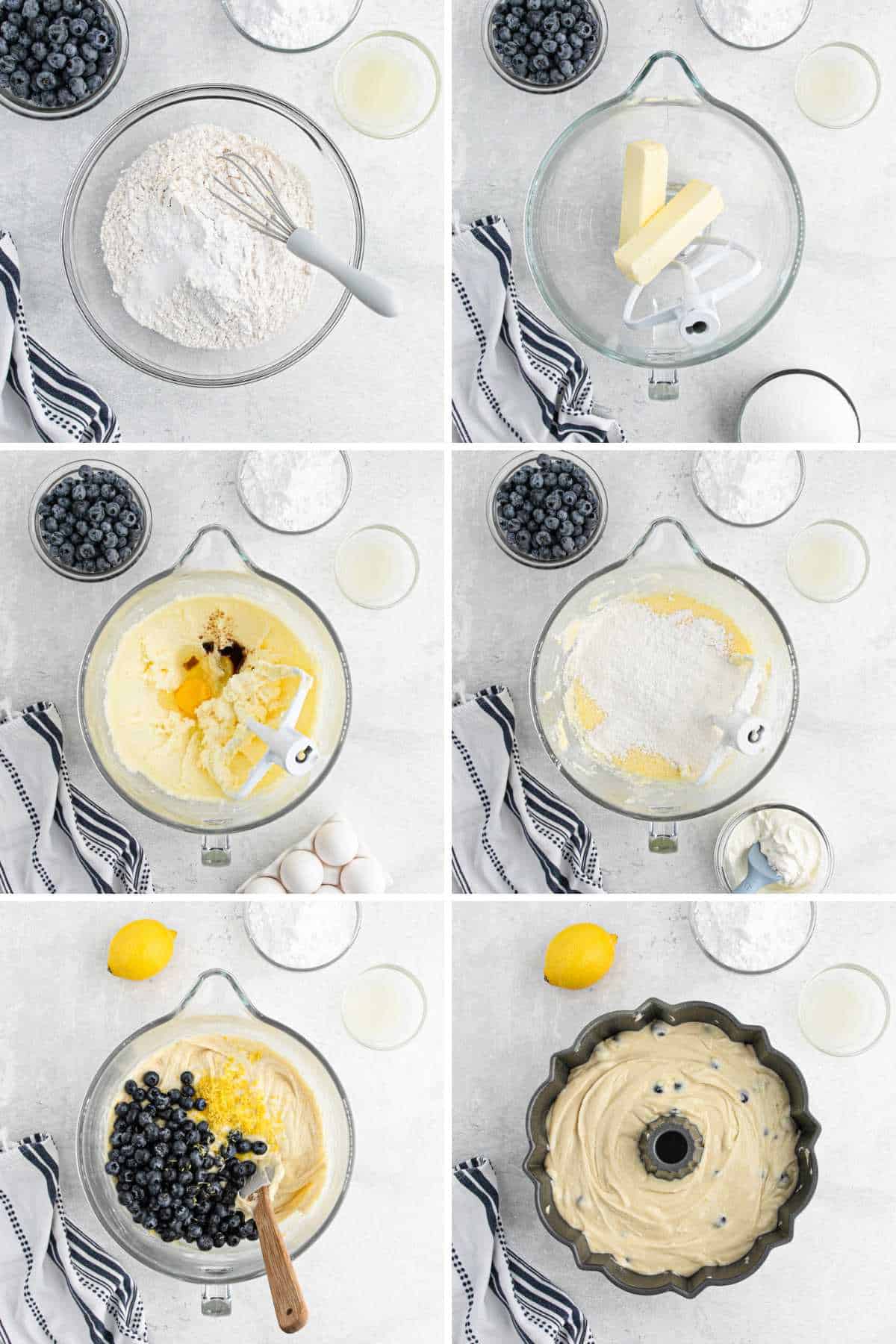 Make the glaze. Stir together the confectioner's sugar and lemon juice until combined.
Cool your cake in the pan for ten minutes. Then invert the cake and allow it to finish cooling. When fully cooled drizzle the glaze over the top of the cooled cake.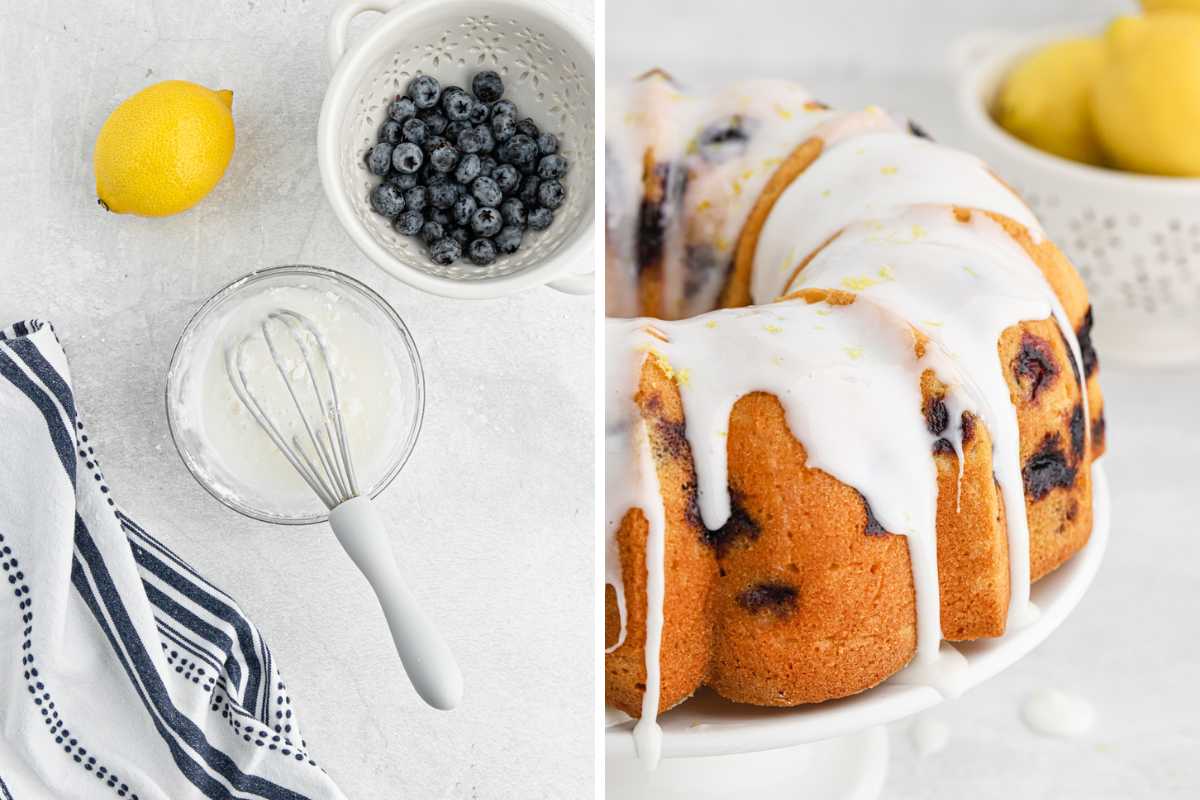 Garnish the top of the cake with some extra lemon zest and serve!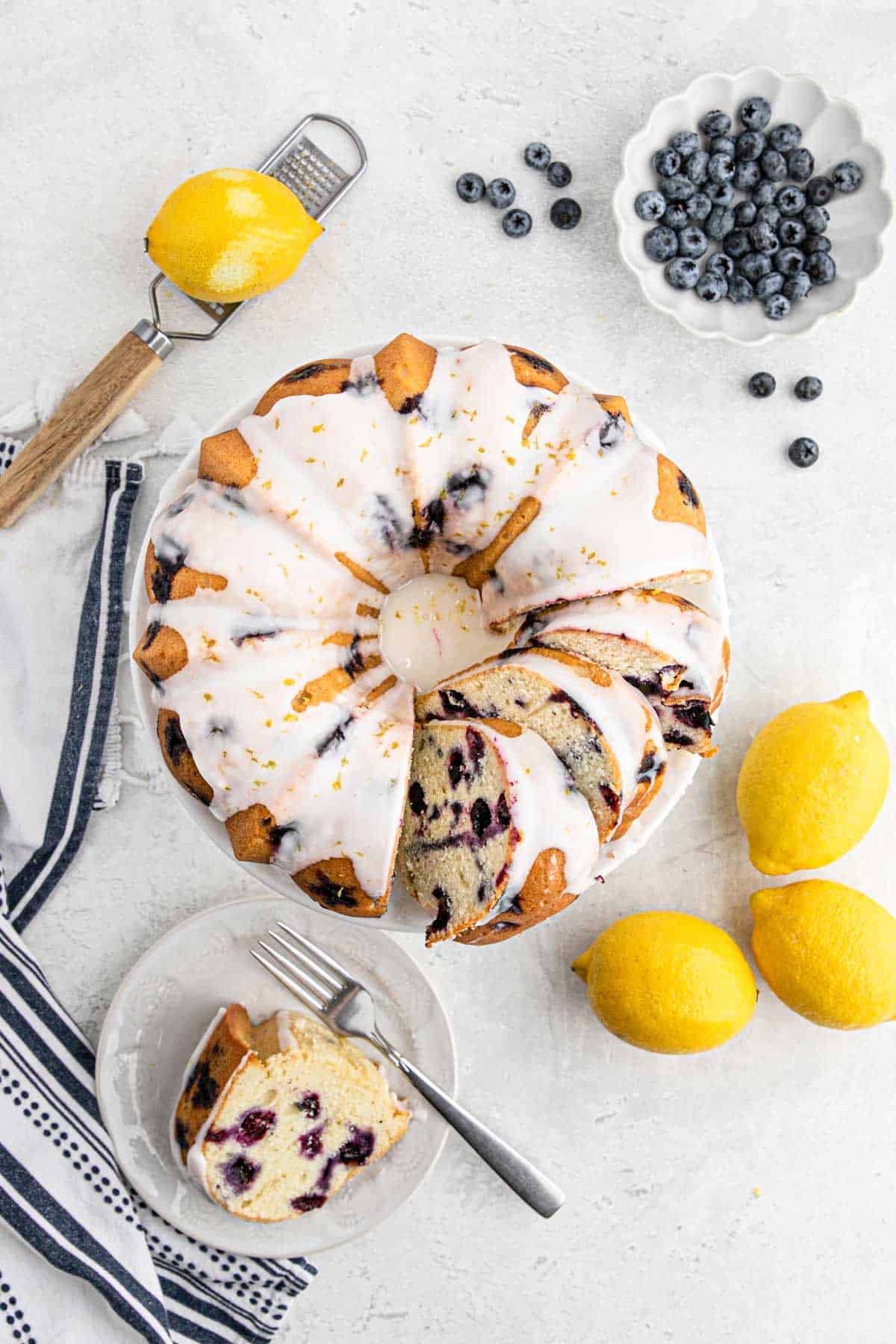 Tips for Making the Best Blueberry Lemon Pound Cake
Here are a few tips to ensure you bake this lemon blueberry pound cake perfectly.
Make sure you get off to a good start! This recipe begins with creaming butter and sugar and is essential to ensuring your cake starts correctly. Your butter MUST BE completely room temperature so that the sugar quickly melts right into the butter. Be sure you beat long enough that they really need to become one.
Do NOT try to mix this cake with cold butter or even cold sour cream. You want to let these sit out a bit and get to room temperature. If you take this necessary step, you will have a super smooth and beautiful cake batter that bakes up with the right texture and flavor.
Be careful you don't over-mix when adding the flour. This cake uses all-purpose flour and not cake flour. The all-purpose flour produces gluten a bit faster especially if over-mixed which can change the texture completely, and not in a good way.
Use low speed when mixing the flour and mix just until dry ingredients are incorporated into the cake batter. This way you end up with a tender and moist cake with a melt-in-your-mouth texture.
Begin checking your cake 10 MINUTES before the baking time ends. Everyone has a different oven and sometimes they can bake quicker than others. To ensure you don't burn your cake, start checking for doneness before the time specified in the recipe.
Popular Substitutions & Additions
Frozen blueberries: You can swap fresh blueberries for frozen ones easily. For best results, add them to the cake batter while still frozen.
Use different berries: This cake will work with just about any type of berry. Use strawberries, raspberries, blackberries, or even a mixture of berries.
Skip the glaze: If you prefer an unglazed lemon blueberry cake, you can opt to dust the top with some powdered sugar.
Swap the sour cream. You can use full-fat Greek yogurt instead. Just make sure it's plain and unsweetened.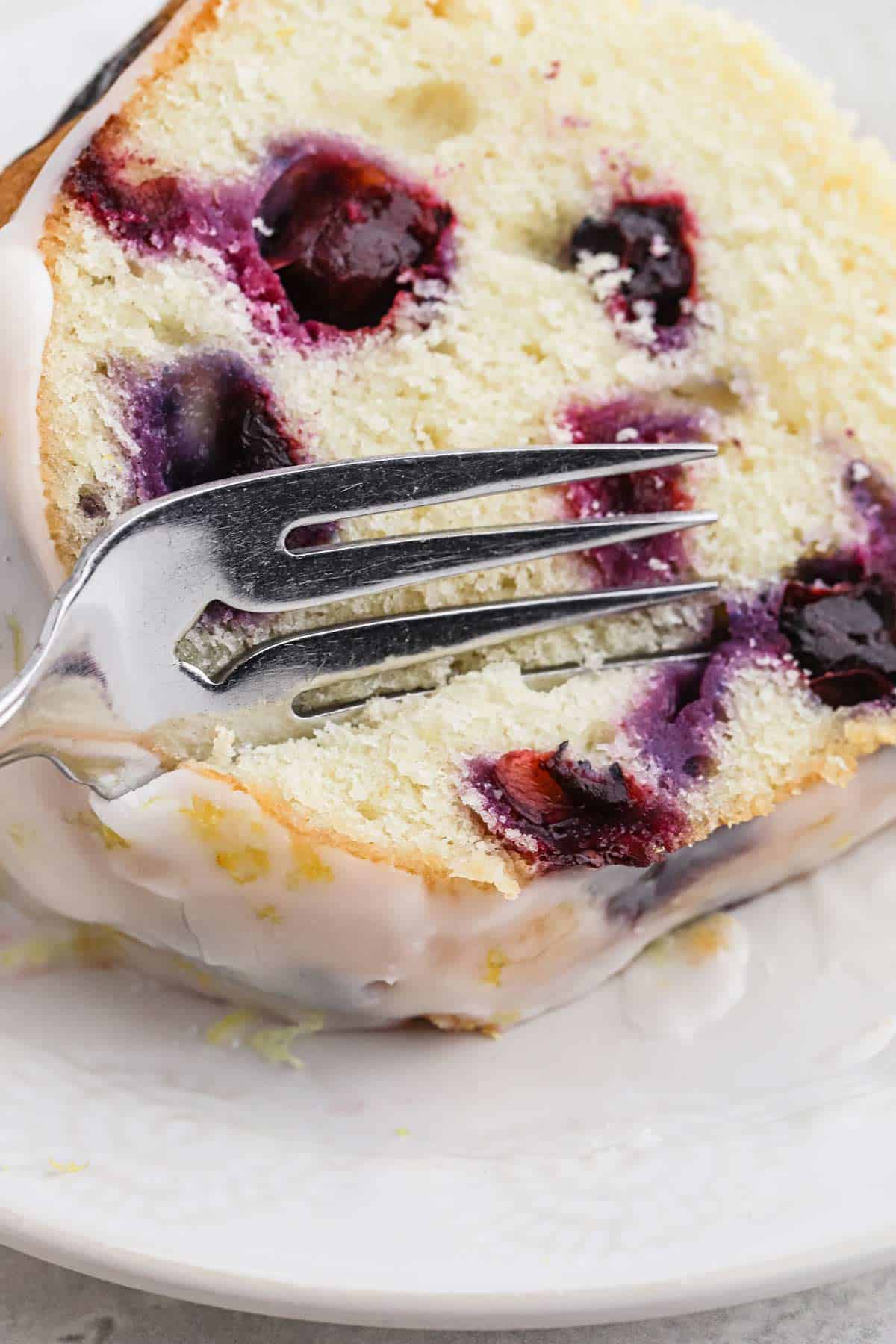 What to Serve with Lemon Blueberry Cake
How to Store Lemon Blueberry Pound Cake
Store your lemon and blueberry pound cake at room temperature in an airtight container or wrapped tightly in plastic. If wrapped well it will last for up to three days. You can also store it in the fridge.
How long will lemon blueberry pound cake last in the fridge?
When stored in an airtight container it will last up to a week but is best enjoyed within three to five days of baking.
Can I freeze a lemon blueberry cake?
Yes, you can! You can freeze the entire cake after baking without the glaze for up to a month. Be sure to wrap it in plastic AND aluminum foil to protect it from the freezer. Allow it to thaw out on the counter overnight and then add the glaze.
Alternatively, you can also freeze leftover cake with the glaze either intact or in individual slices. I suggest double wrapping it and storing it for up to a month for the best results.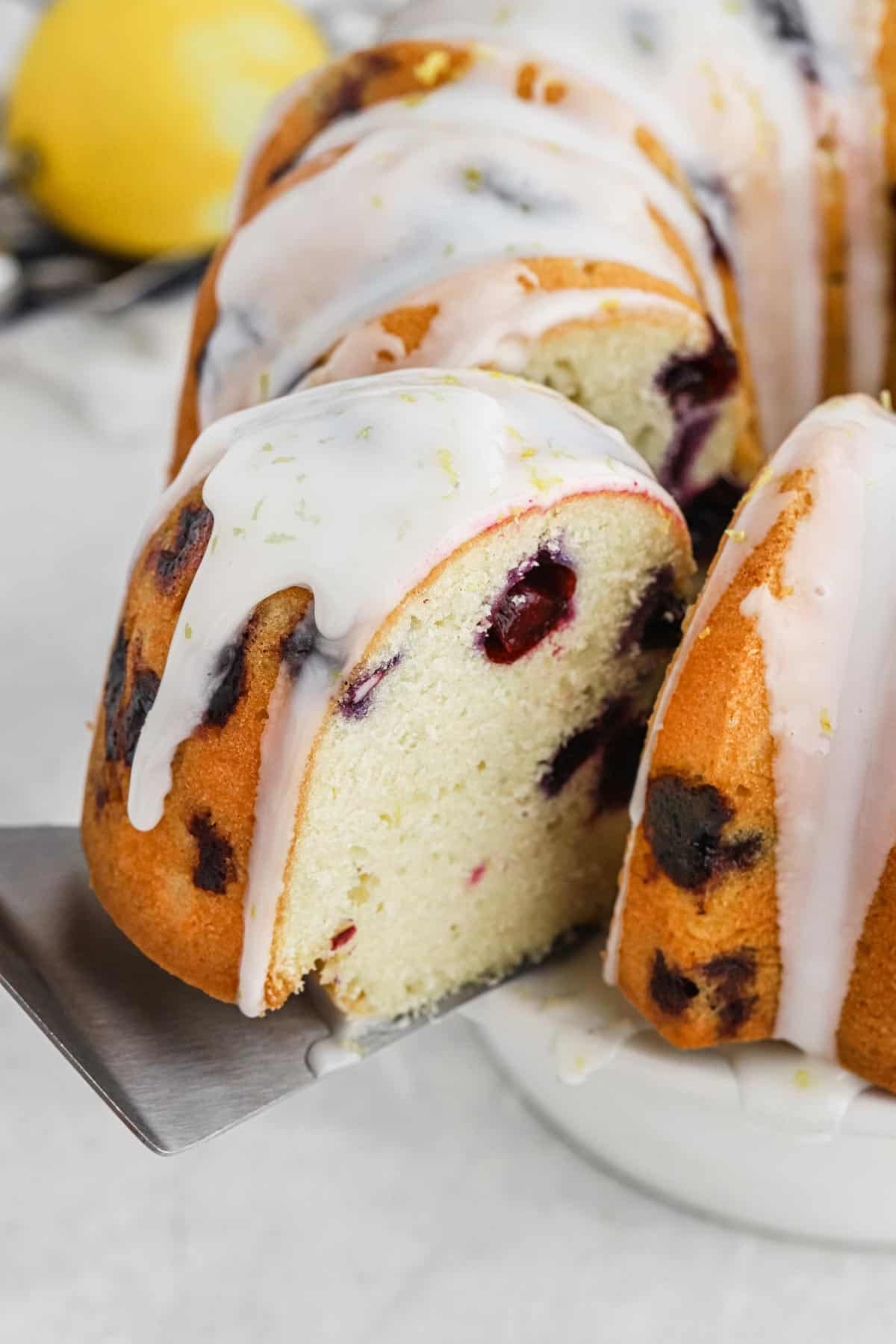 Frequently Asked Questions
Why isn't my pound cake fluffy?
If your cake turns out too dense, you may not have beat the butter and sugar long enough at the start of the recipe. This incorporates plenty of air into the mixture, which makes the cake lighter. Another problem may be that you overmixed the cake after adding the flour.
How do you keep pound cake moist?
The trick to a moist pound cake is adding a rich dairy product such as sour cream or full-fat Greek yogurt. Also, be sure when storing it, make sure it is well wrapped so outside air doesn't dry it out.
Does pound cake continue cooking while it's cooling?
Yes, it will cook a bit more, thanks to carryover cooking. But don't undercook your cake thinking it will finish cooking while cooling. Your cake is ready when a toothpick inserted into the middle of the cake comes out clean.
I can't tell you how happy I am to be sharing this awesome recipe with my audience. This lemon blueberry pound cake recipe started with my love of the blueberry and lemon fruit combination.
It's a summer cake recipe using bright gorgeous blueberries and the sunny complement of lemon flavor. Not only is this cake seriously so delicious it's absolutely stunning too!
If you love this lemon and blueberry cake, definitely check out my Blueberry Orange Bundt Cake, Blueberry Coffee Cake, Blueberry Lemon Layer Cake, Strawberry Pound Cake, my Blueberry Orange Pound Cake, or my Strawberry Crumble Coffee Cake.
More Blueberry Recipes
If you like this blueberry lemon pound cake, you'll fall in love with some of my other blueberry or lemon desserts.
*Did you make this recipe? Please give it a star rating and leave comments below!* Post a photo of how your version of the recipe came out on Instagram (using #grandbabycakes)!!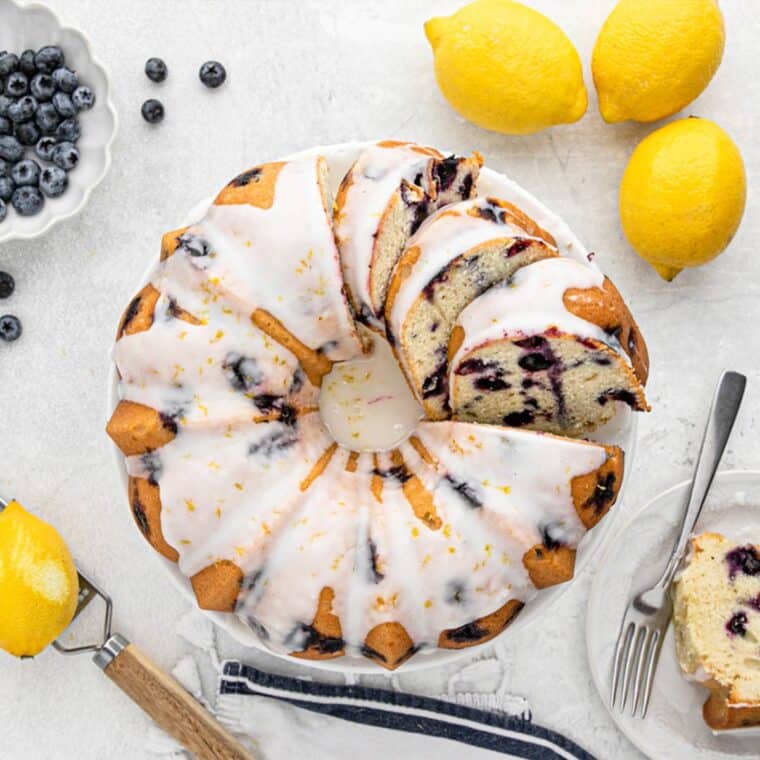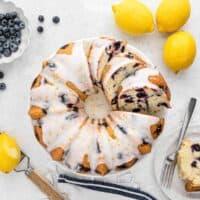 Lemon Blueberry Pound Cake Recipe
This Lemon Blueberry Pound Cake Recipe is moist, decadent, and the perfect combination of sweet blueberries and tart citrus flavor!  Each bite is irresistible!  It's a wonderful cake to make for spring and summer get-togethers or all year round!  
Print
Pin
Rate
Ingredients
For the Cake:
3

cups

all-purpose flour

1

tsp

salt

½

teaspoon

baking powder

¼

teaspoon

baking soda

1

cup

unsalted butter

room temperature

2

cups

granulated sugar

1

teaspoon

pure vanilla extract

6

large eggs

1

cup

sour cream

room temperature

2

cups

fresh blueberries

(or see note below about using frozen berries)

Zest and juice of 2 lemons

about 5-6 tablespoons of lemon juice total
For the Glaze:
1

cup

confectioner's sugar

2

tablespoons

lemon juice
Instructions
Preheat oven to 325 degrees F. Grease and lightly flour a 12 inch bundt pan; set aside. In a medium bowl stir together flour, salt, baking powder, and baking soda; set aside.

In a large bowl beat butter with an electric mixer on medium to high speed for 30 seconds. Gradually add sugar, beating on medium speed about 10 minutes or until light and fluffy. Add vanilla. Add eggs, one at a time, beating on low to medium speed for 1 minute after each addition and scraping side of bowl frequently. Alternately add flour mixture and sour cream to butter mixture, beating on low speed after each addition just until combined.

Fold in berries, zest and juice until combined.

Pour batter into prepared pan, spreading evenly. Bake for 1 hour and 15-25 minutes or until a toothpick inserted near center of cake comes out clean. Cool in pan on a wire rack for 10 minutes. Remove from pan; cool completely on rack.
For the Glaze:
Stir together confectioner's sugar and lemon juice until combined and drizzle over top of cooled cake then serve.
Notes
Frozen Blueberries: Feel free to use frozen berries in this recipe.  Don't thaw.  Just add them right into the recipe. Use Any Berry: You can replace the blueberries with any other type of berry (strawberry, blackberry, etc.). Also, ensure your ingredients especially butter are at room temperature before beginning.
Nutrition
Calories:
379
kcal
|
Carbohydrates:
53
g
|
Protein:
5
g
|
Fat:
16
g
|
Saturated Fat:
9
g
|
Cholesterol:
107
mg
|
Sodium:
157
mg
|
Potassium:
101
mg
|
Fiber:
1
g
|
Sugar:
34
g
|
Vitamin A:
555
IU
|
Vitamin C:
2.6
mg
|
Calcium:
40
mg
|
Iron:
1.5
mg