Ready to elevate your weekend mornings or dazzle at the next brunch gathering? Well, allow me to introduce you to these easy, "lazy" Strawberry Cinnamon Rolls. You heard that right—lazy and delicious! Made with flaky puff pastry, these rolls are perfect for anyone who loves the smell and taste of freshly baked cinnamon rolls but could do without the long prep time. Trust me, folks; this is how you get that homemade flavor without the fuss. In under an hour, you'll be sinking your teeth into the lusciousness of sweet strawberries and cinnamon, all swirled into heavenly rolls with an unforgettable strawberry icing.
Can we talk about the joy of ripe summer strawberries? They bring a pop of color and a splash of sweetness that elevate these cinnamon rolls from 'yum' to 'can't-stop-won't-stop-eating.' Using puff pastry as our secret weapon, these strawberry cinnamon rolls are not just quick but truly delicious, bringing that homemade touch to your breakfast table without spending hours in the kitchen. Because let's face it, we all need that extra time to savor every bite and make moments that are as sweet as the rolls themselves.
Ingredients to Make Strawberry Cinnamon Rolls
Frozen Puff Pastry: This is the game-changer that makes these cinnamon rolls quick and flaky. No need to wait for dough to rise!
Melted Butter: A brush of melted butter not only adds richness but also helps the strawberry jam and other fillings adhere to the pastry.
Strawberry Jam: This provides a concentrated strawberry flavor and gooeyness that is pure perfection when baked.
Strawberries: Thinly sliced, they add a fresh and juicy burst of natural sweetness to each bite.
Ground Cinnamon: The aromatic touch that transforms these from strawberry rolls to strawberry cinnamon rolls.
Confectioner's Sugar: The base for our icing, offering a smooth texture and sweetness.
Butter for Icing: Gives the icing its creamy, rich texture.
Milk: Helps to thin out the icing to the perfect drizzling consistency.
Strawberry Jam for Icing: A teaspoon of jam in the icing reinforces the strawberry theme, tying the whole dish together.
How To Make Strawberry Cinnamon Rolls With Puff Pastry
Prepare Your Pastry and Oven
Begin by thawing your frozen puff pastry and preheating your oven. Lightly flour your work surface to prevent the pastry from sticking.
Assemble the Rolls
Roll out the puff pastry into a flat sheet. Brush the surface with melted butter, leaving a small border around the edges. Smear the strawberry jam evenly over the buttered area, and then layer thinly sliced strawberries on top. Sprinkle a touch of ground cinnamon over the strawberries for that extra depth of flavor.
Roll and Slice
Carefully roll up the pastry, making sure it's tight but not overly so. Use a bit of melted butter to seal the open edge of the roll. Slice the roll into individual pieces and place them in a parchment paper-lined baking dish.
Bake and Ice
Pop the rolls into the preheated oven. While they're baking, whip up the icing by combining confectioner's sugar, melted butter, milk, and a smidgen of strawberry jam. Once the rolls are golden and your kitchen smells heavenly, drizzle the icing over the fresh-out-of-the-oven rolls.
Tips for Making the Best Lazy Strawberry Cinnamon Rolls
Use High-Quality Jam. The strawberry jam is a star player in this recipe. Opt for a high-quality jam with real strawberry chunks for the best flavor and texture.
Don't Overcrowd the Baking Dish.

Space out your cinnamon rolls adequately in the baking dish to allow for expansion. Overcrowding could result in uneven baking.

Keep an Eye on the Oven.

These rolls can go from perfectly golden to burnt pretty quickly. Keep a close eye, especially during the last few minutes of baking.

Adjust Icing Consistency.

The icing should be pourable but not too runny. Adjust the milk quantity to get your desired consistency.

Serve Fresh. These rolls are best served fresh out of the oven while the pastry is still flaky and the icing is gooey.
Frequently Asked Questions
Why is my puff pastry not rising?
If your puff pastry doesn't puff up, it might be because it wasn't cold enough when you put it in the oven. Ensure you chill the prepared rolls before baking.
The edges of my rolls are hard, what went wrong?
This can happen if the rolls are overcooked or if they are placed too near the edges of the oven, where temperatures are often higher.
How do I know when the rolls are done?
They should be golden brown on the surface and should feel slightly firm to the touch.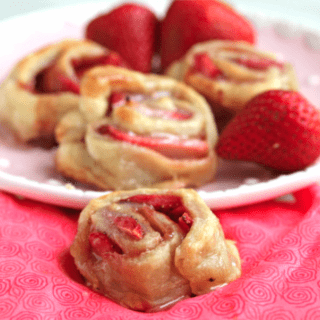 Lazy Strawberry Cinnamon Rolls
The Laziest Strawberry Cinnamon Rolls ever! Made with Puff Pastry, they are put together in a snap! They are absolutely delicious too!
Print
Pin
Rate
Servings:
12
cinnamon rolls
Ingredients
1

package

frozen puff pastry that has been thawed

2

tablespoons

melted butter

1

cup

strawberry jam

2-3

cups

strawberries

sliced thinly

1

teaspoon

ground cinnamon

3/4

cup

confectioner's sugar

3

tablespoons

butter

melted

1 1/2

tablespoons

milk

add more if you need to thin out the mixture

1

teaspoon

strawberry jam
Instructions
Preheat oven to 400 degrees.

Lightly flour your surface and roll out crescent roll (or 1 sheet thawed puff pastry) until about 1/4 inch thick (leave the other sheet in the refrigerator).

Brush puff pastry with melted butter, leaving 1 inch of space around the edges.

Evenly add strawberry jam then layer with strawberry slices and sprinkle on ground cinnamon over buttered area.

Tightly but gently roll the dough up. Use a little melted butter on the open edge of the roll to seal the seam.

Using a sharp knife, slice the roll into six pieces.

Place each roll inside a parchment paper lined baking dish. Place the dish in the refrigerator as you repeat the above steps with the last sheet of puff pastry if using.

Bake the cinnamon rolls in preheated oven for 25-30 minutes or until golden (watch carefully!).

While rolls are baking, make the icing by mixing all remaining ingredients together (confectioner's sugar, butter, milk and jam) until nice and smooth and pourable. If needed, add a teaspoon more of milk until it is pourable.

Drizzle over cinnamon rolls when they are fresh out of the oven and enjoy. Happy Baking!
Nutrition
Calories:
385
kcal
|
Carbohydrates:
47
g
|
Protein:
3
g
|
Fat:
20
g
|
Saturated Fat:
6
g
|
Cholesterol:
12
mg
|
Sodium:
153
mg
|
Potassium:
83
mg
|
Fiber:
1
g
|
Sugar:
22
g
|
Vitamin A:
145
IU
|
Vitamin C:
16.6
mg
|
Calcium:
18
mg
|
Iron:
1.3
mg