Lazy Strawberry Cinnamon Rolls – the easiest breakfast treat ever! Made with Puff Pastry, they are put together in a snap! They are absolutely delicious too! If you want more effort, try these delicious Homemade Cinnamon Rolls
These lazy strawberry cinnamon rolls represent my mood lately. I have had a grueling schedule for the last twelve months. Between my blog commitments, my full-time job (which is coming to an end) and an event company, I haven't had much time for myself.
First of all, this is not me complaining. At all. I realize that I needed to do those things. I needed to work hard and see what was going to pay off, and I needed to be 100% committed to things because now is the time for that. I am still pretty young (32 is young right? I need reassurance) though my dad says I'm no spring chicken. And I don't have kids as of yet. My husband and I are cool with the two of us for now though we want kids in the future.
I'm saying all of this because I'm tired. Exhausted actually. I HAVE NOTHING LEFT TO GIVE!!! I know that was a bit dramatic but it feels that way sometimes. How is that possible? I traded long sleep sessions for naps now but do parents just give up sleep all together? Ok I digress. The point is I need low-key. I need recipes that don't take two days to complete for the most part which is where this recipe for lazy strawberry cinnamon rolls comes in.
It is painless, requires little effort and time, and is still gorgeous perfection for your loved ones, especially on Valentine's Day or even in the spring when berries are in season. You don't have to wait for the dough to rise for my lazy strawberry cinnamon rolls. I use puff pastry instead (this brand and this brand are great and all butter), and while it isn't the same texture you are probably used to for sweet rolls, it is delicious and buttery in its own right! I love these little guys! And my family ate the whole pan as if I slaved over them. I might be able to convince people that I actually did!
I am going to attempt a few more lazy recipes because as I get closer to my dreams, I need to realize how important time for myself is. I have started another hobby which is novel reading. Well I have finished Gone Girl by Gillian Flynn (excited for the movie coming in October) and even went on to read Sharp Objects by Gillian as well. Can you tell what types of books I enjoy? I read a bit everyday so it isn't overwhelming, and I read them during long hot baths too. It is all delicious just like these rolls!
So is anyone else out there exhausted like I am and in need of some "me" time?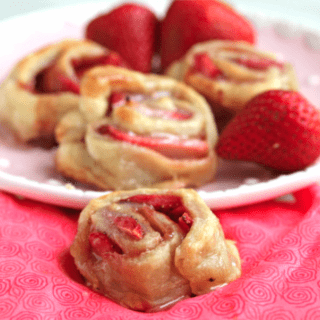 Lazy Strawberry Cinnamon Rolls
The Laziest Strawberry Cinnamon Rolls ever! Made with Puff Pastry, they are put together in a snap! They are absolutely delicious too!
Print
Pin
Rate
Servings:
12
cinnamon rolls
Ingredients
1

package

frozen puff pastry that has been thawed

2

tablespoons

melted butter

1

cup

strawberry jam

2-3

cups

strawberries

sliced thinly

1

teaspoon

ground cinnamon

3/4

cup

confectioner's sugar

3

tablespoons

butter

melted

1 1/2

tablespoons

milk

add more if you need to thin out the mixture

1

teaspoon

strawberry jam
Instructions
Preheat oven to 400 degrees.

Lightly flour your surface and roll out crescent roll (or 1 sheet thawed puff pastry) until about 1/4 inch thick (leave the other sheet in the refrigerator).

Brush puff pastry with melted butter, leaving 1 inch of space around the edges.

Evenly add strawberry jam then layer with strawberry slices and sprinkle on ground cinnamon over buttered area.

Tightly but gently roll the dough up. Use a little melted butter on the open edge of the roll to seal the seam.

Using a sharp knife, slice the roll into six pieces.

Place each roll inside a parchment paper lined baking dish. Place the dish in the refrigerator as you repeat the above steps with the last sheet of puff pastry if using.

Bake the cinnamon rolls in preheated oven for 25-30 minutes or until golden (watch carefully!).

While rolls are baking, make the icing by mixing all remaining ingredients together (confectioner's sugar, butter, milk and jam) until nice and smooth and pourable. If needed, add a teaspoon more of milk until it is pourable.

Drizzle over cinnamon rolls when they are fresh out of the oven and enjoy. Happy Baking!
Nutrition
Calories:
385
kcal
|
Carbohydrates:
47
g
|
Protein:
3
g
|
Fat:
20
g
|
Saturated Fat:
6
g
|
Cholesterol:
12
mg
|
Sodium:
153
mg
|
Potassium:
83
mg
|
Fiber:
1
g
|
Sugar:
22
g
|
Vitamin A:
145
IU
|
Vitamin C:
16.6
mg
|
Calcium:
18
mg
|
Iron:
1.3
mg