This Southern Smothered Pork Chops Recipe is pure comfort food. Lightly breaded pork chops are smothered in a rich savory and well seasoned brown gravy made from a roux resulting in the perfect Southern classic. A TRUE DELICACY OF THE SOUTH like these Smothered Turkey Wings , Turkey Chops, Rice and Gravy, Chitterlings, Hog Maws, Liver and Onions, or Smothered Steak!! Even better served over Garlic Mashed Potatoes with Collard Greens or Mustard Greens and Hot Water Cornbread or Corn Muffins. If you love these pork chops, you will adore my Fried Pork Chops and my Peach Pork Chops.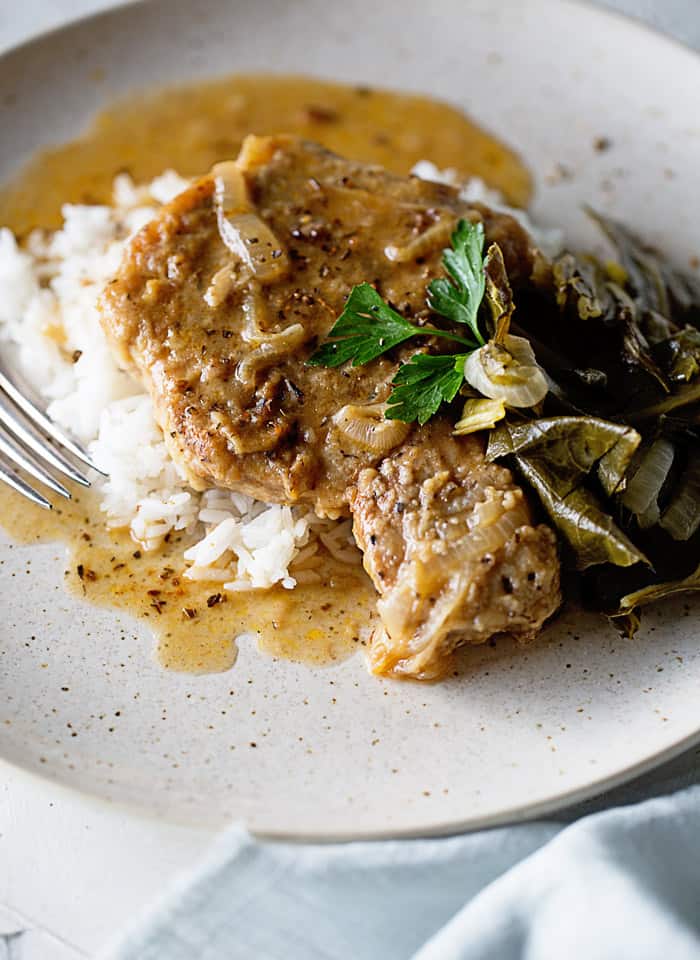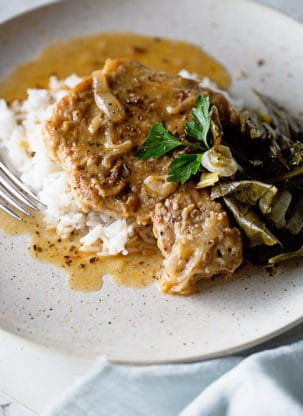 The Best Pork Chop Recipe : Smothered Pork Chops Recipe
Growing up, one of my favorite meals was a Southern Smothered Pork Chops recipe. As I grew older, I took my Mama's pork chop recipe with me and integrated it into my rotation of comfort food cooking with a few of my own twists and additions. This recipe is the definition of true soul food; it's bold yet perfectly balanced seasoning brings out warm and decadent flavors. I invite you to take this recipe and share it with your loved ones. Make your kitchen a Southern home, even just for one night.
I consider my mama to be the queen of southern smothering. What I mean when I say to smother is simply cooking and braising food in its own juices and gravies. Mama took any meat our fridge had to offer and drowned it in a thick and rich velvety gravy. The art of smothering is quite simple if you're equipped with the right knowledge. You can use vegetables as well as meats. Yes, you can smother just about anything. And it goes just perfectly with my Collard Greens recipe.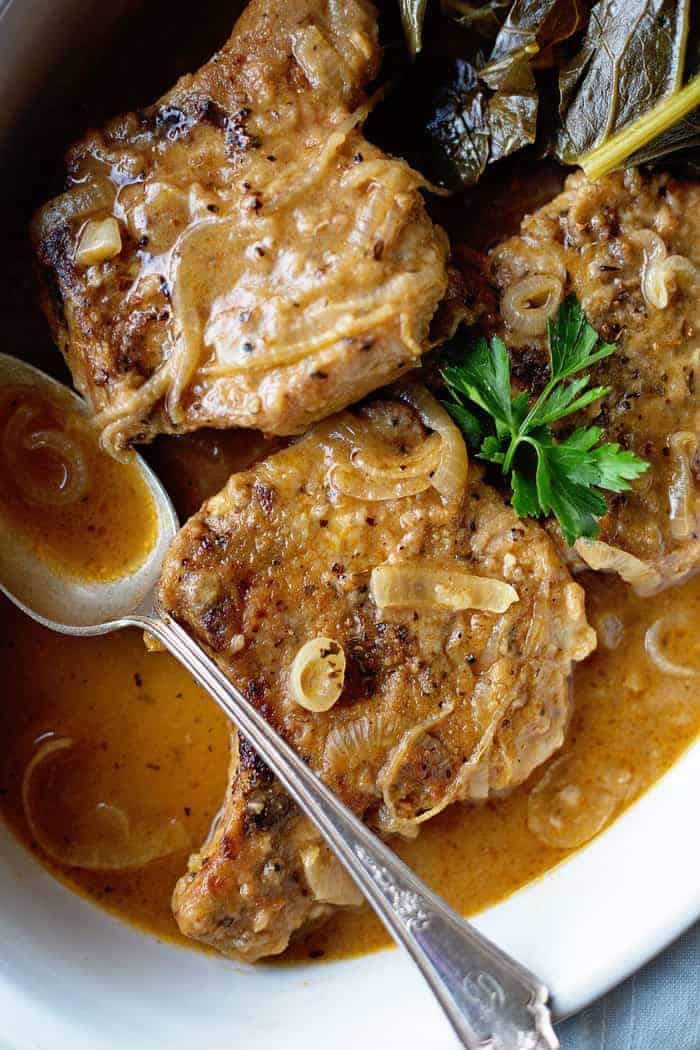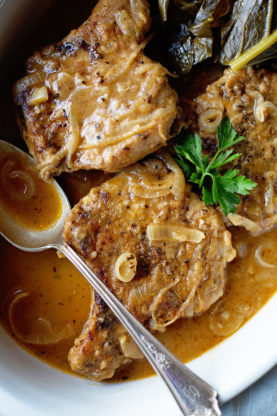 How to Make Smothered Pork Chops
To smother meat means to cook it low-and-slow in rich gravy until the meat becomes ridiculously tender. And let me tell you, these smothered pork chops are incredibly tender.
Each bite is coated in gravy and melts in your mouth, leaving you craving one bite after the other.
To begin you must bread the pork chops with flour. Only a small coating will be needed. It will give the pork chops additional flavor and will then also provide additional thickener for the gravy later on.
After the pork chops are fried, you begin on the pork chop gravy.
Pork Chop Gravy
The gravy is rich and flavorful, with a nice tang and a touch of heat. The key to the gravy is in the roux, which allows the onions, garlic and seasonings to develop their flavors.
Crazy delicious. It's so good, in fact, that I won't be surprised if many of you will be licking the leftover gravy off the plate. We don't judge around here.
To make Perfect Pork Chop Gravy, you will need the following:
For the thickener, I used flour. This is a typical favorite for making gravies. It makes sure that the sauce is nice, thick and hearty.
The usual liquid for gravy is water but to add more flavor to this pork chop gravy, I added chicken stock. It really adds a wonderful richness to the sauce.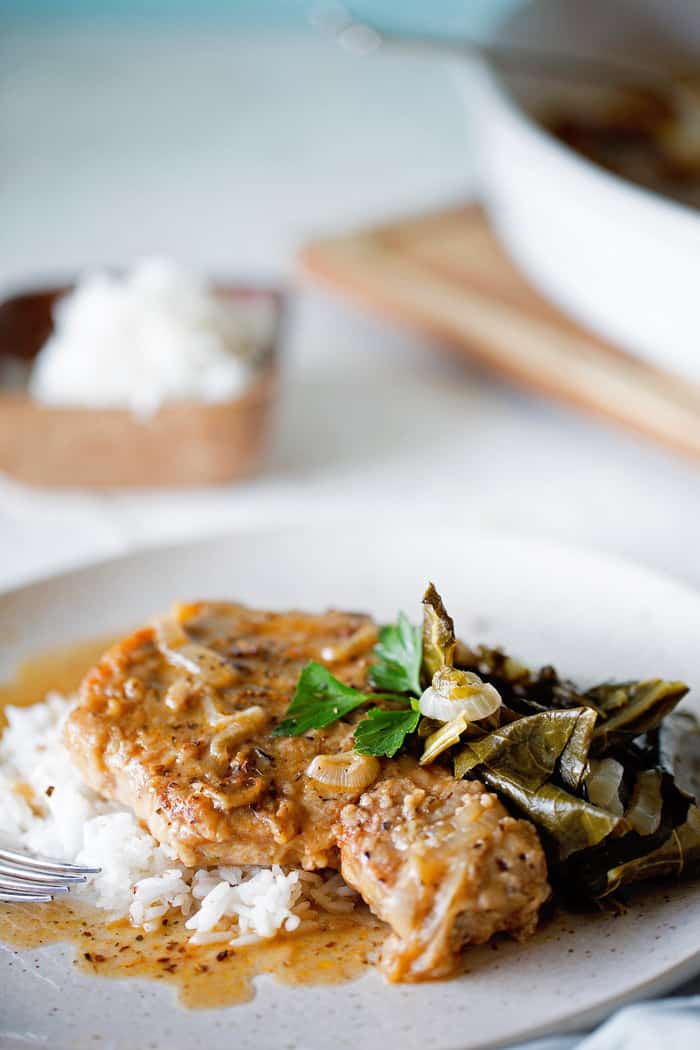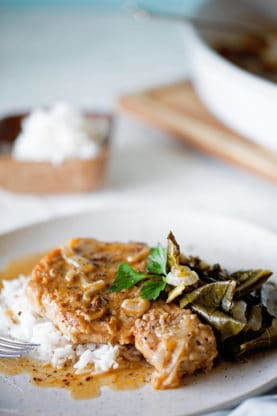 Baked Smothered Pork Chops in Oven
Many have asked if these can be made in the oven instead of on the stove top.
You can begin by frying the pork chops and then create the gravy, add the pork chops and cook them in the oven for about 30 minutes on 350 degrees OR until the gravy has thickened and the pork chops have tenderized.
How to Serve Southern Smothered Pork Chops Recipe
This Southern Smothered Pork Chops recipe is a simple, delicious and comforting homemade dinner. I like to serve them over a bed of rice but mashed potatoes are just as addictive too! I've had my share of amazing pork chops, but I must admit that nothing quite compares to homemade smothered pork chops.
More Best Pork Chop Recipes
If you love this Southern Smothered Pork Chops recipe, you will love these other soul food inspired recipes:
More recipes to check out are: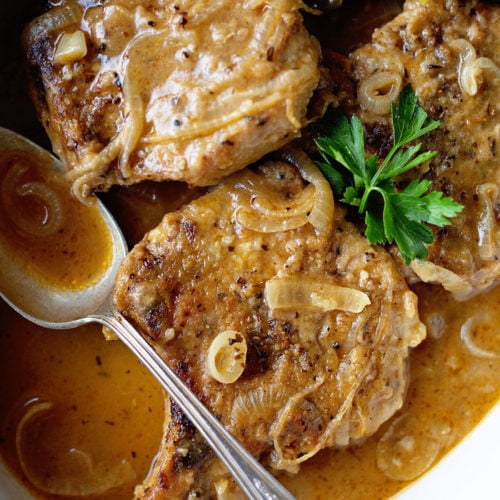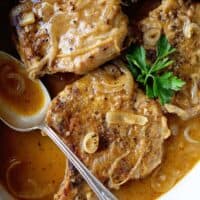 Smothered Pork Chops Recipe
This Southern Smothered Pork Chops Recipe is pure comfort food.  Lightly breaded pork chops are smothered in a rich savory and well seasoned brown gravy resulting in the perfect Southern classic.  A TRUE DELICACY OF THE SOUTH! 
Print
Pin
Rate
Ingredients
6

tbsp

vegetable oil

separated

1

lb

pork chops

Kosher salt or Seasoned salt

to taste

Black pepper

to taste

1/2

cup

all-purpose flour plus 1 tablespoon

separated

1

medium sized onion

diced

2

tsp

minced garlic

3

cups

chicken stock

1/2

cup

water

2

tbsp

Worcestershire sauce

1/4

tsp

creole seasoning

1/2

tsp

hot sauce

Rice for serving
Instructions
Heat 4 tablespoons of oil in large pan over medium heat. Season pork chops with salt and pepper to taste.

Dredge pork chops lightly in ½ cup of flour then brown in skillet on both sides. Once browned, remove pork chops from skillet and drain on paper towel. Set aside.

Next scrape the bottom of the pan getting up all of the browned bits. Add the onion to the pan and saute' for about 5 minutes until a bit browned and tender. Add minced garlic and saute' for 1 minute.

Push onions and garlic to one side of the pan then add remaining 2 tablespoons of oil to skillet then sprinkle on remaining flour. Constantly stir allowing the flour to brown until it reaches a toffee color (about 5-8 minutes) then pour in chicken stock and water and whisk together.

Turn heat to high to bring to a boil and season with salt and pepper. Whisk in worcestershire sauce, creole seasoning and hot sauce then turn heat down to medium.

Add back in pork chops and put lid on pan for about 25-35 minutes or until sauce has thickened and coats the back of the spoon and pork chops are nice and tender..

Serve over rice and garnish with parsley if you desire.
Video
Notes
Make sure you really allow the gravy to thicken.  Take the time to let it simmer until it coats the back of a spoon.  It will also continue to thicken once the heat is turned off if it is resting.
Nutrition
Calories:
492
kcal
|
Carbohydrates:
23
g
|
Protein:
30
g
|
Fat:
30
g
|
Saturated Fat:
19
g
|
Cholesterol:
81
mg
|
Sodium:
413
mg
|
Potassium:
736
mg
|
Sugar:
4
g
|
Vitamin A:
50
IU
|
Vitamin C:
4.4
mg
|
Calcium:
31
mg
|
Iron:
2.2
mg