Chicken and Waffles recipe. Get ready to be impressed with this perfect Fried Chicken and Waffles! Imagine perfectly seasoned and crispy fried chicken on top of a fluffy, sweet and tender waffle.
Now I couldn't just leave you with my buttermilk waffles recipe on Monday. I had to give you this homemade chicken and waffles recipe that will probably be one of my absolute favorite recipes of the year.
This year, I decided I would share some savory recipes on my baking blog. Many don't know how much I love to cook so I hope future recipes will change their perspective.
Now on to these homemade chicken and waffles. I first heard about Chicken and Waffles years ago. There is a little spot most of you may know called Roscoe's Chicken and Waffles that's pretty famous. I had to try it in Chicago at Chicago's Home of Chicken and Waffles and I was hooked. First of all, I am the biggest fan of fried chicken ever. I fry chicken a lot in my home and when I don't fry it, I oven fry it or dredge it and saute' it (I have a problem). When I knew that fried chicken could be served with waffles, I couldn't imagine two amazing things coming together to make something even more spectacular. Well it was life changing good.
Just imagine soft yet crisp buttermilk waffles topped with well-seasoned, extra-crispy, golden-brown fried chicken wings. Then top that heavenly dish with fresh butter and pure maple syrup. The salty, the sweet and the flavorful all blend together seamlessly. Magic happens. While I have been to several chicken and waffles places like Chicago's Home of Chicken and Waffles , Gladys Knight Chicken and Waffles and Roscoe's House of Chicken and Waffles, I needed to make this at home so I could satisfy this craving whenever I had it. I think I definitely succeeded.
What do you think? Have you ever had chicken and waffles? If not, get started with my Buttermilk Waffles recipe HERE: https://grandbaby-cakes.com/2014/03/buttermilk-waffles/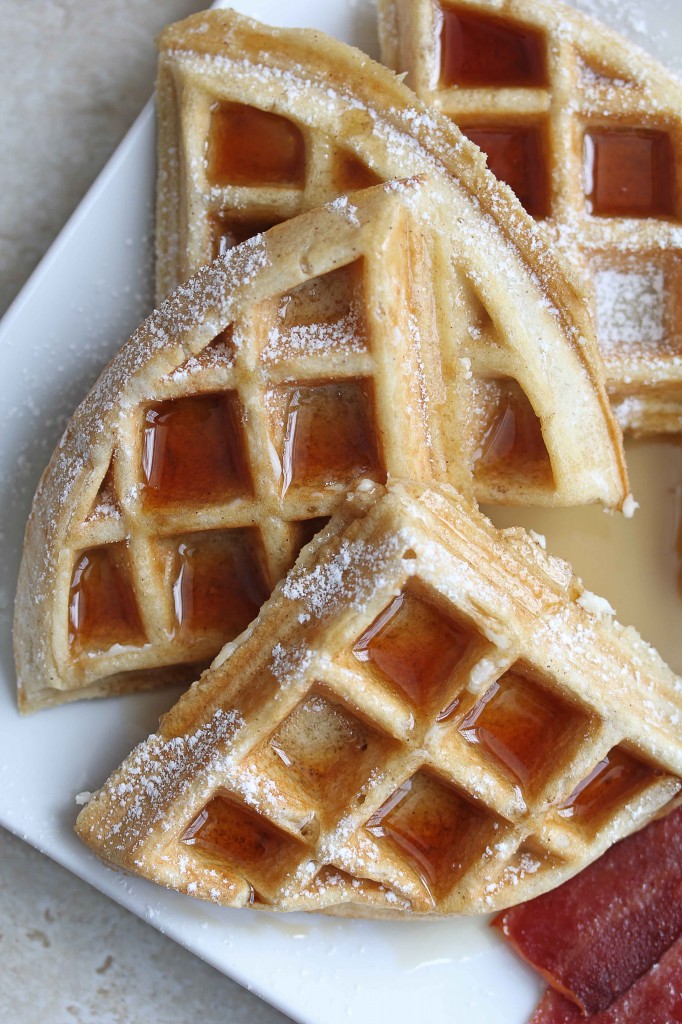 If you love other amazing fried recipes, go HERE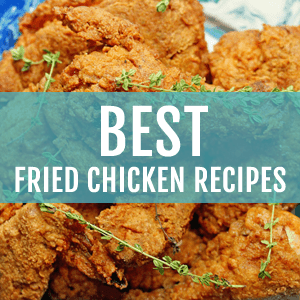 I used the following products for this recipe!


Homemade Chicken and Waffles Recipe
This is the perfect fried chicken and waffles recipe. Imagine perfectly seasoned and crispy fried chicken on top of a fluffy, sweet and tender waffle and get ready to be impressed.
Author:
Jocelyn Delk Adams of Grandbaby-Cakes.com
Serves:
4 chicken and waffles
Ingredients
Buttermilk Waffles Recipe Ingredients found HERE
8 chicken wings
2 cups buttermilk
2 teaspoons hot sauce
2 teaspoons Worcestershire
2½ cups all-purpose flour
4 tablespoons cornstarch
3 tablespoons seasoned salt
2 teaspoons paprika
2 teaspoons black pepper
1 teaspoon garlic salt
1 tablespoon onion powder
Instructions
Add chicken wings to a ziploc bag.
In a medium sized bowl, whisk together buttermilk, hot sauce and worcestershire sauce and pour mixture over chicken in ziploc.
Seal bag and marinate in refrigerator for at least 2 hours or up to 8 hours (overnight).
While chicken marinades, prepare buttermilk waffles batter according to instructions HERE.
When you are finished marinading chicken, add flour, cornstarch, seasoned salt, paprika, black pepper, garlic salt and onion powder to a paper bag and shake to blend well.
Add 2 tablespoons of marinade to flour mixture and whisk into flour to form crumbs.
Remove chicken from marinade and dip into seasoned flour thoroughly coating each wing.
Add wings to a baking sheet. Once finished coating chicken, place in refrigerator.
Add ¾-1 inch of oil to a cast iron skillet or heavy bottom skillet and heat over medium high heat.
While oil is warming, also turn on oven to 275 degrees.
(This is my test for knowing when the oil is ready: My mom always tossed a tiny bit of flour in the oil and if it began to fry and sizzle the oil was ready).
Fry four wings at a time making sure to not overcrowd the pan. After each side is golden brown, put the pan's top on the chicken to steam and make sure the inside of the chicken is done. Remove the top and continue to fry outside until it is crispy.
Remove wings and place on paper towels to drain. Place wings on a baking sheet covered with parchment and add to oven while finishing the other wings.
Fry the remaining chicken and drain and add to oven. Add the remaining wings to the oven.
Add butter to waffles and allow to melt.
Lastly, layer each finished waffle with two chicken wings, drizzle with warm pure maple syrup and sprinkle with confectioner's sugar and parsley to serve.
Nutrition Information
Serving size:
1 waffle with 2 chicken wings