This Baileys Mint Chocolate Cream Pie just in time for St. Patrick's Day! Absolutely decadent, minty, creamy and chocolatey, this is the perfect indulgent Irish treat to celebrate with! If you love all things chocolate and mint, check out my Mint Chocolate Cake, Mississippi Mud Pie, Chocolate Pound Cake with Mint Ganache, my Mint One Bowl Brownies and my Mint Chocolate Ice Cream Pie!
In my heart, I know I'm Irish. How could I not be? I love the color green, fish and chips, Irish stew, beer, Baileys Irish Cream and especially this Baileys Mint Chocolate Cream Pie.
BAILEYS MINT CHOCOLATE CREAM PIE
The idea for this Baileys Mint Chocolate Cream Pie started with a simple idea: Chocolate. Honestly, most of my ideas come from simple flurries of thought or undeniable cravings . This time around, I felt a craving for chocolate couldn't be ignored. (To my ladies out there, you know what I'm talking about.)
My next step was to decide between a chocolate cheesecake or a chocolate pie. Hard choice, I know. I haven't made a cheesecake or a pie in a long time, and I honestly needed to put forth the effort on my big Irish debut. Due to my insistent indecisiveness, I eventually settled on a mix of both: a chocolate cream pie made with an oreo cookie crust in a springform pan resembling a cheesecake (SCORE).
HOW TO MAKE CHOCOLATE CREAM PIE
There are layers to this ish y'all! Each component of this pie is better than the next; with every bite you get something new. Let me break it down so you truly understand how it all comes together.
The Crust
It all starts with a buttery, crushed Oreo crust. A cookie crust adds a satisfying chocolatey crunch that cuts through the creaminess.
Chocolatey Filling
The filling of this pie is a classic chocolate cream pudding with the addition of Baileys Irish Cream. Baileys takes things to a new level; there are notes of caramel, dark roasted coffee and even hazelnut.
While watching the filling thicken over my stove top, I tasted the pudding and almost fainted from the luxurious taste of it. I could have gone to heaven and back it was so good! But I didn't stop there.
Whipped Cream Topping
Where would a cream pie be without the whipped cream? I made sure to whip up some sweet, smooth and decadent cream to top off this latest treat. But, in the St.Patrick's Day spirit, I needed to mix things up. So, I added a bit of mint extract and a few drops of green food coloring to get the fun going!
Top it Off
Just when you thought it was all over, it gets better. I wanted this pie to feel fun and decadent in all my favorite ways. I drizzled a little melted chocolate over the top, piped on fresh whipped cream dollops and garnished with Andes mint chocolates and green sprinkles for good measure.
What was left was a treat fit for any St. Patrick's Day Feast! After the creation of this, I am excited and proud to say that I am Irish. I plan to talk to my Big Mama and the rest of my family to get to the bottom of this.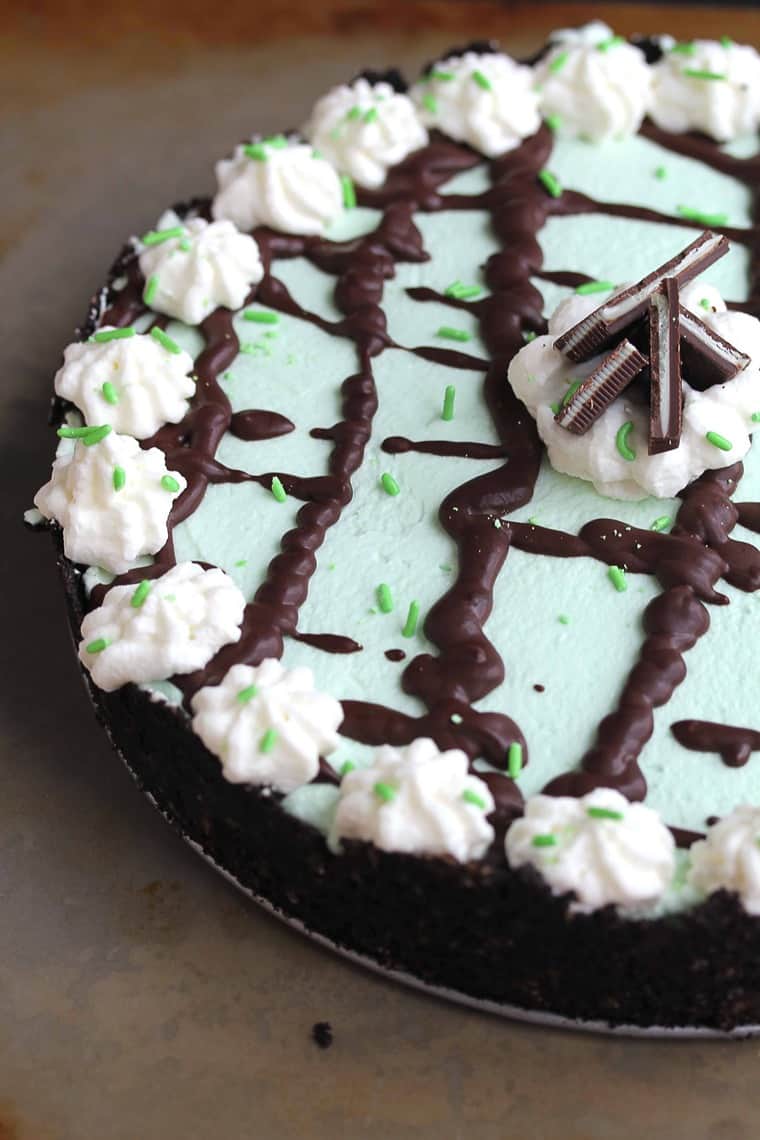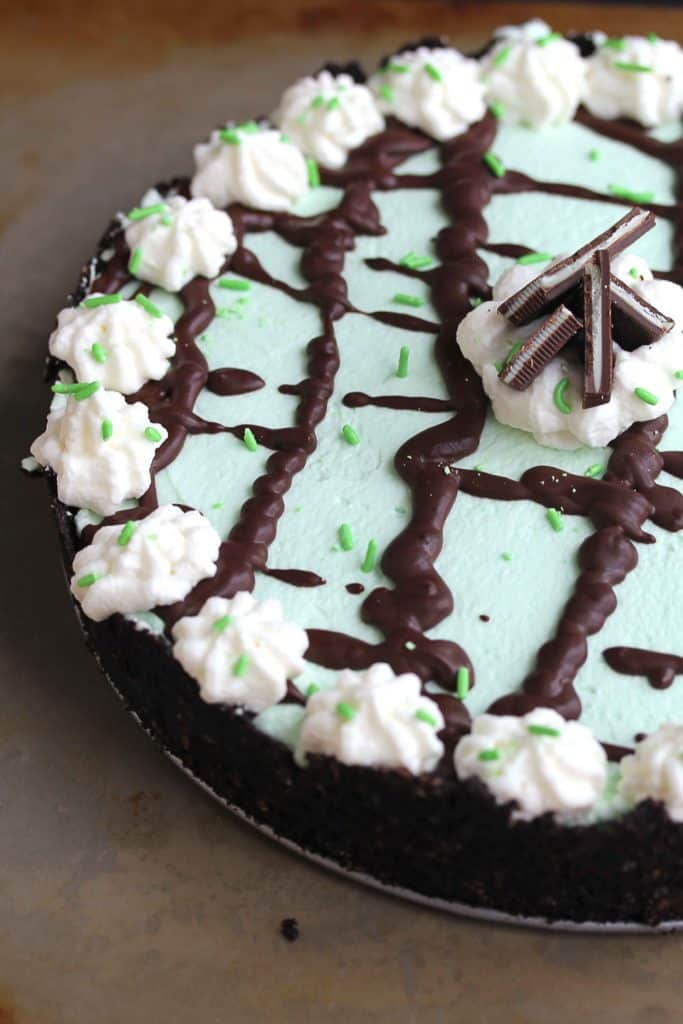 CREAM PIE TIPS & TRICKS
If you've never made a cream pie (or a pie in general) before, you're in for a treat. These pies are simple to make and quite low-maintenance. I'm here to make sure you make the most of your ingredients with a few tips to guarantee the best result every time.
Avoid Clumping
While preparing your filling, be sure the cornstarch fully incorporates into the milk and heavy cream before adding the egg yolks. This simple step ensures a smooth, creamy pudding.
Whisk Frequently
Dairy is prone to scorching quite quickly when heated; this affects both flavor and texture. To avoid this, whisk the entire bottom of the pan including the edges.
Prevent the Thin Skin
As pudding mixtures cool they can develop a thin "skin" over the surface. If you're not someone who enjoys that, cover the filling with plastic wrap as soon as you've filled your crust. Make sure the entire surface is touching the plastic. Move to the freezer and allow it to set.
Get Creative
Don't be afraid to have fun. Create large peaks with whipped cream, sprinkle on chocolate shavings or draw on leprechauns with green icing. Do you!
MORE GRANDBABY CAKES' PIES
I like the idea of a stand-out pie, something rave-worthy. So, with every Grandbaby Cakes pie recipe there's something new and exciting. If you loved this recipe then you're ready to explore a few of these deliciously unique pies:
VANILLA BUTTERMILK PIE
EASY DELISH KOOL AID PIE
BANANA PUDDING PIE
FROZEN BANOFFEE PIE
What do you plan to make for St. Patrick's Day? If you have nothing in mind, check out my fellow #KissMeImIrish Party pals' recipes below: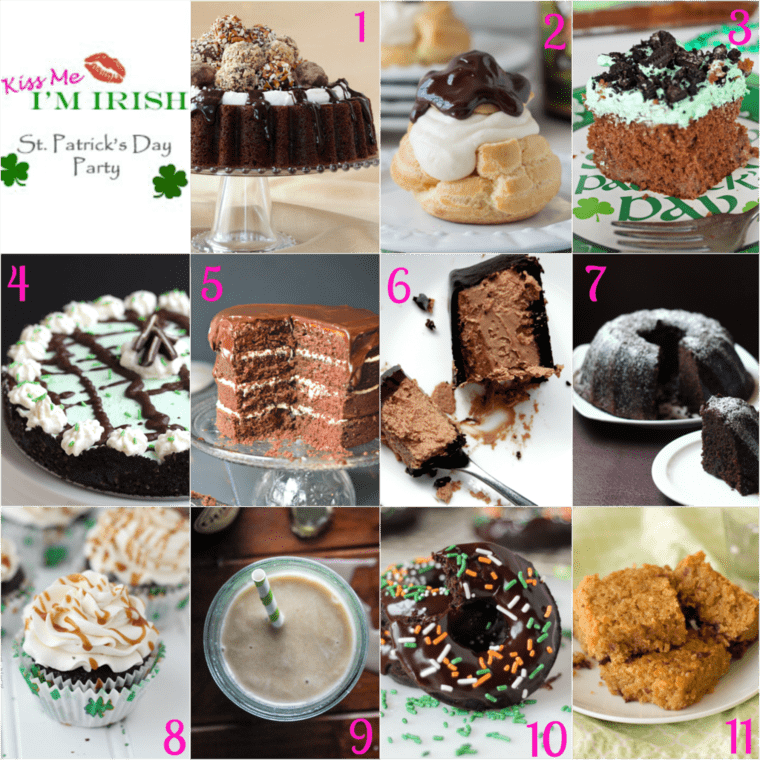 1. URBAN BAKES – Sweet & Salty Boozy Irish Truffle Cake
http://urbanbakes.com/sweet-and-salty-boozy-irish-truffle-cake/
2. Baking a Moment – Irish Cream Profiteroles
http://bakingamoment.com/irish-cream-profiteroles/
3. The Cheery Baker – Baileys Mint Chocolate Poke Cake
http://www.thecheerybaker.com/2014/03/12/baileys-mint-chocolate-poke-cake/
4. Grandbaby Cakes – #KissMeImIrish Baileys Mint Chocolate Cream Pie
https://grandbaby-cakes.com/2014/03/baileys-mint-chocolate-cream-pie/
5. bethcakes – Irish Car Bomb Cake
http://www.bethcakes.com/irish-car-bomb-cake/
6. gotta get baked – Chocolate Baileys Cheesecake
http://gottagetbaked.com/2014/03/12/chocolate-baileys-cheesecake-for-a-kissmeimirish-st-patricks-day-party
7. Jessiker Bakes – #KissMeImIrish Guinness Chocolate Cake
http://theblog.jessikerbakes.com/guinness-chocolate-cake/
8. Blahnik Baker – Chocolate Guinness Cupcakes with Whiskey Caramel and Baileys Buttercream
http://wp.me/p3S04I-KY
9. Bakes In Slippers – Guinness Chocolate Stout Milkshake
http://bakesinslippers.com/guinness-chocolate-stout-milkshake/
10. Chez CateyLou- Guinness Stout Chocolate Donuts #KissMeImIrish
http://wp.me/p4c8PI-1af
11. House of Bakes – Drunken Blondie
http://www.houseofbakes.com/drunken-blondie/
Baileys Mint Chocolate Cream Pie
Baileys Mint Chocolate Cream Pie just in time for St. Patrick's Day! Absolutely delicious, decadent, minty and chocolatey for the perfect indulgent Irish treat!
Print
Pin
Rate
Ingredients
For the Crust:
1 1/2

cup

cream filled chocolate sandwich cookies like Oreos

crushed

6

tablespoons

melted butter
For the Pie Filling:
4

large

egg yolks

beaten

1 1/2

cups

granulated sugar

1/4

cup

cornstarch

Pinch

salt

1/3

cup

unsweetened cocoa powder

1/2

teaspoon

instant coffee

2 1/2

cups

heavy cream

1/2

cup

milk

1/4

cup

Baileys Irish Cream

1

tablespoon

butter

1

tablespoon

pure vanilla extract
For the Mint Whipped Cream:
1

cup

cold heavy whipping cream

1/2

cup

powdered sugar

1

tablespoon

cornstarch

1/4

teaspoon

mint extract

add 1/2 teaspoon if you want a stronger mint flavor

3

drops

green food coloring

OPTIONAL: chocolate sauce

plain whipped cream, andys mint candy for garnish, and green sprinkles for garnish
Instructions
For the chocolate crust:
Add crushed chocolate sandwich cookies and melted butter to a medium bowl and whisk together.

Liberally spray the bottom and sides of a springform pan with non-stick baking spray.

Gently press the chocolate crust into the bottom of the springform pan and up the sides of the pan.

Place the completed crust filled springform pan in the freezer and preheat the oven to 300 degrees. Once the oven is set, bake the crust for 10 minutes then cool on a wire rack.

Once cooled, place the springform pan back in the freezer.
For the pie filling:
Mix together egg yolks and granulated sugar on medium high speed in the bowl of your mixer. Next add in cornstarch, salt, cocoa powder and instant coffee and lower speed.

Lastly, add in heavy cream, milk, and Baileys Irish Cream and whisk together scraping down the sides and bottom to thoroughly blend mixture.

Transfer mixture from mixing bowl to large pot over medium heat on your stove until mixture begins to boil whisking the entire time.

Once filling has thickened significantly, turn off heat and swirl in butter and vanilla and whisk together until glossy and smooth. Let mixture chill until it is barely warm.

After the filling has cooled a bit, add it to the cookie crust and smooth out until even.

Place the pie back in the freezer for 1 hour.
For the Mint Whipped Cream:
Make the whipped cream, add heavy cream to the bowl of your mixer and beat on high speed.

Once peeks slowly begin to develop, add in powdered sugar, cornstarch, mint extract, and green food coloring until heavy peaks have formed.

Evenly spread the mint whipped cream over the top of the chocolate pie and refrigerate pie until ready to serve. (Gently remove the pie from the sides of the springform pan before serving).
Nutrition
Calories:
855
kcal
|
Carbohydrates:
78
g
|
Protein:
6
g
|
Fat:
58
g
|
Saturated Fat:
34
g
|
Cholesterol:
262
mg
|
Sodium:
277
mg
|
Potassium:
226
mg
|
Fiber:
2
g
|
Sugar:
59
g
|
Vitamin A:
1985
IU
|
Vitamin C:
0.7
mg
|
Calcium:
110
mg
|
Iron:
3.3
mg