A crisp crust meets a sweet, buttery, and oh so creamy filling in this classic Southern Chess Pie recipe! Made with fresh, simple ingredients, and a whole lot of love, this pie is a perfect addition to your holiday table! If you love this Classic Chess Pie, you will also love this Honey Pie, Shoofly Pie, Toasted Coconut Pie, Chocolate Chess Pie, Pumpkin Pie, Egg Pie, Buttermilk Pie or Brown Butter Chess Pie!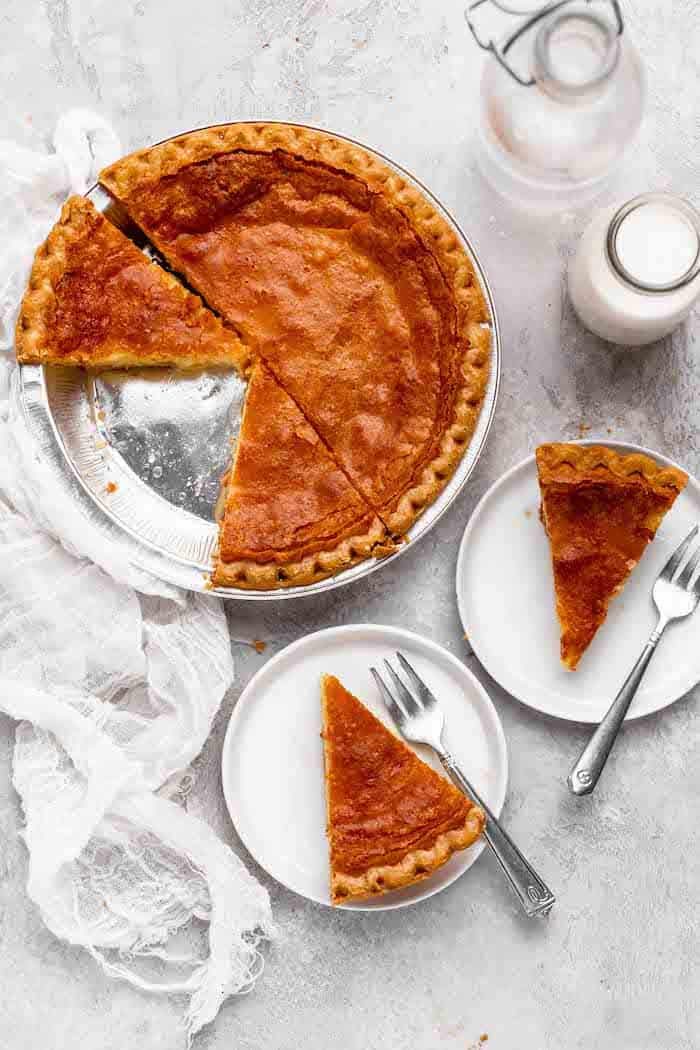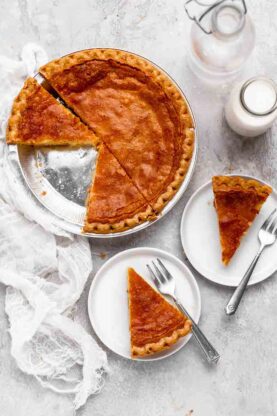 I can't believe it's here! Thanksgiving has come again and I couldn't be more excited. The holiday season is, without a doubt, the best time of the year. It's the food, the family, and did I mention the food? Mountains of homemade biscuits and buckets of warm gravy with a side of greens is something I look forward to all year long.
This might surprise you but I am definitely not the head chef in the kitchen on Thanksgiving. I'm the dessert girl! Year after year, my family counts on me to provide enough pies and cakes to feed a whole lot of hungry folk. I'll usually bring a cake or two and a few pie options, just so there's something for everybody.
This year, I'm bringing a Southern Chess Pie recipe to the table! Super simple, super satisfying, and super delicious, this classic pie is sure to wow the whole family. Now, there'll still be a Sweet Potato and perhaps a Pecan Pie on the table, but something new never killed anyone. I hope you enjoy this slice of heaven as much I have. Happy Thanksgiving!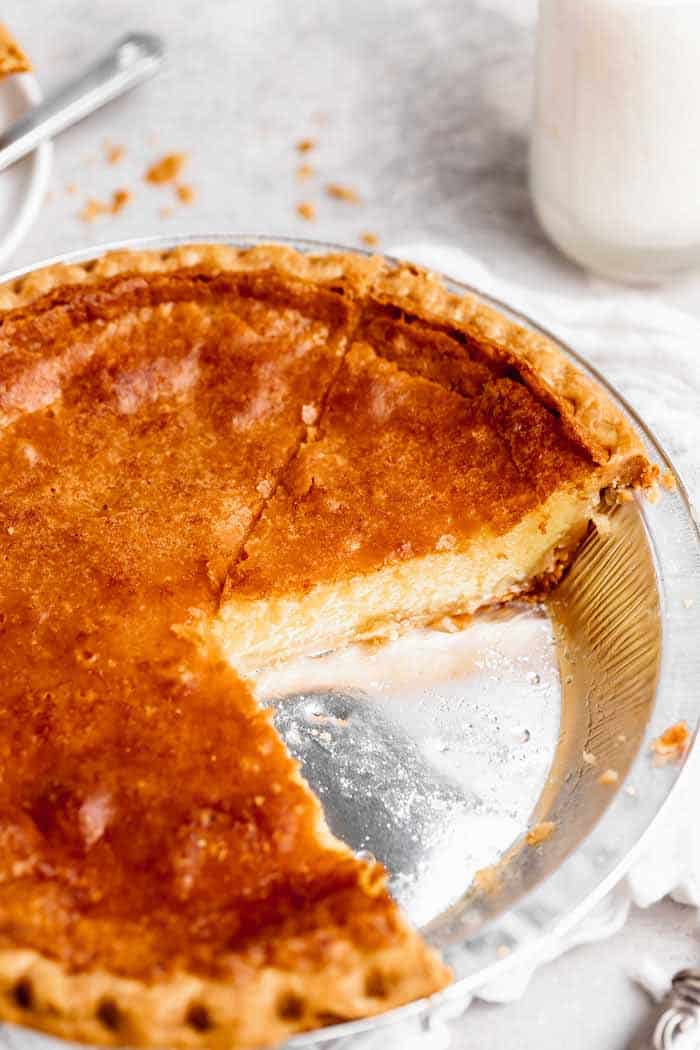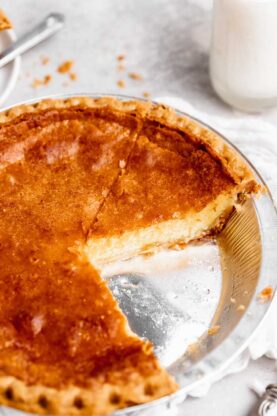 WHAT IS CHESS PIE?
Chess Pies are a Southern specialty that has a simple filling of eggs, sugar, butter, and a bit of flour. There are many flavor additions such as vanilla, buttermilk, lemon, and chocolate that can vary the basic recipe.
As to how Chess Pie got its name, I'm not sure! There are dozens of stories, guesses, and pieces of written folklore surrounding the history of this curious pie. Regardless of where it came it from, this sinfully sweet slice is unlike anything you've had before.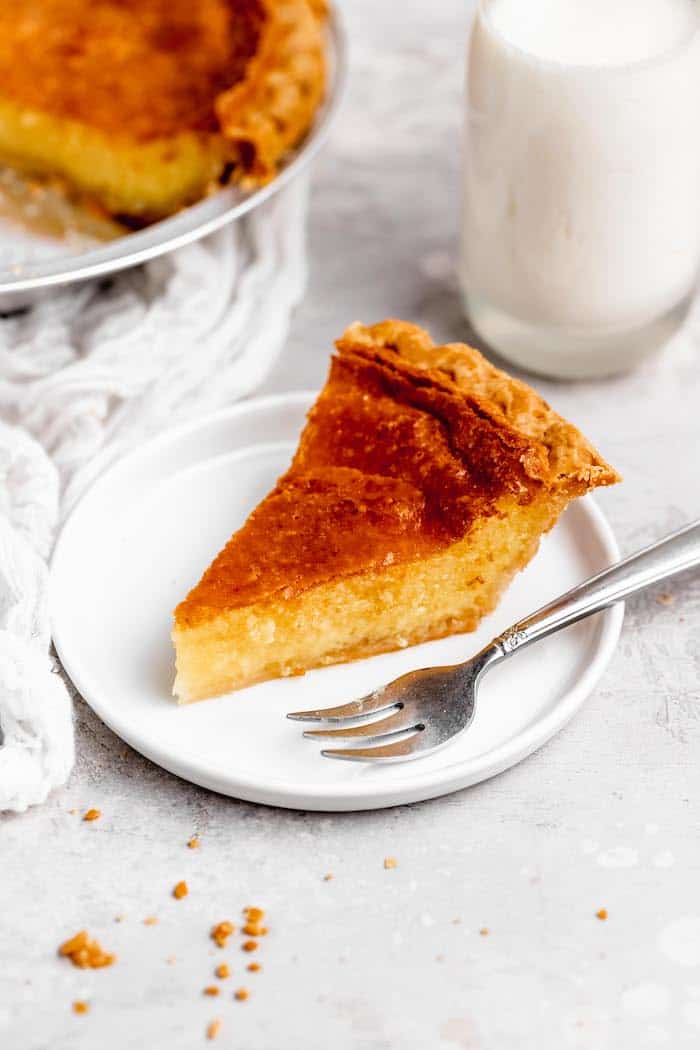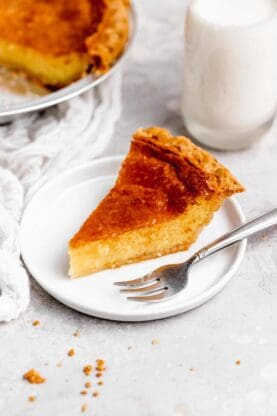 CHESS PIE INGREDIENTS
UNSALTED BUTTER must be fully softened for this recipe. If the butter is too firm or cold, it will not properly cream with the sugar.
GRANULATED SUGAR is a hefty component of this pie. Be on the lookout for large clumps of sugar; they will get in the way of a smooth filling. If you find this pie to be too sweet or not sweet enough, try increasing or decreasing the measurement of sugar by a ¼ cup.
CORNMEAL + AP FLOUR both work as stabilizers in the custard, meaning they help to set the pie and create the final texture.
EGGS are at the base of any custard pie. I highly recommend using fresh, high-quality eggs; their yolks will have a brighter orange color. These eggs should also be at room temperature.
BUTTERMILK curdles the custard, creating a tangy and flavorful filling. If preferred, whole milk can be used in its place.
VANILLA enhances flavor and color.
LIME OR LEMON JUICE + ZEST may seem out of place but I promise that the added acidity is fantastic. That zippy sweetness offered up by citrus takes this pie to a new level.
SALT also enhances flavor. I'd stick to kosher salt here.
9" FROZEN PIE CRUST should be in your freezer at all times, but especially around the holiday season. The ease of pulling out a store bought crust from the freezer is an absolute God-send during the busiest time of the year. Feel free to use a homemade crust as well!
SERVING TIP: Chess pie is made even better with a hefty scoop of vanilla ice cream on top! It's the holidays, calories don't count.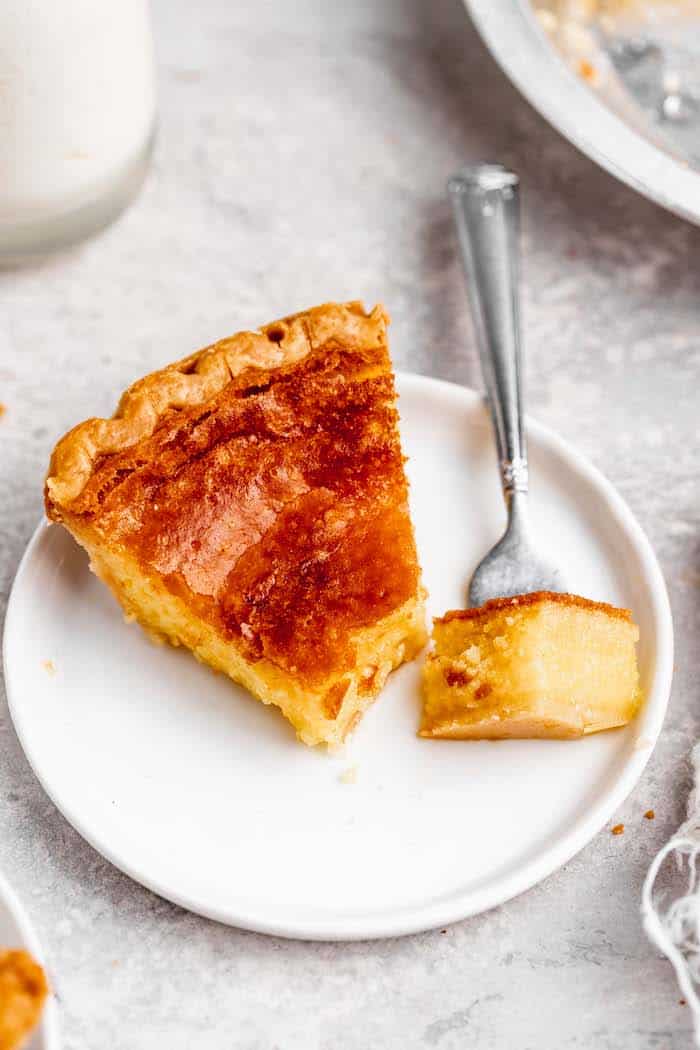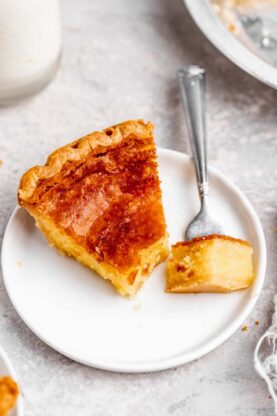 HOW TO MAKE A CHESS PIE RECIPE
If you're asking yourself why you should make this pie, look no further for the answer. With the help of a handy dandy frozen aisle crust, Chess Pie is made in 3 simple steps, which require very minimal effort. This pie will be the easiest dessert you dish out this holiday!
Here's how you make it:
BLIND BAKE THE CRUST-

Custard fillings can often cause a soggy bottom on your crust. To avoid that, we blind bake the crust, creating a firm barrier for the filling to bake on.
MAKE THE FILLING-

This part is easy! All you need is one big bowl and, this is crucial, room temperature Ingredients. Whisk vigorously until the filling is pale yellow, fluffy, and fully combined.
BAKE, COOL, AND SERVE-

Once the crust has cooled slightly and the filling has been made, pour the filling into the crust and carefully transfer the pie into the oven. Bake for about 15-20 minutes, then cover with foil to prevent the crust from browning too quickly. If desired, coat the foil with a little bit of nonstick spray. Bake for an additional 30-45 minutes. You'll know the pie is done when the edges are set but the center has a slight giggle. Remove from the oven and allow it to set for about an hour before serving.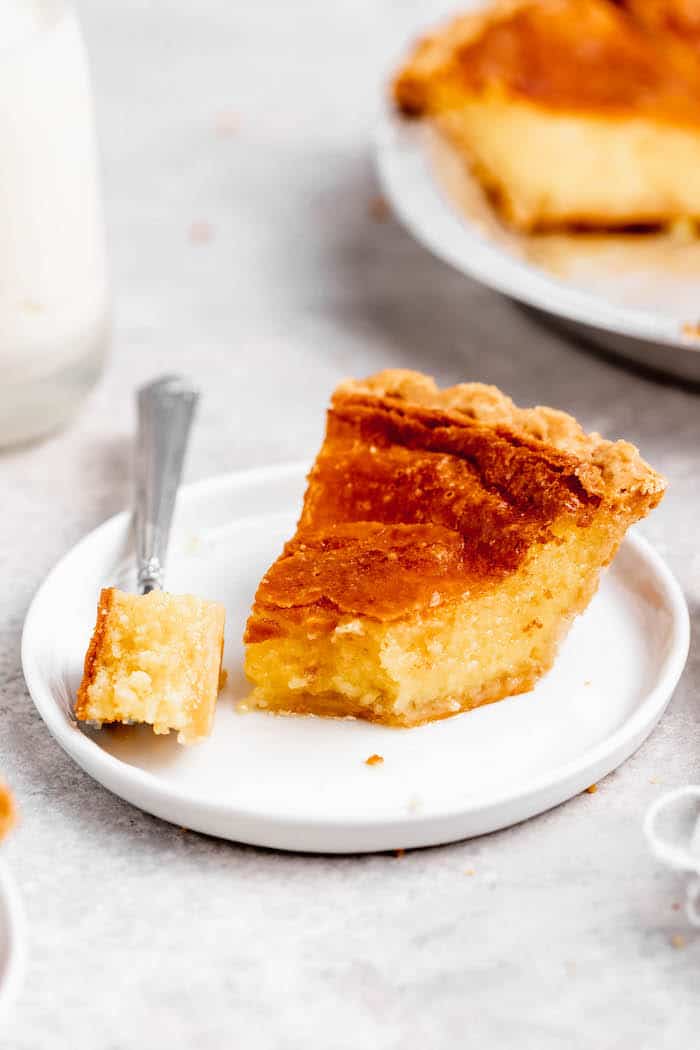 STORING LEFTOVER CUSTARD PIE
You can keep this pie covered in the pie plate or in an airtight container in the fridge for about 3-5 days. If reheating individual slices, a quick minute or two in the microwave will do the trick. Larger portions are best reheated in the oven (or a toaster oven) at 350 degrees for about 10 minutes.
GRANDBABY CAKES' BEST THANKSGIVING PIES
I love Thanksgiving dinner but I am obsessed with the dessert that comes after! Y'all, all I ever want is pies, on pies, on pies!
If you feel me, try a few more of my tastiest holiday pies: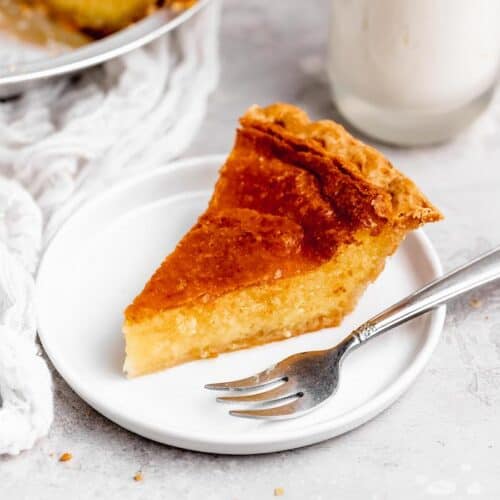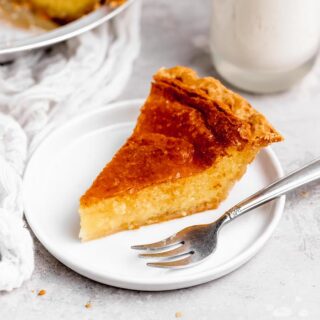 Chess Pie
A crisp crust meets a sweet, buttery, and oh so creamy filling in this classic Southern Chess Pie! Made with fresh, simple ingredients, and a whole lot of love, this pie is a perfect addition to your holiday table!
Print
Pin
Rate
Ingredients
1/2

cup

unsalted butter

room temperature

1 1/2

cup

granulated sugar

2

tbsp

yellow cornmeal

1

tbsp

all purpose flour

4

large eggs

room temperature

1/3

cup

buttermilk

room temperature

1

tsp

vanilla extract

1

tsp

lemon juice

or lime

1

tsp

lemon zest

or lime

1/4

tsp

salt

9" frozen or homemade pie crust

Find my homemade crust here
Instructions
Preheat oven to 350 degrees. Position a rack in the center of the oven.

In a medium mixing bowl, cream the butter and sugar. Beat in the cornmeal and flour.

Add the eggs, one at a time, beating well and scraping down the sides after each. When the egg mixture is well beaten add buttermilk, vanilla, lemon juice, zest and salt beat until smooth.

Pour the filling into a par-baked crust and carefully transfer into the oven. For a Parbaked crust, use my pie crust recipe, roll one of the disks out into the pie plate then use a fork to poke holes along the sides and bottom of the pie crust. Line the pie crust with parchment paper. Fill with pie weights, making sure the weights are evenly distributed around the pie dish. Pre-bake the crust for 10 minutes. Carefully remove the parchment paper/pie weights then add the filling. If you would like, you can brush some egg wash on the outside of the crust as well (just take 1 egg and whisk together with a teaspoon of water).

Bake for 50-60 minutes, or until the edges of the filling are firm but the center remains somewhat jiggly. Check the pie after 15-20 minutes and place a piece of aluminum foil on top to keep it from getting too brown.

Remove from the oven, place on a cooling rack, and allow to come to room temperature, about 1-2 hours.
Video
Notes
It is crucial that you make sure that your eggs and all wet ingredients are room temperature to really set up the custard.
Nutrition
Calories:
298
kcal
|
Carbohydrates:
41
g
|
Protein:
4
g
|
Fat:
14
g
|
Saturated Fat:
8
g
|
Polyunsaturated Fat:
1
g
|
Monounsaturated Fat:
4
g
|
Trans Fat:
0.5
g
|
Cholesterol:
113
mg
|
Sodium:
117
mg
|
Potassium:
59
mg
|
Fiber:
0.3
g
|
Sugar:
38
g
|
Vitamin A:
490
IU
|
Vitamin C:
1
mg
|
Calcium:
28
mg
|
Iron:
1
mg