This classic Key Lime Pie recipe features a crisp, buttery homemade graham cracker crust, creamy sweet-tart filling and whipped cream garnish! Easy to make and fun to eat, key lime pie is the perfect dessert for any Spring or Summer gathering! If you love this pie, you will also love this Lemon Icebox Pie, Raspberry Key Lime Pie, Key Lime Pound Cake and Key Lime Cookies!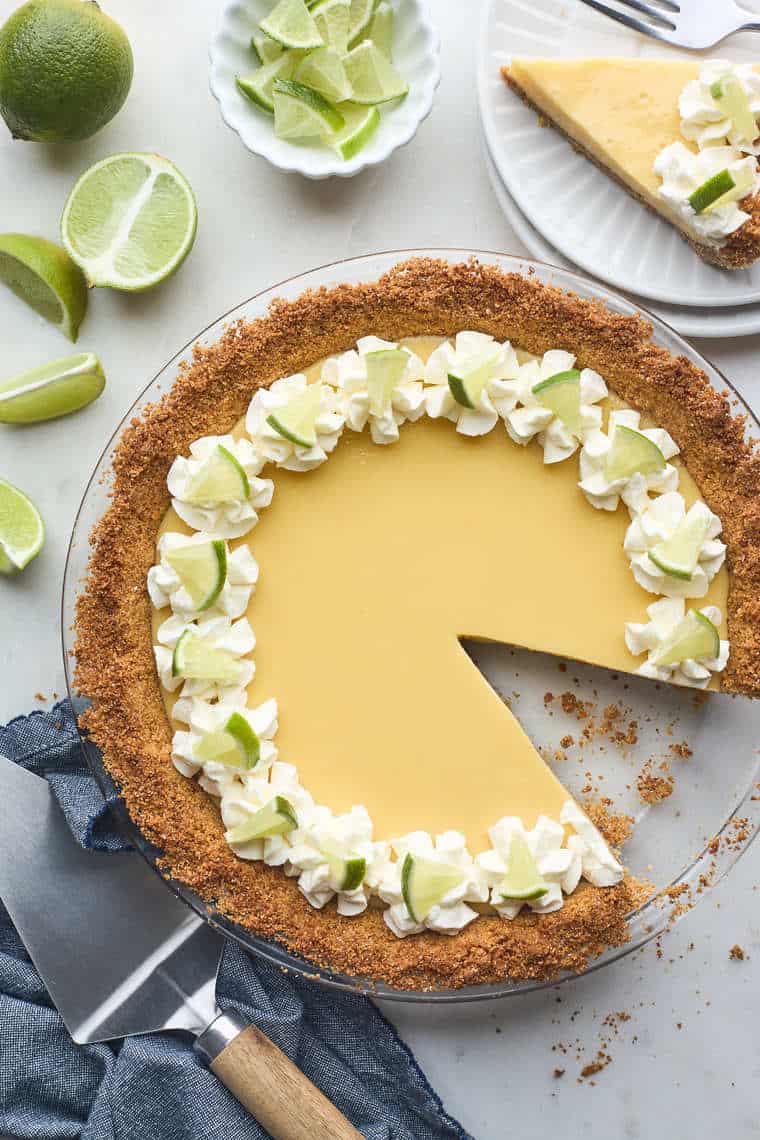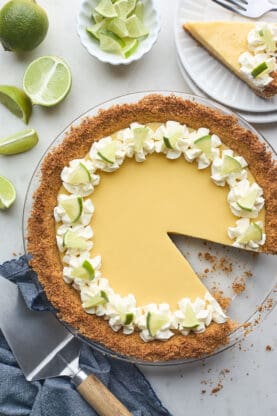 I'm not even gonna front, y'all know how much I love pie. But, do you know how obsessed I am with Key Lime Pie? Just those three words are enough to make my mouth water.
Today, I'm sharing a recipe for the BEST key lime pie ever!! Crunchy, creamy, zesty, and sweet, this citrus-based pie is a real stunner. Each bite will transport you straight to the Florida beaches this recipe came from!
TRADITIONAL KEY LIME PIE RECIPE
This sweet and tart pie originated in Key West, Florida, where fresh milk and refrigeration were uncommon until the 1930's. Most dessert recipes in the Florida keys utilized canned condensed milk, as well as a variety of other pantry-staple ingredients and fresh tropical fruits.
There are an incredible amount of variations of this recipe, each one more unique and delicious than the last. If you like this recipe, try out my Raspberry Key Lime Pie!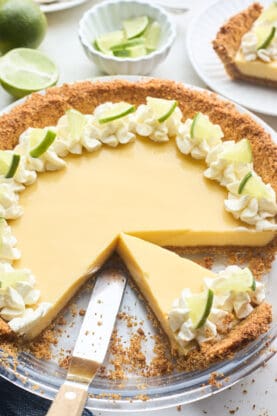 KEY LIMES VS LIMES
Key Limes, also known as Mexican limes or West Indies limes, grow in tropical regions and can be used in the place of a lime in just about any recipe. One of the most notable differences between regular limes and key limes is the size and color of the limes. Key limes are often smaller and more yellow, while also having a thinner skin and more seeds.
Key lime has a stronger, more intense and aromatic taste than lime; their unique aroma brings a unique zesty flavor to this pie. In a pinch, you can totally substitute one for the other!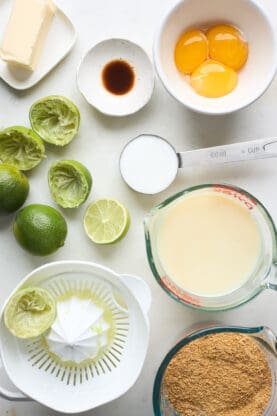 KEY LIME PIE INGREDIENTS
The key to making the perfect key lime pie lies in the ingredients. And these ingredients couldn't be any simpler to find and whisk together! To get started, you will need to create a firm base for the pie using ingredients such as:
Condensed milk- to help thicken up the base and keep its consistency

Key lime juice- adds the perfect touch of tangy, citrus flavor

Vanilla extract-amazing for adding both flavor and aroma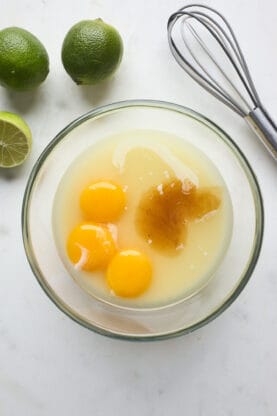 Make sure to combine these ingredients (along with a few others I'll be mentioning down below) for the best base possible!
And of course, no key lime pie is an actual pie without the crust!! My graham cracker pie crust is an easy place to start building out your own crust.
Once you get the crust out of the way and the gooey, citrus filling poured inside, you are well on your way!
Note: You are more than welcome to make this recipe using a store bought crust! I promise, it'll save you time and still be just as delicious!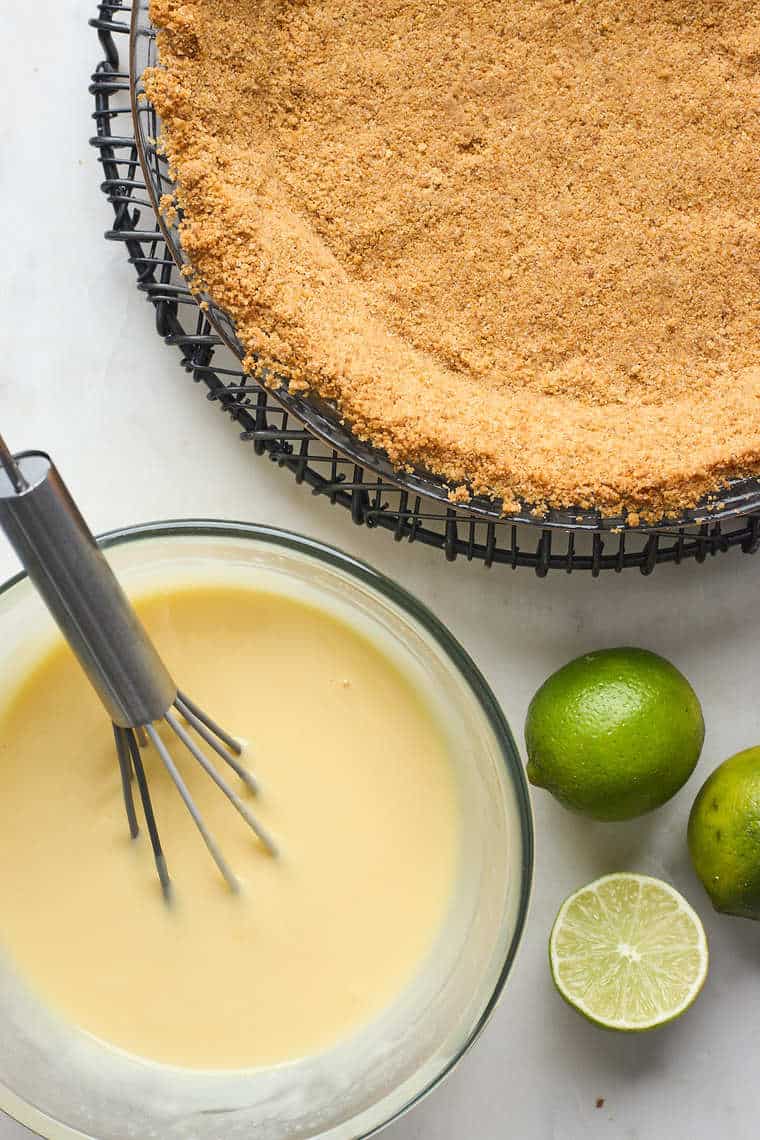 HOW TO MAKE A HOMEMADE KEY LIME PIE
Key lime pies are incredibly easy to make! There's no fruit to cook or dough to roll out, just simple ingredients and a few short steps.
To ensure the best result, apply some of the tricks and tips mentioned below:
Be picky about ingredients.

There are under 10 ingredients to this recipe, so make them count. High-quality ingredients will completely change the depth of flavor in your pie.

Pay attention to crust consistency.

You'll want the crust to be even and perfectly consistent throughout the pie. Be sure to process/crush the graham cracks to a uniform texture and size.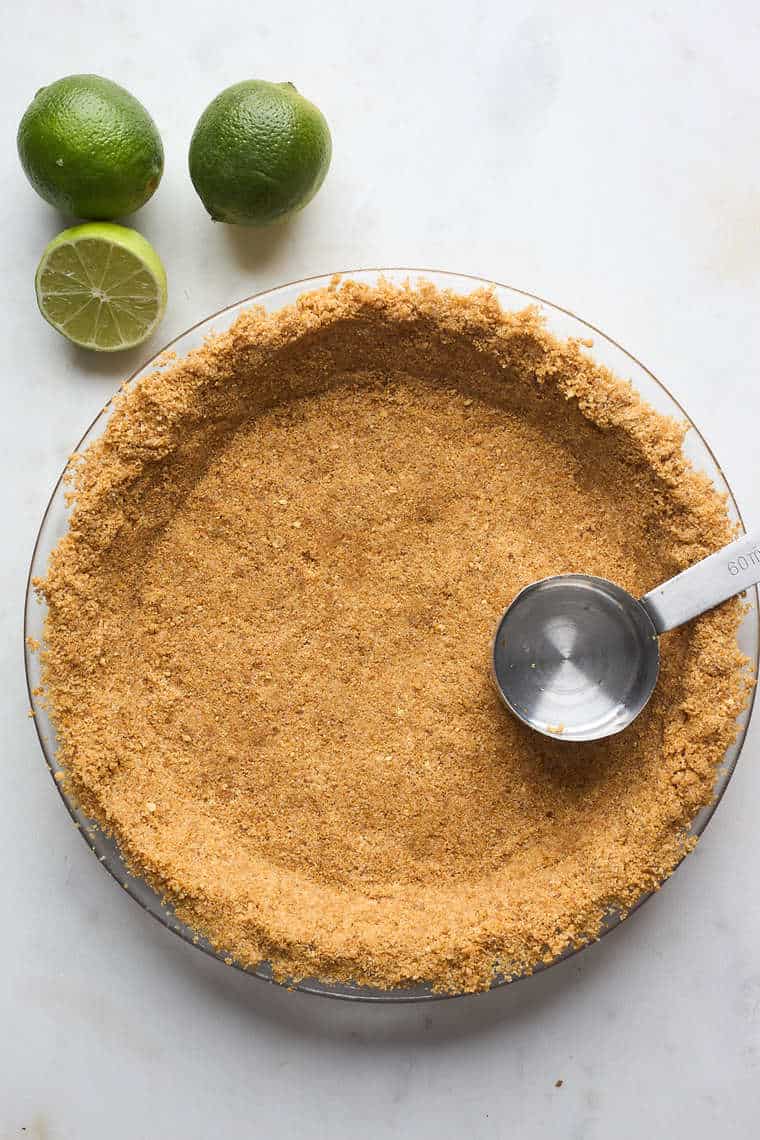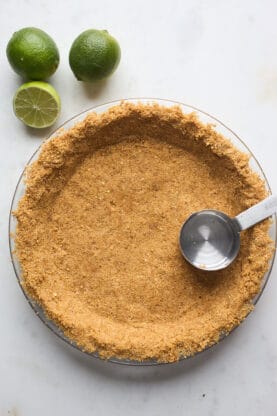 Save the egg whites!

Most folks serve up this pie with a hefty dollop of whipped cream, which is very delicious. But, I do also like to mix a couple tablespoons of sugar into my leftover egg whites and whip up quick merengue! Give it a try!
DAIRY-FREE KEY LIME PIE
With a few quick substitutions, you can totally make this recipe dairy-free friendly! First, you'll need to make sure that the graham crackers are dairy-free (most are). Then, replace the butter with your favorite brand of vegan margarine or butter.
Finally, you've gotta swap out the condensed milk. The best substitute for sweetened condensed milk is full fat coconut milk with a sweetener. With only 2 ingredients, you can make a super convincing dairy-free "condensed milk".
For this recipe you'll need:
1 can full-fat coconut milk

⅓ cup sugar, maple syrup, or agave
HOW TO MAKE VEGAN CONDENSED MILK
Add the coconut milk and sweetener to a small pot. Bring to a boil, then reduce the heat to medium-low.

Simmer the mixture for 30-45 minutes, whisking every 5 minutes to prevent the liquid from boiling over.

Once done, the "milk" will have reduced by about half and turned a beige/light-brownish color. Depending on the kind of sweetener you use, it'll be lighter or darker.

Remove from the heat and transfer to a heat-safe bowl. Allow it to cool completely.

Use in place of condensed milk in any recipe!
RECIPE NOTES
This recipe will produce ¾-1 cup of liquid. Feel free to increase measurements to fit your recipe needs.

Because this alternative is made with coconut milk, your pie will have a coconut flavor to it. Personally, I like the flavor! It makes for a really tropical feeling recipe!

STORING KEY LIME PIE
Leftover pie should be stored in an airtight container in the refrigerator for up to 3 days. Past that, it's best to tuck it in the freezer where it will keep for up to a month! Just be sure to thaw it on the counter for 15-20 minutes before serving it. The longer it's stored in the freezer, the longer it'll take to thaw out.
GRANDBABY CAKES' CITRUS RECIPES
If you're still searching for some refreshing, fruity flavor, here are a few of my top citrus dishes and drinks!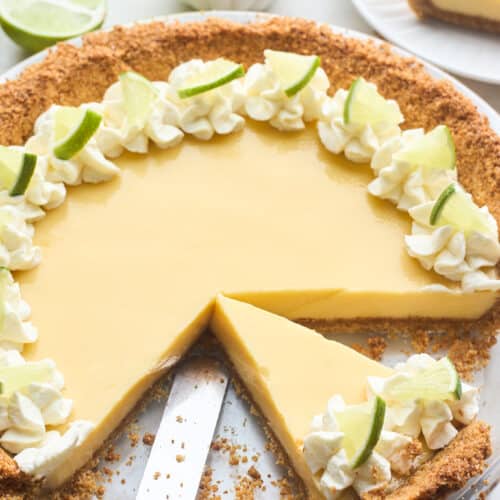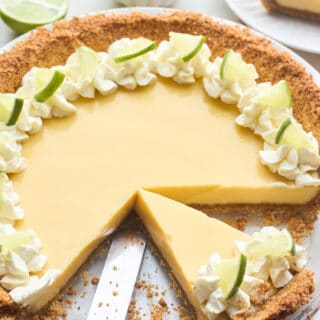 Key Lime Pie
This classic Key Lime Pie recipe features a crisp, buttery homemade graham cracker crust, creamy sweet-tart filling and whipped cream garnish!
Print
Pin
Rate
Ingredients
For the Crust:
1 1/2

cups

graham cracker crumbs

1/3

cup

melted butter

1/4

cup

granulated sugar
For the Filling:
3

large

egg yolks

½

cup

key lime juice

14

ounces

sweetened condensed milk

1 can

1

teaspoon

pure vanilla extract

Optional: Whipped Cream for garnish
Instructions
For the Crust:
Preheat oven to 350 degrees.

Mix together graham cracker crumbs, melted butter and sugar in a bowl.

Pour the mixture into a 9 inch pie plate and press down into the plate and around the sides. Bake for 10 minutes to set.
For the Filling:
Whisk together egg yolks, key lime juice, condensed milk, and vanilla extract.

Pour filling into baked pie crust.

Bake for 15 minutes until set then let rest until it cools to room temperature.

Refrigerate for 2-3 hours, garnish with whipped cream if desired and serve.
Video
Notes
Make sure you do not use regular lime juice for this recipe.  Buy key limes and squeeze juice or use store bought key lime juice.
Nutrition
Calories:
344
kcal
|
Carbohydrates:
47
g
|
Protein:
6
g
|
Fat:
15
g
|
Saturated Fat:
8
g
|
Polyunsaturated Fat:
1
g
|
Monounsaturated Fat:
5
g
|
Trans Fat:
1
g
|
Cholesterol:
106
mg
|
Sodium:
238
mg
|
Potassium:
240
mg
|
Fiber:
1
g
|
Sugar:
37
g
|
Vitamin A:
468
IU
|
Vitamin C:
6
mg
|
Calcium:
166
mg
|
Iron:
1
mg