Made with layers of tender potatoes and a rich, creamy, aromatic sauce, Scalloped Potatoes with Cheese make for something classically delicious. With a few simple ingredients, this homemade scalloped potatoes recipe comes together in a snap and is the BEST Easter, Christmas, or Thanksgiving side dish ever! I'll walk you through the steps to create this ultimate comfort food right in your own kitchen.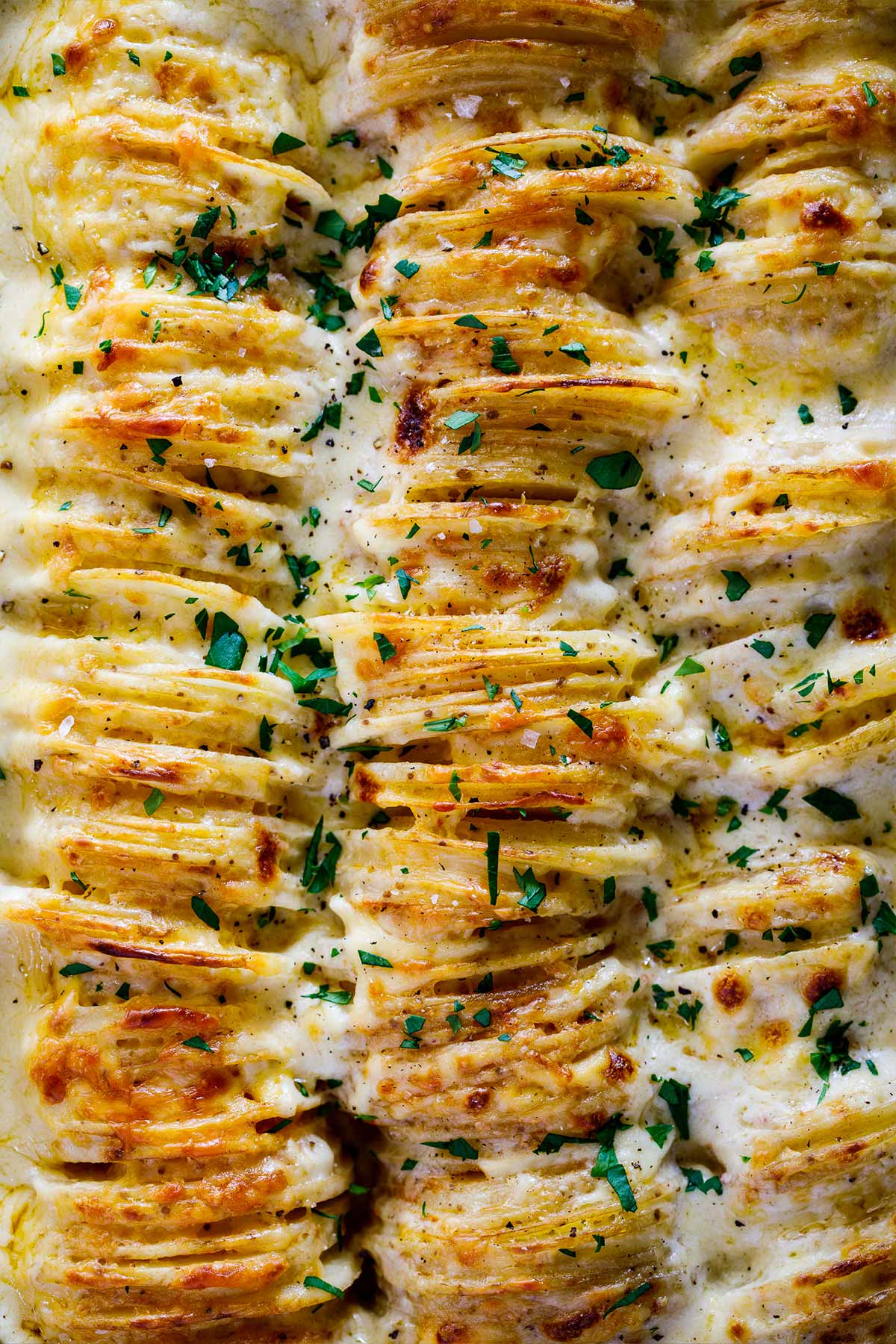 If you've been searching for the best scalloped potatoes recipe, look no further. Our version goes above and beyond, taking this classic side dish to new culinary heights. Thinly sliced potatoes are bathed in a rich, creamy cheese sauce, then baked until golden and bubbly, making this dish a guaranteed crowd-pleaser at any gathering. Get ready to experience the magic of homemade scalloped potatoes, where every forkful is a celebration of flavor and texture.
Why You Will Love This Scalloped Potato Recipe
Irresistibly Delicious: My scalloped potato recipe strikes the perfect balance of cheesy, creamy, and salty flavors, creating a dish that's nothing short of spectacular. Each mouthful promises a taste sensation that's truly unforgettable.
Versatile Crowd-Pleaser: Whether it's for a holiday gathering or a family dinner, these scalloped potatoes complement a variety of main dishes, from turkey to ham. They've won over many hearts, making them a universal favorite for any special occasion.
Surprisingly Simple: Don't let the complex flavors fool you; these scalloped potatoes are straightforward to prepare. With my easy-to-follow instructions, you can impress your guests with a dish that tastes as if it took hours to perfect.
Perfectly Comforting: There's something comforting about a dish of warm, creamy potatoes. My scalloped potatoes recipe encapsulates this comfort, providing a satisfying, heart-warming side dish that feels like a culinary hug.
Homemade Goodness: Making these scalloped potatoes from scratch adds an extra special touch. There's something about homemade dishes that taste far better than store-bought, and this recipe truly showcases the magic of home cooking.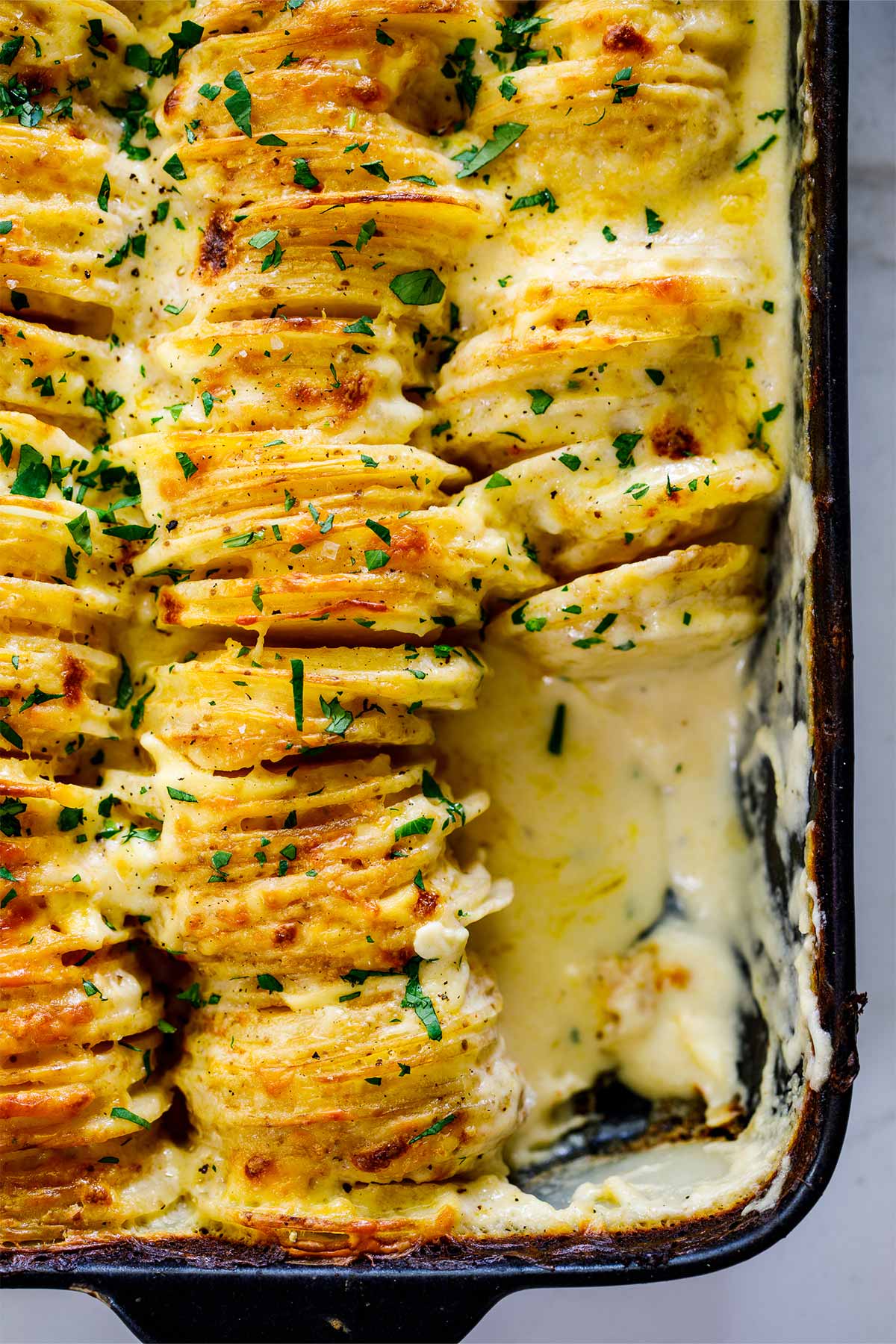 What Are Scalloped Potatoes?
Scalloped potatoes consist of thinly sliced potatoes (of any variety) layered in a casserole dish and baked with heavy cream or milk. Some recipes may even use a mixture of heavy cream and milk. The cream is infused with herbs, spices, and sometimes, fresh garlic.
During the baking process, the potatoes soak up the aromatic liquid and become deliciously tender. Each bite is intended to be creamy yet, slightly crisp on the exterior. Yum!
Ingredients To Make Cheesy Scalloped Potatoes
The best part about this recipe is how accessible it is! Most, if not all, of the ingredients, are pantry staples that we are all familiar with. Look through the pantry, scrape out the fridge, and let's put together something extra tasty tonight!
Here's what you'll need to find: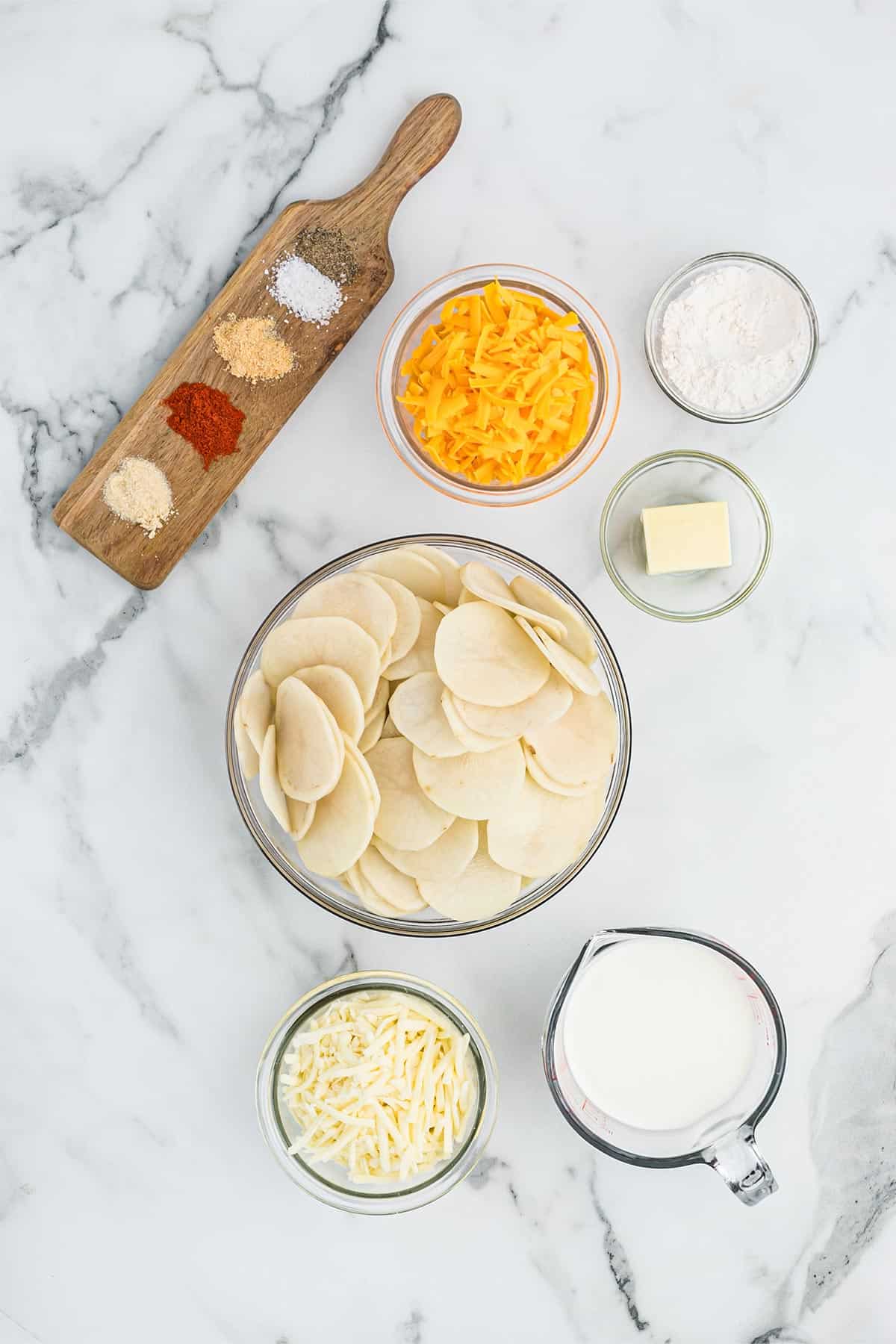 Potatoes: The star of this dish; they take on an immense amount of flavor and, in doing so, become exceptionally tender.
Seasoning: I keep the seasonings simple, using a blend of salt, black pepper, paprika, onion powder, and garlic powder. The black pepper adds a woodsy sharpness, paprika, a mild sweetness, and both onion and garlic powder layer in roasted, caramel undertones.
Sauce: Made with butter, all-purpose flour, and half and half. The half and half join forces with the cheese to create that ooey-gooey, creamy goodness that we all know and love. Its slight sweetness also comes through quite nicely!
Cheese: Use a combination of Monterey Jack and Colby cheddar cheese. Both Monterey Jack and Colby cheddar are mild, softer cheeses with high moisture content. Their smooth texture melts perfectly throughout the potatoes. By using a mixture of cheese, it layers in a buttery component that you will absolutely LOVE.
How to Make Homemade Scalloped Potatoes
Let's look at what goes into making this classic comfort food dish! It's much easier than you would think.
Melt butter in a medium pot over medium heat. Whisk in the flour until completely combined.
Add the half and half, one-half cup of Monterey Jack cheese and a one-half cup of Colby cheddar cheese, whisking constantly until completely combined and cheese is melted. Remove from heat and set aside.
Add dry potato slices to the seasoning bowl and toss evenly, covering all the slices with seasoning.
Add half of the potatoes in one layer to the pan.
Pour half of the cheese sauce over them and spread it out, covering the layer.
Repeat with the final layer of potatoes and pour the remaining cheese sauce on top. Sprinkle the top with the remaining cheese.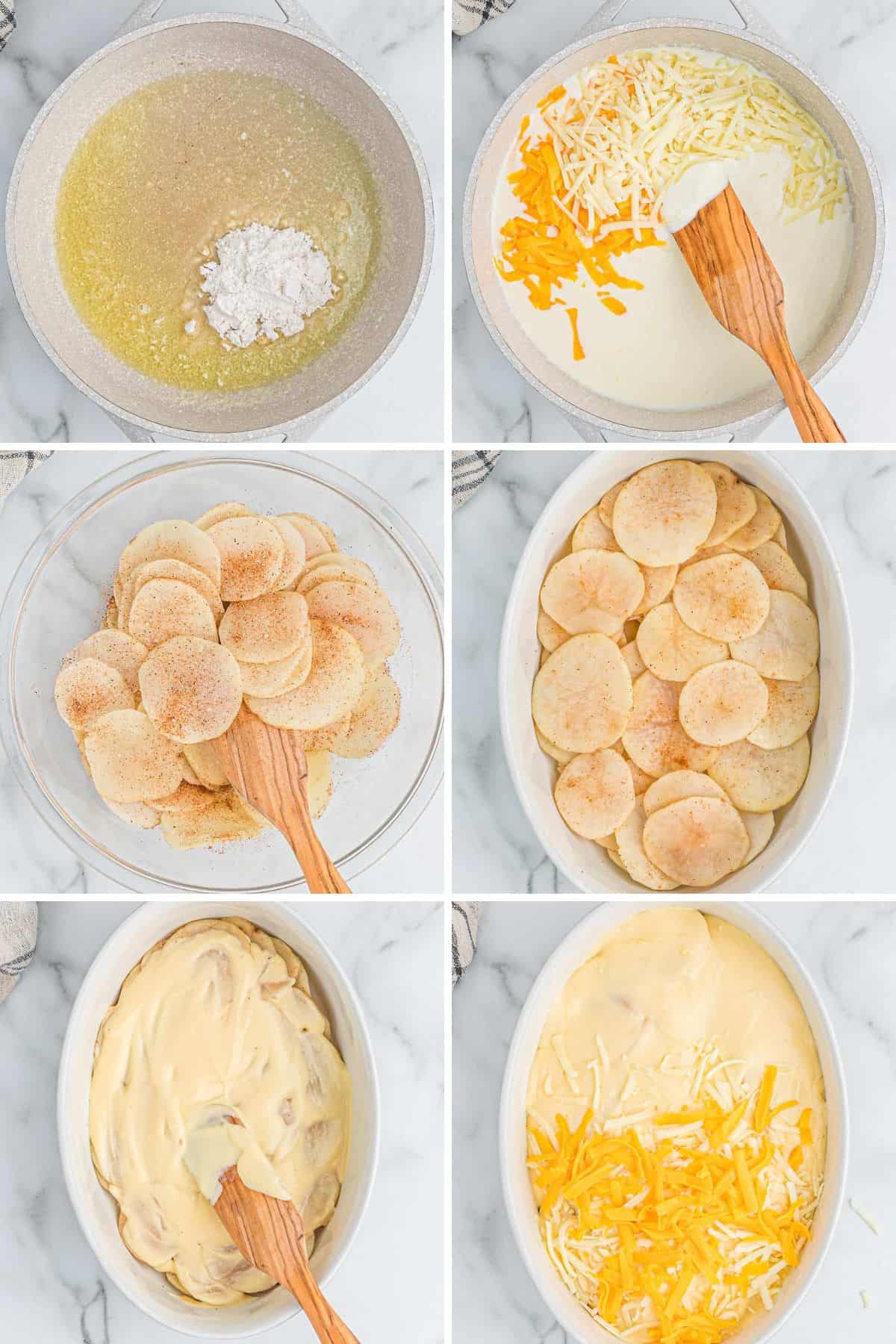 Bake the cheesy scalloped potatoes covered in the oven for 30 minutes, then remove the cover and bake for an additional 30-50 minutes or until the cheese is melted and bubbly and the potatoes are completely tender.
Remove the potatoes from the oven and allow them to cool for 10-15 minutes before serving
TOP TIP: You may need to extend the cooking time depending on how thick your slices of potatoes end up. To check for doneness, use a fork or skewer and insert it into the center of the potatoes. It should slide in easily without any resistance.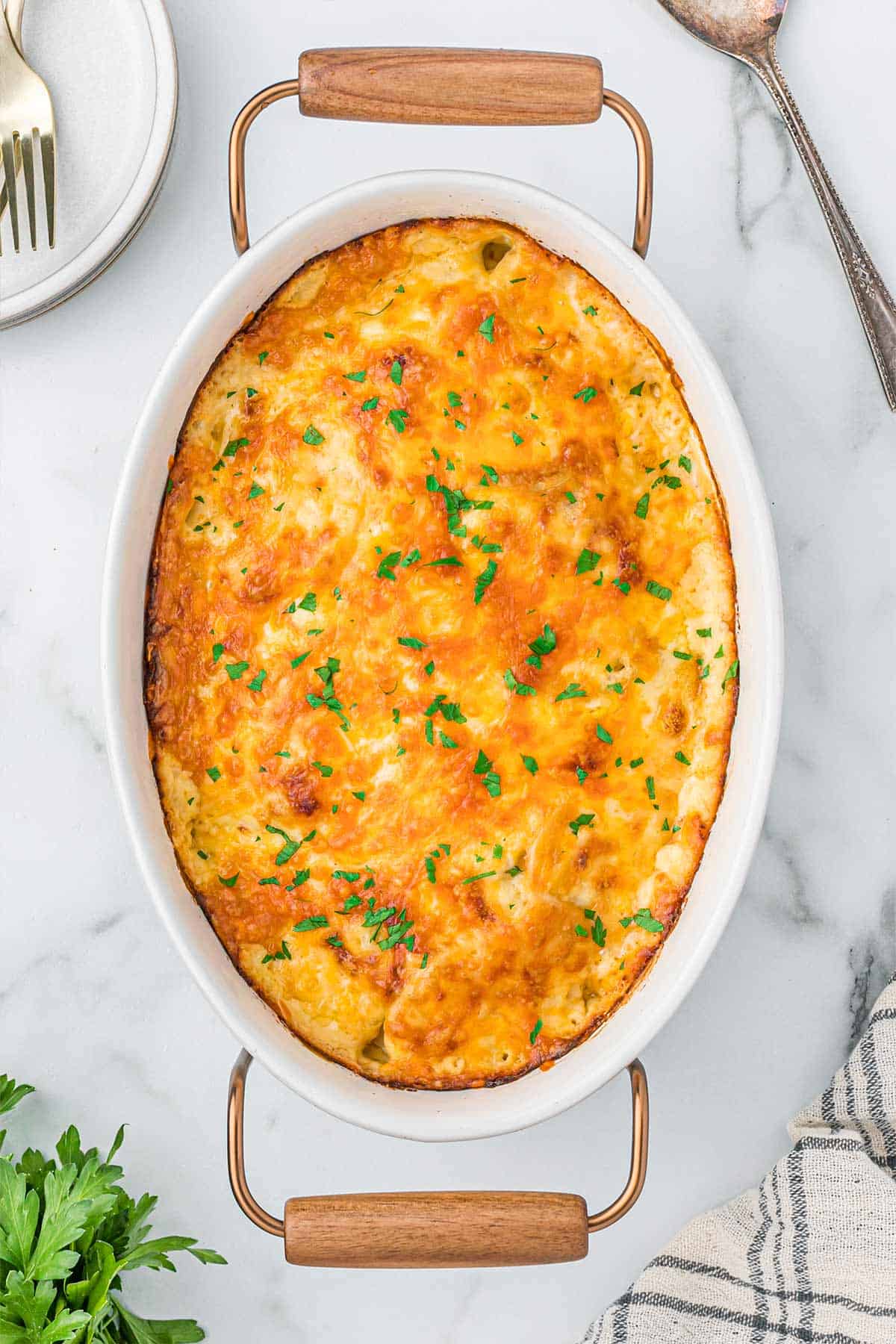 How to Make Vertical Scalloped Potatoes: Layer all of the potatoes into the baking dish and then pour the cheese sauce on top and sprinkle with cheese. Be sure to see the special notes in the recipe card for vertical potatoes.
Tips For Making The Best Scalloped Potatoes
Choose the Right Potatoes: For the best results, choose starchy potatoes like Russets. These potatoes have the perfect texture to absorb all the creamy, cheesy goodness, and they soften beautifully when baked, making for the most comforting scalloped potatoes.
Slice Your Potatoes Thinly: Using a mandoline or food processor ensures your potatoes are sliced uniformly thin. This not only ensures even cooking but also allows the potatoes to absorb the flavors of the sauce effectively, making each bite burst with flavor.
Opt for Block Cheese: Use block cheese instead of pre-shredded cheese. Block cheese tends to melt more smoothly, as pre-shredded cheese is often coated with a powder that can inhibit its ability to melt. Grating your own cheese might take a bit more time, but the payoff in texture and flavor is definitely worth it.
Don't Skimp on the Seasonings & Taste!: Don't be shy when it comes to using seasonings. Salt, pepper, garlic powder, and onion powder bring out the natural flavors of the potatoes and cheese. Make sure to taste your sauce before you add it to the potatoes so it meets your tastes.
Allow for Resting Time: After your scalloped potatoes come out of the oven, give them about 10-15 minutes to rest before serving. This allows the sauce to thicken up a bit, enhancing the overall texture and flavor of your dish. Plus, it'll still be plenty warm when you serve it.
Substitution & Additions
Try different cheeses: Don't be afraid to play around with different types of cheeses. Gruyere or sharp cheddar can add a different depth of flavor to your scalloped potatoes.
Add some protein: Want to make your scalloped potatoes a bit heartier? Consider adding cooked, crumbled bacon or diced ham to the mix for some added protein and flavor.
Experiment with herbs: Fresh or dried herbs like thyme, rosemary, or chives can add a nice touch to the flavor profile of your scalloped potatoes. Just remember, if you're using fresh herbs, they're more potent than dried ones, so adjust accordingly.
Swap the dairy: If you're lactose intolerant or simply trying to cut back on dairy, you can substitute the half-and-half with a non-dairy milk like almond or oat milk. Just make sure it's unsweetened and unflavored.
Make it spicy: If you enjoy a bit of heat, consider adding a pinch of cayenne pepper or some diced jalapenos to the cheese sauce. This will give your scalloped potatoes a nice kick that's sure to impress.
How to Store Leftover Cheesy Scalloped Potatoes
Make Ahead Scalloped Potatoes: This recipe works great to make ahead of time and reheat for serving as long as they're stored properly. Store the potatoes, once fully prepared, in a microwave or heat-safe dish for easy reheating. Be sure to use a lidded dish or seal the top of the dish using plastic wrap and aluminum foil.
Leftovers: Store leftovers after the dish fully cools down. Store it in the same casserole dish used for baking or transfer it to a smaller dish using a spatula to keep it from falling apart. You may find the casserole easier to transfer after cooling since it will hold together much more easily. Store for up to five days.
Reheat: When reheating, I recommend using the oven rather than the microwave. I find the microwave dries out the cheese and makes for a chewier potato consistency. Simply preheat the oven to 350 degrees F and cover the top of the dish with foil. Allow the potatoes to heat through, it should take about 30 minutes. If you'd like a crispier top, remove the foil for the last 10 minutes. Serve and enjoy!
Freezer: To store for a longer period of time, freeze for up to three months. When ready to serve, thaw scalloped potatoes with cheese in the refrigerator and then heat up following the instructions above.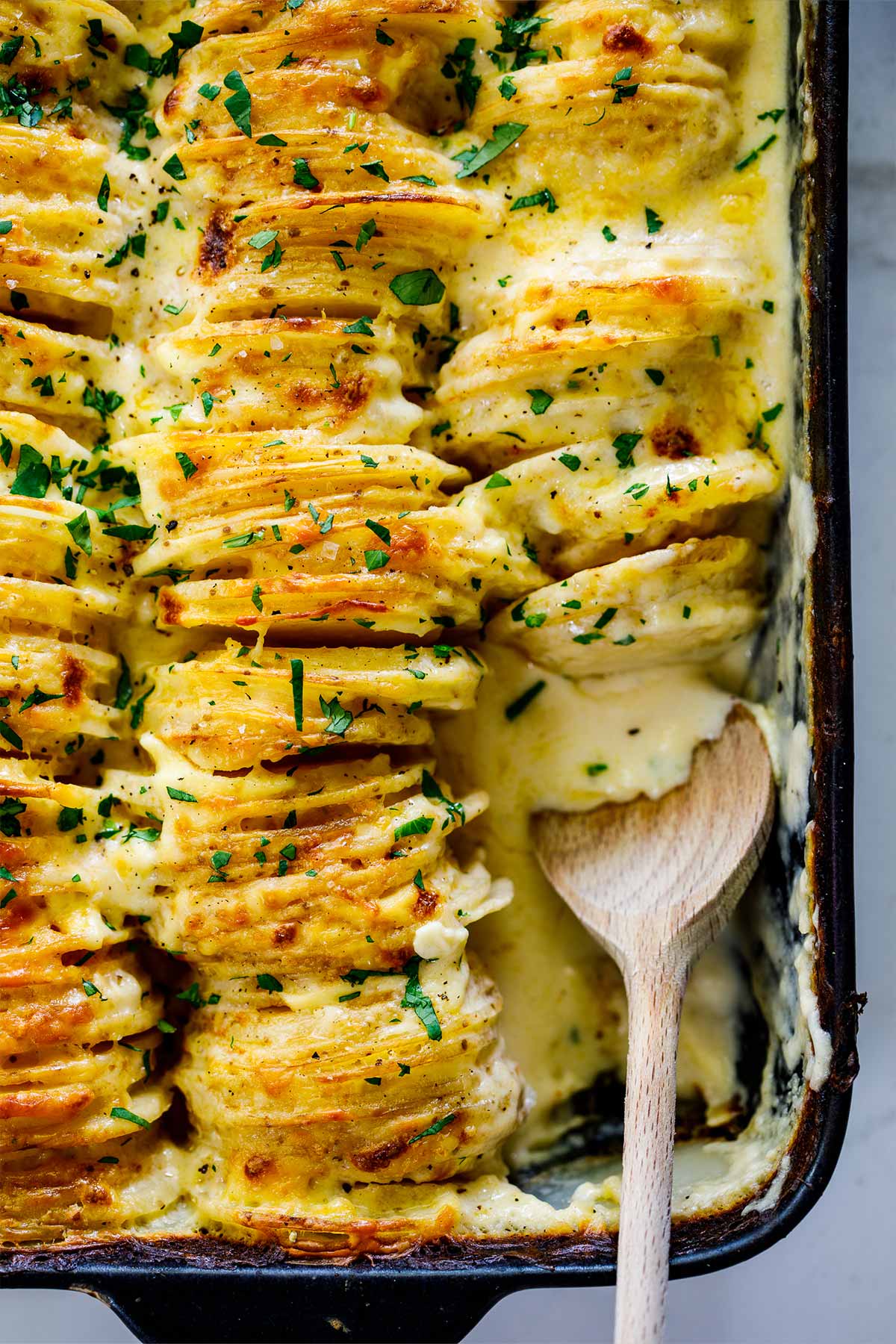 What to Serve with Scalloped Potatoes
Whether you plan to serve this for a holiday dinner or simply a hearty comfort food weekend meal, you will find it makes the perfect side dish for a wide range of main courses.
FAQs
What is the difference between scalloped and au gratin potatoes?
The one ingredient that separates Scalloped Potatoes from Potatoes Au Gratin is cheese! Au Gratin is made using a similar herb-infused cream but grated cheese is sprinkled between the layers of potato. Breadcrumbs may also be sprinkled over the top before baking.
You might be reading this and asking yourself "well, if this recipe uses cheese, isn't it a au gratin?". The classic definitions of these two dishes are often ignored! Countless recipes for both dishes call for cheese, breadcrumbs, or both.
I chose to publish this recipe under the title "Scalloped Potatoes" because it's the title I'm most familiar with. But if you're looking to impress by using fancy lingo, here's your chance!
Can I make scalloped potatoes ahead of time?
Yes, you can prepare scalloped potatoes a day ahead. Assemble the dish, but hold off on baking. Cover tightly and refrigerate. When you're ready to bake, let the dish come to room temperature and then bake as instructed.
Why are my scalloped potatoes still hard after baking?
If your scalloped potatoes are still hard after baking, it's likely that they were sliced too thickly. To ensure even and complete cooking, try to slice your potatoes as thinly as possible. Also, make sure that your oven is correctly preheated before baking.
How do I know when my scalloped potatoes are done?
The best way to tell if your scalloped potatoes are done is to insert a knife into the center. If it slides in easily without resistance, the potatoes are fully cooked. Additionally, the top should be golden brown, and the sauce should be bubbly.
Can I make scalloped potatoes without cheese?
Traditional scalloped potatoes actually don't contain cheese, but rely on a creamy white sauce for their rich flavor. So yes, if you prefer, you can omit the cheese. You might want to season the cream sauce a bit more to compensate for the lack of cheese.
More Grandbaby Cake's Best Potato Recipes
There are just about a million and one ways to make potatoes! From hash browns to hasselbacks, there are always new, exciting ways to prepare this classically American pantry staple.
Here are a few of my FAVORITE ways to prepare potatoes:
*Did you make this recipe? Please give it a star rating and leave comments below!* Post a photo of how your version of the recipe came out on Instagram (using #grandbabycakes)!!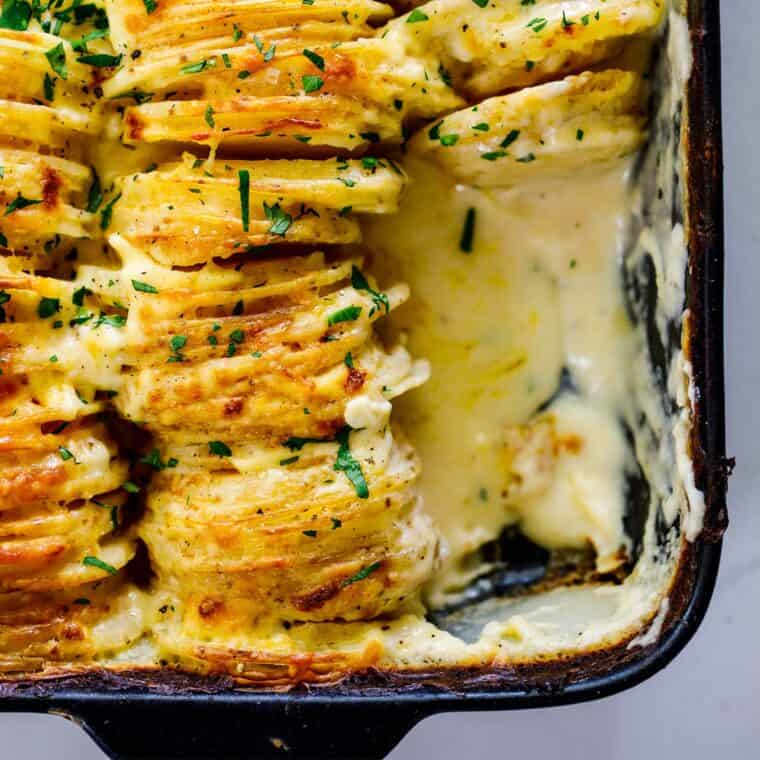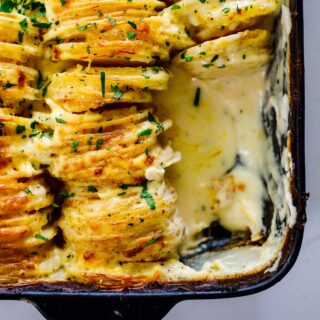 Cheesy Scalloped Potatoes
Made with layers of tender potatoes and a rich, creamy, aromatic sauce, Scalloped Potatoes make for something classically delicious.
Print
Pin
Rate
Ingredients
4 ½

cup

extremely thin sliced potatoes, if you lay horizontal

see notes below for vertical potato baking

¾

tsp

Kosher salt

½

tsp

black pepper

½

tsp

paprika

½

tsp

onion powder

½

tsp

garlic powder

3

tbsp

butter

3

tbsp

all-purpose flour

1 ½

cup

half and half

1

cup

monterey jack cheese

divided

1

cup

colby cheddar cheese

divided
Instructions
Wash potato slices then dry them completely and set to the side.

Add salt, pepper, paprika, onion powder and garlic powder to a large bowl and whisk together until combined.

Preheat oven 400. Grease a large casserole dish with a cover.

In a medium pot over medium heat, melt butter. Whisk in flour into melted butter until completely combined.

Whisk in half and half and a ½ cup of monterey jack cheese and a ½ cup colby cheddar cheese until completely combined then remove from heat and set aside.

Add dried potato slices to the seasoning bowl and toss evenly covering all the slices with seasoning.
Horizontal Layers
Add half of the potatoes in one layer to the pan then pour half of the cheese sauce over them and spread it out covering the layer. Repeat with the final layer of potatoes and pour remaining cheese sauce on top. Sprinkle the top with remaining cheese.
Vertical Scalloped Potatoes
Add all of the potatoes and then pour the cheese sauce on top and sprinkle with cheese. See notes below on changing the seasoning amount needed.
Bake
Bake covered in the oven for 30 minutes then remove the cover and bake for an additional 30-50 minutes (depending on how thick your slices are) or until cheese is melted and bubbly and potatoes are completely tender.

Remove from oven and allow to cool for 10-15 minutes then serve.
Video
Notes
Horizontal versus vertical potatoes.  I tested both ways.  For horizontal slices, you should be fine with 4 1/2 cups of potatoes.  No need to change any of the measurements.  However, if you want to use the same amount for vertical potatoes, go with a smaller dish. 
If you need to fill a large dish, you might need up to 4 lbs of potatoes however it looks quite gorgeous if served for entertaining.  If you do so, you will need to double the seasoning ingredients and sauce just to be safe.  You can then decide how much sauce you will use.
Expert Tips
Thin potato slices. To guarantee the potatoes soak in every drop of your aromatic cream it's crucial to thinly slice them.
Use a mandoline. Slice potatoes with a mandoline to achieve uniform slices. Otherwise, use a very sharp knife (carefully) to cut the slices. Aim for potatoes that are about an ⅛ inch thick.
Taste the sauce. Before adding it to the potatoes and adjust the spice according to your personal tastes.
Get creative and make this recipe your own! Cheesy scalloped potatoes are a great opportunity to use just about any cheese that you've got on hand. You can also change up the sauce by trying out different seasonings.
Nutrition
Calories:
318
kcal
|
Carbohydrates:
26
g
|
Protein:
12
g
|
Fat:
19
g
|
Saturated Fat:
12
g
|
Cholesterol:
56
mg
|
Sodium:
458
mg
|
Potassium:
589
mg
|
Fiber:
3
g
|
Sugar:
1
g
|
Vitamin A:
637
IU
|
Vitamin C:
24
mg
|
Calcium:
281
mg
|
Iron:
1
mg
This post was originally published in April 2020. It has been updated for content and new images.